25 Garage Storage Ideas That Will Make Your Life So Much Easier
Are you tired of running out to the garage and finding piles and piles of … stuff? Instead of being greeted by chaos and the surprise of what you might find, get to work on a bit of organization! These 25 garage storage ideas will make your life so much easier and you can get it all done in a weekend. Check it out below!
1. Pegboard Wall
A Beautiful Mess shows us how a simple pegboard can clean up and declutter. Put all your tools and have-tools right at an arm's reach!
2. Jumbo Tape Dispenser
Check out this awesome idea that's super easy to put together. Duck tape, packing tape, painter's tape … all the tape can fit right in! (via)
3. Sliding Ceiling Storage
Family Handyman gives us a unique and chic idea for getting all those bins off the ground. Use your ceiling as an extra bit of storage space!
4. Easy Shelving
Hop on over to Ana White and learn how to make this economically savvy garage shelving. It'll help out tremendously!
5. PVC Garden Tool Storage
Newly Woodwards used some PVC pipe and got all of their garden tools ready for work. They aren't catching dust all leaned over in the corner somewhere.
6. Bungee Ball Storage
Princess Pinky Girl shows us that a bit of bungee cord can keep all the balls at bay. Grab what you need when it's time to play and don't lose them in the midst of the clutter.
7. On A Budget Storage
The Budget Decorator shows us how to whip up some simple storage on a budget. This won't break the bank but will help with the de-cluttering process.
8. Magnet Strips
A magnet strip or too could help you will those drill bits and stuff. You won't be searching high and low after installing one of these! (via)
9. Labeled Metal Bins
Babble gives us plenty of easy ideas including grabbing some metal bins and labeling them. This is especially nice for all the kids' toys!
10. Spice Container Storage
If you grab some spice containers and use a magnet strip, you can have all your nails, screws and the like ready for action and not scattered in drawers or on the floor! Thanks for the inspiration, Babble!
11. Chalkboard Paint Cupboards
Cover your cabinets and cupboards out there with some chalkboard paint. It'll make labeling and organizing so much easier! (via Babble)
12. Nuts & Bolts Jars
You can use some simple jars – from baby food to mason – out there as well. We found this easy idea over at Crooked Brains.
13. Garden Tool Wall
Check out this chic idea from Martha Stewart! Get all your garden tools and suck in the right kind of sleek and stylish order!
14. Bucket Hose Storage
Martha Stewart knows how to store your hose too. All you need is a bucket to get started!
15. Filing Garage Bin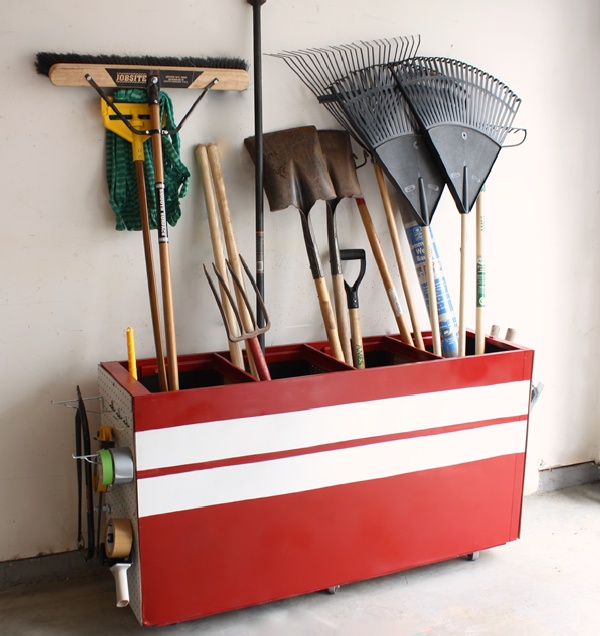 We are really loving this DIY and it's transformation from a simple old filing cabinet into a multi-purpose garage storage unit. They even installed pegboards on the sides! (via)
16. Bin Organizational Wall
A Bowl Full of Lemons made an entire wall full of storage bins. It's also a chic and clean way to get your garage in working order.
17. Pallet Tool Holder
Fabulously Frugal used some pallets to keep their lawn tools ready for use. Don't pile these puppies in the corner, instead have them standing and able to grab at a moment's notice.
18. Recharging Station
Check out this snazzy charging station that you can whip up for the garage. All your tools will be ready to use whenever you need! (via)
19. Bike Storage
If you've got family of bikes hanging out in the garage, create a space where they can hang. Visit I Heart Organizing for all the details.
20. Workshop Wall
A Beautiful Mess gives us another idea for wall storage that we're swooning for. All your workshop needs will be organized and at-hand.
21. Wire Ball Bins
We love these simple wire baskets from Land of Nod too. They'll keep any tools – especially the sports equipment – neat and tidy.
22. Concealed Storage
Run on over to BHG and learn how to make a concealed storage area for all your garage goodies. We love how it's tucked away and tidy.
23. Scooter Stand
Batchelors Way knows how to store the scooters too! It's simple, easy and they won't be thrown all over the garage this way.
24. Recycle Bins
You can even make your recycling bins a bit more organizing. Just check out the details over at Family Handyman.
25. Screwdriver Rack
Homemade Modern makes a coatrack using this screwdriver organization but we're loving the idea for the garage and keeping all of our tools at bay! Grab the details after the jump.