50 Simple Hairstyles For On-The-Go Moms
Instead of chopping off those locks when the new baby comes – try something new instead. These 50 simple hairstyles for on-the-go moms will have your morning routine moving seamlessly without feeling the loss of your long tresses. Scroll through now and grab some ideas.
1. Topsy Ponytail
Lulus starts us off with a topsy ponytail that's perfect for on-the-go moms. Get your hair out of your face, in a stylish way, for your day of errands!
2. Running Late Ponytails
Thankfully, YouTube has lots of great video tutorials to follow along with. And this particular piece will give you three fun ponytails to try when you're on the move.
3. Half-Up Knotted Braid
This knotted braid is a quickie hairstyle that gets your tresses out of your eyes but tops off a cute outfit nicely too. Grab the easy details over at A Beautiful Mess.
4. Tucked Braid
There's always this tucked braid as well. Give your locks texture and easy appeal by visiting A Beautiful Mess one more time.
5. Messy Bun
A messy bun is a great idea at all times too. It's cute and doesn't take too much effort! Check it out over on YouTube.
6. Half-Up Rose Bun
Turn your half-up hairdo into a rose! If you allow for just a few extra minutes, you'll be getting all of your mom duties done with a bit more style.
7. Sock Bun
Hopeful Honey brings us an easy tutorial for the classic sock bun. Dress it up, dress it down and no matter what – it won't take you too long in front of the mirror.
8. Half-Up Braid
Hair Romance went with some braids too. Look put together and polished within just a few minutes.
9. Bubble Ponytail
YouTube has this fun tutorial of their sleeves as well. Turn a regular ponytail into something a bit more special – and with bubbles!
10. Retro-Inspired Ponytail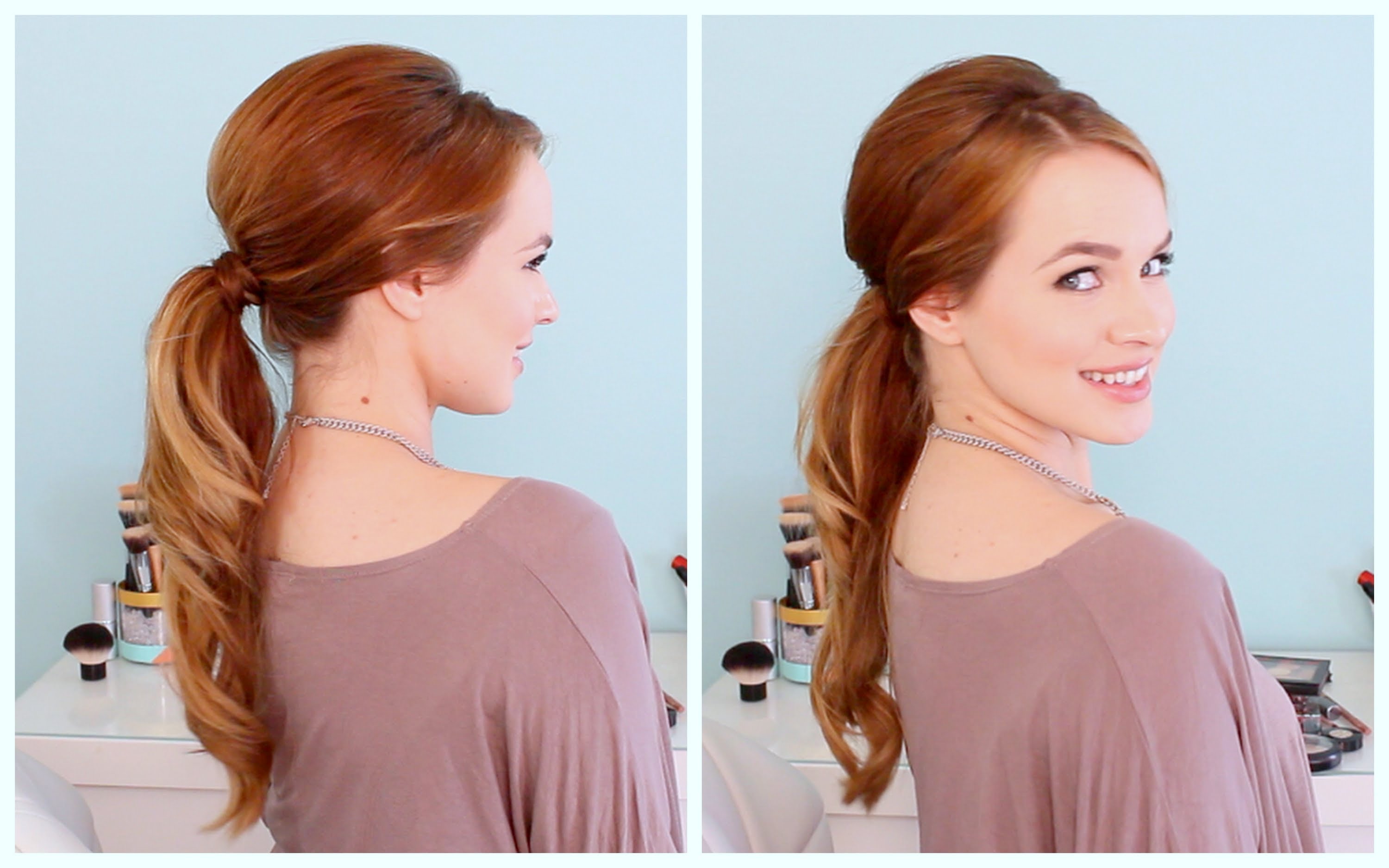 You can always take your day – and hair – and turn it into something with a bit of retro inspiration. Transform your pony  YouTube
11. Knot Braid
A Beautiful Mess featured this knotted ponytail too. It's a quick fix to a bad hair day or an easy way to top off a more casual daytime look.
12. Waterfall Braid
Waterfall braids are quick and easy too! Just hop on over to PopSugar and check out how to make one of these cuties work.
13. Boho Braid Bun
YouTube carries the video tutorial for this boho hairstyle as well. Again, this is a great look for busy moms that need something they can dress up and down.
14. Halo Braid
Halo braids can be super, duper cute. And if you visit Hello October, you'll get the scoop on all the details behind this beauty.
15. Classic Half-Up Pony
A classic and quick half-up ponytail can be your ticket to a stylish day of errands and playdates. Thanks for the inspiration Pinterest!
16. Half-Up Messy Bun
You can even make a messy bun into a more formal hairstyle in a matter of minutes. A half-up do that combines femininity and ease, it's the perfect combo!
17. Overlapping Half-Up Style
Makeup Geek went the half-up route as well. But this time, there's a funky overlapping effect that create a more unique look.
18. Half-Up Messy Top Knot
Here's another half-up do but this time in the form of a top knot. A bit higher and tighter than a messy but, it'll definitely "heighten" your mood.
19. Simple High Ponytail
If you want to take a classic look to the next level – while staying true to your morning routine and time limit – then hop on over to YouTube and check out this tutorial. A high pony looks good on all of us.
20. Crisscross Ponytail
We're loving this flirty, crisscross ponytail too. And all you have to do is visit A Beautiful Mess to learn how to recreate the style.
21. Front Row Braid
Over at Barefoot Blonde, you can learn how to make a front row braid. Whether you wear your hair down or in a  ponytail, it's a cute and quick accent.
22. Half-Up Boho Braid
Kassinka has a boho braid that we've fallen in love with all well. When you're tresses are long a flowing, it's quite the feminine and free look.
23. Tucked Headband
Have your locks tucked away and focused with some help from Moda Mama. With a little headband and some direction, you can do it too!
24. Half-Up Chain Braid
We instantly fell in love with this funky chain braid. Check out the YouTube video and learn how to make one!
25. Retro Headband Hair
Here's another retro-inspired look that's easy to pull off for moms without a lot of time. Just hop back over to A Beautiful Mess for the details.
26. French Twist
A classic French twist is always a good ideas as well. It's up and out of your face. Details within this YouTube video.
27. Braided Headband
Hair Romance did a braided headband that can help out your "mom on-the-go" look. As long as your hair is long enough it works.
28. Half-Up Pull Through Braid
If you like a lot of volume in your hair, then this pull-through braid is all you need. Follow along with the tutorial on YouTube.
29. Twisted Ponytail
What about a twisted ponytail? Curled or straightened, it works on a variety of different hair textures.
30. Knotted Side Ponytail
With just a few steps and a few minutes, you can created a knotted side pony to top off your #momlife look. Grab all the details for this one at Lulus.
31. Low Chignon
A low chignon is just another classic hairstyle that you can always count on. And we found a great tutorial on YouTube that will teach you.
32. Center Part Ponytail
Else made a parted ponytail that's easy and chic for any day of the week. Just visit and catch the how-to.
33. Messy Waves
YouTube will also teach you how to create some easy, messy waves throughout your hair. Instead of feeling like you need your hair up and off your shoulders, you can do something quick and wear your hair down too.
34. Braided Pigtails
Whether you're going to a mom and baby exercise class or just have a day packed with errands, these pigtails are too cute to overlook. Snatch the instructions at More.
35. Pull Through Ponytail Braid
YouTube gives us this fun pull-through braided ponytail too. If you've got a lot of locks, this fun and voluminous look is right up your alley.
36. Half-Up Side Twist
You could always add some side twists to your hair and get your bangs out of your face for the day. Just learn how to over at Lauren McBride.
37. Twisted Side Braid
This twisted side braid is a fun look at well. Just hop on over to YouTube and follow along with the step-by-step instructions.
38. Sleek & Straight
Of course a sleek and straight simple hairdo works for busy moms. YouTube has the know-how behind this one as well.
39. Half-Up High Ponytail
Inspirations & Celebrations got inspired by Ariana Grande with this fun and fearless hairdo. Of course, it doesn't take too long to pull off either – making it a great choice for on-the-go moms as well.
40. Twisted Side Ponytail
Ponytails with personality are always a good idea. Just visit Luxy Hair for the answers to any of the questions behind this masterpiece.
41. Hair-Wrapped Ponytail
YouTube carries the tutorial for this hair-wrapped ponytail as well. It's another classic look that can go a long way in a busy mom's handbook.
42. Stacked French Twist
We love a good French twist but when it's stacked it gets a bit more personal and flirtatious. Grab the instructions over at The Small Things.
43. Messy Top Knot
A simple top knot had to go on our list too. Hop on over to YouTube and watch how you can incorporate this trendy do into your everyday.
44. Heatless Curls
Don't spend time with the curling iron, go heatless instead! Snag the details while watching this YouTube video.
45. Big Voluminous Ponytail
Of course, another classic way to go is a ponytail – but one with lots and lots of volume. Learn how to get all that volume over on YouTube.
46. Rolled Chignon
YouTube really does carry some of the best beauty tips and tricks from some of the best bloggers. And that goes for this rolled chignon look as well.
47. Korean Natural Bun
Even this Korean bun can be found over on YouTube. Whether you're traveling or having a playdate with the babe, it works!
48. Twisted Bun
A twisted bun works for the summertime months as well. Dress it up, dress it down and just go with it!
49. French Braid Ponytail
Missy Sue started with a French braid and ended in a ponytail. Just take your simple, everyday looks and add a quick layer for interest.
50. Classic French Braid
And finally, we end over at A Beautiful Mess with a timeless hairstyle that always does the trick. If you don't know how to French braid, you will after this one.