These 15 Storage Pieces Are The Best Way To Organize Those Toys
From the playroom to the bedrooms, it's easy to have piles of toys in each space when there's kiddos in the house. Fortunately though, there are tons of different ways to store them until playtime comes to call. These 15 storage pieces are some of the best ways to get all of those trinkets, dolls, blocks, games, and more put away and organized for good. Let's have a look, shall we?
1. Hopscotch Storage Bench
We start off this bout of inspiration over at Hayneedle with this easy toy bin that allows you to separate in style. This works in all corners of the house to. From the kids' play room to the living room, it's chic and neat without any fuss.
2. Rectangle Striped Bin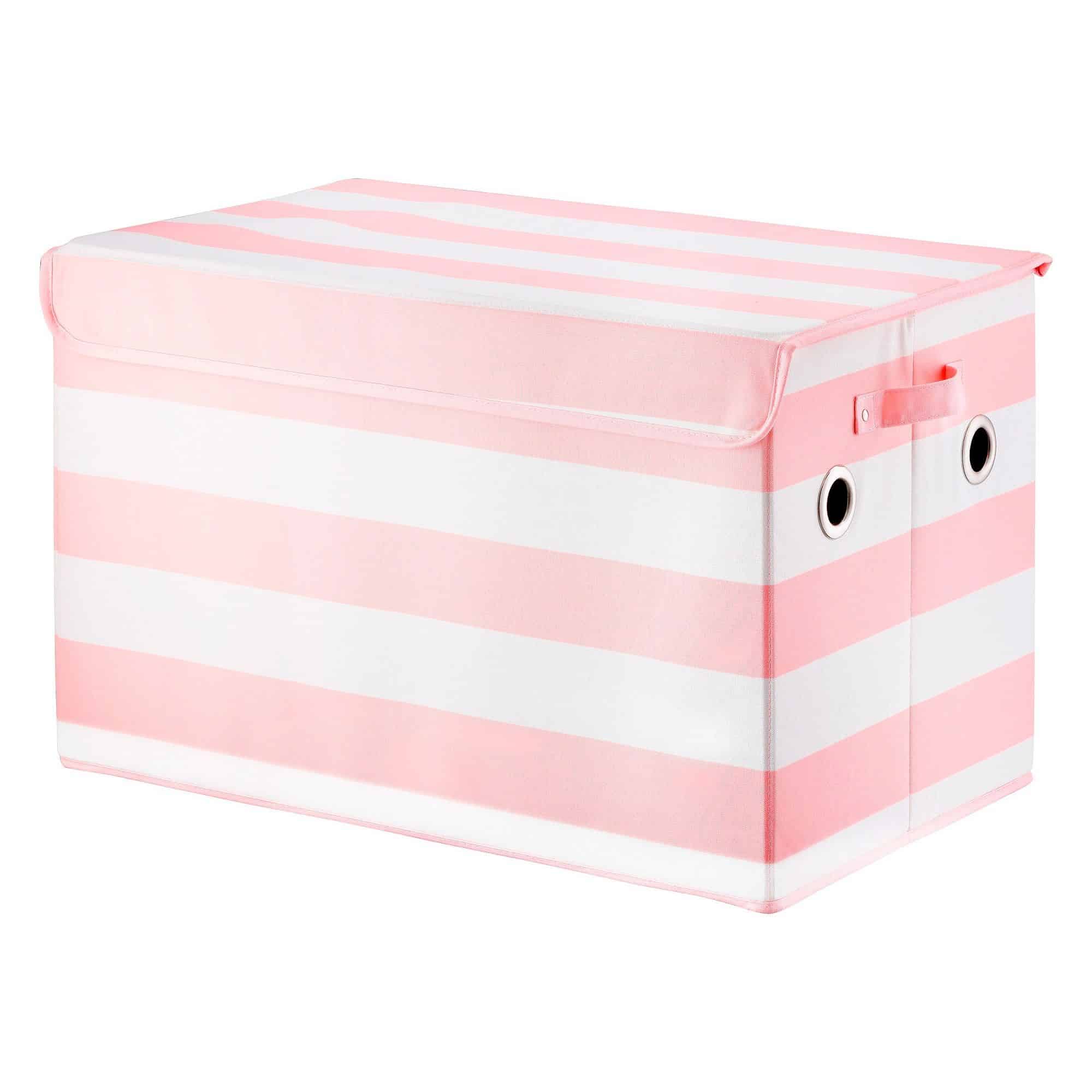 If you're looking for a classic toy bin than this canvas piece from Target will be an absolute lifesaver. It's charming, easy to move around, and it holds to much! If you need a place for all of the "odds and ends," then this will certainly do the trick.
3. Emily & Meritt Canvas Pom Pom Storage
We're really loving these chic, pom-pom accented canvas bins from PBK. They're sweet, they're versatile in terms of style, but also in terms of how to use them as well. Take the leap now to check out the details even further.
4. Honey Can Do Kid's Toy Organizer
An oldie but a goodie, this kind of toy organizer has been around for quite some time. But it's been around a while because it works so well! Check it out over at Walmart – it also comes in a pink edition!
5. FLYTTBAR Toy Trunk
Here's another easy toy bin that's spacious and easy to move around. We found this fun design over at IKEA and we think these prints are just so charming. There's really something for all kinds of kiddos!
6. KidKraft Limited Edition Toy Storage Bench
Wayfair has a lot of beautiful pieces as well. Not only is this a toy box but it acts as a bench for your little one as well. Store books, dolls, and the link inside and then use it as a reading nook for when the goodies are put away in the evening.
7. Pink Lemonade 4-Drawer Storage Unit
Container Store will make all your organization dreams truly come true. Don't worry, there are some other more "boyish" colors to choose from but this lemonade storage unit has so much charm. And it has so many opportunities when it comes to what it can tidy up – from small trinkets to art supplies!
8. Heart Table & Chairs with Storage
KidKraft is known for having so many wonderful toys and storage ideas. And with this piece, you get both! It's a table and chair set that little ones can pretend and imagine with. But at the end of the day, there's storage to help with the clean up!
9. Wool Felt Storage Bins
Sometimes all you need are the right kind of bins. These wool felt pieces from R&H Baby can fit inside cubby systems or stand on their own. They're really versatile and they'll hold more than you think!
10. Customized Paper Bag Storage
Similar to our canvas bins, these paper bags can be used for so much when it comes to toy organization. You can easily get them off Etsy and have them personalized too with your little one's name on it. And those stars, swoon!
11. Steel Storage Drawer
These nifty drawers can sneak up under beds and dressers that have a bit of space between the edge and the floor. You can snag these over at Room & Board in a variety of colors. Store books, sports equipment, and more thanks to these innovations.
12. Level Up 2-Bin Stackable White Toy Box
The Land of Nod has these stacking toy boxes up their sleeve. You can use them singly or buy a pair! Fill them with all of the kids goodies and benefit not only from the organization but the slick style of the piece.
13. Mickey Mouse Plastic Bin Organizer
Delta Children has a lot of pieces that the kiddos will love. And there's no doubt you won't coax a smile with this addition to the playroom. You'll be smiling too, because all the toys will be picked up and have a place at the end of the night.
14. Double Market Bin with Divider
Here's another piece from PBK that caught our eye. It's a unique piece that will get the job done and be a great design to use all throughout the house. You can use it in the living room or in bedrooms for a chicer option.
15. Toy Caddy
And finally, head on over to buy buy BABY and snag one of these customizable toy boys! Your little ones will be able to clean up and tote their favorite bits. All of those small toys now have their own spot in the house.