Since Spring is officially upon us, I've been wanting to freshen up my home decor. Seeing all of the beautiful florals made me want to incorporate them into my home. I thought a simple modern wreath with bright flowers would be the perfect project!
When I purchased a new front door I ended up going with a neutral color. I wanted to be able to add bold pops of color throughout the different seasons without them clashing with my door. Since I wanted my Spring wreath to be simplistic, yet impactful, I decided to go with a modern wreath. Traditional wreaths can be made out of willow or other materials but I wanted to do something a little different, which is why I used a thin gold metal ring. This craft supply can be used for a lot of different projects, but I thought it would be the perfect accent piece for my front door. I found some pretty florals in an orangey peach and a bright pink along with the perfect green leaf stem to add to my wreath.
I really wanted the design to be versatile and go from season to season. So, instead of hot gluing my floral pieces to my wreath, I added Velcro to the back of each flower. This allows me to swap out the flowers as the season's change. So, when Fall rolls around I can pick a darker, richer hue like deep purple and burnt orange. And when the holidays approach, I can pick winter whites and holiday reds. Being able to have the flexibility of swapping out flowers will make the seasonal transition super easy and make this simple modern wreath go much further!
Supplies:
Wire Ring
Different Flake Flowers and Greenery
Wire Cutters
Velcro
Hot Glue Gun
Wire (optional)
Simple Modern Wreath
Here's How to Create Your Own Simple Modern Wreath:
Step 1: Figure out your arrangement. Since I really like the look of asymmetry I wanted to create a wreath with this in mind. I also really wanted to keep a good portion of the gold showing. Once you decide on your design, cut apart your fake flowers. Pop off the flowers from their stems so they're nice and flat on the back. You'll need to cut your greenery with wire cutters.
Step 3: Put glue on the back of your greenery and add it to the ring. You may need to go back in and add a dab of glue to different parts of your greenery to make sure it's nice and adhered to the hoop.
Step 4: Add glue to the back of the velcro and glue it directly to the wreath. You'll want it to be where you plan on adding flowers.
Step 5: Cut a small piece of Velcro, add hot glue to the back of it, and glue it to the back of a flower. Repeat this with all of the flowers. Since the Velcro will be permanently attached to your ring, you'll be able to switch out your flowers with the seasons!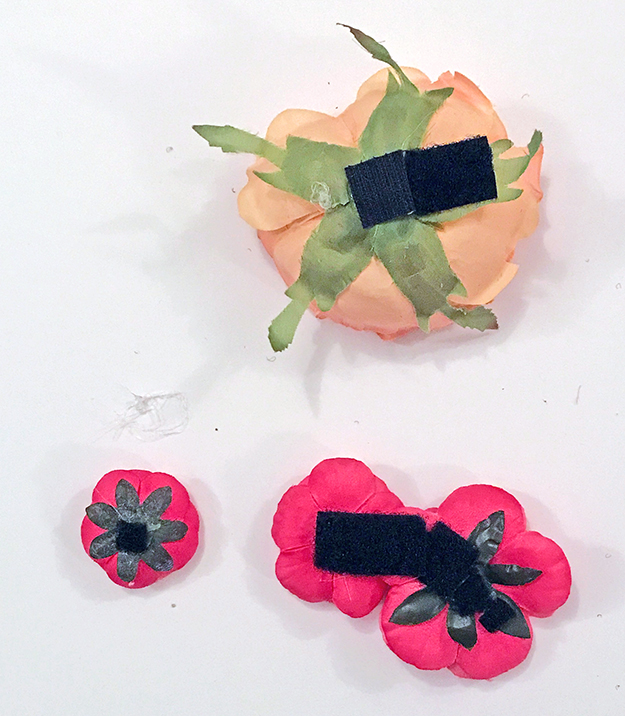 Now that your simple modern wreath is made, hang it up by the gold hoop or add a wire to secure it. Other seasonal flowers can be added just add Velcro to the back. You'll be all set when the seasons change and will be able to update your wreath in minutes!