DIY Rustic Farmhouse Christmas Decor
When it comes to choosing the kind of Christmas decor pieces we'll make each season, the question is never whether or not we will make and display some seasonal craft projects, but rather whether the ones that have caught our eye best on line will actually match our space and look like they suit our home. This is especially true for this year because we recently moved into a new house and we worked very hard over the last few months establishing a beautiful farmhouse chic aesthetic throughout the space that we're really in love with. That's why we've been on the lookout lately for DIY Christmas decor projects that we think will match our already existing space well enough to look cohesive and lovely!
Are you feeling just as interested as we are, if not more, in the idea of learning how to make rustic farmhouse styled Christmas decor pieces this year? Check out these 15 fantastic ideas, designs, and tutorials that we've come across so far in our search for inspiration and guidance!
1. Rustic text and bell Christmas art
Like us, have you always been a huge fan of decorative signs? There's just something about lettering and seasonal greetings or statements that makes us feel so satisfied and ready to celebrate things! We're sure it'll come as no surprise to you, then, that we were huge fans of this "believe" holiday sign from Tried & True, which they show you how to make from wood and a big bell, giving it a beautiful intentionally weathered look for rustic aesthetic.
2. DIY button Christmas tree garland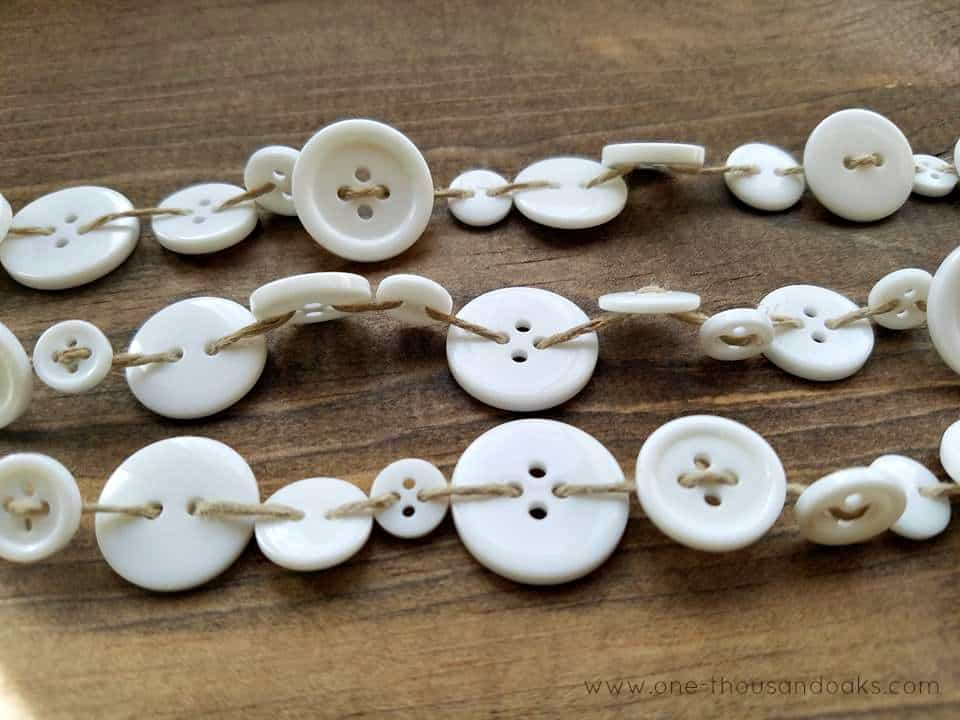 In your mind, does the idea of combining rustic style and a farmhouse aesthetic somewhat equate to traditional and old fashioned things? We would have to agree! That's why we loved this next idea from One Thousand Oaks so much; we can perfectly picture it hanging in the working farmhouses of auld. Take a look at their tutorial to learn how this beautiful button and jute string Christmas tree garland was made.
3. DIY rustic farmhouse wreath
If you're the kind of seasonal crafter we are, always making new things as the different holidays roll forward and swapping out the decor in each room for the time of year, then we'd be willing to bet that you love making and hanging door wreaths just as much as we do! That's probably why this lovely tutorial for making a beautifully leafy DIY rustic farmhouse wreath, outlined step by step on The Idea Room, caught our eye so well.
4. DIY wood and metal Noel sign
Did we actually really catch your attention when we started talking about the idea of making homemade holiday signs but the previous idea we showed you just wasn't quite what you're aiming for style-wise? Then we'd definitely suggest taking a look at this idea from Blesser House instead! They show you how to make an upcycled looking corrugated metal and wood sign that's very lovely indeed.
5. DIY burlap ribbon trees
If we're being honest, one of the things that makes us think most of farmhouse living is burlap. We grew up with grandparents who lived on a farm and it just seemed like the material was absolutely everywhere! We're sure it'll come as no surprise to you, then, that we simply adored this lovely project from The Girl Creative that teaches you how to make little Christmas trees from burlap ribbon.
6. DIY frosted paper trees
Do you love the shape and basic concept of making a little creative Christmas tree that can stand on your side table but you're just not sure that the burlap ribbon is the way you want to go? In that case, here's another alternative for your consideration! Check out how Place of My Taste made these layered paper trees with a beautiful (and surprisingly easy) frosted effect to them.
7. DIY farmyard snow covered pinecones
Perhaps your favourite idea you've seen so far is this whole concept of "frosting" something but you'd like to do more things than just the paper tree? Then send your kids out to gather some pinecones from the backyard and try your hand at making these adorable DIY farmyard pinecones that look just like they're covered in snow! Ella Claire & Co. has the full instructions for you.
8. DIY festive farmhouse porch planter
Have you actually been scrolling through our list hoping to come across something a little bit bigger that might help you adorn the outside of your house as well, rather than just the inside? Well, we're pleased to report that your patience has finally paid off! Take a better look at the tutorial featured on Ryobi Nation to see how this very festive looking wooden crate tree planter that will instantly make your porch look very farmhouse chic was made!
9. Rustic holiday card hanger
In our house, Christmas cards are a huge deal. Each branch of our family tree sends one to everyone else complete with a year's update letter since the last one and a stack of lovely printed pictures of their family members. We're always covering our available surfaces with cards and photos around this time of year, but we find that the cards tend to tip over and the photos often get knocked off the fridge when it's used. That's why we thought this amazing Christmas card hanger outlined in nice, easy steps on Lolly Jane was such a great concept! They show you how easily it can be created from chicken wire and wood.
10. DIY stocking post
Are you very willing indeed to make something larger, like we mentioned before, but you're actually looking to make a bit of a farmhouse style statement inside your house, rather than on the porch? Well, particularly if you're looking for a place to hang our family stockings that isn't a fireplace, then we think you simply must take a look at the way Shades of Blue Interiors created this fantastic DIY stocking post that looks like a festive mailbox stand, only adorned with Christmas decor instead.
11. Wooden farmhouse Joy wreath
Now, usually when we mention Christmas wreaths, we're talking about something rounded and with lots of embellishments. Sometimes, however, it's nice to change up the concept of your favourite things, just to keep things interesting! That's part of why we thought this beautifully wooden star shaped farmhouse wreath outlined in awesome detail on Six Sisters Stuff was such a great idea.
12. Fence picket porch sign
Have we actually still got you thinking about just how much you like the idea of decorating your porch for Christmas in order to tie it even further into the farmhouse aesthetic you have all over the house but you just haven't seen the idea that quite sticks with you yet? Then perhaps you'd get along a little better indeed with something like this adorable seasons greetings sign from A Hundred Affections that's made entirely from fence posts!
13. Rustic wood slice ornament banner
Are you actually still finding yourself scrolling through our list and thinking about how much you enjoyed the idea of making a farmhouse inspired bunting, but you're looking for a smaller one than the continuously wrapping buttons we showed you earlier? Well, particularly if you're also still loving the idea of getting crafting with nature this winter, then we think you might get along a little better with something like this cut branch sections garland that Houseful of Handmade shows you how to make and spell "Joy" with!
14. DIY mini farmhouse sign Christmas ornament
Just in case you're still feeling pretty enamoured indeed with this whole concept of making some kind of greetings sign but you can't help wondering whether you might be able to do a miniature version compared to what you've see so far, here's precisely the kind of thing we think you might be looking for! Take a better look at this tutorial from The Latina Next Door to see how they made these tree ornament sized farmhouse greeting signs in just a few simple steps.
15. Old fashioned dried orange garland with bay leaves and cinnamon sticks
Did we actually really pique your interest closer to the beginning when we started talking about old fashioned ideas that you might have actually seen in a traditional farmhouse many decades ago, but you're just not suer the button idea is the one for you? Well, if you'd prefer to work with natural elements then we'd definitely suggest taking a look at how Hearth and Vine made this stunning, classic, and rather fragrant garland from dried orange slices, bay leaves, and cinnamon sticks.
Have you made other kinds of beautiful farmhouse inspired Christmas decor pieces before that you were very happy with indeed but that you don't see here on our list? Tell us all about what you created and how you did it or link us to photos of your finished work in the comments section!