Cute and Easy DIY T-Shirt Alterations
Every few months, we try to sort through our clothes and sift out the things we don't wear anymore in order to make room in our closets and donate some things. Each time, however, we come across a few things we think we'd probably still wear more if we could only just change them up a little bit. Since those things are usually t-shirts, we've been on the lookout lately for awesome t-shirt alteration ideas that will give the things we're not quite ready to part with but don't wear as they are a new lease on life!
1. Cold shoulder t-shirt
Are you the kind of person who prefers to keep things pretty simple but you're also still convinced that one of your plain white t-shirts would probably see more of the world with you if it had even just a little more visual detail? Well, if you like the recent shoulder cutouts trend as much as we do, then we think you'll also like this aptly named tutorial featured on Sky Not Fancy.
2. T-shirt to gathered tank top
Do you actually find that you don't wear t-shirts half as often as you wear tank tops because you live in a very warm place and you just prefer how much cooler straps are compared to sleeves? In that case, we think you might get along a little better with something like this gathered tank top tutorial outlined in great detail on Brazen Bernadette!
3. T-shirt to long sleeve shirt
Are you actually having the opposite problem and wishing you had more long sleeve shirts because it's a little chilly where you live right now? In that case, we'd be willing to bet that you'd prefer this simple, clear tutorial from Ken Andrew Daily that outlines the steps for turning a t-shirt into a warmer garment by adding contrasting sleeves!
4. Cage sleeve t-shirt
Maybe you're totally okay with the length and presence of the sleeves on the t-shirt you have in mind, you're simply bored of the way it currently is and looking to change things up? In that case, we'd absolutely suggest taking a look at how Brazen Bernadette made these awesome cage sleeves by cutting some straight forward lines in a row so a series of scratch-looking slices result.
5. No-sew braided side t-shirt
Do you have an oversized t-shirt that you like the colour and pattern of but that you think you'd wear a lot more if it were more fitted? Well, especially if you like adding detail to things as well, then we think you might get a kick out of the way Janae Brown slimmed down their t-shirt and re-attached the sides using an easy and very fun loop braiding technique.
6. Crew neck to a V-neck with ruching
Perhaps a crew neck t-shirt that you accidentally shrunk still fits everywhere else but simply sits a little too high at the neck now? Then maybe turning it into a V-neck design will help you feel a little more comfortable in it. We like the way Crafty WI Mama did so by using simple thread ruching techniques that you don't even actually need to know how to sew to use.
7. Braided neckline t-shirt
Did we really catch your attention with our mention of doing some fun loop braiding but you'd rather do its somewhere that it'll be seen a little better than down the sides of your t-shirt? In that case, we'd definitely suggest taking a look at how Sky Turtle made this awesome t-shirt over by removing its original neckline and creating a gorgeous loop braided detail there instead!
 8. T-shirt to Balenciaga inspired crop top
If you're going to put in all the time and effort it takes to make yourself an altered t-shirt design, would you actually rather completely overhaul its style until it looks like a completely different shirt? Well, if you enjoy making homemade versions of brand name things even half as much as we do, then we'd absolutely encourage you to check out how Collectivegan made this lovely crossing crop top from an old t-shirt that looks just like a Balenciaga design.
9. Open back knotted tea
Are you simply looking for an easy way to put some subtle visual detail into a t-shirt you like that's slightly oversized but you're just not sure you want to change the sleek from of it? Then maybe it's time to add some visual appeal to the back instead! We love this cutout and knotted back t-shirt featured on Wobi Sobi for how great it looks and how easy it is to make.
10. Classic style knotted crop top
If you're going to cut into a top, would you rather do so in a way that looks like styles of auld, maybe getting into a bit of 80s or 90s vintage territory? In that case, we have a feeling this front knotted crop top outlined in just a few simple steps on Tomboy Vintage might be a little more up your alley!
11. DIY fringe t-shirt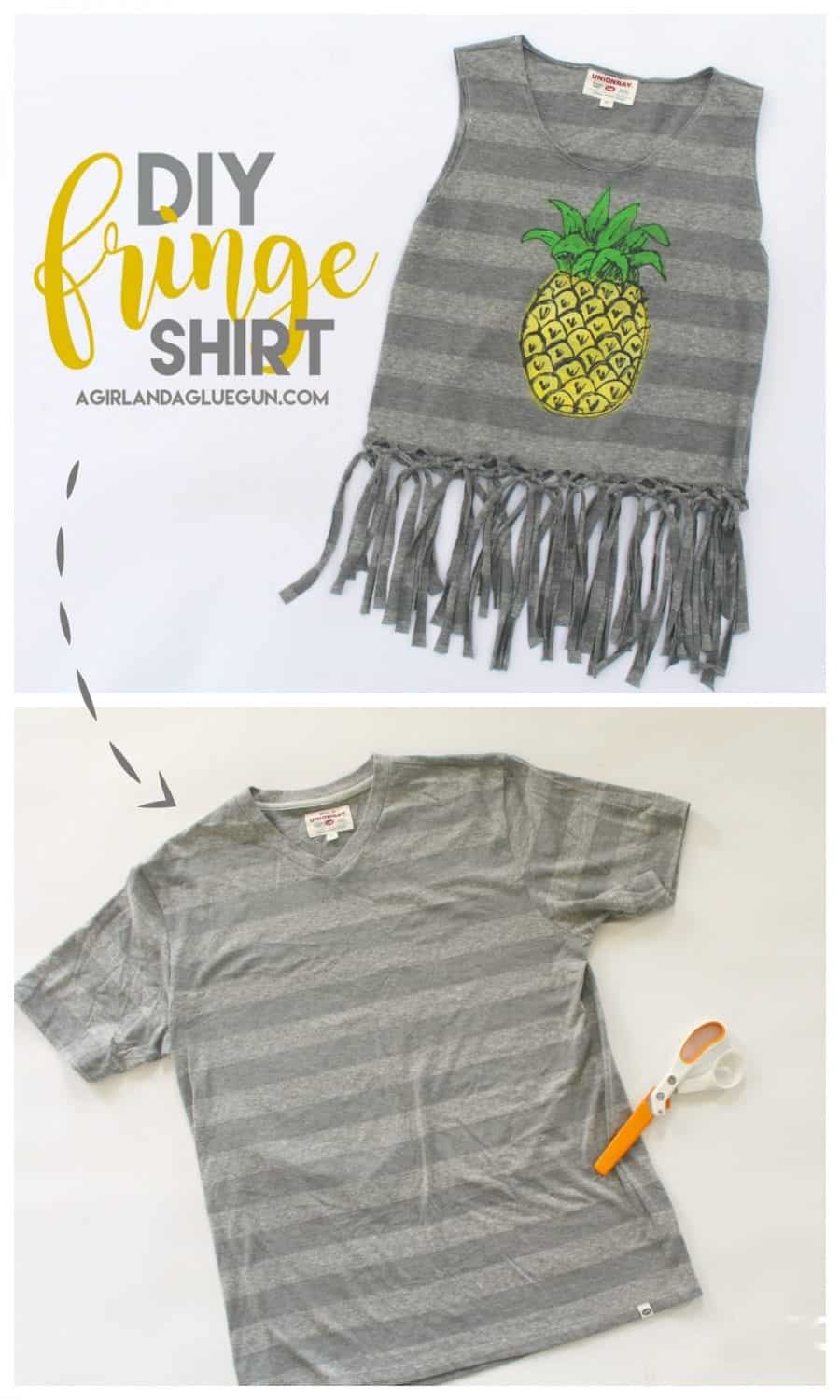 Are you really intrigued by this whole crop top concept now but you're just not sure that you want to cut the bottom of the shirt all the way off? Well, instead, we'd suggest that you consider this fringed bottomed t-shirt that involves making some simple cuts upwards from the hemline all the way around and giving the resulting strings a pull to round them. Get the full details for making your own on A Girl and A Glue Gun!
12. DIY braided racer back tank top
Do you have a favourite workout tank top that you always wear but it's starting to become a little stretched out so that it hangs kind of wonky? Well, why not change the fit all together by opening it up a little more, since you'll be wearing a sports bra underneath anyways, and then adding some new, pretty detail? We're personally quite in love with the way Skinny Fat Girl Diary outlines the steps for making this braided racer back tank top in a way that's quite simple indeed.
13. Lace cap sleeves tank top
Perhaps you have the opposite problem to what we've said in some of our tank top descriptions and you're hoping to turn a tank top you really like into a t-shirt because you just don't find that you like to wear straps anymore? Well, if your personal sense of style is quite feminine, then we think you might get along very well indeed with this lovely tutorial from Bead and Cord that shows you how to add a lace cap sleeve to a tank top's straps to transform it into a t-shirt!
14. Woven knots crop top
Are you actually still thinking about how much you loved the idea of making a t-shirt or tank top into a crop top and you don't mind cutting it quite short, but you're still feeling pretty intent on adding some kind of neat detail to it? Then we think you just might be the perfect person to give this woven looking knotted crop outlined in simple detail on Clones n' Clowns a try!
15. Tied sides V-neck tank top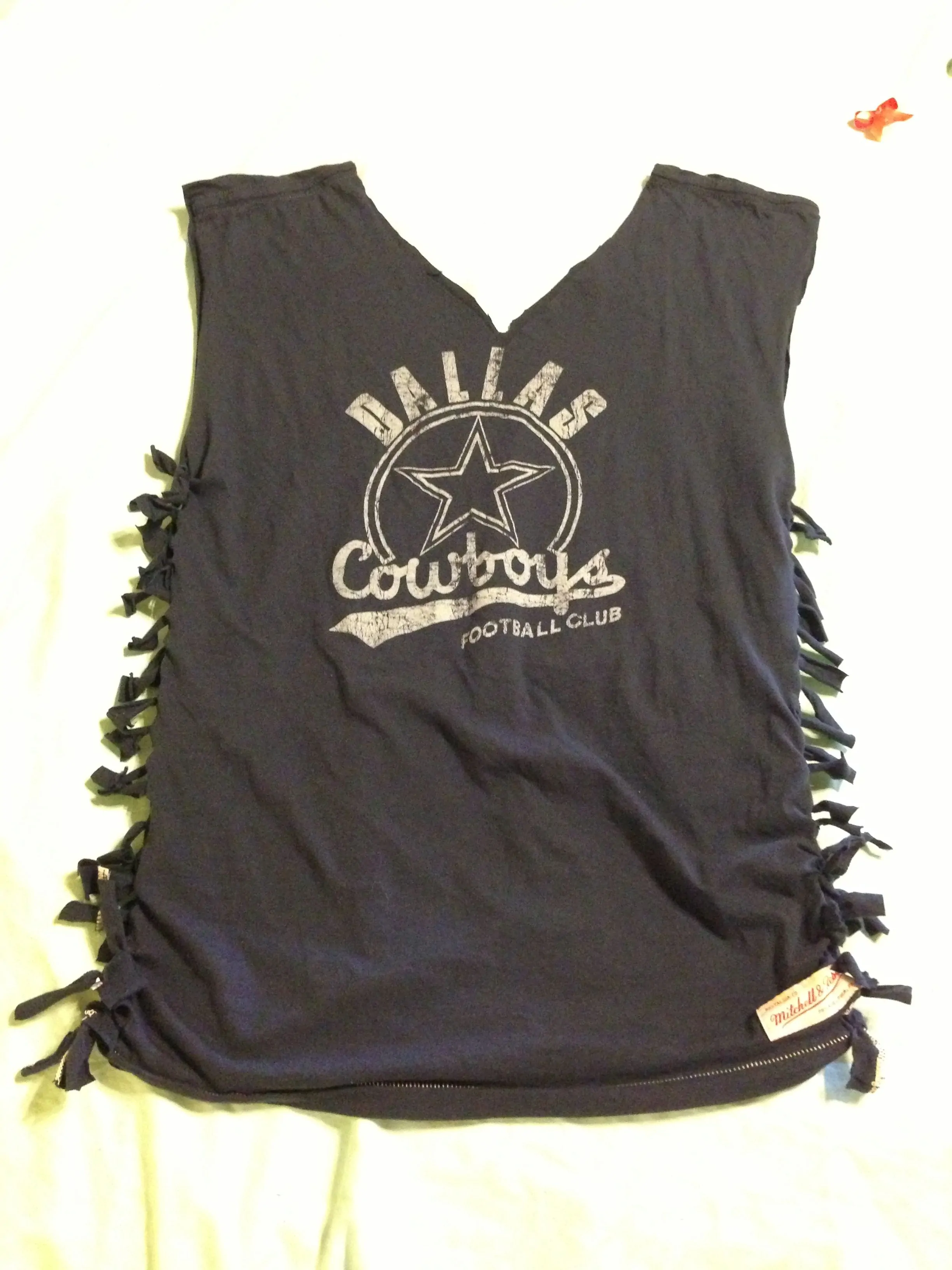 Did you really like the way we outlined the basic steps for bringing in the sides of the loop braided fitted tee we showed you before but you're just not sure that the braid is quite enough visual detail for you? In that case, we'd definitely suggest trying this technique from Delightfully Kristi where you tie fringed knots all up and down the sides instead! We also like how they cut a very simple V-neck into the previously crew style neckline.
Have you made other kinds of awesome t-shirt alteration tops before that you were very happy with indeed and still wear but that you don't see anything quite similar to on our list? Tell us all about what you created and how you did it or link us to photos of your finished work in the comments section!