15 DIY Room Dividers To Style, Organize and Conquer Your Space
Create division in large, open areas. Organize rooms. Add extra, offbeat style to dull, bare spaces. All you need is a chic or quirky room divider to do the job. Thankfully, you can whip these up pretty easily right at home. If you're feeling crafty, why not try your hand at one of these projects? Take a peek at these 15 DIY room dividers that will add style, organize, and conquer or own space in more ways than one!
1. Plant-Filled
Apartment Therapy starts our journey off with this fun, unique idea. Grab a minimalistic bookshelf, add some plants and use it as your room's divider. This is a perfect idea for studio apartments or open spaces that has a modern, simple style.
2. Hanging Window
Jones Design Company created a hanging window inside their home and it certainly create a unique "divider" that you can whip up yourself. If you're extra handy, take the leap and check out the tutorial!
3. With Fabric
Deco by Mado created a room divider and used fabric to accent it. We love this modern, dandelion look and it's a perfect addition to a space with a contemporary vibe. Bedrooms or home offices, this would work in a lot of different nooks and crannies that needed it.
4. Simply & White
If you're looking to make something with a chic, simple design – whether for your home or for work – this YouTube video will certainly walk you through it. We see this easily used at photo shoots or inside larger homes or apartments that need the clear division between rooms. If you wanted to be really creative you could even dip it in color – but we love the clean design.
5. Wooden Geo
We're swooning over this wooden, geo design from Wonderful DIY. A bit trickier to finish, this is perfect for a crafter that had a lot of handy experience. This too can easily have color added to it, but it works well as a neutral.
6. Inexpensive
Here's another YouTube video that will walk you through how to make your very own room divider. This one is bigger as well but the niche here is that this project is inexpensive too! It won't break the bank and you'll be able to put a finishing touch to the piece.
7. Sliding Wall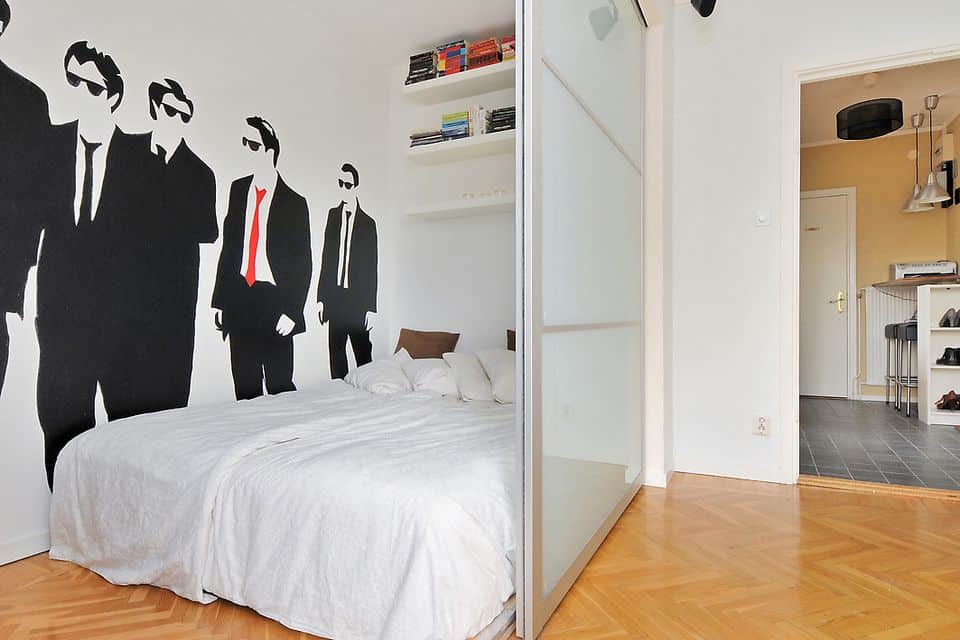 The Spruce showed off this sliding wall that works great for bedrooms. It'll give privacy to shared spaces as well. It's a bit more modern and would be a great addition to a home with a simple, minimal vision in mind.
8. Deconstructed
We are absolutely swooning for this deconstructed room divider from The Brooklyn Home Company. You can DIY it yourself and fit it right into your cottage-inspired home with ease. This is a great way to carve out a small, home office space in a room that have the extra square footage.
9. Curtains
Decorating Your Small Space gives us a room divider "hack" that we love too. Curtains can easily be used instead of building a wall from scratch. Use them to create privacy in shared bedrooms or in large, open spaces that need the cutoff.
10.Wooden Pallets
The Barry Farm went with a rustic-inspired design that used wooden pallets. Pallets are always great for DIY and they're super easy to work with as well. Even if you're not the most experienced crafter, you'll be able to make this happen.
11. Barn Door
This barn door nook from Remodelaholic is the right kind of inspiration we need to dream of ways on how to divide our rooms. Instead of replacing a door completely, you can also take a barn door and create that same sliding effect to divide rooms. It's definitely add some unique quirkiness to your home design.
12. XL Bookcase
Homedit feature this fun and creative idea that we love as well. Use an extra-large bookshelf as a room divider. You can organize and style it anyway you like it so its both functional and trendy for the home!
13. Five-Screen Panel
Martha Stewart gives us a fabulous DIY for creating a simple, 5-panel room divider. Paint it whatever color you like, add decals or designs, it's up to you! What's so great about this one is that is can easily be folded up and put in a closet when it's not in need.
14. Rope
We're loving the innovative behind this room divider's design. Over at Brick House, you'll learn how to take some rope and turn it into a fixated piece for your home! It's quirky, it's modern, it's unique and will easily become a favorite part of your house.
15. Bulletin Board
Design Sponge gives us a design we can DIY that not only acts as a room divider – giving privacy to our workspace. But, it's also a bulletin board, where you can keep your inspiration, to-do lists, and more! Check out the tutorial after the jump!