15 Yummy Roasted Pumpkin Seed Recipes
October might not be arriving any time soon, but we'd be lying if we told you that we didn't make and often think about one of our favourite fall snacks all year round. That is to say: we're completely obsessed with pumpkin seeds! There are just so many good ways to prepare and season them that the idea of eating them during only one season just doesn't appeal to us. We want them all year round! That's why we always have our eyes peeled for new flavours and recipes that we can try out in our kitchen.
Just in case you love the idea of making your own delicious and differently flavoured pumpkin seed recipes at home just as much as we do, if not more, here are 15 of the very best recipes, flavour combinations, and tutorials that we've come across so far in our search for just about every delicious option we can get our hands on!
1. Sweet curry pumpkin seeds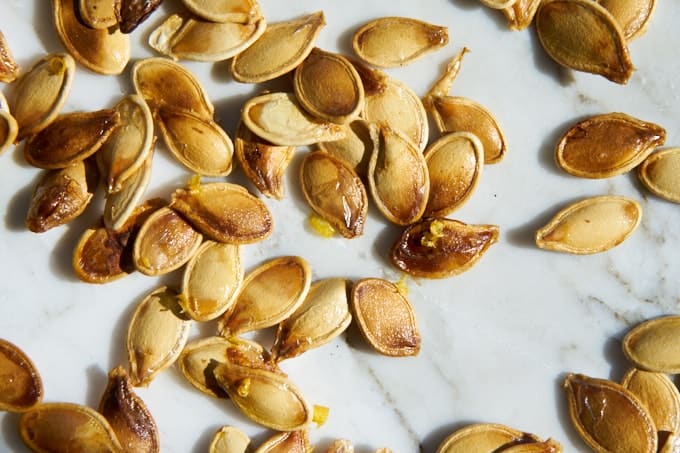 Besides showing you a full instructional guide for harvesting, cleaning, and toasting your pumpkin seeds to complete perfection, this tutorial and recipe from 101 Cook Books is amazing because it also shows you step by step how to season them so they taste like sweet curry! We've got this page bookmarked and we used it to enjoy our favourite snack all the time.
2. Roasted Buffalo pumpkin seeds
Are you absolutely into the idea of making a roasted pumpkin seed flavour that has a little bit of bite, so you were intrigued by the curry concept, but you'd rather keep that spice and kick instead of balancing it our with sweet notes? In that case, we'd definitely suggest taking a look at how Passion for Savings made this roasted Buffalo version instead!
3. Sweet hot pumpkin seeds with autumn spices
Are you actually feeling very intrigued indeed with the idea of making a recipe that has a little bit of sweet and a little bit of hot, but you're the kind of person who really likes both, so you'd rather more umph to the flavours either way? Then we have a sneaking suspicion you just might get along a little better with a recipe like this sweet and spicy one featured on Organic Authority.
4. Cinnamon coconut roasted pumpkin seeds
Are you interested in finding an awesome new recipe that has some kind of extra flavour you don't often see in pumpkin seed flavourings, and you're not necessarily attached to the idea of keeping your seeds savoury? In that case, we'd definitely suggest taking a look at how Delicious Obsessions made these delicious cinnamon coconut roasted pumpkin seeds in just a few simple steps.