Using Tension Rods in Unique Ways
When it comes to home hacks, few things give us more joy than finding one really useful tool that we can use for all kinds of things if we're willing to get a little creative. That line of logic is how we recently became completely obsessed with the idea of making all different kinds of tension rod projects! once we'd used them for one thing and discovered how simple and resourceful they are, we just couldn't get enough.
Just in case you're about as in love with the idea of making all kinds of home hacks and storage projects from cheap tension rods as we were, if not more, here are 15 of the best ideas, concepts, and tutorials we've come across in our search for guidance!
1. Space efficient gift wrap storage
Like ourselves, have you accumulated a large collection of gift wrap and tubes of wrapping paper over the years that you use avidly sometimes and like to keep on hand but that you don't always want just laying around in your space? Then we think you'll get a real kick out of how The Lovebugs Blog created a space efficient storage solution for those using tension rods!
2.  Easy under the sink paper towel dispenser
Are you the kind of person who is a little bit bad for throwing cleaning supplies in the cupboards underneath your counters so it gets a little disorganized down there, but you'd like to find an easy solution to help you keep things a little more organized? In that case, we think you'll really appreciate the way DIY Inspired used tension rods to create roll racks behind the doors so you can just pull out as many squares as you need.
3. Office note and photo hangers
Have you actually been looking for a way to streamlined how you leave yourself notes at work because you simply don't have the wall space for a cork board nor the desk space for scattered sticky notes? Then we'd definitely suggest taking a look at how Martha Stewart used tension rods with clip rings to hang notes and photos, as well as to separate papers and folders in a desk cubby.
4. Simple scarf rack
Are you the kind of person who thinks an outfit isn't complete unless you're wearing some kind of scarf, so you've amassed a rather large collection and now you need somewhere to store them a little better? In that case, we have a feeling you'll get along very well indeed with this awesome tension rod scarf rack idea from Apartment Therapy.
5. Bath toy baskets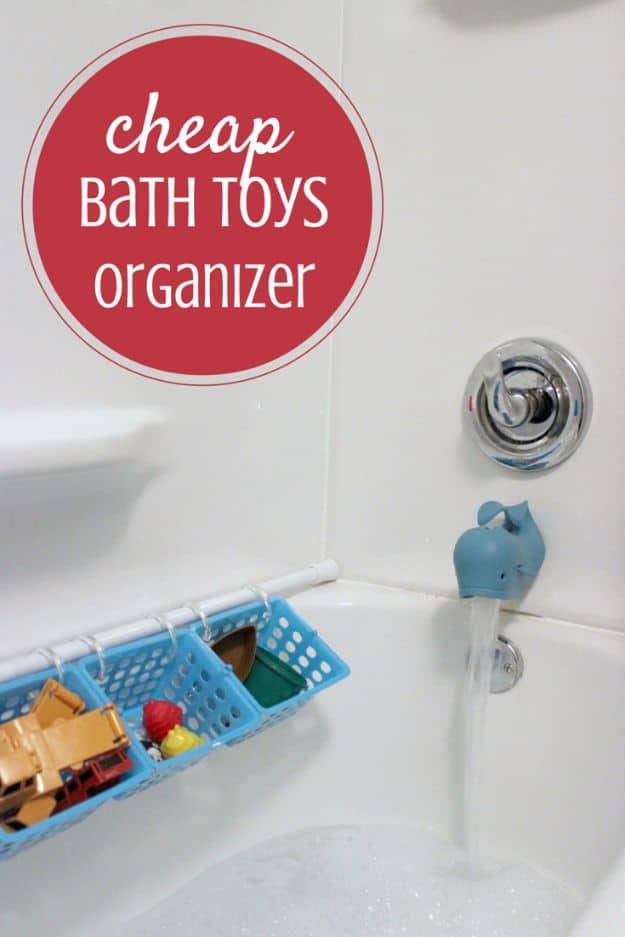 The great part about tension rods is that they're made out of plastic, so you can put them almost anywhere without worry that they'll warp or wear away if they get damp. That's why this idea from Cleverly Simple for making bath toy storage that your kids can easily reach using some plastic baskets and a tension rod is such a great solution!
6. Simple bookcase cubby shades
Just in case you're looking for something to use your tension rods for that's a little bit more decorative in its function, rather than just hiding them in a closet or cupboard, here's a fantastic idea from Better Homes & Gardens that will help you change up the way you decorate or store things in your favourite cubby shelf! Check out how they made these simple shades that you can pull across and change around easily.
7. Utility sink skirt rod
Have you got a rather cute laundry room decor scheme going but you can't help noticing that your utility sink really sticks out with its simple white plastic legs and things storage underneath? Then we think you'll get along quite well indeed with the way You Paid More Than Me made this super simple sink skirt between their washer and dryer using a length of fabric and a tension rod.
8. Ribbon organizer in the craft room
Perhaps you're still thinking about how much you love the idea of stringing things that dispense by spinning along a tension rod but you already have a paper towel rack? Then we think your inner craft lover might prefer making something like these tension rod ribbon racks by Sew Many Ways! They put theirs in a cubby shelf but you could make yours anywhere they'll fit.
9. Tiered floor to ceiling trays
Are you looking for a tension rod project that is actually a little more challenging than just putting your rod between two surfaces? In that case, we think you might enjoy the way Skona Hem actually created a freestanding tiered shelf that will hold some light weight using tension rod place between large dinner plates all the way from the floor to the ceiling!
10. High heeled shoe hangers
Did we really catch your attention when we started talking about the idea of using tension rods to make fashion accessory racks but you're just not the kind of person who has enough scarves to warrant making a whole place to hang them? Well, if you're more of a high heeled fashion diva, here's an awesome outline from A Loyal Love that shows you how the idea can be used to hang your favourite pumps too!
11. Vertical kitchen shelf organizers
Were you a huge fan of the way the office idea we showed you earlier used tension rods to create separate areas for storing folders and papers and you liked the basic idea of it but you don't really have an office space that needs that? Then maybe you'd prefer to put that tactic to use in your kitchen instead! Check out how Martha Stewart used tension rods as a place to store large, flat things like serving plates and cutting boards.
12.  Tension rod jewelry hangers
Are you actually still thinking about the idea of tension rods storing fashion accessories but you already have or don't need a high heeled rack like the one we showed you before? In that case, we think you might really prefer the way Engineer Your Space made a fantastic jewelry rack using a series of tension rods, hooks, frames, and screens! This one hangs all kinds of things.
13. Tension rod drawer organizers
Are you still impressed by the way tension rods can be used to separate things for organization but the other ideas we've shown you so far just aren't quite right for you? Then maybe you'd prefer to organize your drawers instead of your kitchen shelves! Check out how BHG fastened a longer rod from the back to the front of the drawer and placed plastic food tubs and lids strategically inside.
14. Cleaning supply hanger under the sink
Maybe you actually loved the idea of using tension rods to organize the area beneath your cupboards so much that you want to see how other people have used them for things besides just paper towels too? Then we think you'll get a kick out of the way Jen Thousand Words used the rods to get all their spritz bottle style cleaners up off the floor of the cupboard so other things can be placed there, giving you more room.
15. Tension rod and bucket herb garden
Are you actually so interested in the way that tension rods can be used as space savers that you're looking for even more ways to use that basic idea in all facets of your home? Then we'd definitely suggest taking a look at how Jill M placed a tension rod in their window and used hooks and little buckets to plant their own indoor herb garden! This is a great way to add some greenery to a small apartment with no yard to work with.
Have you used tension rods in other creative ways that you were really happy with but that you don't see here on our list? Tell us all about what you made and how you did it or link us to photos if your finished product in the comments section!