28 Panda Cupcakes, Cookies and Cakes To Celebrate With!
Black and white,cuddly and adorable on t-shirts and notebooks, Panda bears are pretty popular, especially among the youngsters. So, if you're planning a themed party, whether it's a birthday or a sleepover, we've got the treats covered. Just take a look at these 35 panda cupcakes, cookies and cakes that you can whip up and celebrate with!
1. Chocolate + Vanilla Cupcakes
Mama Bees Freebiesfeatured these adorable, mini panda cupcakes that are not only perfection aesthetically but delicious too! Check out the details now!
2. Shortbread Cookies
Check out these simple, yet tedious, panda cookies over atHungry At Midnight. They're be a fun experiment this weekend!
3. Ice Cream Cone Cake
Check out this adorable panda cake inspiration! Whether you whip up an ice cream cone and embellish it or cake a cone cake for the party. (via)
4. Disney Inspired Cupcakes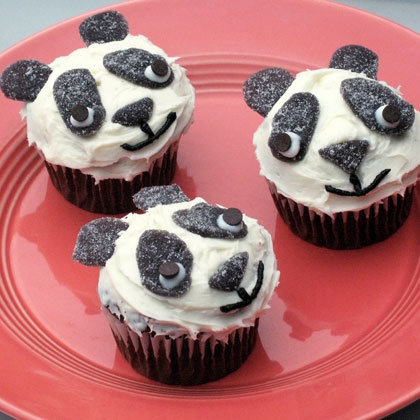 Disney Familyhas some panda cupcakes – made with the help of black gummy bears – that were inspired by the movie Mulan! Have fun decorating these with the kiddos!
5. Sugar Cookies
Tablespoonhas a great recipe for some panda sugar cookies. And you'll get to add a bit of green to the mix.
6.Full Body Oreo Cupcakes
You'll want to run over toInstructablesand check this one out. The kids will love this full-figured panda cupcake!
7. Vanilla + Buttercream Cupcake
Watch thisYouTubevideo and learn how to make these vanilla and buttercream cupcakes. Topped with adorable and trendy pandas!
8. Cutter Cookies
Check out these adorable cut-out cookies fromPeng's Kitchen. Some are faces and some have bodies … all of them are adorable.
9. Panna Cotta Cake
Here's a little cake you'll want to learn how to make. Visit Little Cook and try your hand at the "panda" cotta recipe.
10. Green Tea Cupcakes
shiawese dayshas a unique recipe for us to take a peek at. Learn how to make some green tea cupcakes but top them with adorable panda faces!
11. Tiered Bamboo Cake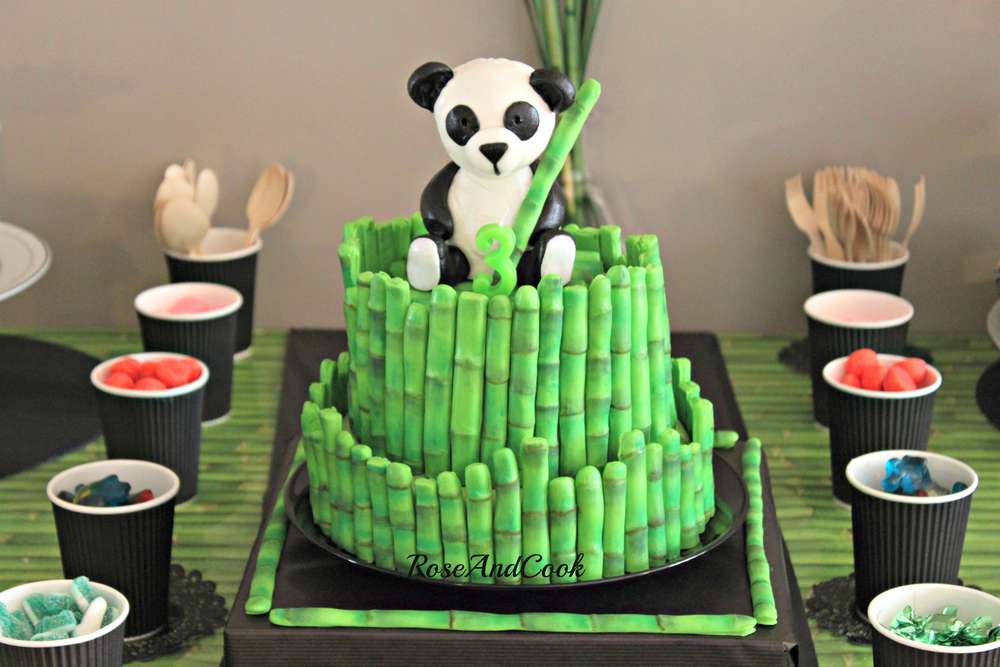 Use this bamboo cake at inspiration for your next celebration. We found this one at Catch My Party and are loving the vibrancy and creativity.
12. Cookie Pops
Here's some more fun inspiration for you to pull from. These panda cookie pops could easily be used as favors for the party!
13. Butter + Chocolate Chip Cupcakes
Inside Out Motherhoodhas a great recipe for a butt cupcake and a great way to utilize chocolate chips in making your panda faces! They're charming and delicious!
14. Icing Transfer Cookies
Daniela'sshows us how to get really creative with icing transfers. These cookies really are a work of art.
15. Marshmallow Treats
Walmarthas a fun dessert to try your hand at too. These treats are great to serve up at a party but used as favors too. And the kids will help m making them!
16. Dark Chocolate + Coconut Cupcakes
And over atGood To Knowyou'll find more cupcakes to try out in the kitchen. And this time, you'll get to use some coconut!
17. Face Cookies
Check outSweet Sugarbellefor a great tutorial when decorating cupcakes. Learn some tricks and how to make these cute panda faces.
18.With Bows Cupcakes
And here's some more inspiration fromCatch My Party. Your pandas can be a bit girlish with bows in their hair.
19. Nutella Cookies
My personal favorite recipe of the bunch, over atWhat I Doyou'll have to grab some Nutella. These mini cookies are quite addictive too, so watch out!
20.Mini Oreos + Hershey Kiss Cupcakes
Raising Whaisiansknew how to make a panda face with what she already had in the kitchen. Mini Oreos and Hershey Kisses are the focus here.
21.Valentine's Day Cookies
Dress your pandas up a bit for Valentine's Day with the help of this YouTube video. They're a great DIY gift for a loved one!
22.Cheddar & Cream Buns
Honey Bee Sweetsmade some cheddar and cream panda buns that we're absolutely swooning for. Make these for the party too!
23.Cream-Filled Cupcakes
If you'd like to take a peek at another cupcake recipe, this one is one of the best on the list.Is This Really My Lifeprovides us with some cream-filled treats.
24.Macaroon Cookies
Here's some more great inspiration when it comes to panda dessert. Macaroons can be turned into pandas or you could dip some Oreos in white chocolate!
25.Bamboo Embellished Cupcakes
We snagged this inspiration because of the bamboo. Add some color to your pandas with the addition of their favorite treat. -viaTuptakes
26.Cookies & Cream Cookies
Visit Six Sister's Stuff for a cookie recipe that isn't so outwardly panda as it just gives a nod. For your themed panda, throw in these "black and white" cookies to the mix.
27.Kung Fu Cupcakes
As The Bunny Hopstook inspiration from Kung Fu Panda, the movie, and made these cuties. Check out this recipe after the jump!
28.Chocolate Donuts
Iam a food blog gives us a more unique panda treat. These chocolate donuts are dressed and ready for celebrating.