Gorgeous DIY Baby Cradles for Handy Parents
Preparing for baby can be an expensive experience. There are many ways to save, but you're probably prepared to guess which way is our favourite! Using your DIY skills to make things yourself can be not only cheaper than buying everything new, but it's also an opportunity to unwind, use your hands, and work together with your loved ones. there are plenty of small baby-related crafts that you can make, but have you ever considered making your own central piece for the nursery?
Check out these 15 amazing DIY baby cradle ideas that you probably won't find pre-made in the stores!
1. Baby cradle and side rocking chair
Instructables walks you through the process of making a baby cradle that's so unique in function and use that it can actually save you money on another piece of furniture too! This cradle has a rocking chair built right into the end of it so that you can rock Baby to sleep and immediately place them into their cozy bed without risking waking them up walking across the room.
2. DIY moon-shaped cradle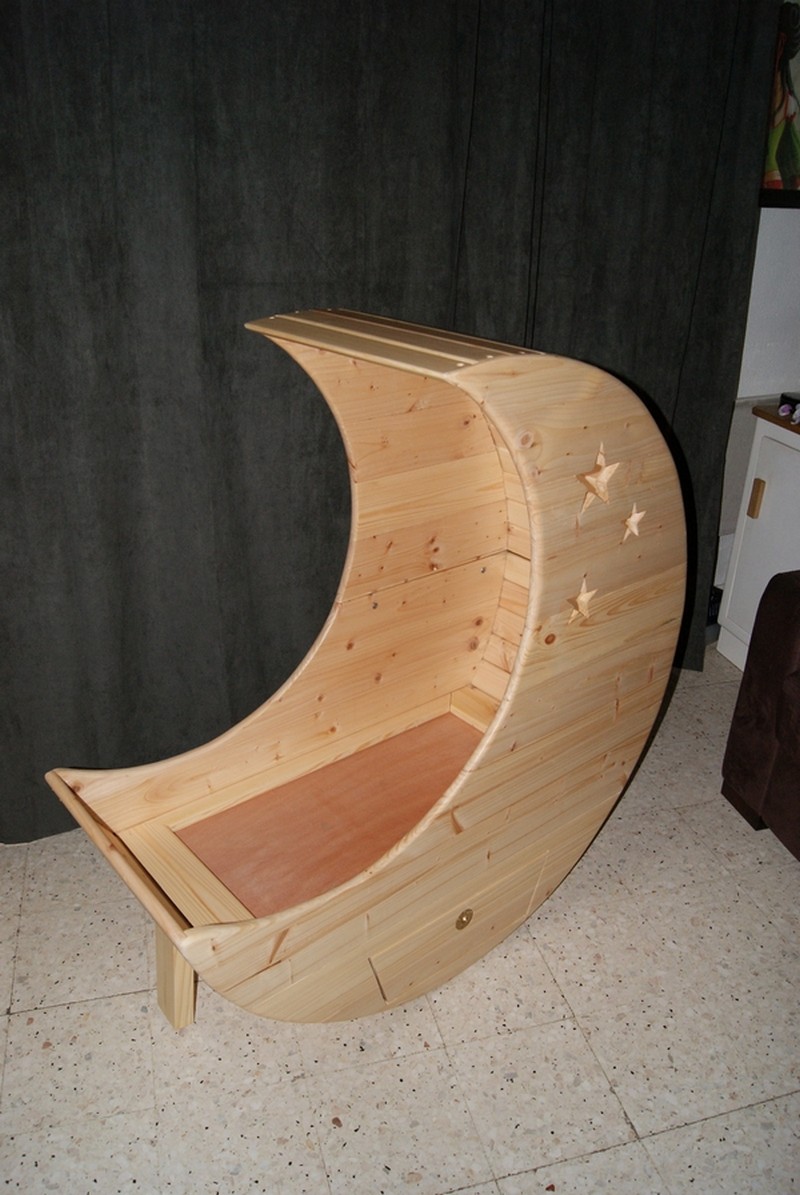 Sometimes a bit of decorative novelty is lovely, as long as the piece is still practical! We think this gorgeous half moon cradle design by The Owner Builder Network is the perfect blend of style and function! It's also easier to make than you might thing as long as you have some base knowledge about wood working.
3. So-ro modern wooden baby cradle
Do you have brand new twins that you'd like to be able to nap together? Perhaps you're just very close with your best friend who also has a young baby and you'd like a safe place to lay them when they fall asleep during play dates. Either way, this tandem rocking cradle design by Small for Big is perfect for letting your baby bond with others, even while they snooze.
4. Hanging curtained baby cradle
Are you working with a very small floor space and looking for alternative cribs that will keep things as uncrowded as possible? Besides being useful for that, this lovely hanging design by Seven Crossways is absolutely gorgeous. It also has a curtain that will let you block sunlight from shining on Baby's face in the morning or during nap time.
5. DIY repurpose pallet crib

99 Pallets suggests letting your obsession with upcycling pallets spill over from your living room and dining room into Baby's room too! As long as they're in good condition, pallets are the perfect reclaimed wood for making your own study crib or cradle.
6. Choo choo trains crib and dresser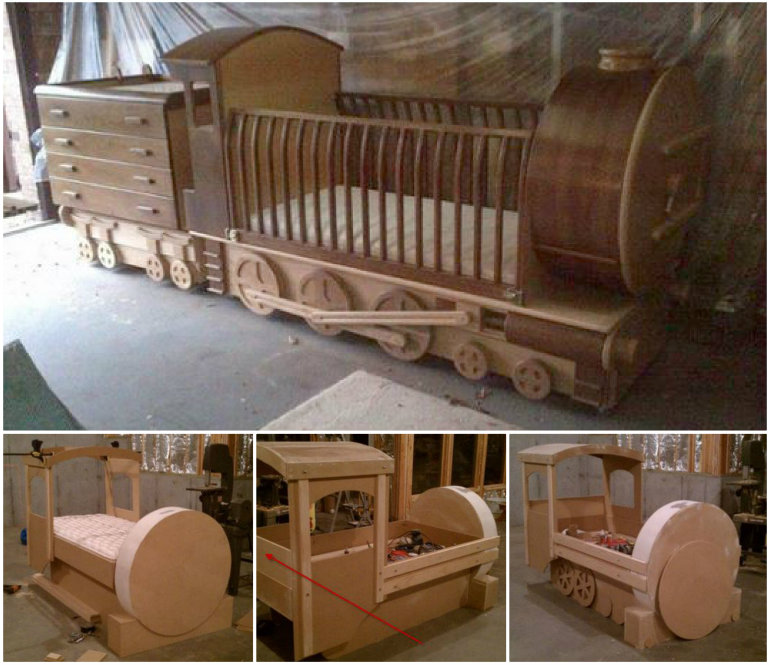 If you're quite experienced with wood working and looking for a more challenging piece of DIY furniture than the average crib or cradle, look no further than this dual crib and dresser choo choo train design by Fab Art DIY! Besides being fulfilling to complete, it's also functional in that it takes care of two pieces of furniture. Finally, we doubt we even have to point this out to you, but it's completely adorable too.
7. Rocking cradle made from two chairs
What's even better than upcycling other things into pieces of cute decor for your Baby's new room? Upcycling something into a practial piece of new, reclaimed furniture, of course! We absolutely adore this rocking cradle design created from two identical wooden chairs faced together and attached. Get the full instructions for making it from Handmade Charlotte.
8. DIY farmhouse crib
Have you built your new baby a shabby chic nursery with a beautiful farm-like aesthetic, but you haven't quite found a crib or cradle that fits the style to your liking? Ana White suggests keeping things rustic by actually making a DIY cradle from reclaimed wood from an old barn or farmhouse. We love the way the cross boards at the foot of this crib design resemble a barn door!
9. DIY portable crib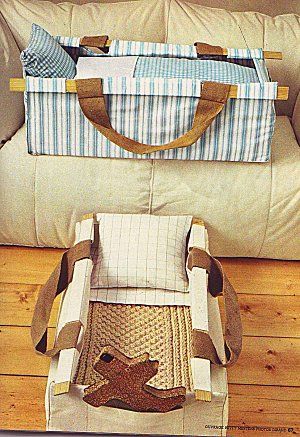 Are you looking for a way to keep baby comfortable during their naps no matter where you are when they fall asleep? This DIY portable cradle design by La Salsa D'Amelie is the perfect solution. It's also a lot more stylish and easier to carry than classic folding cribs as long as your baby is still small.
10. Hanging fabric cradle
TutorialGirl shows you how to make a gorgeous hanging cradle that's more fabric and less wood or harder materials. This pattern and design are great for people who want to make a DIY cradle but aren't experience in wood working. It's also easier to store away later when your baby outgrows it!
11. DIY hanging tent cradle
Do you like the idea of a hanging cradle made mostly of fabric and material, but the first hammock style design isn't really your preference? This hanging tent design has a little more character, especially if you're going for a rustic feel. It's also compact enough that you could hang it temporarily in your own room to help with long nights of interrupted sleep early on, without having to completely restructure your room for make floor space. Check out how it's made on Vintage Revivals.
12. Hanging whiskey barrel cradle
Do you want a reclaimed idea that's full of character and definitely uncommon? We think you'll adore Craft Like This' rustic but innovative idea for using an old whiskey barrel cut in half to create a gorgeous hanging cradle!
13. Rounded canopy baby crib
DIY Start shows you how to make a non-traditional but gorgeously decorative rounded baby cradle that will automatically turn any nursery into a princess room. No matter what colour you choose, the canopy will make everything seem royal each night and at each nap time.
14. DIY wooden pillow lounge cradle
Are you look for a second, temporary cradle for downstairs that you can set Baby to nap in while you cook or do housework, but that you'll move them from later when it's time for bed? Check out this gorgeous wooden frame cradle stuff with an oversized body pillow featured on The Project Lady! As long as they're small enough for swaddling, baby will be cozy and safe upon the cushion until you're ready to take them upstairs.
15. Reclaimed wood crib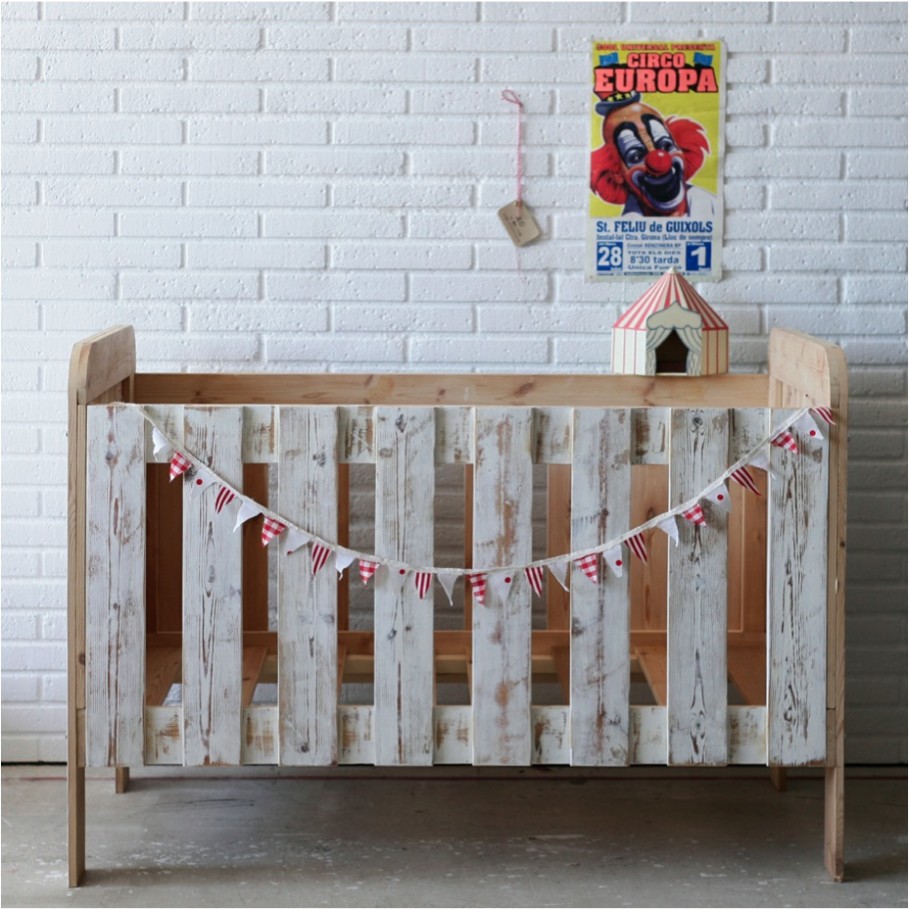 Luxury Bus LA suggests making your very own cradle design out of reclaimed wood. Whether you're getting the boards from an old fence or somewhere different, the weathered look of reclaimed wood will help you build a gorgeously shabby chic aesthetic in your nursery that definitely errs more on the side of chic.
Do you know a crafty person who's expecting a baby in a few months and doesn't have a crib or cradle yet? Share this post with them to get their creative juices flowing!