Leggings are one of the most comfortable wardrobe pieces you can own, and they are incredibly versatile too. They can be dressed up or down, and they are great to layer with as well. Keep reading to check out 25 of our favorite ways to wear leggings.
1. With Statement Heels
This first look is great for a night out on the town, and it's incredibly easy to pull together. Simply grab a set of statement heels (either patterned or brightly colored) and pair your black leggings with a long sweater. Check out the look over at Lip Gloss and Labels.
2. With Flats and a Turtleneck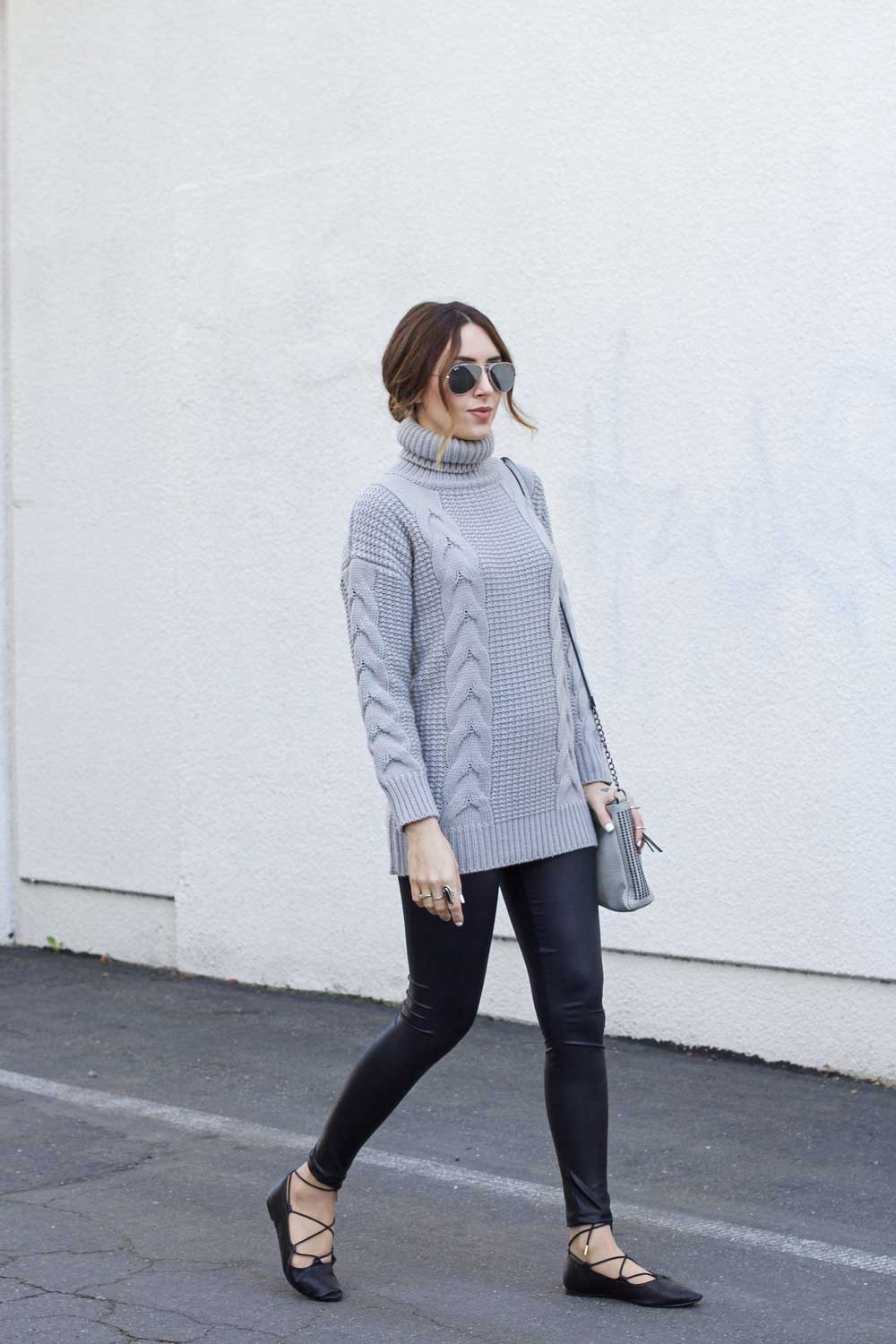 Stay warm on chilly fall days by pairing leggings with a long, cozy turtleneck. Flats look great with leggings too, especially unique ones like those shown above. Make your way over to Elements of Ellis to see more images of this lovely legging combination.
3. Athletic Look
Leggings can also easily be dressed down and given more of an athletic look. Here, a colorful pair of New Balance shoes and a fleece jacket give them a more intentional feel. Head over to Nicole To The Nines to find out where she bought each piece.
4. Bohemian Chic
Faux leather leggings give any outfit a bit of glamour, and this outfit is no different. The eye-catching yellow printed knee length jacket gives a mostly black outfit some serious punch. Check out Sincerely Jean to find out all about this super chic outfit.
5. Floral Print Jacket
To dress up a basic pair of black leggings, just add a pretty floral print blazer and a cute pair of flats. The unique top will instantly elevate the leggings and give the whole outfit a special feel. Head over to Elements of Ellis to find out more about the look.
6. Underneath Over-The-Knee Boots
Over-the-knee boots are another type of footwear that works well with leggings. The tightness of the leggings allow the boots to fit nicely, while the black color lets the bright boots shine. Make your way over to Sapphire Diaries to read all about these lovely outfits.
7. As Maternity Pants
Leggings are also a great maternity look. Comfort is usually a priority for pregnant women, and leggings can be just as comfortable as sweatpants or pajamas. Head over to the One Little Momma blog to find out how to style leggings when you're pregnant.
8. Athletic Gear
Colored leggings can be a wonderful style to wear for a workout as well. They are comfy, thin and breathable so they are perfect as activewear. Try shorter capri leggings on warmer days so you don't overheat. Head over to Rio by Olivia Irene to read more about this look.
9. Patterned Leggings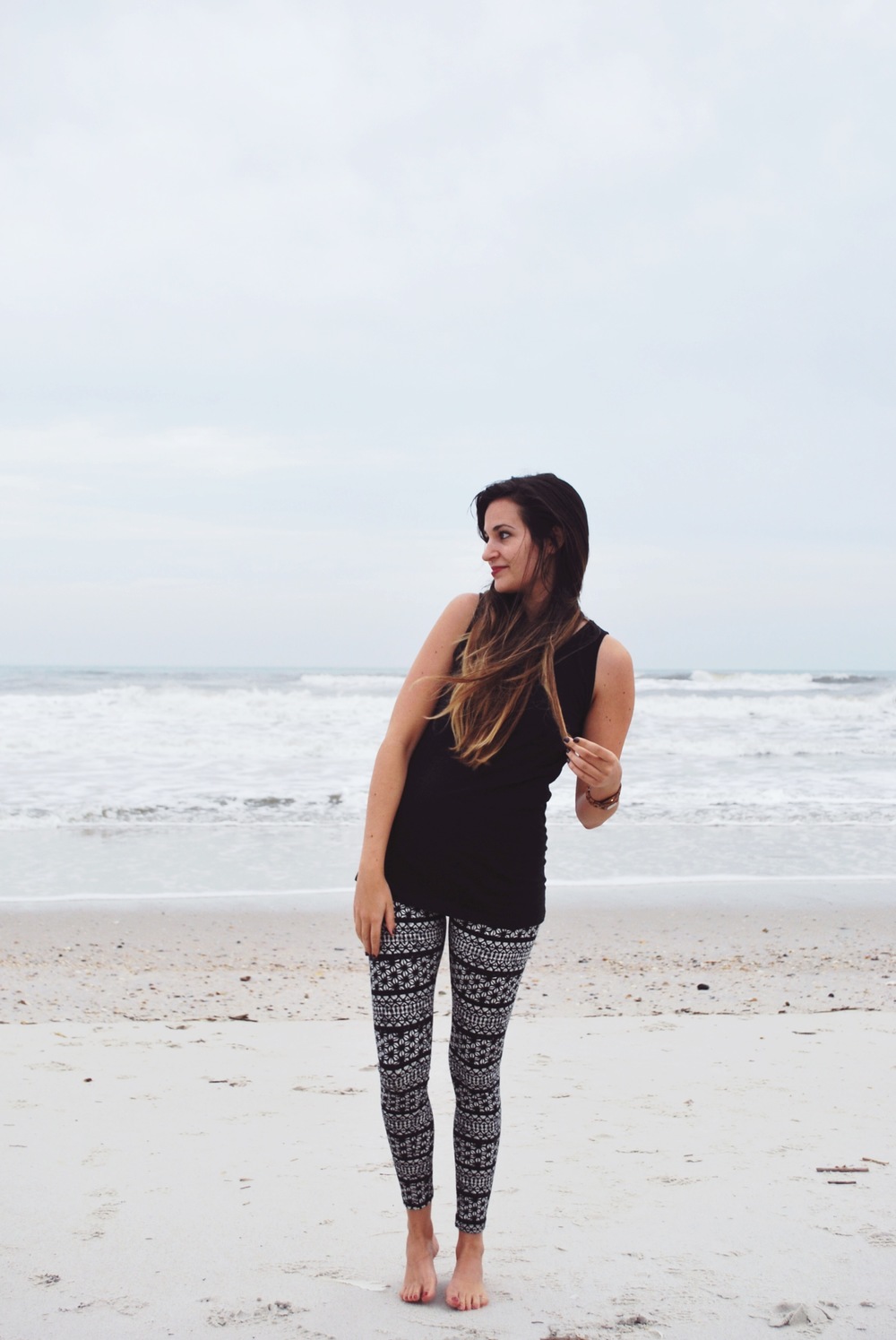 Patterned leggings are a great alternative to plain black ones, lending a more energetic feel to any outfit. Here, black and white ones pair nicely with a basic black tee, but more colorful versions are great for spring or fall. Check out the details on this outfit at Sustainably Chic.
10. Oxblood Faux Leather
Here, a pair of oxblood red faux leather leggings pack a punch with a neutral cable knit  sweater and a daring pair of animal print high heels. the dark red color is a refreshing alternative to other hues. Head over to Lip Gloss and Labels to find out more info about this look.
11. With A Preppy Scarf
Scarves are a great way to dress up any outfit that involves a plain black pair of leggings. Here, a preppy plaid scarf lends a pop of color to a mostly monotone fall outfit. Make your way over to Polyvore to learn all the details about this stylish look.
12. Under Skirts
Leggings are also great layering options underneath skirts for days when the weather might feel a bit too chilly for just tights. You might also consider a color other than black to spice up a monotone outfit. Check out the details of this look at One Artsy Mama.
13. Metallic Leggings
Metallic leggings lend a futuristic style to this unique outfit. The great thing about these gold leggings is that they dress up the outfit, thanks to their shiny finish and the tall black heels that they are paired with. Head over to The Wicked Ying to find out more about this look.
14. Jeggings Under Hunters
Jeggings (jeans style leggings) are another great way to maintain your comfort while still looking put together. Pair them with a pair of Hunter boots on a rainy day and you'll be puddle proof. Check out this and lots of other outfit ideas at OutfitPosts.
15. With Chambray
Chambray shirts are another trendy look that has become popular, and they look great layered over tanks and paired with black leggings. Add a scarf and you'll be ready for a day of errands or shopping with the girls. Find out more about this outfit at Ella Pretty Blog.
16. With A Cape
Capes are perfect layering items during the chillier fall months, and they conveniently look great with leggings! Here, a pair of cropped leggings and booties add some serious style to the look. Head over to Style Blueprint to find out more about it.
17. Flowy Tops
Long flowy tops are another great styling idea for leggings. Flowy shirts look best paired with tighter bottoms anyways, so dark leggings are the perfect complement. Make your way over to the Stylish Wife blog to see this outfit and lots of others too.
18. With Short Dresses
Do you have a cute dress that is a bit too short for your taste? Pair it with black leggings and booties for a more modest look. If it's cool outside, add a long cardigan and a scarf. Check out the original over at Fash For Fashion, along with other outfit ideas.
19. With Tall Socks
If you're dressing for very cold weather, leggings provide lots of great layering opportunities. Here, tall socks add an extra layer of warmth between a pair of Tory Burch leather boots and black leggings. Check out this and other outfit ideas at Wannabe Magazine.
20. Military Style
Here, a basic pair of black leggings takes on a whole new style by being paired with a dark green military style shirt jacket and brown boots. An animal print scarf ties everything together. Head over to Because Shanna Said So to find out all the details.
21. Denim Jacket
This all black outfit runs the risk of looking rather boring, but the addition of a super cute cropped denim jacket gives it a stylish, memorable look. And the black pumps dress it up a bit. Make your way over to Gurl.com to see this and many other ideas.
22. With A Graphic Tee
Add a graphic tee to the mix to dress down the outfit a bit, giving more of a street chic look. Add a pair of these lace-up platform boots if you really want to get trendy! Head over to Fashionsy to see this outfit along with lots of other legging ideas.
23. With A Short Tribal Skirt
Pair a short tribal printed skirt to the mix to dress up your black leggings. They lend a more modest feel to the look, while also keeping you warm on cooler days. Make your way over to Carah Amelie's blog to find out all the details about this outfit.
24. With Hiking Boots
If you're headed out for a walk in the woods, leggings even look great paired with hiking boots! Talk about a versatile wardrobe staple. Here, an open plaid shirt adds some extra flair while a black quilted vest is added for warmth. Found over at The Daybook.
25. With A Statement Coat
And last but not least, this look is sure to wow passersby. A pair of black leggings is combined with a lovely rosy pink colored statement jacket, along with calf-height boots and a cozy cabled scarf. Check out all the outfit details at The Mysterious Girl.