These 50 Mug Recipes Will Change The Way You Think About Cooking and Baking
From breakfast to dessert, there are so many ways to utilize the "one mug, one meal" mantra. And we're here to show you all the wonderful ways to do so. Check out these 50 mug recipes that will not only change the way you think about cooking and baking, but make meals for one so much easier!
1. Spinach Lasagna
Healthy Nibbles & Bits makes a spinach and ricotta lasagna that looks out of this world! Just pop in the ingredients and have dinner for one in no time!
2. Blueberry Pancakes
Over at Bigger Bolder Baker, you'll find the tutorial for making blueberry pancakes! We love this quick breakfast idea!
3. Chocolate Chip Cookie
No. 2 Pencil has the recipe we all want and that's a classic, scrumptious chocolate chip cookie. Grab the ingredients and curb that craving!
4. Peanut Butter Cake
My Happy Place has a peanut butter cake that will rock your world. Have this afternoon with a chaser of ice cold milk.
5. Sausage Corn Muffins
These corn muffins are great all day long! Check out the easy recipe over at Rachael Ray now!
6. Mac & Cheese
When you're feeling a bit of homestyle cooking or comfort food, this easy dish is ready for the taking. Visit Made by Monique for all the details!
7. Quiche
Check out this one-minute quiche recipe from Full Thyme Student. It's perfect for a pick-me-up snack or breakfast!
8. Carrot Cake
Chocolate Covered Katie gives us the recipe for a carrot cake .. that, of course, fits right inside a mug. For fans of this sweet veg delight, visit now!
9. Pizza
If you're feeling like a quick and scrumptious meal for one, then go over to Bigger Bolder Baking and grab all the details for pizza in a mug!
10. Apple Cinnamon Cake
Apple cinnamon mug cake sounds like the perfect addition to a fall night. The Hungry Hedgehog has the recipe now!
11. Breakfast Granola
Bigger Bolder Baking also has a breakfast granola recipe that will knock your socks off. Make mornings matter with this easy treat!
12. Peanut Butter & Banana Cake
Personally, I love a peanut butter and banana combination. And with this recipe you get the best of both world in cake form! Check it at at BBB.
13. Chocolate Chip Matcha Cake
Thirsty For Tea has a super unique recipe for tea lovers everywhere. This chocolate chip matcha cake is delish!
14. Pumpkin Cake
Over at The Gunny Sack you'll find the recipe for the perfect fall treat: pumpkin cake! Who doesn't love a bout of this flavor throughout the season?
15. Banana Blueberry Muffin
Here's another muffin recipe that's perfect for starting your day or picking yourself up in the afternoon. Power Hungry has all the instructions for creating this banana blueberry muffin in a mug!
16. Vanilla Cake
Table For Two has the moistest and most delicious recipe around for vanilla cake and it all starts in a mug. So, when a craving strikes this is the dessert to whip up.
17. Chilaquiles
Check out Hot Dinner Happy Home for this delicious chilaquiles recipe. They'll fit right inside a mug and be a less mess of a dinner!
18. French Toast
Pretty Prudent has exactly what you need to make your breakfast one to look forward to. Who wants quick and easy French toast tomorrow?
19. Strawberry Pie
If you love a fresh and tangy strawberry pie in the summertime, How Sweet It Is shows us how to whip them up quickly and for one!
20. Coffee Cake
Sometimes a bit of coffee cake can really finish off your evening just right. But a bit can start your mornings off with a bit of zest too. Grab the recipe at Pretty Prudent.
21. Lemon Cake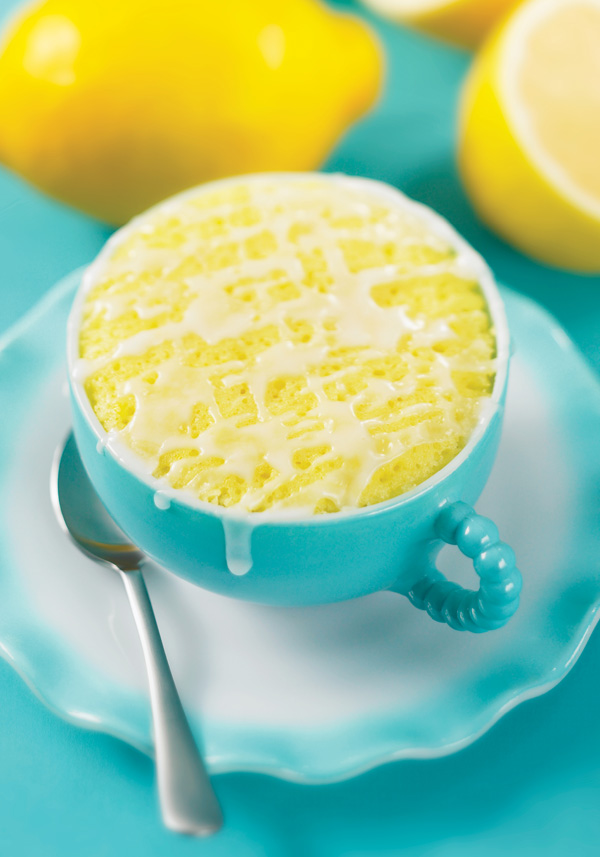 For those with a fruity sweet tooth, this lemon cake recipe from The Boomer Brief is just for you! And it includes a bit of icing drizzle.
22. Sticky Toffee Pudding
Hop on over to Bigger Bolder Baking if you want to impress some guests with an extra-special dessert. Learn how to make sticky toffee pudding … but in a mug!
23. Cheddar & Herb Biscuit
If you're feeling like something a bit more on the savory side, this cheddar and herb biscuit is right up your alley. Check it out at BBB too.
24. Bread & Butter Pudding
BBB has this snazzy mug recipe too and we're loving it. How does some bread and butter pudding sound tonight for an extra indulgent treat?
25. Scrambled Eggs
How do some classic and quick scrambled eggs sound for breakfast? Learn how to make them easily in a mug tomorrow morning by visiting Is Where the Cookies Are.
26. Chicken Pot Pie
And if you're looking for some comfort at dinnertime, find this recipe over at BBB. A chicken pot pie in a mug is much easier than you may think.
27. Pumpkin Pie
Yammie's Noshery has another fall favorite that we can make right in a mug for one. Pumpkin pie, complete with some whipped topping, toffee and caramel, is calling.
28. Cheddar & Bacon Muffin
And here's another Bigger Bolder Baking recipe that we're drooling over. Cheddar and bacon muffins can be a treat all day long!
29. Homemade Spaghetti O's
Bigger Bolder Baking has so many wonderful ideas and that includes this homemade spaghettiOs in a mug recipe. We're loving it!
30. Breakfast Cookie
Start your morning off on the right foot with one of these breakfast cookies from BBB. Pile the ingredients in your favorite mug, microwave and go!
31. Quinoa & Egg
Here's another unique way to start off your morning. Slender Kitchen has all the details on this quinoa and egg mug recipe.
32. Cinnamon Roll
We found a snazzy recipe for cinnamon rolls in a mug too! BBB has the details on this treat as well as various topping choices.
33. Smore's Cake
Who doesn't love smore's? How Sweet It Is shows us how to make this beauty in just 5 minutes.
34. Peanut Butter & Jelly Oatmeal
And we have to make another stop over at BBB for this delicious and nutritious breakfast ideas. Your entire family will love this peanut butter and jelly oatmeal in a mug!
35. Chocolate Cake
And in the midst of all of these unique recipes, why not learn how to make classic chocolate cake. Grab your favorite mug and hop on over to A Farmgirl's Dabbles.
36. Western Omelet
The Kitchn has another great breakfast recipe that one can whip up right inside a mug just for one. And it's so much better than boring, plain eggs.
37. Blueberry Muffin
A classic blueberry muffins as part of your breakfast routine could be quite satisfying. Bigger Bolder Baking has all the right details.
38. Jelly Donut
You could really mix things up and use this recipe to learn how to make a jelly-filled donut. The kiddos will love this one!
39. Oatmeal Nutella Cake
The Kitchn makes this delicious oatmeal Nutella cake that will be completely indulgent and satisfying. You'll be more than ready to dive in.
40. Egg Fried Rice
Here's a quick recipe for lunch that you'll thank us for later. Check out how to make this egg fried rice in a mug over at Healthy Nibbles & Bits.
41. Pumpkin Coffee Cake
Heather Likes Food made this pumpkin coffee cake that your fall mornings will thank you for. Of course, you can always add a dollup of chocolate chips too!
42. Red Velvet Cookie
Who loves red velvet? With a visit to No. 2 Pencil, you'll learn how to make this cookie right inside your favorite mug.
43. Prawns
HexJam really blows our minds by taking dinnertime to a new and easy level. Prawns in a mug, how does that sound?
44. Pumpkin Meatloaf
Low Carb So Simple took two favorites and made them one. Check out this pumpkin meatloaf in a mug and let us know how it goes!
45. Risotto (3 ways)
Over at Brit + Co you can learn how to make risotto in a mug, three different ways no less! My favorite has to be the bacon and kale edition.
46. Peach Cobbler
For fans of peach cobbler, run on over to Cooking Classy. Learn how to bake the perfect bite right inside your favorite coffee mug.
47. Peanut Butter Cookie
If you've developed a hankering for a peanut butter cookie, than look no further than No. 2 Pencil. It'll be a quick and easy satisfying bite!
48. Brownie
And if you're into classic recipes, snag this one for a chocolatey, good brownie. Learn how to make it over at No. 2 Pencil again.
49. Berry Cobbler
Domestic Fits created a berry cobbler that fits right into a cup! It takes a mere five minutes and you can have your treat to indulge in.
50. Sweet Potato Hash
Visit Bigger Bolder Baking once again for this sweet potato hash recipe. It to can be served all day long as a side or a snack!