15 Moustache Themed DIY Projects
Do you remember, a number of years ago, when the image and outline of a very classy looking curled moustache became one of the trendiest things in pop culture? Since then, it's been on decor pieces, fabric prints, and accessories, making everyone look kitschy and amusing no matter who they are or how they choose to wear their moustache. Well, the craze might have calmed down a little bit by now, but we're certainly not over it and we still adore just about everything we can find that's got some kind of moustache theming. Being the DIY lovers we are, however, we're sure it'll come as no surprise for you to learn that our favourite thing to do when we come across a print or theme we really love is to incorporate it into our crafting process. That's how we found ourselves looking up as many moustache themed projects as we could possibly find!
Just in case you've always adored funny, kitschy moustache prints and themes as much as we have, if not more, here are 15 of the very best and most unique ideas, designs, and tutorials that we've come across in our search so far.
1. Moustache bookmark corner
Avid readers and bookworms rejoice! We've found the perfect project for you right out of the gate, which is always a great thing. Now little folded paper corner bookmarks are a classic craft that are easy to make and fun to do no matter which design you're choosing to put on them, but we're sure you can imagine just how pleased we were when we found this simple moustache shaped bookmark idea as outlined by Kalel's Nerd Blog.
2. DIY moustache mug
If you've never done custom or DIY mug printing and designing, then we're sorry to tell you that you've been missing out on a really quality classic craft that's a whole lot of fun! Of course, everything is more fun when there's a funny moustache involved, which is why we couldn't resist adding these hilarious moustache mugs to our list. One Little Project is here to show you how they made the shape in a durable way that will survive washing.
3. Felt and elastic moustaches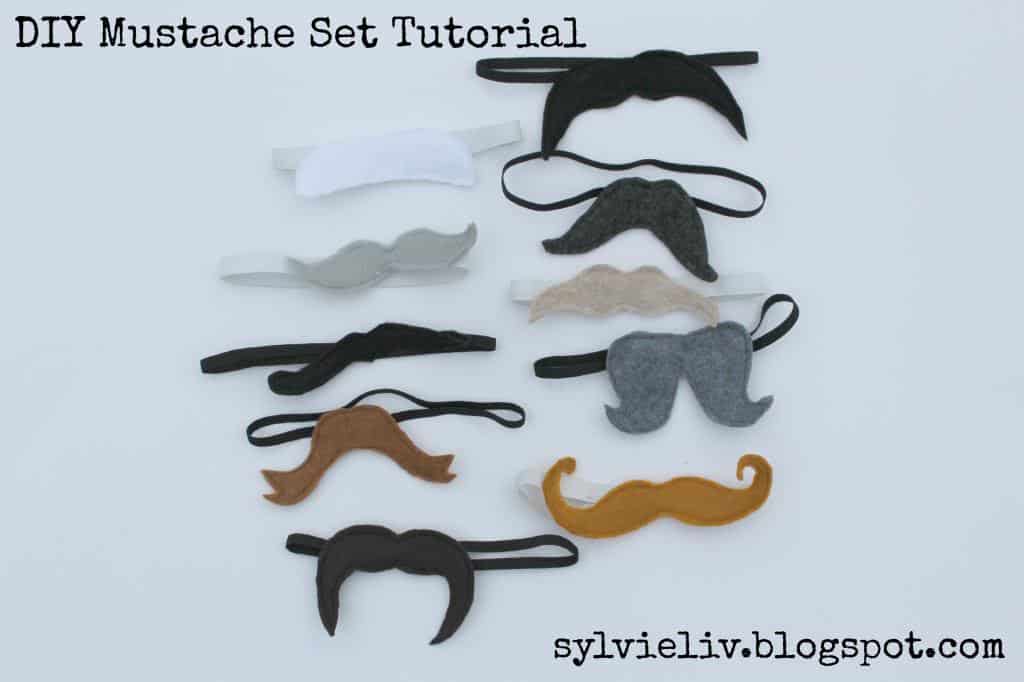 If you're going to go to the trouble of making yourself a moustache craft and put in the effort and patience that comes with doing so from scratch, would you rather make something really funny? Then why not make it something that you and your friends or family can actually wear? We followed the tutorial on Sylvie Liv to make these silly felt and elastic moustaches in all different amusing shapes and sizes. Then we had a party where every guest and all our friends wore a different moustache, just to make the photos extra funny! When we were done with them, we gave them to our kids to use when they play dress up and they've been very popular in their games as of late.
4. Silly moustaches on sticks
Just in case you were a pretty big fan of the idea of making your friends and family funny moustaches that they can don at parties and in pictures but you're just not sure that your guests will want to actually wear something like an elastic around their whole face? Then perhaps a moustache on a stick would make for a better party prop! We love the way Twin Dragonfly Designs made theirs in just a few simple steps.
5. Moustahce hankie
We've always thought that old fashioned handkerchiefs, though not exactly in fashion or wide use currently, make great gifts. They're a nostalgic sign of the times and a throwback to simple days and, best of all, they're simple to customize with your own cute designs. That's why we liked this easy moustache stamped hankie tutorial outlined step by step on Bumblebee Linens!
6. Leather moustache comb case
Have moustaches always reminded you of nostalgic, more old fashioned days where people carried handmade leather accessories and took care of their things by putting them in cases rather than treating most belongings as disposable things? In that case, we have a feeling you might get along very well indeed withs something like this DIY leather comb case bearing an old fashioned looking moustache on the front! Buy Him That teaches you how to make it (and we think it would make a great gift).
7. DIY moustache and bowtie banner
If you ask us, one of the best kinds of DIY projects to make has always been party garlands and bunting. We think they help set the tone and establish the theme at parties and events, but we also think they look awesome as more permanent themed decor as well! We're sure it'll come to you as no surprise at all, then, that we've actually already tried making this cute, printable moustache and bowtie bunting featured on Posh Tart Parties before.
8. "My crazy family" dry erase book
Well, we know we said we'd concentrate primarily on ideas that celebrate funny, curled up moustaches, and we promise that this project actually does involve them in some capacity, but the moment we saw this customizable family drawing album, we just couldn't resist including it. Check out how All For The Boys made a book of dry erase photo pages for their kids to get silly with! Ours, naturally, immediately drew big, lavish looking moustaches on every single member of our family, much to our amusement.
9. Moustache party straws
Are you actually still feeling quite interested in the hilarious idea of making moustaches for your party guests at your next celebration or dinner but you just haven't quite found the idea that works for you in what we've show you so far? Then here's another one, just to make sure you have lots of options! Check out how Instructables made these funny party straws that make each guest look like they have a silly moustache each time they take a drink.
10. DIY moustache shower curtain
Have your very favourite moustache projects or products actually always been the ones that have an all over print, just because you think they're so kitschy and silly looking? We don't blame you, honestly, because we're totally not over those yet either. That's why we were so pleased to come across this fantastic DIY shower curtain tutorial that's exactly what you're looking for! Our Secondhand House teaches you step by step how to make this project happen with fabric paints.
11. Moustache baby pacifier
Has our discussion of the concept of putting funny moustaches on your family and friends sparked an idea and made you turn your attention to your youngest child, wondering how funny a baby might look in a Victorian style waxed moustache? Then we think you're going to be very intrigued indeed by this tutorial from Practically Functional that teaches you how to make a hilarious moustache pacifier from a piece of felt! It's quick and easy (and very amusing).
12. Glitter moustache canvas art
Are you actually the kind of crafty person who loves funny moustaches so much that you've been scrolling through our list hoping to come across a tutorial that will help you make a decor piece for your home? In that case, we have a feeling this canvas piece might be right up your alley! DIY Candy shows you ow to make a statement with a piece of moustache printed fabric and a glittery 'stache that's guaranteed to catch eyes.
13. Cardboard layers beard and moustache
Are you actually the kind of DIY enthusiast whose projects are almost always rooted in costuming, so you're living for all these different dress up based moustaches that we've shown you so far, even though you're still looking for something that will give you more of a challenge? In that case, we have a feeling you just might be the perfect person to give this fantastic layered cardboard moustache and beard piece outlined step by step on Philinthecircle a try!
14. DIY moustache embroidery hoop art
Have you actually always been the kind of crafter who really likes working with softer materials like fabric, but you've shied away from embroidery hoop based projects and displays because you don't really have any experience with needlework yet? Then we think you might appreciate the way Tea and Craft compromised and created an embroidery hoop moustache project that is, believe it or not, a no-sew piece! We adore the way the simple black moustache stands out against the bright graphic background fabric.
15. DIY moustache bowtie
Are you actually perhaps so in love with graphic moustache pieces and accessories that you'd really like to make the shape a part of your personal style sometimes, but you just haven't found an idea that's quite unique and kitschy enough for your eclectic tastes? Then we'd definitely like to direct your attention to the way Thread Banger made this hilarious and totally attention grabbing moustache shaped bowtie by hand!
Do you know another crafter or DIY enthusiast who loves a funny, kitschy moustache project as much as the rest of us but who you think could use some guidance and inspiration? Share this post with them to get them started!