15 Extra Unique Cheesecake Recipes
If there's one thing we love most in the world (besides our family and friends, of course), it has to be dessert. If we're being honest, we're not even that picky about what kind of dessert, so long as we get to enjoy something delicious and sweet periodically! We find, however, that the kind of dessert we like the most kind of goes in phases depending on the season and what we're craving. Lately, for example, we've been completely obsessed with cheesecake! We love the way it tastes (no matter what kind it is), we love the process of making it, and we adore the fact that it comes in just about as many kinds you can possibly imagine.
Just in case you're just as in love with all things cheesecake as we are, if not more, here are 15 of the very best homemade cheesecake flavours, ideas, and recipes we've come across in our search so far!
1. No-bake caramel Turtle cheesecake
If you're going to go to the trouble of making yourself a homemade cheesecake from scratch, putting all that time and effort in, would you prefer to make sure that it's nothing short of decadent, just to really make the process worth it? Well, so long as no one in your household has a nut allergy, we have a feeling you'll get along very well indeed with this wonderfully rich no-bake caramel Turtle cheesecake recipe featured on Sprinkle Some Sugar.
2. Red velvet cheesecake
Have you always been the kind of sweets lover who likes to get the most out of what you're making, so you've really gotten into combination recipes lately? You know; the kind where delicious elements of two different treats are blended together in one dessert for an eve better sweet experience! Well, we've certainly been all about those, so imagine how pleased we were when we found this red velvet cheesecake recipe that blends the beauty of classic cheesecake with all the goodness of red velvet cupcakes. Get the full details for making one of your own on My Incredible Recipes!
3. S'mores cheesecake
Did we really catch your attention when we started talking about cheesecake recipes that would be deliciously rich and decadent, but Turtles chocolates have never really been your thing? Perhaps you'd rather take that idea of decadence and blend it with the concept of a combination recipe like we were talking about above. In either case, S'more lovers rejoice, because that's precisely the flavour of cheesecake recipe that Will Cook for Smiles has in store for you!
4. No-bake Nanaimo bar cheesecake
If you've never had a Nanaimo bar, then you might want to buckle up for this next recipe, because we're not even sure you'll be quite prepared for the deliciousness that it has in store. If you have had Nanaimo bars before, then we're sure the idea of blending that fantastic flavour with all the goodness of cheesecake has you practically drooling while you read this! Find the recipe at The Recipe Rebel.
5. Cappuccino cheesecake
What if the things you love most (besides cheesecake, of course) aren't actually sweet treats but rather rich, fragrant coffee beverages? Well, luckily for all of us, that's something you can blend with delicious cheesecake as well! This particular recipe featured step by step on Taste of Home is made to be just creamy enough that it tastes like a cappuccino rather than straight up espresso.
6. Lemon ripple cheesecake
Have you been scrolling through our list and thinking about how, while many of these recipes do indeed look delicious, you've always tended to favour fruity things when it comes to putting unique spins on classic recipes, rather than rich or chocolatey flavours? Well, if citrus flavours have ever been high ranking on your list of fruit tastes you enjoy, that we'd definitely suggest taking a look at how Taste made this wonderfully fresh lemon ripple cheesecake in a surprisingly simple way.
7. Swirled raspberry and white chocolate cheesecake
Did we kind of catch your attention when we started talking about fruit flavoured recipes but you can't help but wonder whether there might be a way for you to enjoy a berry based cheesecake rather than a citrus one? Then raspberry lovers rejoice, because this recipe from Taste of Home that blends raspberries with the sweet richness of white chocolate is nothing short of scrumptious.
8. Ultimate vanilla cheesecake
Have you actually been scrolling through our list and thinking about how, even though all of these decadent recipes looks mouth watering, you're pretty sure they'll actually be a little bit too rich for your personal tastes by the second bite, since you've always preferred things that have a slightly more subtle flavour? Well, that doesn't mean you can't still put a unique twist on your cheesecake to give yourself a treat above and beyond just the classic recipe! Check out how McCormick made this smooth, creamy cheesecake that's vanilla in flavour.
9. Guava cheesecake
Have you been feeling quite intrigued indeed by the concept of fruit flavoured cheesecakes but you can't help but wonder whether there's something a little more unconventional out there than the standard lemon and berry recipes that you've tried before, or at least seen in restaurants, stores, and bakeries? Then we think perhaps we've finally found the best idea for you! Desserts Required teaches you step by step how to make a delicious guava cheesecake that was unlike any other cake we'd tried before… in a very good way!
10. Cherry chocolate cheesecake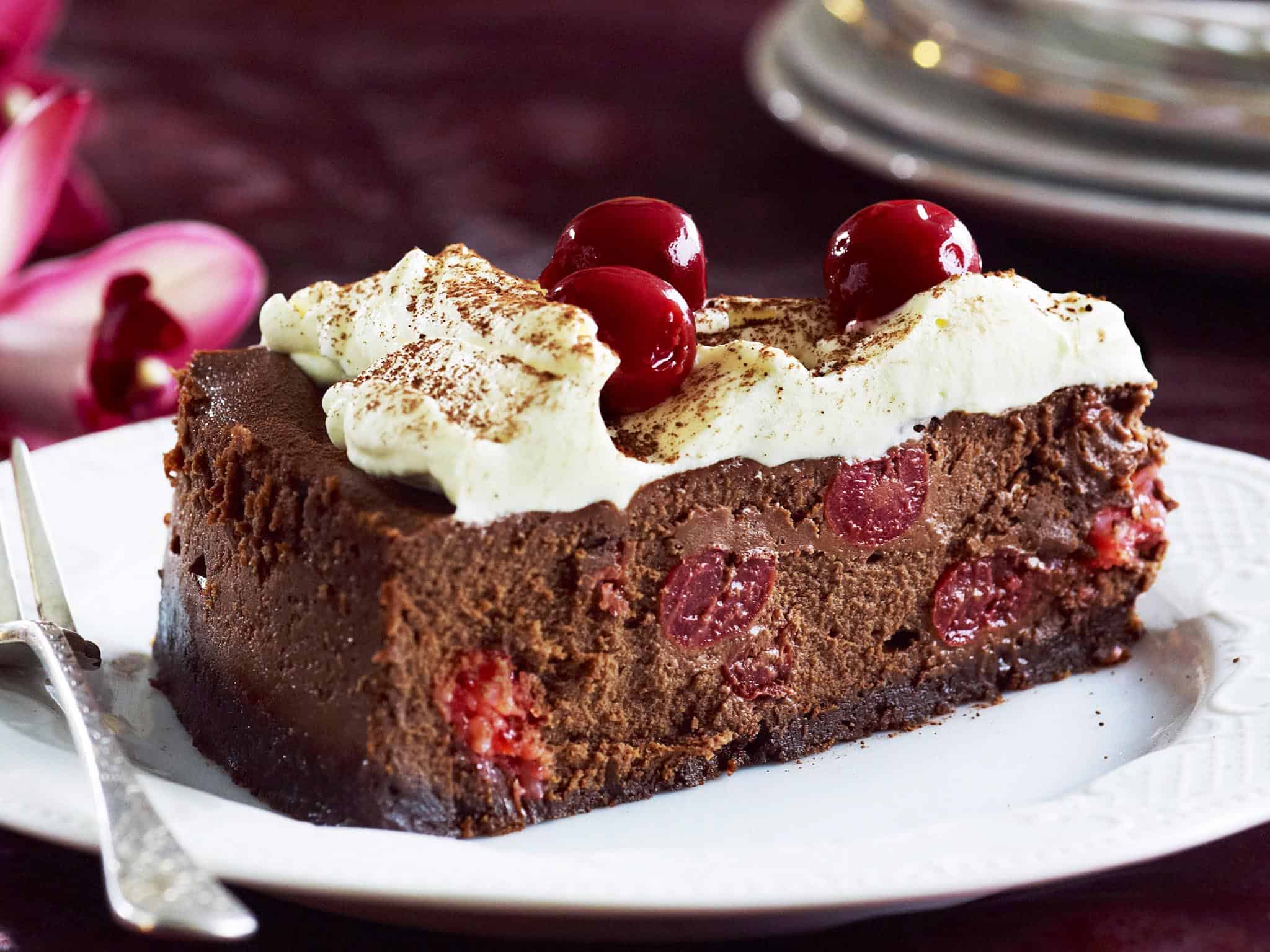 Now, being the foodies we are, particularly in the sweets and desserts department, we've tried a lot of different flavours and treats before and one of our favourite combinations has always been chocolate and cherries. Of course, we've had classic cherry cheesecake before, and we've had plenty of cherry chocolate baked goods and cakes of other styles, but would you believe that we'd never tried cherry chocolate cheesecake specifically? That is, until we found this fantastic and super straight forward recipe from Food to Love!
11. Green tea cheesecake
Were you slightly intrigued when we started talking about the cappuccino recipe because the idea of adding the flavour of your favourite hot drink to a dessert really appeals to you, but you've always been more of a tea lover than a coffee fan? In that case, we have a feeling you might get along a little better with something like this delicious green tea cheesecake recipe outlined step by step on Desserts First Girl! The fresh taste is absolutely the best part, but we can't pretend we don't love the awesome green colour too.
12. Raw Cardamon, Turmeric & Pistachio Cheesecake
To make a delicious Cheesecake you need premium ingredients. Check out the full list from letsforkandspoon.
13. Easy no-bake blueberry cheesecake
Just in case you actually really were very into the berry cheesecake idea but you simply didn't see your particular berry of choice on our list yet, here's another fantastic tasting (and surprisingly uncommon, slightly underrated) alternative for you! Feeding Big guides you step by step through the process of making a blueberry cheesecake that's so perfectly textured it's basically irresistible.
14. Chocolate chip cookie dough cheesecake
If we were to ask you, would your answer to any dessert related question be more of an ingredient in some people's minds and less of a full dessert in itself? Well, you certainly won't catch us judging you or reprimanding you for eating cookie dough, but we're still here to suggest that you try it in some other forms too! This chocolate chip cookie dough cheesecake, for example, might actually be the best guilty pleasure recipe we've ever encountered. Get the full details for making it yourself on Taste of Home.
15. Lemon coconut cheesecake cupcakes
Just in case the cakes we've shown you so far aren't quite gourmet worthy or challenging enough for you, since you're a slightly more experienced dessert making enthusiast who's looking for something very unique indeed, here's a look at perhaps our favourite recipe on the entire list! Taste teaches you step by step how to make lemon coconut cheesecake cupcakes that are layered with flavour in every single bite.
Do you have another favourite kind of unique and delicious cheesecake that you love to make but that you don't see on our list? Tell us all about how it's done or link us to the recipe so we can all try it to!