We know that it's fall now and summer has finally come to an end, meaning that the time we can spend outside on our patio and deck is soon to be limited for the year, but that doesn't mean we're ready to give up out favourite outdoor evenings just yet! Where we live, the weather actually stays quite warm on into the fall, even in the evening time, so we often find ourselves crafting for our lovely little patio space on into October and September. That's why we're still looking up all kinds of neat outdoor lanterns and tiki torch style projects this late in the year. There's just something about them that has always drawn us but, as we're sure you won't be surprised to hear, we always prefer to make things ourselves whenever we can!
Just in case you love the idea of making your own DIY tiki torches as much as we do, if not more, here are 15 of the very best homemade torch ideas, designs, and tutorials that we've found in our search so far.
1. Homemade copper patio torches
Have you worked for a few years now to cultivate a cool, modern aesthetic on the inside of your home and you can't help wondering whether or not you might be able to continue that look on the outside in some subtle way as well? In that case, we have a feeling you're really going to appreciate the way HomeMadeModern created these incredibly modern looking torches using pieces of copper piping. This is certainly a project that takes a little more dedication, but we don't think it's anything you need to be intimidated out of trying!
2. DIY mason jar tiki torches
What if you're really interested in making yourself DIY tiki torches indeed but you don't actually live in a place with a lawn that you can bury the ends of standing poles into? Then perhaps you'd get along a little better with an idea that shows you how to make a smaller, tabletop version of that classic torch design you love so much! We'd definitely suggest taking a look at how The Garden Glove made these flat bottomed, free standing torch tops from upcycled mason jars.
3. Mounted bottle fence torches
In addition to making yourself some fantastic outdoor torches, have you actually also been looking for a way to embellish the large stretch of fence in your yarn that you think could use a little more personality? Well, if you've ever loved crafts that help you combine two different things you like in one place, we have a feeling you'll get along very well indeed with the way Garden Lovers Club not only embellished their fence and made torches by creating these mounted outdoor lanterns, but also did a little bit of upcycling by making them out of old wine bottles!
4. Rock weighted win bottle tiki torches
Did we actually really catch your attention when we started talking about the idea of doing some upcycling and making tiki torches out of wine bottles, but you don't have a fence space that you'll be able to mount the bottles on like we showed you above? In that case, we'd definitely suggest taking a look at how Magnolia & Main made these simpler, stand alone wine bottle torches instead. We love the way they filled the bottoms of the bottles with small stones to weigh them down and make sure they don't tip over for safety, since you will be lighting them on fire, after all!
5. Copper "slinky" torch
Did we really catch your attention when we started talking about the copper piping tiki torches we showed you earlier on our list but, even though you though they were very cool indeed, you're actually quite experienced in working with metals and you can't help but wonder whether there's a similar but cooler idea out there that will challenge you? In that case, you simply must take a look at how Fred Pereira made this copper pipe "slinky" torch that's so cool it almost looks like an optical illusion from some angles!
6. Patron bottle torch
Were you a pretty big fan of the idea of making yourself upcycled bottle torches but wine has never really been your thing and you're not about to buy wine just to dump it out and get the bottles for the craft? Then why not simply replace the bottles with a different beverage that you do enjoy drinking? That's precisely what 4 Sons R' Us did here, choosing to make their torches out of a Patron tequila bottle instead.
7. DIY concrete tabletop tiki torch
Have you been intrigued by both the bottle torch idea we've been talking about so much and you're also quite interested in the idea of making small tabletop torches as well, but you'd prefer something that looks a little less delicate or whimsical and the stone filled bottles we showed you before? Then perhaps some concrete would solve your aesthetic problem and give you something a little more substantial. Find out how it's made in more detail on Modern Builds.
8. Whiskey bottle torches
Are you actually still scrolling through and thinking about how much you love the bottle idea, but you drink neither wine or Patron? Well, as you've probably noticed by now, the sky is really the limit when it comes to what kinds of bottles you can use to make simple tabletop torches! Sugar and Charm, for example, chose to make theirs from different brands of empty whiskey bottles.
9. Tiki torch planters
Have you always liked the pole style of tiki torch the best but you simply don't have the grass space to bury the ends of the poles in? Well, believe it or not, that doesn't actually have to mean that you can't make the kind of classic tiki torch you really wanted when you started thinking about what you'd make! We love the way The Weathered Fox chose to embed their torches into the dirt inside some large pot planters for a lovely, decoratively floral effect.
10. Beer bottle torches
When it come to upcycling different drinking bottles, beer bottles just might be the only kind we haven't talked about yet! Of course, that doesn't mean the idea isn't out there or that it's never been done. In fact, one of the best written tutorials we've seen so far in our search for DIY tiki torches is this one outlined step by step on Unsophisticook! We really enjoy that they chose to work with bottles that are graphic and painted because it adds even more personality than your torches already will.
11. Wine bottle citronella candles
Have you actually made all kinds of different upcycled bottle styles of tabletop tiki torches before, but what you're really looking for is the kind of candle or torch insides to use? Well, to some people, that might not really sound like the most important element, but we think you'll only say that until you hear about how Hello Glow created these awesome bottle torches with a citronella solution inside that travels up the wick when you burn it and does a fantastic job of keeping mosquitos and other bugs away from your outdoor seating area.
12. String wrapped beach bottle torches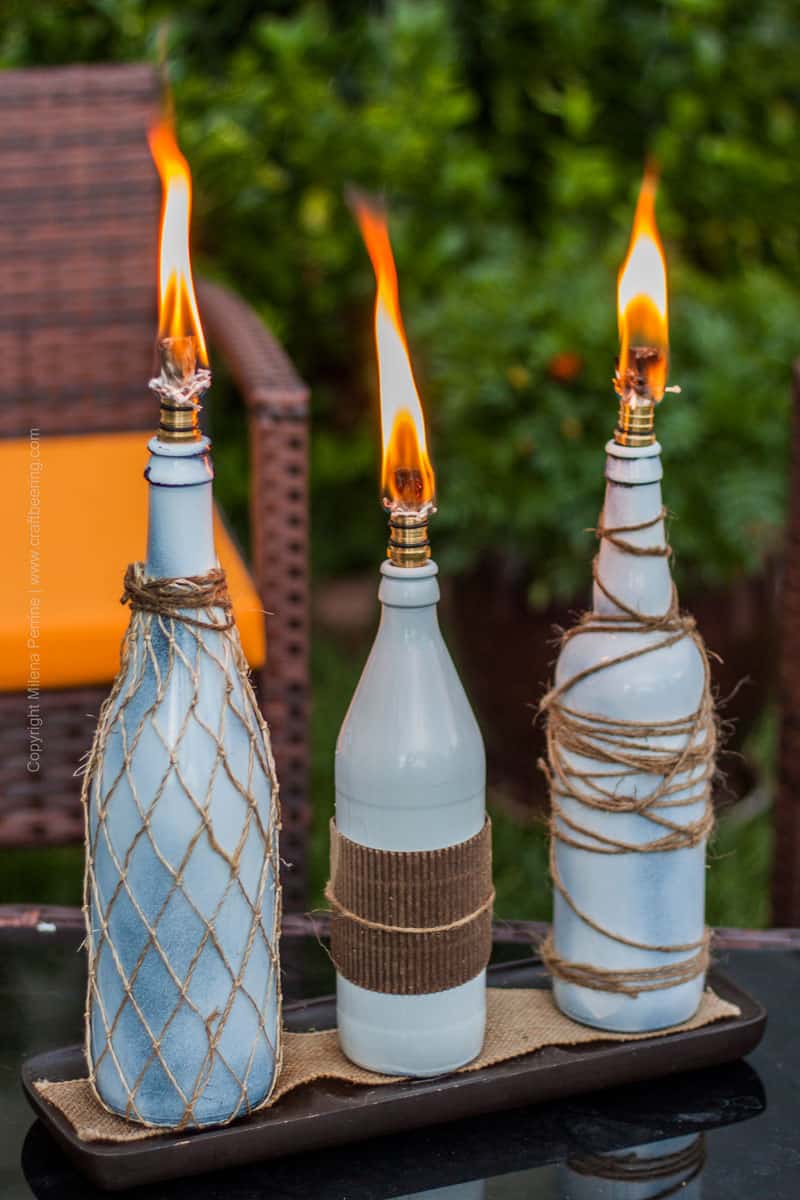 Have you already definitely decided on the upcycled bottle idea we've been showing you but you're just not sure that leaving your bottles undecorated or unembellished on the outside really sounds like the kind of look you're going for? Well, if the seaside aesthetic or beach and cottage inspired decor pieces have ever been your thing, then we definitely think you should take a look at the way Craft Beering painted their botles white and used hemp string to create a slightly rustic effect that looks like old fashioned sailing rope.
13. Mason jar LED light glowing torches
Perhaps you've actually been scrolling through our list and thinking about how, even though you definitely want to make yourself a torch or two, you're still just a little bit concerned about the concept of having an open flame lit where your family will be sitting, since the place you live in is quite windy? Then we definitely think you should take a look at how Makezine made these pretty, colourful tiki torches using LED lights instead! We love the bright flow the torches provide.
14. Rock bowl DIY tabletop torch
Just in case you've been loving the tabletop torch ideas that we've shown you so far but you just can't help wondering whether there might be a slightly more unique looking idea out there, then we urge you to look no further! We love the way Craftaholics Anonymous created this fantastic tabletop torch bowl that's filled with smooth, black stones surrounding the flame for an almost zen look.
15. Upcycled candlestick torch
Were you quite intrigued indeed when we started talking about matching your outdoor decor style with that you've built inside, but your inside decor aesthetic is quite grand and vintage inspired so you're just not sure how you can make the outside pieces fit in with that? In that case, we think you might get along quite well indeed with the way CD Bossington teaches you how to turn a pair of old, unused silver candlesticks into an outdoor tiki torch that looks like the flame is jumping right out the top.
Have you made other types of awesome outdoor tiki torch style patio lights that you're very pleased with and still use, but that you don't see anything quite similar to here? Tell us all about how you did it or link us to photos of your finished project in the comments section!