22 DIY Magnets To Dress The Fridge In
Whether you need some for your home office or out in the kitchen dressing the fridge, here are 22 DIY magnets that you can whip up over the weekend. Some of them are kid-friendly, some are extra stylish and others are just a whole lot of fun to create. Check them out now!
1. Scrabble Tile Magnets
Brit + Co used some old scrabble tiles to make their bulletin board come to life. Check out how to turn your lost pieces into magnets after the jump!
2. Pom Pom
Dress your fridge with some plush color by turning your pom poms into magnets. Grab the details at Alyssa & Carla.
3. Fruit Magnets
These fruit magnets are just far too charming. Whip up a batch at these cuties with some help from Homey Oh My.
4. Black & White Clay Magnets
Wonder Forest started with clay and ended with some designer-styled black and white magnets. Take the leap and grab the tutorial now!
5. Canvas Magnets
The Sweetest Occasion made some mini canvases full of paint and creativity. Grab the whole family and have a magnet that reflects everyone's style.
6. Gemstone Magnets
At Home In Love made gemstone magnets that are so fun and modern! These are right on trends and perfect for dainty home offices.
7. Colorful Scotch Duct Tape Arrow Magnets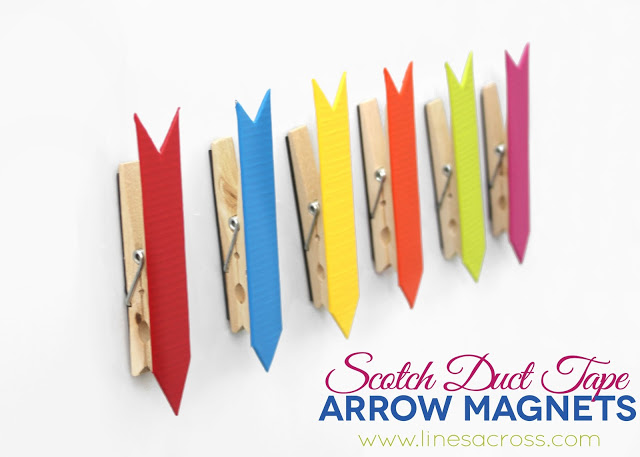 They're magnets and they're holders. Make these arrow magnets with some help from Lines Across Reviews.
8. Wood Patterned Magnets
Brit + Co whipped up these wood patterned magnets that we're loving too. You can get so creative and be so innovative with your designs.
9. Wine Cork Planter Magnets
It All Started With Paint took old wine corks and turned them into something completely new! With a bit of work you can make some of these cuties too.
10. Animal Magnets
Love & Renovations cute some plastic animals in half. But it's not as morbid as it sounds, just look at the finished product!
11. Gold Letter Magnets
Those classic plastic letters that the kiddos play with can be turned into something a bit more stylish. All you need is some spray paint, right Inspired by Charm?!
12. Glass Magnets
Makoodle made some glass magnets that we're loving too. You'll have fun designing these ones all on your own.
13. Half Moon Magnets
These simple, half moon magnets are the perfect choice for the minimalist. Check out the details at Almost Makes Perfect.
14. Nautical Magnets
Mod Podge Rocks went the nautical route. If you love the beach or want something to spruce up your vacation home, these are for you!
15. Mini Polaroid Photo Magnets
Mama Say What? turned her favorite memories into magnets. Visit now and grab the tutorial behind this cutie.
16. Hashtags Magnets
Totally The Bomb turned some popular hashtags into magnets! The kiddos will love these ones too and helping to create them.
17. Cat Magnets
Who loves cats? Perfect as a funny gift for a friend or something fun for yourself, check out the tutorial at Design Sponge.
18. Black Magnets
You Clever Monkey made these block magnets that could be a great bit of fun for some kids. Put them lower on the fridge and watch them have a great time designing and mixing up colors.
19. Agate Stone Magnets
A personal favorite of the bunch, we're swooning for these agate stone magnets. A Bubbly Life gives us all the details behind these beauties.
20. Dinosaur Magnets
The Things She Makes made dinosaur magnets that will have the entire house roaring with delight. You'll start out with some plastic toys here too before you start cutting.
21. Branch Magnets
We're loving that the branch magnets have too purposes since they'll hang some stuff for us too! Just figure out the colors you want to paint them! (via)
22. Pine Cone Magnets
And finally, if you visit Brit + Co just one more time, you'll learn how to make these pine cone magnets. Bring a bout of autumn to the kitchen or your office!