These 50 Natural Art Projects Will Bring A New Spark To The House
Decorate your home with things you find right outside your door. From seashells to raw woods, you'd be surprised of all the beauty you can create with organic materials. These 50 natural art projects will bring a new spark to the house and a new craft to the table. Take a peek!
1. Garden Marker Stones
Repeat Crafter Me took some stones and made the garden more functional and a bit more stylish too. Mark your fruits and veggies with a bit of artistic creativity!
2. Seashell Cake Topper
Those seashells that you found on the shore can be used as a cake topper! Learn how to string them up all pretty like at Something Turquoise.
3. Hanging Flower Garland
And those flowers from your garden can be used at your next celebration too. We're swooning over this floral hanging centerpiece from Sweet Paul Mag.
4. Crocheted Rocks
Purl Soho started with crocheted pieces and styled some river rocks. Decorate the nooks and crannies of the house with these fun, textured beauties.
5. Real Flower Crown
Lotts and Lots shows us how to make a flower crown out of real flowers! Liven up dress up or your wedding day by going with something a bit fresher and more lively.
6. Seashell Beeswax Tealights
Garden Therapy turned natural seashells into beeswax candles. Sprinkle some of these in the guest bathroom or the kitchen.
7. Paint-Dipped Pine Cone Garland
Say Yes took pine cones and turned them into holiday garland! Dip them in some paint and hang them around the fireplace!
8. Feather Wall Hanging
You can do a lot with some feathers too! Just look at this gorgeous hanging piece we found a tutorial for at Pottery Barn!
9. Round Wood Shelf Plant Hanger
Start with a slab of wood and create something beautiful for your home. Check out this tutorial over at Refreshed Designs!
10. Rock Magnets
Alisa Burke turned rocks into beautiful, stylish magnets! We love how creative and fashion-forward these functional little bits are for our home offices, mudrooms or kitchens!
11. Seashell Pineapple Jar
My Pinterventures showed off this Pineapple jar covered in seashells! It's just another fun way to decorate your beach home with girlish charm.
12. Rustic & Modern Twig Stars
These twig stars from NorthStory could be a new and fun way to decorate for your rustically-inspired Christmas! Check out the DIY after the jump.
13. Pine Cone Mobiles
Happy Hooligans shows off how to take pine cones and turn them into fun mobiles. It's a great kids craft and something fun to decorate the play room with!
14. Tree Branch Light Fixture
Improvised Life took a tree branch and turned it into something artistic and creative for your home. This light fixture would be beautiful hanging above your dining room table.
15. Birch Log Candleholders
You can even take a bit of birch and turn them into candle holders. Check out the inspiration over at Life Over Easy.
16. Pomander Balls
Not only are these pomander beautiful to look and – and festive for the holiday seasons – they smell amazing too! Check out the details for them at HGTV.
17. Floating Leaves & Flowers Art
Love Maegan shows off this gorgeous display of pressed leaves and flowers. This is such a wonderful art project that will fill up your walls with natural beauty.
18. Painted Leaf Mobile
Hello, Wonderful snatched up a collection of leaves and got to work with some paint. Gather the kids around and have them personalize each piece.
19. Big Branch Lamp
Design Sponge shows us how to turn a big branch into a standing lamp. Perfect for a home office or a rustic bedroom, we love the innovation.
20. Designer Seashell Candles
Here are some more seashells that were turned into a beautiful candle. Grab all of the details at Running with Sisters.
21. DIY Feathered Arrows
These arrows were made with a bit of love from feathers! Make some of these trendy little pieces with some help from Love Grows Wild.
22. Gilded Pine Cone Garland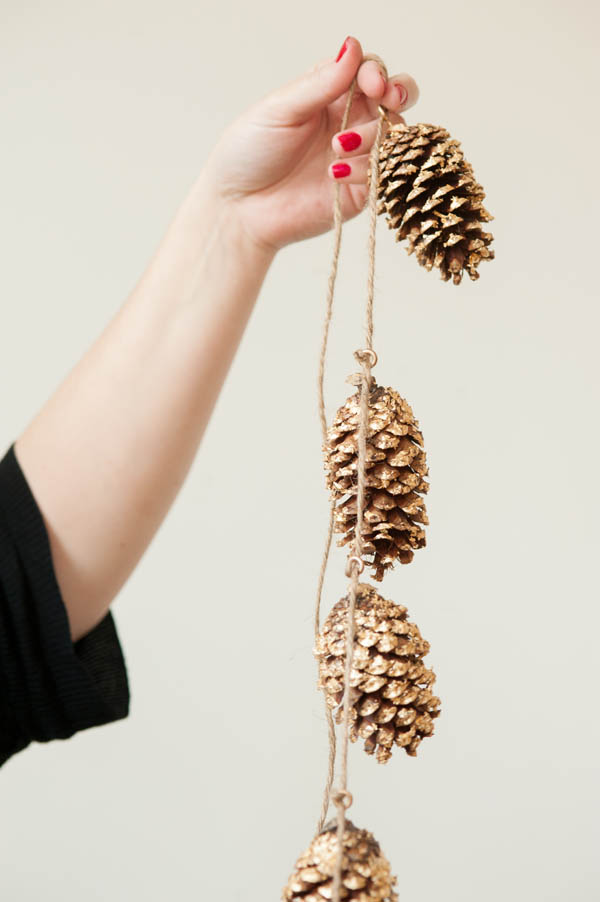 The Sweetest Occasion made some pine cone garland too, but this time with a gilded vision. Hop on over and check out this easy tutorial now!
23. Yarn-Wrapped Twigs
Sometimes the simplest of ideas can make the biggest impact. Have the kiddos grab some twigs out in the yarn and them start wrapping them with string – boom, an entirely new way to decorate a bare corner! (via)
24. Leaf Confetti
If you've got a nice helping of leaves outside your front for, use them to your advantage. Visit and watch how Grow Creative took paper punches to fall's favorite and turned them into confetti!
25. Birch Bark Lamps
Ruffled knew that birch bark could be used for lots of different, creative ideas. And this birch lamp is only the beginning.
26. Seashell Shadowboxes
Always Swell took seashells and went a more modern, artistic route with their projects. Pair those shells with some shadowboxes for a chic and light design.
27. Leaf-Imprinted Clay Necklace
Happy Hour Projects used leaves too! And we're absolutely swooning over these leaf-imprinted necklaces. They're a great way to spruce up a wardrobe or create an organically beautiful DIY gift!
28. Painted Driftwood Hanger
Driftwood can be the foundation to lots of different and creative home projects. And you can start over at Lovely Indeed to learn how to turn a solid piece into a organizational hanger.
29. Domino Rocks
Martha Stewart knew that rocks could be painted but also used for more than just style. They can be turned into dominos for a bit of family fun!
30. Stick Vase
The Wonder Forest gathered up some sticks too. But all of these little sticks were made into a fun vase for your fresh flowers.
31. Stick Plant Markers
Instead of painted rocks Please Note used sticks! Learn how to make these natural beauties after the jump and whip your home garden into even finer shape.
32. Gold-Tip Feather Garland
Simple Stylings made garland too, but this time it was with some feathers. Of course a bit of gold paint was involved too.
33. Pebbled Stone Mat
Your pebbled can be turned into a mat for your home as well. There are so many fun ways to make this happen with varying designs as well. (via)
34. Feather Earrings
Gina Michele turned her feathers into earrings. We love this idea too, bringing nature into our wardrobe is always a fun way to go.
35. Seashell Wreath
The Graphics Fairy put some seashells and starfish on her wreath! It's perfect for a bathroom or beach home, don't you thin?
36. Twig Frame
Home talk turned some twigs from the yard into a funky, frame. The best part about it is that it can stand on its own as a piece of country-flavored decor.
37. Leaf Luminaries
Kids Craft Room used leaves too but this time they were turned into luminaries! Check out this kid-friendly craft after the jump!
38. Framed Branch Art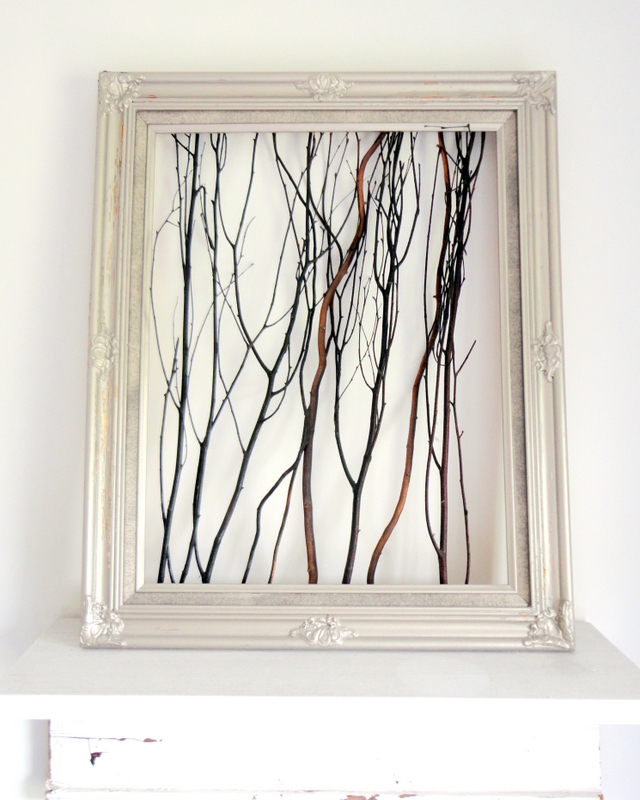 Cleverly Inspired framed their branches and made art out of it. This is just another great example of how the simplest ideas can make the biggest impact.
39. Bamboo Wind Chime
Apartment Therapy used bamboo in their big project! With some bamboo sticks and some creativity they make a wind chime that's pretty enough to show off on the front porch.
40. Tree Bark Owls
Fireflies and Mud Pies whipped up this charming owl from a bit of tree bark. And it's kid-friendly too so hop on over and check them out now!
41. Nature-Made Dream Catcher
A personal favorite of the bunch, you can create dream catchers out of any and all natural materials. Just use this beauty as inspiration. (via)
42. Rustic Wood Coasters
Thrifty Below took wood and turned them into trendy, rustic coasters. Jump over now and check out the tutorial.
43. Eucalyptus Garland
Homey Oh My holds another personal favorite of the bunch. With a bit of fresh eucalyptus you too could create this romantic garland for your home.
44. Succulent & Pebble Centerpiece
We are loving all of the succulent details and trends going on right now. And we love the idea of mixing nature's best and turning them into a new piece for the dining room. (via)
45. Twig Lampshade
Twigs can be turned into lampshades too. If you've got a rustic vision for your home, follow along with the directions at Shabby Creek Cottage.
46. Feather Pencils
Vader Bomb made some feather pencils that we're swooning for! They make wonderful additions to your home office or whip up a batch for your best friend's birthday!
47. Floating Acorn Candles
The Gunny Sack took acorns and use them as a foundation for their floating candles. The kiddos can help with this one too!
48. Leaf Printings
Leafs can become the most beautiful of stamps. Creative Jewish Mom made prints from her favorite leafy finds and we're in love.
49. Pressed Leaf Paintings
The Sketching Backpacker used leafs too and did a bit of pressing. But the added both here are the paintings that match!
50. Dandelion Paintbrush Art
Moonfrye took dandelions from the backyard and used them as paintbrushes! Just think of all the wonderful art pieces your kiddos can make with this one!