50 Easy DIY Life Hacks to Save Time and Money and Get Yourself Organized
When the trend of figuring out "life hacks" first took the Internet by storm, we weren't so sure that transforming cardboard boxes into different things or organizing our phone cords in creative ways would really have an impact on our lives.
At least, that's until we actually gave it a try and realized that even the smallest things that promote organization in a cheap, upcycling-based way can have a big and very helpful effect! Since then, we've been looking up all kinds of weird little life hacks and ways to store or protect the small things in our house to make life easier for everyone without spending money.
Just in case you're as intrigued by the whole concept of organizational "life hacks" as we were, here are 50 of the coolest, most creative ideas we've found so far in our search!
Life Hacks to Try
1. White Board Life Hack
There's no easier way to keep track of everything you need to do or the things you need to buy than to have a cool whiteboard that you can make in just a few minutes on your own. We have a full tutorial on how to make your own, and we just love how it all turns out.
2. Easy DIY Life Hack
If you want to keep track of everything that's important for you to do, you could make yourself a rustic wooden memo board. It will take a few minutes and you'll then have a very useful tool in your own home. Follow our tutorial here.
3. DIY Life Hack for Your Phone
If you're always complaining about your phone falling over, but you never really went out to buy yourself a phone holder, you could definitely make one. What with? Wine corks! It takes a few minutes and minimum skills to make this and we're sure you'll manage just fine. Read our easy-to-follow tutorial!
4. Kitchen Life Hack with Leather Strips
Your paper towels never seem to be in the right place where you need them, so make your own hanging holder with the help of a couple of leather strips and a stick. You can follow our tutorial fairly easily.
5. Best Life Hacks – Make a Wall Board
With our lives being so complicated, with school, and work, and social meetings, and sports, and so on, it can be hard to keep track of everything. Make your own schedule board to keep track of everything. It's super easy to make and it looks great, so come get our tutorial!
6. Life Hacks to Do At Home – Clean Your Microwave
We all know how much stuff can build up in a microwave and just how nasty those market cleaning supplies can be. So, why not make your own safe cleaning solution that will also make your house smell divine? You need one lemon and some water. That's it. Read the tutorial from Homedit here!
7. Cooking Life Hack with a Ketchup Bottle
Pouring the perfect amount of pancake batter can be difficult sometimes, you can get drips on your stove and counter, pour too much in the pan and end up with too-thick pancakes, and so on. So, why not use a big ketchup bottle as a dispenser? You can learn how to do this from RealSimple.
8. Craft Hack a Table
If you're into crafting (and you should be so you can make your life easier as you repurpose things around you), you need a crafting table. The folks at Homedit made one super easy and we think we should follow in their footsteps.
9. Easy DIY for Your Makeup
Keeping track of all your makeup can be difficult, especially if you have to shove everything in a tight drawer. Instead, we propose you use a pretty magnet board and add magnets to your eyeshadow cases, your powders, and blushes. You can see them all immediately so you don't have to rummage through the pile. Get the tutorial from Cool Creativity.
10. Kitchen Organization DIY Hack
Have you ever opened up your kitchen cupboard and had a can of soup come rolling out, making your life flash before your eyes? It seems no matter how we stack out cans (look, our kidsreally like chicken soup), they seem to teeter off each other or take upallthe space on the entire shelf.
That's why we were pleasantly surprised to come across this can storage idea fromThen She Made that keeps the soup cans contained and space-efficient while also upcycling a soda pop box once you've drank all the soda!
11. Cool Gardening Hack
Recently, our kids came home with tiny seedlings planted in little miniature pots that they'd been learning about at school, but rather than forgetting about them like some kids would, ours decided they wanted to actually watch their plants grow for as long as they could.
The plants soon got too big for their mini pots, however, but the next size up planters we could find were ridiculously large in comparison. That's why we were pleased to come across this little upcycled seed planter tutorial fromHomedit! Planting your flowers in a section of an old toilet paper roll also makes it easer to replant them later when you want to put them in the garden.
12. Ice cube and cutlery tray organizers
Okay, we know that they actually already make drawer inserts intended for organization, but we've tried store bought storage trays of all kinds and, as it turns out, our desk is actually just a little smaller than the average writing desk with a drawer. This means that the regular organizers we've come across won't fit!
Instead, we followed this suggestion fromAmelie Barbeauand used small ice trays placed next to each other inside the little drawer, putting different earrings, rings, and bracelets in each little cubby to keep them organized.
13. Shower caddy for car fluids
Recently, we hit the breaks in our car a little harder than usual because a cat ran into the road and everything was find because we stopped in time for the cat to run away, but all the car fluids and supplies we had in the back of the car got shaken around by the force and flew all over the trunk, so we had to put them away before we could fill the trunk up with our groceries half an hour later.
Since then, we've discovered this awesome, simple little life hack from DIY Craft Project. If we'd put our bottles of windshield fluid and so on in a shower caddy, the caddy might have slid a little when we hit the breaks hard, but the bottles would have stayed contained!
14. Snack Life Hack
We're constantly looking for simple, space-efficient ways to clear our pantry shelves out and make more space for all the snacks our kids are constantly convincing us to buy for them, but so many of them come in unnecessarily big boxes!
Imagine how excited we were, then, when we came across this idea fromOrganizing Home Life to hang a shoe rack on the back of the pantry door and put the small, individually wrapped snacks in the pockets of that instead, so you can throw out the larger packaging.
This one's also a big plus because then the kids can reach them easier and won't have to ask you to get them a snack down from the top shelf! We love this pantry organization trick.
15. PVC Pipe Life Hack
Do you have a big family with kids of all different ages, meaning they also have bikes of all different sizes? Well, if there's nowhere to put them other than all over the garage floor, we can only imagine how inconvenient that is when you're trying to actually use to garage for real purposes, like parking the car.
That's why we thought this DIY bike rack idea fromKids Activities Blogwas such a good one! It's made from simple PVC pipe and quite easy to create, and it's also pretty affordable!
16. Cool DIY Hack
We work from a home office and we've often wondered whether there might be a better way to organize our files than just piking them on the side of our desk next to the computer. We had them all in a filing cabinet at one point, but it was kind of a waste of space because we didn't really have enough files to fill it, plus the files were a lot more inaccessible to reach for when we're on the phone when we kept them in the filing drawers.
Then we came across this filing idea fromBHGand it made things a lot easier! They suggest placing your files like plates in a small dish rack so they stay organized and are easy to grab. We love the way they use the cutlery storage in the rack as a spot for writing utensils!
17. Cool DIY Hack for Kids
Recently, we bought a pair of super warm, fun looking knee socks for winter because we thought we could brighten up a warm outfit with them, but they turned out to be too small. Instead of throwing them out or putting them in a drawer and forgetting about them, we decided to find fun ways to upcycle them into some kind of clothing pieces for our kids.
That's how we found these cute toddler sized winter leggings!DIY Craft Projectguides you through the process of making that transformation.
18. DIY Life Hack Phone Holder
Whenever we've scrolled by a life hacks blog post on the Internet, we've always noticed a few staples that seem to be ideas recycled over and over by different people. Part of us gets tired of seeing things repeated, but the other half of us thinks that they' must bereally useful ideas if that many people have already tried them and still recommend them!
So, what's our favourite idea from those classic life hack ideas, you ask? At the risk of sound cliche, we completely adore the idea of creating a phone charging station out of an empty lotion bottle cut in half! Find out how this weirdly crafty and totally useful little device is made onMartha Stewart.
19. DIY Home Hacks

Okay, so we know that this idea isn'tnecessarily a life hack, but it's definitely an adorable decor idea and itdoes help reduce your environmental footprint by upcycling something that isn't being used elsewhere!
We're completely obsessed with the waySublime Decorused old doorknobs to create a row of towel hangers that look rather old fashioned and lovely hanging on the bathroom wall. We also like that you can hang them at whatever height on the wall looks best for you and your kids.
20. Car DIY Hacks
Have you ever seen those awesome shower supply hangers that suction right to the wall so you can easily reach your razor or your soap? We have those at home and we appreciate them every day! We can't help but think, however, that these would be pretty useful just about anywhere that they'll stick.
That's why we thought this idea fromHappy Chappy Brandsfor keeping your kids amused on long car rides was such a good idea! Stick the shower hangers to the window and fill them with little figurines, crayons, or snacks.
21. Cool Hacks for Your Fridge
While we're on the topic of plastic organizers and how useful they can be in all different places, we want to tell you how much we appreciated finding this fridge basket idea fromCheer Crank!
We got the baskets that we used to organize at the dollar store on the corner, making them time efficient and affordable to put in, and we organized our stuffjust like you see in the picture! We even took it one step further and added little labels using the label maker we got our kids last Christmas because we're huge nerds.
22. Cool Hacks for Your RV
Are your family huge fans of eating outside in the spring, summer, and warm fall, so you often keep plastic or paper dishes around to save the real, fragile dishes in your cupboards from ending up on the cement patio? We keep picnic supplies around too, but we find that if we don't keep them contained, they just end up spread across the cupboard, getting in the way.
That's why we liked this simple idea fromOrganizing Made Fun. They suggest using a plastic magazine organizer from the dollar store to put everything in and keep it all together, nice and easy to reach for.
23. Easy DIY with PVC Pipe
Do you live in the kind of tiny apartment that has a bathroom so little you can barely fit a towel rack on the wall? Then we think we'vedefinitely found an idea that will help you out a lot with keeping things neat and tidy and making sure your towels actually dry between showers!
Tips for Womenguides you through the process of creating a hinged towel rack out of PVC pipes that fits right behind the door. When you close it, you'll have room to pull the towels away from the wall, but when it's open they fit flush against the wall so they don't take up any more space than the door!
24. Easy Life Hack
We've talked a whole lot about life hacks that involve making stuff out of other stuff and keeping things organized in your life, but believe it or not, that's actually not theonly kind of life hack that's out there!
That's why we justhad to make sure to show you this awesome trick for fixing up your kids' (and probably your husband's) scuffed dress shoes.Pinspired Homeshows you in just a few simple steps how to make them look basically good as new using black crayons!
25. DIY Home Hack for Your Dresser
We all have a ton of tank tops, and if you'll hang them all up individually, you'll take a lot more closet space than they really deserve. So, using a single hanger and some shower curtain loops, you can hang them all up at the same time. Super useful idea posted on Reddit.
26. DIY Life Hack – Disinfectant Wipes
Nowadays we need disinfectant wipes more often than not, so why not make our own? It's going to save us quite a lot of money since store-bought can run quite the price. The folks at My Heavenly Recipes are teaching us how to make our own wipes and it's super easy!
27. Easy Hack for Your Dresser
Those soda can tabs that you usually play with as you chat with your friends can be useful for another reason – they can be used with your hangers to hang even more clothes. You can learn more about how you can do this from Life Hacker.
28. Cool Hack – Keep Your Shoes Fresh
All shoes end up smelling after you wear them for a while, so you need to learn how to easily and cheaply get them to lose the smell. Store-bought solutions are expensive and not always efficient. So, Hip Girlie is teaching us how to solve the problem with baking soda and a pouch. Genius!
29. Pool Noodle Life Hack
We're going to admit that when it comes to life hacks, pool noodles are extremely versatile. This time, we're using a cut-up noodle to protect our doors and walls, as well as little hands that may get trapped. Learn how to do this super easily from Red Delicious Life.
30. Moving Life Hack
If you're moving, you need to take your clothes with you. Shoving them all in bags or boxes will get them wrinkly, especially as you're unlikely to get to actually put them in their place immediately. So, this Redditor shared a brilliant hack where you gather up the hanging clothes and cover them with a trash bag, moving them all together. Definitely, something you need to try!
31. DIY Hack – Bottle Sprinkler
Sprinkler systems can be expensive and sometimes there's just no budget for it. So, we found this cool life hack that involves using a plastic bottle attached to a hose. Once you make a few holes in the bottle, you're good to go and your yard will thank you! Check out the tutorial from Clever, Crafty, Cookin' Mama!
32. Magnetic Strip DIY Hack
Bobby pins, tweezers, scissors, and all sorts of other things you often use in the bathroom can be difficult to keep track of if you use a ton of containers. So, as long as your tools are metallic, you can solve the problem with a magnetic strip attached to your cabinet door! We love this idea from SuperWoman.
33. Cool Hacks – Pool Noodles in Boots
Didn't we just say that pool noodles are godsent? They are! Cut up a few of these and shove them in your boots so they can stay upright. In this way, you'll avoid those annoying bend lines. Get the idea from Chaos to Order.
34. Life Hack – Restringing a Hoodie
Hoodies and sports pants frequently "lose" their drawstrings in the washing machine, or if you accidentally pull on one too much. Putting these back in is a complete chore, but if you use a straw, it's going to be a lot easier. Get the whole story on how to do this from Life Hacker.
35. DIY Cleaning Hack
Professional cleaning supplies for jewelry and silverware is usually expensive. Thankfully, with just a few things you likely have around your home, you can make your own, bringing out the shine in your items. Mom 4 Real teaches us how to do this with a few ingredients.
36. Life Hack for Your Home
Bobby pins are these items that mysteriously disappear all the time. If you want to make it easier to keep them all together and avoid spreading them all over your bathroom drawer by using a Tic Tac case. Get the details from Lovely Indeed.
37. Life Hack – Wrap Your Bandage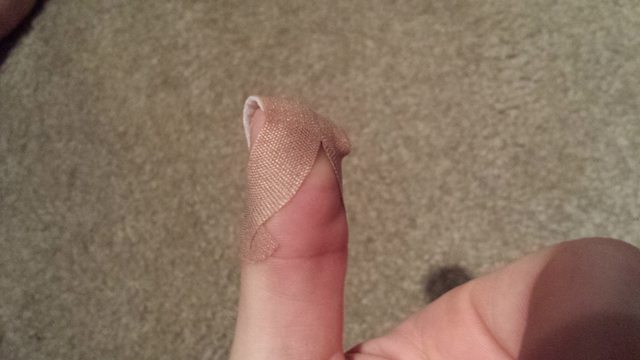 We know you can buy bandages that go perfectly over the tips of your fingers, but why pay extra? With some scissors, you can turn your regular bandaids into the perfect fit for your fingers by following the instructions from OrdiginalGngstr on Reddit.
38. Best Life Hacks – Lose the Bags Under Your Eyes
You can buy a ton of cosmetics to treat the bags under your eyes, you can try sleeping more, you can try a lot of things. The folks at Cosmopolitan, however, are helping us out with a cheap solution – using spoons. It's a perfect life hack and we're wondering why we didn't know about this before?
39. Cool Hack for Your Charger
For some reason, charger cords are always breaking apart, the material unraveling. While Android cords are reasonably priced, iPhone ones are super expensive. You can follow this hack from B+C and prolong the life of your charger.
41. Life Hack to Keep Your Glasses from Fogging
Now that we're all wearing masks all the time, people who wear glasses often find that their lenses keep fogging up. It's annoying and distracting, so there must be a way to avoid this. The folks at Life Hacker can help you out with a few tips and tricks.
42. Easy DIY Key Holder
We know Lego has its own keychains you can buy, but they're a bit expensive, especially when you can easily mak e your own with a few bricks, a small board, and a drill. The Family Handyman is giving us full directions on how to make this!
43. Cute Hack for Hair Ties
Hair ties have a tendency to just vanish. No matter where they tend to hide in your home, if you use a little bit of help, you can hold them all together so you never lose them. We loved this idea on Pinterest.
44. DIY Bathroom Life Hack
Do we ever have enough storage room in the bathroom? If you'll add an extra shower rod to your bathroom, you can add more caddies in which you can store all your shampoos and shower gels and poufs and so on. Even your kid's toys will fit in there. We found the idea on Life Hacker.0
45. Best Life Hack – Fold a Fitted Sheet
Learning how to fold a fitted sheet seems like an important skill to master especially since this type of sheet are so much more useful to have. Folding them can be a nightmare, but if you catch on to the trick, you'll never have a problem again. Check out this TikTok tutorial.
46. Cool Hack for Your Living Room
As long as you have a coffee table and some velcro and double-sided tape, you're good to go to make sure you never again lose your remotes. Add some velcro to the side of your coffee table and some to your remotes, and you're done. Check it out here.
47. Easy Life Hack for Your Car
Plastic cereal containers can double up as a great trash can idea for your car. It's super cool to make and very easy and useful in your car. Check it out here.
48. Cute Life Hack
If you're like us and store your bed sheets separate from your pillowcases, it's time to maybe stop. Martha Stewart has a few suggestions on how you can better organize your linen closet.
49. Tupperware Life Hack
Those Tupperware lids are always going missing, but if you use a file organizer pinned to your cabinet door, you can store them better. Learn how to do this from here.
50. Life Hack Phone Holder
If you want to make sure that your phone won't fall over when you're watching a movie or a show on the go, you may want to use your glasses as an impromptu holder!
Final Thoughts on Life Hacks You Need to Try
Do you have other great DIY life hacks that have made things a lot easier for you but that you don't see on our list? Tell us all about how you made it happen or link us to photos of what you made in the comments section.