35 Awesome Rooms With Colorful Wallpaper
We know, wallpaper can be daunting… but it can make such an amazing statement in a room. And nowadays, with self-adhesive varieties and even removable ones, it has become much more approachable.
There are so many options nowadays and they're all so cute that we really can't decide which one to settle on.
Colorful Wallpaper Ideas
So today we're sharing 35 of our favorite rooms with bright, colorful wallpaper. Read on to get inspired!
1. Floral Yellow Entryway
This bold entryway is filled with a happy yellow wallpaper with pink and white flowers. The cheery color is an inviting choice for the first walls that guests see as they walk in the door. Head over toHistorias De Casa to see this and other colorful wallpaper ideas.
2. Cool Green Wallpaper
There's nothing subtle about this unique bedroom, with its incredibly bold leaf motif covering the walls. The different shades of green are accented by small bits of taupe and gold for contrast. Make your way over to Alyssa Rosenheck's site to see the rest of the room.
3. Red Zebra Bathroom
Despite the small size of this bathroom, the owner decided to to paper the walls with a bright red zebra printed wallpaper. The jumping zebras give the space a lot of great movement, making you forget all about any lack of space. Found over at Historias De Casa.
4. A Wallpapered Closet
Acloset can be a wonderful place to try wallpaper for the first time, thanks to its no-risk location and smaller square footage. Here, bright pink flowers cover a pretty mint green background. Make your way over to The Sweetest Digs to learn more about it.
5. Bird Wallpaper
Here, an accent wall is papered with this avian print filled with little colorful birds, delivering a smaller dose of color which still packs a big punch. And a birdthrow pillow helps to tie in the rest of the room to the unique wallpaper pattern. Check out this and other ideas here.
6. Black Floral Accent Wall
This unique botanical wallpaper has a variety of greens, blues and reds all on a black background that really makes them pop visually. Placed on only an accent wall in this mostly white kitchen, it has maximum effect. Check out more images at The Diversion Project.
7. Pastel FloralSitting Area
This sweet office sitting area is filled with warm feminine accents, making the pastel floral wallpaper the perfect choice. The bright berry colored flowers pair perfectly with the pale mint green foliage in the background. See more of this room at Inspired By This.
8. Watercolor Wallpaper
If you don't fancy floral designs, then you might consider this bold watercolor look. The wallpaper is used only on the top half of the wall, balanced by white beadboard on the bottom half of the wall in this colorfully ornate room. Found over at Happily Curated Chaos.
9. Bold Pink Bathroom
This bathroom felt fairly generic… aside from the incredibly bold wallpaper! The unique pattern and bright pink color draws the eye in, creating a memorable focal point. Head on over to Kristin Eldridge Photography to check out more bold inspiration.
10. Colorful Wallpaper for Girls
This incredibly adorable bedroom was created for a little girl who had grown out of her nursery, and wanted something fun and girly. The colorful floral wallpaper sets the tone perfectly for the room. Check out more photos of this pretty space at The Lily Pad Cottage.
11. Multi-Room Wallpaper
This unique space has not one but two rooms wallpapered in the same pattern, but different colors. Blue and orange are complimentary on the color wheel, providing a contrast that's very pleasing to the eye (if you like bright colors!). Found at Kotivinkki.
12. Bedroom Wallpaper Ideas
This mostly white bedroom becomes incredibly memorable thanks to a lovely accent wall behind the bed. The green foliage in the wallpaper has a relaxing vibe, and the pattern has a bit of a toile feel. Head on over to Freshome to see this and lots of other wallpaper inspiration.
13. Retro Botanical Wallpaper
Here in this retro workspace, a brightly colored and equally retro wallpaper adds some serious energy to the room. The botanical pattern is filled with bright pinks and purples, and lovely green and turquoise leaves. Found over at Everything Etsy.
14. Watercolor Wallpaper
Here we have anotherwatercolor style wallpaper, but this time it has a gorgeous multi-color appeal with every hue from green to pink to blue. The green walls and fuchsia blanket tie in the colors of the wallpaper perfectly. Head over to Heart Home to check out this and others.
15. Graphic Floral Wallpaper
We have another floral pattern here, but this time it consists of brighter contrasting hues and graphic flower shapes. Its roll as an accent wall keeps it from feeling completely overwhelming. Make your way over to Design Tripper to check out the rest of this space.
16. Orla Kiely Wallpaper
Orla Kiely is famous for herleaf-like pattern, and here it shines in this beautiful multi-color design. The colors have a vintage feel, accentuated by the retro art and accents that accompany it. Head over to Design*Sponge to check out the rest of this home.
17. Rock N' Roll Floral
This incredibly bold bathroom has a floral wallpaper design that has a bit of a rock n' roll chic sort of vibe, thanks to the black and white leaves that accompany the colored blooms. The modern white sink adds balance. Check it out over at Style Me Pretty.
18. World Map Wallpaper
This world map wallpaper is geared toward children, with fun illustrations of animals from around the globe. The colors are a bit more muted than others we've looked at, but they still lend a nice pop of interest to the space. Check out other similar ideas here.
19. Colorful Floral Wallpaper
This deliciously colorful laundry room would make anyone want to do thewash! The bright orange wallpaper design is filled with soft flowers in pale pink with green leaves. Many other other contrasting accents throughout the room make this space quite memorable. Found here.
20. Rainbow Striped Wallpaper
We've always heard that horizontal stripes lend a widening effect, and it's certainly the case in this foyer space. These bold rainbow stripes make this area feel much larger than it is. And those beautiful, bold colors feel so lively! Check it out over here.
21. Orange and Purple Toile
This bold orange and purple wallpaper has a style reminiscent of toile, but modernized a bit thanks to the unique color combination. The orange striped bedding coordinates perfectly with the paper pattern. Head on over here to check out this and other ideas.
22. Blue and Green Bird Wallpaper
This entryway is filled with a mix of patterns and colors, with the most unique being the lovely blue and green wallpaper filled with birds and cloud-like blue shapes. The darting birds lend an appealing sense of movement to the space. Check it out at Boston Magazine.
23. Blue Chinoiserie Wallpaper
Chinoiserie is another classic wallpaper pattern, used here in expert fashion. The green in the wallpaper is picked up by the unique painted ceiling, giving it a thoroughly contemporary vibe. Make your way over to the Chinoiserie Chic blog to check it out.
24. Colorful Parrot Wallpaper
Here's another avian wallpaper choice, this time with statuesque parrots covering the walls. Orange foliage breaks up the parrot motif, adding some balance to the design. The colors are also reflected in the room's furniture and accessories. See the image here.
25. Multi-Color Floral Accent Wall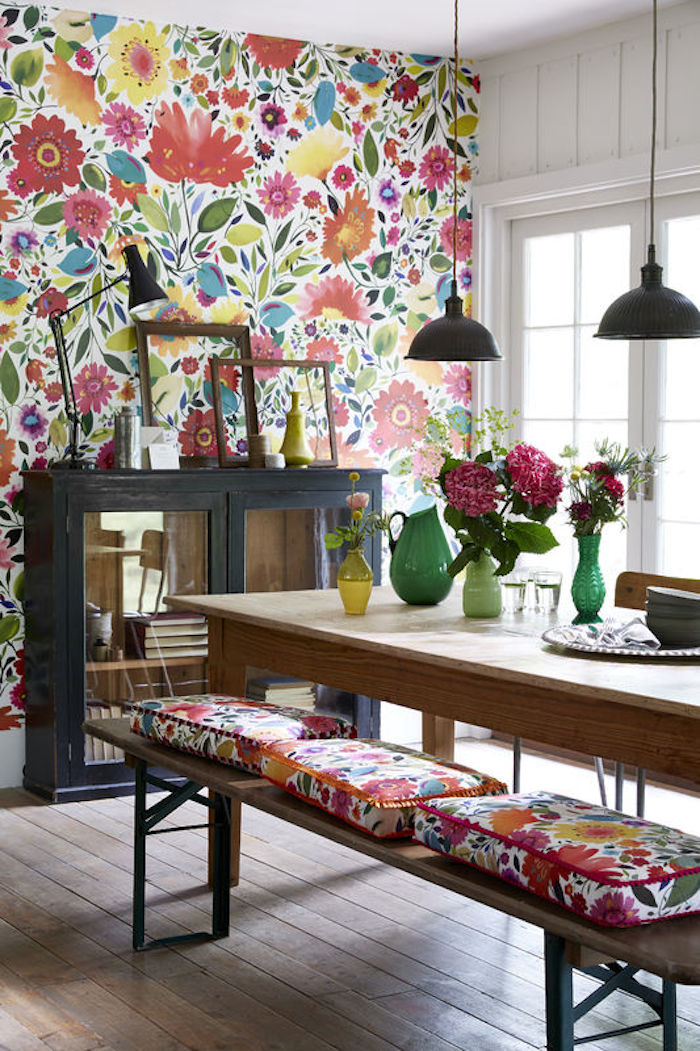 This accent wall might be the boldest of them all, with bright flowers and leaves in practically every color of the rainbow. The cushions are also covered in the same design, lending a certain cohesiveness to the entire room. Head over to Lucy Loves Ya to check it out.
26. Black and Rose
If you're unsure how to make a dramatic wall inside your home, this black and rose geometric wallpaper is certainly going to bring all the drama. Add in a light fixture and some fancy furniture and you're good to go.
27. Blue and Gold Splatters
We do have a blue and gold suggestion for you. With a white background, the blue and gold and brown stand out that much more. It looks like a fun wallpaper to have at home, as it will still be bright, but also cheerful.
28. Minimalist Geometric
If you're into geometric shapes, then some triangles will do just fine. The coolest thing is that you can get this wallpaper to help brighten up your living roo. Since the design is so minimal, it won't appear to be too much for the eye.
29. Pastel Wall Background
If you're looking for a great wallpaper for your kids' room, then this pastel creation is just fine. The cutest thing is that it uses pink and mint, so while it may fit better a girl's room, it's not mandatory. Check it out on Etsy.
30. Dramatic Greenery
If you love plants, then perhaps a plant-based background will work for you. Of course, this whole wallpaper is a bit busy and dark, so you may want to set it up on an accent wall, rather than do the whole room. You can find this one up on Etsy.
31. Meadow
If you want a bit of a meadow in your own home, then this colorful flowery meadow is the right choice for you. This creation from Rebel Walls is just lovely and we can definitely see it on our accent wall!
32. Subdued Herringbone
If you want a touch of color in your room, then this herringbone wallpaper will work just fine. We found this project on Jenna Kate's At Home blog and we absolutely love it!
33. Colorful Patchwork
While it may not be the best idea to cover all your walls in this busy pattern, you can put it right beside your breakfast nook, or in your kids' room, if you'd rather. We found it on Rebel Walls and just love it!
34. Watercolor
One really cute way to make your wall colorful without using any paint, we can get this wallpaper titled "Peace." This one looks beautiful and should inspire that exact feeling in you. Check it out on Hovia.
35. Abstract Color Patches
If you're looking for a bit of orange, green, a splash of pink, and a few leafy twigs, then this Etsy wallpaper will do the trick! It's so pretty and a great accent wall will result from this.
Final Thoughts on Colorful Wallpaper
Now that we have a good idea on what really cool wallpapers are available out there, we're going to take another look at them to pick a favorite. Which one do you like best? Leave us a comment and tell us all about it.