15 Super Fun Jello and Pudding Recipes and Ideas
If you grew up in the 80s and 90s like we did, then you're definitely familiar with how delicious Jello and Jello pudding mixes are! Whether you're eating them on their own or transforming them into one of the endless recipe possibilities that are out there, we'd be willing to be that you and you're kids alike will still love yummy treats made with Jello and pudding packs. They're also usually very easy!
Check out these 15 mouthwatering recipes!
1. Taste the rainbow Jello
Glorious Treats suggests piling thin, delicious layers of whipped cream or Cool Whip and differently flavoured Jello in a clear glass bowl or cup! Besides tasting amazingly fruity, the whole dessert will also end up looking like a rainbow, depending on which flavours you decide to use!
2. Creamy fruit mousse
Our Best Bites shows you how to make a deliciously creamy mousse that gives you a yummy fruit flavour, but more subtly than some dishes that contain actual fruit pieces or are made just of fruit Jello. The taste is summery and light.
3. Banana caramel poke cake
Shugary Sweets guides you through the process of creating a sweet, creamy topping with hints of banana and vanilla, drizzles in caramel to top the whole thing off! If you're looking for a way to enjoy you favourite pudding without just eating it the regular way, this is it.
4. Fruity Pebble pudding cookies
Cookies are always good, but they're especially soft and delicious when you add some creamy pudding mix into the batter. As if that's not enough, this kooky recipe from Crazy for Crust also features Fruity Pebbles cereal! It's fun tasting and fun to look at.
5. Queen salad
6. Berries and cream Jello salad
We love Jello salad so much that we'll eat it in just about any flavour, but the idea of this blackberry salad topped with whipped cream is heaven sent! Get the mouthwatering recipe from Six Sisters Stuff..
7. Caramel mud pie cups
Have you ever heard of anything more positively rich than your own personal caramel mud pie? These little jars, made with layers of pudding and pretzels and topped with sugar sprinkles are just like getting your own gift at someone else's party. Get the recipe from Inside BruCrew Life.
8. Strawberry pretzel salad
When you think of awesome pudding "salad" recipes, pretzels and strawberries might not be the first combination that comes to your mind. In case you don't believe us that it's completely delicious, check out this amazing recipe from My Baking Addiciton!
9. Triple chocolate pudding muffins
Do you love the idea of a soft pudding cookie but the Fruity Pebbles recipe just isn't up your alley? Try these delicious triple chocolate cookies instead! They're rich in all the right ways. Check them out on Something Swanky.
10. Layered mousse cake
The best part about layered cakes is that you get the perfect mixture of crunchy and creamy layers. A Spicy Perspective shows you how that's done by making mousse out of differently flavoured Jello mixes.
11. Orange cream cupcakes
I Heart Naptime shows you how to make uniquely delicious cupcakes that taste just like your favourite pop! Jello packages let you make both the cupcake and the icing taste like Orange Crush (or whichever other fruit flavoured pop you love).
12. Raspberry confetti kisses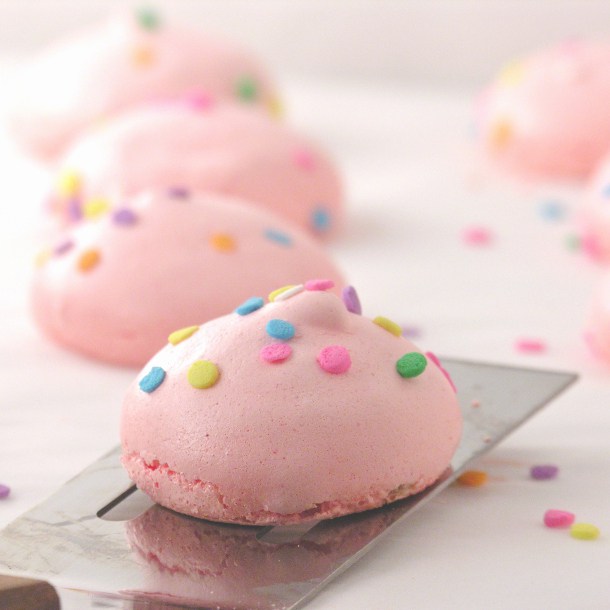 These delicious little meringue-like bites are perfectly light and fruity! Give them the perfect level of raspberry flavour using Jello mix, just like Easy Baked did here. Do you prefer another type of fruit flavour to raspberry? That works too!
13. Jello Popcorn
In the category of unique snacks you've probably never thought of yourself, we give you.. Jello popcorn! It's the perfect crazy combination of sweet, fruity, and salty flavours for people who like a more adventurous taste. We have Chocolate, Chocolate, and More to thank for this one!
14. Rocky road pudding mousse
Do you love regular pudding so much that you're looking for a variation that tastes mostly like your favourite snack, just with a little extra twist? Check out how Something Swanky amped up their flavour factor just by adding a few delicious rocky road ingredients!
15. Strawberries and cream bundt cake
Chocolate, Chocolate, and More shows you how to use fruity Jello and creamy pudding mixes to make the perfect strawberries and cream bundt cake! The flavoured icing drizzle takes it to the next level of tasty.
Do you have another favourite Jello or pudding mix that you love, but that you don't see on our list? Tell us all about it in the comments section!