25 DIY Boyfriend Gifts For All Kinds of Celebrations
Whether it's Christmas, an anniversary or your beau's birthday, it can be really hard finding just the right gift for the man in your life. Surprise him with something both thoughtful and exciting, and perhaps that falls into the handmade realms. Check out these 25 DIY boyfriend gifts that work for all kinds of celebrations!
1. Stenciled Tee
DIY Ready gives us the scoop on created a stenciled t-shirt. Your man will love a handmade design straight from your own two hands!
2. Pre-Planned Date Book
This gift is a bit more thoughtful and romantic, so it's perfect as an anniversary gift or Valentine's Day present. Thinking Closet has all the details to get your started.
3. Crochet Wrap Bracelet
One Dog Woof gives us a great tutorial for a unisex, crocheted wrap bracelet. If your guy is a bit more boho or hipster in style, then whipping up one of these could be a great idea!
4. Comic Book Coasters
Or maybe he's a comic book fan. Create these comic book-inspired coasters to round out his man cave or living room apartment. Details at Mod Podge Rocks.
5. Leather-Wrapped Flask
I Spy DIY gives us a super chic idea that your man will swoon for. Make up one of these leather wrapped flask and he'll feel like the coolest dude around.
6. Gingerbeer
Go all out in the kitchen and teach yourself how to make some homemade gingerbeer. Steele House Kitchen will guide you every step of the way.
7. Rosemary Shaving Cream
Food For My Family whips up some rosemary shaving cream and we thought this would be quite the gift. Pair it with a new razor for a great stocking stuffer idea!
8. Hammock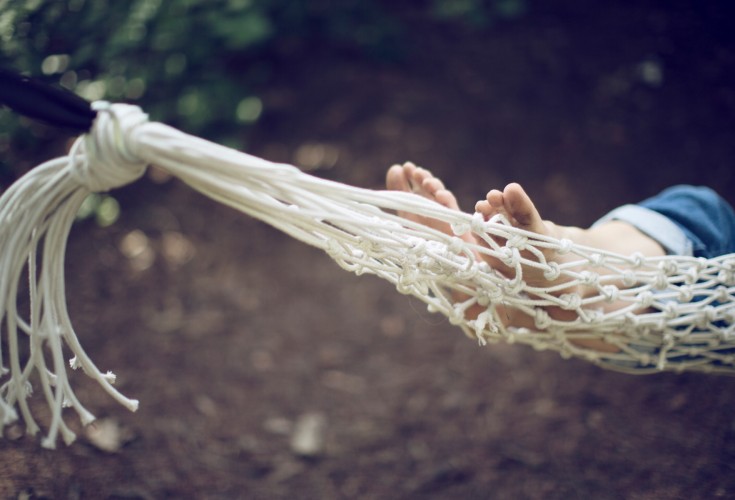 Pu those hands to work and make your man a hand knotted hammock! Give him something to enjoy in the outdoors with help from KinFolk.
9. Handstamped Hankies
Paper & Stitch has a sweeter DIY to experiment with. Whip him up some handstamped hankies that he can sport on some of your date nights.
10. Kiss in Your Pocket
Color Me Katie has a romantic gift as well. Perfect for anniversaries or Valentine's Day, create a kiss that he can carry in his pocket!
11. Fire Pit
Over at ManMade you can take on a bigger project. A handmade fire pit will definitely wow the socks off of him!
12. Bay Rum Aftershave
mommypotamus has the recipe for this delicious bay rum aftershave. This too makes a great addition to any gift or stocking stuffer.
13. Leather Luggage Tag
Almost Makes Perfect works with leather and makes a rustic, masculine piece for any bit of his luggage. Gift this to him before your next trip together!
14. Map Plates
Our Nerd Home took maps of some of their favorite places – from Lord of the Rings, for example – and turned them into plates! Speak to her "nerdy" side with this one.
15. Root Beer Float Kit
If your man has a bit of sweet tooth, put together on of these root beer float baskets. Grab all the details over at Thirty Handmade Days.
16. Ticket Stub Memory Box
The Thinking Closet put together a memory box specifically to hold ticket stubs. Hold all of your dates and memories in one spot!
17. Two Minute French Toast
Pretty Prudent knows how to wake your man up right. This DIY gift is edible and can get a birthday celebration off on the right foot.
18. Monogram Mug
If he loves coffee or tea, get inspired by this project from Design Mom. It's easy, it's thoughtful and it's a great way to dip your toes into the DIY world.
19. Printed Mouse Pad
Design Sponge shows us how to print your own mouse pad. Make something contemporary and chic for his home office!
20. Leather Wallet
The Merrythought shows us how to take a piece of leather and work it into a wallet. If he's in need of something more casual, go for it!
21. Colorblock Tie
Check out I Spy DIY and learn how easy it is to turn an older tie into something more on trend. He'll be a new and improved wedding date with this one.
22. Cozy Socks
Purl Soho is teaching us how to make some cozy socks! Perfect for the winter season, obviously even more perfect for the holidays, he'll love the sweetness behind this creation too.
23. Dunkaroo Dip
Give him a blast from the past with this yummy DIY gift! Dunkaroo dip is even better as an adult! (via)
24. Lego Key Holder
Felix Grauer took some legos and made a fabulous key holder. He won't lose his keys anymore and he'll love the utilization of his favorite toys.
25. Lipstick Art
A Beautiful Mess made this sexy piece of art that he can have anywhere inside his apartment. It'll be a constant reminder of you … and your lips!