DIY Pinatas for Your Next Party
There are plenty of ways to celebrate a special occasion, but few things are quite as much fun as a piñata! Whether your party is for kids or adults, including a piñata in the festivities is sure to get everyone laughing and excited, especially when the candy finally bursts out at the end.
No matter your décor scheme or the theme of your party, there's definitely a piñata design out there for you! To get you started and feeling inspired to make your own, here are 15 awesome ideas for DIY pinatas that will definitely get the party going.
1. Present piñata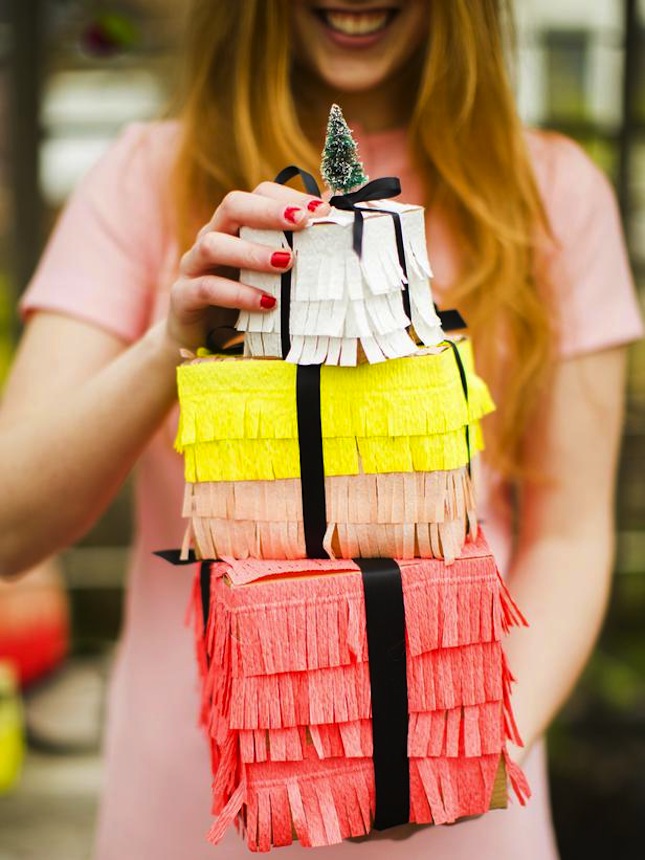 Do you have a friend who you already  know completely adores the fun of breaking open a piñata on just about any occasion? Make them one for their birthday, but shape if like a birthday present so it becomes part of their gift! DIY Network shows you an easy way to make this cute fringed design.
2. Ice cream cone piñata
Do you love the fringed method but you're celebrating something that doesn't make sense with a gift shape like the idea above? Try creating this colourful little ice cream cone pinatas by Oh Happy Day instead! They're perfect for a summer pool party.
3. Easter egg piñatas
A Subtle Revelry reminds you that pinatas make an awesome party activity any time of year! Just because you've never seen one at an Easter dinner before doesn't mean you should try this pretty striped idea out for yourself.
4. Slice of birthday cake piñata
Perhaps you have a friend whose favourite part of celebrating birthdays is the cake? Maybe you know someone who doesn't actually like cake and prefers candy instead? Either way, this adorable slice of cake piñata design by Studio DIY is the perfect thing to make people happy in both scenarios.
5. Candy corn piñata
Brit + Co. reminds you that, just like on Easter, you can totally celebrate Halloween with a novelty shaped piñata too! There are plenty of spooky Halloween shapes you can transform into a piñata, but we're pretty big fans of this simply adorable piece of candy corn full of- you guessed it- more candy!
6. Flower filled piñata
Do you know someone who loves the fun of pinatas but isn't actually a very big fan of candy? Surprise them by filling the piñata with flowers instead of candies and chocolates! It'll be especially fun to break open if you hold it slightly above everyone so the flowers rain down when the piñata cracks. Check out how this was made on Free People.
7. Giant popsicle piñata
Just because your kids are little doesn't mean they don't want really big fun on their birthday or while they're celebrating summer! This larger than life popsicle pinata design by Brit + Co. is un to look at and holds a whole lot of candy, so your kids will love it!
8. Christmas cracker piñatas
Do you like pinatas so much that you'd even like to celebrate Christmas with them? Martha Stewart shows you how to make ones that look like big Christmas crackers, but with a whole lot more fun inside! These are a great alternative to the classic popping Christmas crackers for parties where loud banging noises might not be a good idea.
9. Unicorn-piñata grams
Are you looking for an extra special and adorable way to invite someone to your next party, or even just to give them a little gift? You might as well make that an opportunity for some piñata fun too! Studio DIY shows you how to make tiny unicorn shaped pinatas that everyone will love opening up to get the message (and a few bonus treats) inside!
10. Fringey silver diamond piñata
Are you throwing a party with a theme that's especially glamorous? Smashing things or candy might not typically be something you do at a fancy party or a formal event, but it still counts as very classy if the piñata is shaped like a shining diamond, right? Check out how this awesome design was made on Best Friends for Frosting!
11. Moon piñata
This fringed, moon shaped piñata by Oh Happy Day is so cute that we thin we'd actually hesitate to smash it, even if there's candy inside! This design would look adorable at just about any kind of party, or in a photo shoot where you just want to catch some great shots of your kids having a lot of fun together.
12. Mini gem piñata
Do you love the look of the giant diamond piñata but there won't be time at your dinner to line everyone up and let them take swings at one big pinata? That doesn't mean you have to skip the idea all together! Try making them these miniature personal diamond pinatas instead, just like Lovely Indeed did here.
13. Birthday number piñata
Is your child particularly excited about turning another year older and running around telling everyone just how big they're getting? Help them celebrate in an extra fun way with a giant pinata shaped like their brand new age! Confetti Pop shows you how this awesome, eye cathing number 5 was made.
14. Fancy tissue box piñata
Studio DIY reminds you that making pinatas doesn't have to be difficult and time consuming if you don't want it to be! Sure, there are all kinds of fancy papier mache designs and shape you could make, but this simple tissue box piñata is a great alternative for parties that pop up last second.
15. Heart of Gold rocket ship piñata
Are you throwing a Valentine's Day party? Perhaps you're just organizing the birthday party of someone you love? Either way, this rocket ship straight to the heart is an adorable way to show them how much they mean to you! See how it's made on Oh My! Handmade.
Have you made another DIY piñata design before that you don't see on our list, but that we simply must see? Tell us about it in the comments section!