Delicious Homemade Vanilla Cake Recipes
When it comes to baking, we'll happily accept and thoroughly enjoy just about any delicious treat at all. If we're the ones doing the baking, however, we tend to nearly always choose to make a cake! There's just something so satisfying about making a beautiful whole piece that you can then split into pieces to share with your loved ones. Which flavour of cake is our favourite changes all the time, but recently we've been on a complete binge of the simplest tasting kind; we just can't get enough vanilla cake! That might not sound like the most exciting thing ever, but we think you'll be surprised to learn how many different types of vanilla cake there are to make out there, and just how subtly different each one can taste.
Just in case you love vanilla cake as much as we do, here are 15 different recipes for your favourite thing, each one as delicious and worth trying as the last!
1. Vanilla sponge cake with vanilla buttercream icing
We all know people who love cake but aren't really big fans of icing. We guess we can understand the logic behind that but, personally, we've always loved icing so much that we happen to operate on a policy of the more icing, the better! We doubt you'll be surprised to learn, then, that we've made this delicious sponge cake smothered in vanilla buttercream icing several times! Each time we serve this to our family, they can't help asking for a second piece. Find the full recipe for both the cake and the icing on Sweety Salado.
2. Homemade fluffy vanilla cake with edible flower garnish
Rather than loving the icing the most, have you always mostly been in love with the satisfyingly fluffy cake texture that a vanilla cake features? Then we have a feeling this extra fluffy recipe from The Spruce is exactly what you've been looking for! We love the way they guide you clearly through the process of making the perfect sponge and even some icing with a hint of extra vanilla flavour, but we mostly love the idea of topping your cake with edible flowers to add a subtly sweet taste!
3. Super simple vanilla cake
Perhaps your baking skills are good but still at a beginner's level so you're looking for a recipe that will keep things as simple as your taste in flavour? Then here's a nice, easy vanilla cake recipe that will have you baking way more often than you used to! Vanilla sponge, vanilla cream filling, and vanilla icing make this one delicious with every single bite, and we have Give Recipe to thank for that.
4. The best vanilla cupcake ever
Perhaps you live alone and, even though you love to share your baking with your friends, you find making large cakes kind of inconvenient for doing so? Then we have a feeling you'll get along with this delicious vanilla cupcake recipe a lot better! The delicious sponge cake texture and the creamy vanilla icing that you love most are all present, but in a hand-held version that you can pass out to the people you love without hassle. Get the full recipe on Hub Pages.
5. Vanilla butter cake
Even though you love all kinds of vanilla cake, have you always had a bit of a preference for the recipes that are a little more dense and filling, rather than the kind that are a little more fluffy? We quite like these ones too, and we find that they don't necessarily need icing to taste great. They're almost more like a dessert bread than a classic cake and we're totally okay with that! This delicious vanilla butter cake from Hungry Forever is the perfect example of what we mean.
6. Glazed and fruit topped vanilla cake
No matter how much you love vanilla cake on its own, sometimes it's nice to have something to pair it with, just to amp up the taste game even more. What's our favourite thing to top our cake with, then, you ask? Well, we're pretty much obsessed with adding mixed berries to our vanilla sponge cake, especially if there's a light vanilla glaze to top it all off! Find out how this mouth watering, berry filled creation was made on Butter With a Side of Bread.
7. Homemade French vanilla bundt cake
Did we really catch your eye when we were talking about denser cake recipes but you'd actually prefer to go even less fluffy than the butter cake recipe we showed you earlier on our list? In that case, we have a feeling you're going to completely adore this vanilla bundt cake idea from Recipe Tips! Whether you eat it plain or pour a bit of sweet cream on top, it's complete satisfaction with every bite.
8. Eggless vanilla sponge cake
Have you actually been looking for alternative vanilla spongecake recipes because you're trying to cut certain things out of your diet? Perhaps you have a family member who eats vegan or is allergic to eggs. In either case, we think we've finally found the recipe for you! Check out how iDiva made this eggless vanilla spongecake that's so good you won't even notice the difference.
9. Double vanilla ice cream cake
Now, we did say at the beginning of this list that we'd be talking about vanilla cakes in particular, but we don't think we specified that we'd stick to a particular kind of vanilla cake, so here's an awesome alternative to all of the spongecake dishes we've shown you so far! Vanilla ice cream cake might not be a groundbreaking idea in itself, but we'd never actually tried making our own at home until we came across this recipe from Brown Eyed Baker. Now our kids beg us to make it all the time because it's nothing short of mouth watering!
10. Vanilla first birthday smash cake
Have you actually been scrolling through our list hoping to find a vanilla cake recipe that's made in a smaller dimension? We know that any recipe will do, really, but we also know that some amateur bakers might not feel comfortable adjusting ingredient proportion to change the recommended side of the cake, just in case it changes the way it tastes too. Just in case you feel like you need a bit of guidance when it comes to making smaller vanilla cakes, here's a cute birthday smash cake sized recipe from Belle of The Kitchen!
11. Triple layer vanilla buttercream cake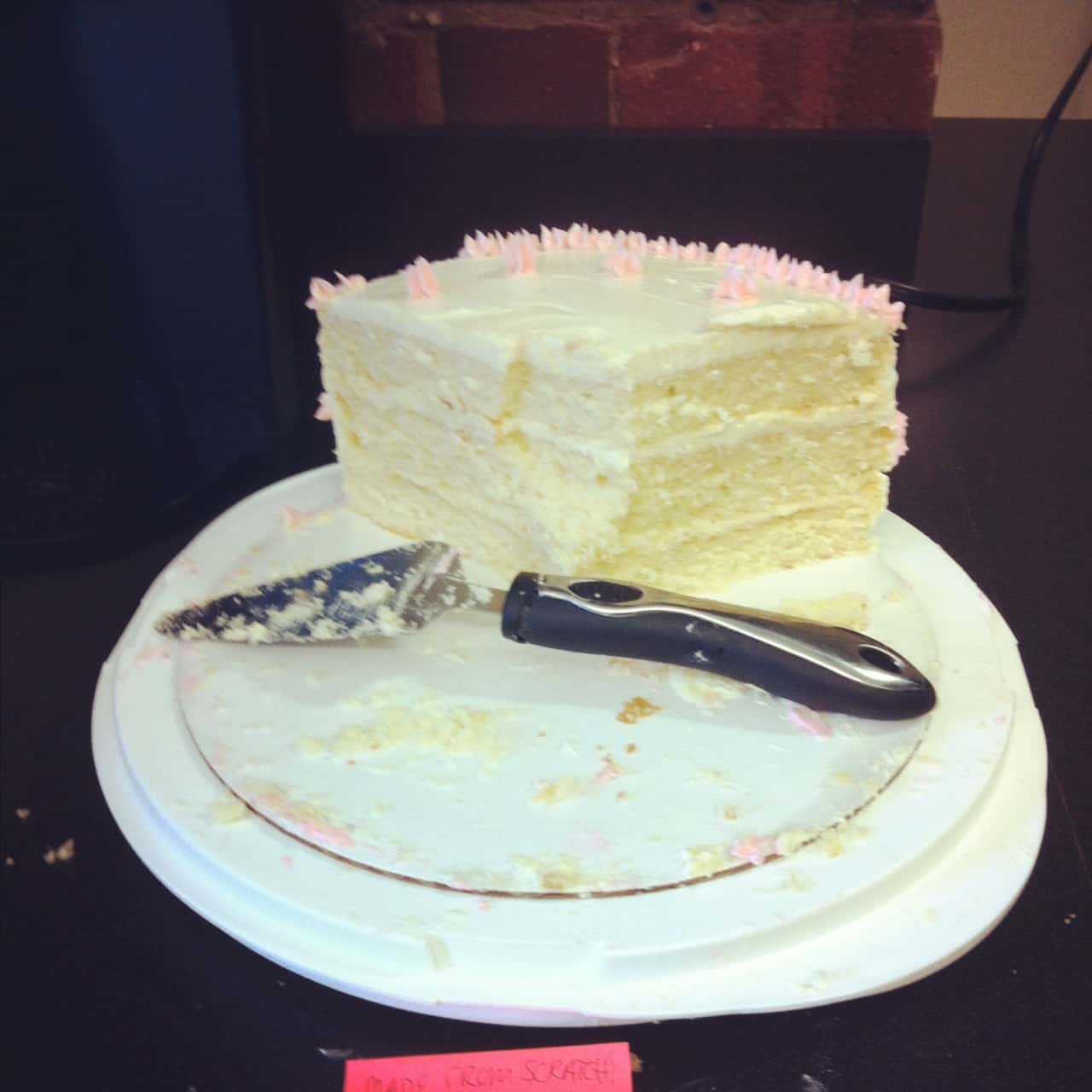 Were you intrigued by the idea of a rich, delicious buttercream vanilla cake but you actually think you might prefer something even more decadent than the first buttercream idea we showed you earlier? In that case, we'd definitely suggest taking a look at this practically gourmet triple layered version of a vanilla buttercream cake featured on Wedding Bee! Even with all that cake and icing going on, somehow this recipe still has a perfect balance of the two with each bite.
12. Moist and heavenly paleo vanilla cake
Now, don't get us wrong, we are always big fans of making the most delicious, decadent, and dense full-fat, full sugar version of a recipe we can find, as long as we practice self control and don't make those things too often. That doesn't mean, however, that we don't keep a few healthier and more diet conscious recipes on hand for when we host friends and family who prefer to eat something a little less heavy! This paleo vanilla cake recipe from Paleo Grubs is the perfect example of what we mean. It's so moist and pleasant tasting that you'll hardly even notice a difference between bites of this and bites of any other vanilla cake you've ever tried!
13. Six layer vanilla bean birthday cake
Did you think we'd reached maximum decadence when we started talking about triple layer spongecakes earlier on our list? Well, that recipe certainly was a lovely one, but that's actually not the tallest vanilla cake we came across in our search! Believe it or not, Sugary and Buttery actually topped our list for tallest cake by not just beating the triple record… but doubling it! Check out their recipe to learn how six layers of vanilla goodness happens.
14. Vintage vanilla cake recipe from scratch
If you're going to make yourself a cake from scratch, would you prefer to stick to the traditional recipes that you know are tried and true? In that case, we would absolutely suggest checking out this unbelievably delicious old fashioned vanilla cake recipe from Wonky Wonderful. This cake might have the closest icing-to-sponge ratio to perfection that we've been able to find so far.
15. Easy vanilla pound cake
Did we really catch your attention when we started talking about cakes so dense that they taste like dessert breads, but you'd actually like to take that concept even further? In that case, we definitely think making a poundcake is your best option. We've made countless of these precise vanilla poundcakes featured on Fit For a Taste before and they've been a huge hit with absolutely everyone, every single time!
Do you know someone who loves and adores vanilla cake just as much as we do and who you know would love to try as many different kinds of recipes as they can? Share this post with them so they have lots of kinds to choose from!