15 Braided Hairstyles Made For Long Locks
Flaunt those beautiful tresses and keep stray hairs at bay by adding a few new hairstyles into your weekly routines. These 15 braided hairstyles were made for long locks and we're loving the tutorials that go along with them! From pigtails to updos, let's take a peek at how to style these looks and give yourself some new hair inspiration.
1. Romantic Side Braid
Once Wed beings our braided journey with this charming, romantic side braid. If you have longer, thicker locks this one will look especially beautiful on you. Just take the leap and check out the easy-to-follow tutorial now!
2. Braided Crown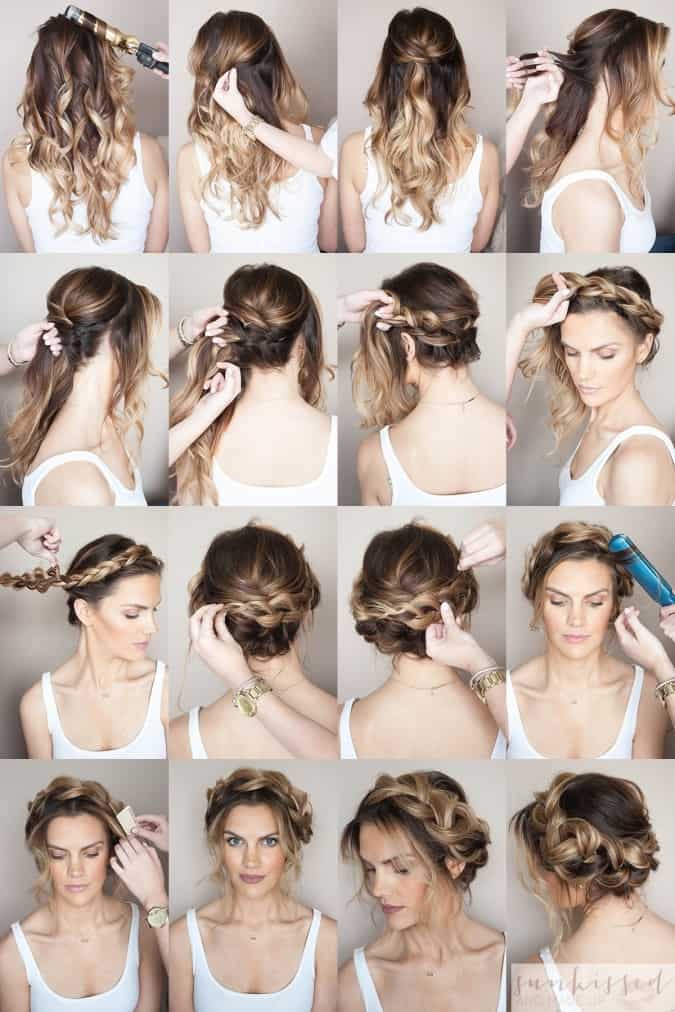 Longer tresses are needed for this look too because you'll want enough hair to circle your head! It's such a romantic hairdo that you can use for a variety of events – from weddings to a day of classes. Check out the details for this look over at Sunkissed and Made Up.
3. Pull-Through Braid
If you like YouTube tutorials a bit better when it comes to beauty routines, then this pull-through braid will be your new best friends. How funky and cool is the finished look? Make your ponytail filled with a bit more personality using this idea.
4. Half-Up Side Braid
Lauren McBride went with a little braid that accents her overall look so nicely. Wear your hair down and free but with a small side braid to top off your day. It's such a sweet and versatile finish.
5. Double Dutch French Braids
We found another fabulous YouTube tutorial and this time it's for these great double dutch French braids. You can even add some embellishments like bobby pins or other clips to personalize the look a bit more. We love this one for the kiddos as well.
6. Upside Down French Braid Bun
If you're looking for some updo ideas or a way to style a classic ponytail with a little more personality, this look from Stylishly Me is the way to go. Check out the tutorial after the jump but pay attention to how versatile it is. It's a great braid that you can easily dress up or down depending on the occasion.
7. Waterfall Mermaid Braid
Hair Romance had a personal favorite on the list hiding up their sleeve. Wear your hair down and then learn how to create one of those beautiful waterfall braids. It's a great way to add a punch of style to a more casual day.
8. Tucked Braid Updo
Check out this tucked braid updo from A Beautiful Mess! It's just another stylish way to wear your hair up but also versatile enough to wear to dressier events as well. Imagine this with a beautiful maxi dress or even a pair of jeans with your converses – it works!
9. Half-Up Braid Bun
Join the Mood went with a dainty, half-up braid bun that we're swooning for. It's a more delicate style that will work for all kinds of hair – from thicker to more fine. Check out the details after you visit!
10. Princess Braids
Have you ever heard of princess braids? Well, if you're interested you can check out how to create this look by Twist Me Pretty. We have a sneaking suspicious that your little ones may want to rock this idea as well.
11. Dutch Braid Bun
Dutch braids are really fun and there are tons of ways to wear them. And this way we found at Breakfast at Vogue, it one of the most unique looks we've found. A dutch braid bun seems to be such a full and quirky way to wear your hair.
12. Four Strand Braid
If you're looking for a way to jazz up a simple look, go with four strands instead of three in your braid creations. We found this inspiration when visiting A Cup of Jo and thought it'd be great for our readers to try out. It's perfect to top off your spring or summer outfits.
13. Braided Headband
The Freckled Fox made headbands out of her own hair and they're braided too! Check out the details by taking the leap over and reading the details. We love this look at a super romantic and dainty-inspired style.
14. Bohemian Side Braid
Here's another side braid that we're really swooning for. You can find the tutorial by visiting exPress-o. If you're a more bohemian lady in style, then you may want to try this look out first.
15. Loop Pigtail Braids
And finally, another extra unique one in the bunch, these loop pigtails braids are so funky! Check out the video on YouTube and follow along to recreate them yourself. We feel like this one will be good for the kiddos as well.