15 Homemade Milkshakes That Will Make Your Mouth Water
In our house, making delicious homemade milkshakes together on a Friday night and watching movies while we sip them is a family tradition. It doesn't matter what time of year it is or what the weather is like outside; every two weeks or so, we stay in for milkshakes and movies! That's why we've always got our eyes peeled for fantastic new milkshake recipes we haven't made at home with our kids yet before.
Just in case you love the idea of making your very own uniquely flavoured milkshakes just as much as we do, if not more, here are 15 of the very best recipes we've come across so far in our never-ending search!
1. Homemade French vanilla milkshake
Everyone's tried a vanilla milkshake before, but what if we told you that you could get an even closer taste to that super creamy French vanilla ice cream flavour we all love so much? That's precisely what The Rebel Chick's tutorial is here to show us how to do. Never let anyone tell you the good old classics can't be exciting choices now and then!
2. Oreo crumble milkshake
This mouthwatering recipe takes the traditionally delicious concept of cookies and cream flavours to a whole new level. Besides having real blended cookies involved, rather than just using flavoured ice cream, this recipe from Simply J & K also suggests mixing in some chocolate sauce for extra fantastic flavour!
3. Mint chocolate chip milkshake
Once again, mint chocolate chip ice cream is actually one of our very favourite ice cream flavours in the whole parlour, but there's an even more delicious way to make a milkshake flavoured like it than just by using the ice cream as the base. Check out how Meatloaf & Melodrama actually added their own blended chocolate chips to make sure their milkshakes have the perfect amount of chocolate they were looking for!
4. Homemade chocolate peanut butter milkshake
Whether it's ice cream, chocolate bars, or baked good flavours, chocolate and peanut butter is a taste combination that can hardly be beat, if you ask us! It only makes sense, then, that the two things blended together as a milkshake tastes just as good, if not even better! Get the full details for making this decadent version in your own kitchen from Almost Supermom.
5. Cookie dough milkshake
Just like so many others on this list, we're in absolute love with this milkshake recipe because it does more than just blend the right flavour of ice cream together as a base and call it a day. Instead, Big Bear's Wife teaches you how to actually add your own chocolate chips and cookie dough chunks so there are as many or as few as you think will taste great!
6. S'mores shake
Have you actually been scrolling through our list thinking about how, even the rest of these ideas are totally delicious, you're intent on making something very fancy indeed, almost like you might get at a gourmet restaurant? In that case, we think you'll really get a kick out of the way A Side of Sweet created this positively decadent S'mores milkshake topped with actual Hershey's milk chocolate and real toasted marshmallows!
7. Red velvet shake
Are you feeling really intrigued indeed by the idea of making milkshakes that taste just like other kinds of sweet treats you love and have made with your kids before? In that case, we think you'll get a totally huge kick out of the way Lil' Luna made these fantastic milkshakes that taste just like red velvet cake, or perhaps red velvet cupcakes, depending on how much whipped cream you choose to put on!
8. Honey Nut Cheerios milkshake
This next tutorial, provided step by neat, clear step thanks to Honey and Birch, is one we've actually never tried before, but the flavour concept sounds so incredibly delicious that we couldn't resists including it anyways! Check out how they made this fantastic Honey Nut Cheerio flavoured milkshake that is blended and topped with actual Cheerios and drizzled with actual honey too.
9. Homemade peach milkshake
Have you actually been scrolling through our list and thinking about how much you'd prefer a fruit flavoured sweet milkshake to some of the nearly overwhelmingly rich ideas you've seen on our list so far? We have family members who feel the same way, so we make sure to always have a few fruity and delicious recipes on hand. This fantastic peach milkshake idea from Six Sisters Stuff is the perfect example of what we mean!
10. Vegan wild blueberry shake
Have you actually been scrolling this long in search of the perfect recipe because one of your loved ones is vegan and you're looking for recipes that will help keep them a part of movies and milkshakes nights even if they don't drink milk? Then we have a feeling this lovely vegan wild blueberry milkshake outlined step by step on Healthy Happy Life might be the perfect recipe for you!
11. Vegan watermelon milkshake
Just in case we really caught your attention with the vegan milkshake idea because that's precisely what you're looking for but you've never actually been a huge fan of blueberries? In that case, we'd definitely suggest taking a look at how Mom Foodie made these fantastically refreshing vegan watermelon milkshakes instead!
12. Circus animal cookie ice cream birthday milkshake
If you're going to put in the time and effort it takes to make a homemade milkshake from scratch, would you and your kids much rather make it the most ridiculously decadent and unique tasting thing you've ever seen? In that case, we think you just might be the perfect people to give this fantastic circus animal cookie ice cream birthday milkshake from Glued to My Crafts a try!
13. Mini strawberry shortcake milkshakes
Perhaps you're actually planning on making milkshakes for a whole group of friends you have coming over, but you'd rather make a batch and serve them out when your pals arrive instead of making them together like you might with your kids? In that case, we think you might get along a little better with something like this tutorial for making delicious mini strawberry shortcake milkshakes that taste just like the real thing but creamier. See the full details on Pizzazzerie.
14. Samoas cookies and cream coconut milkshake
Have you always enjoyed the basic concept of cookies and cream because you love cookies so much, but you can't help wondering whether you're just limiting the world of taste by only ever making the idea happen using Oreos? What about all of the other delicious cookies out there? That's how this utterly irresistible Samoa cookies and cream coconut milkshake featured on Country Cleaver came to be!
15. Vanilla Chai shake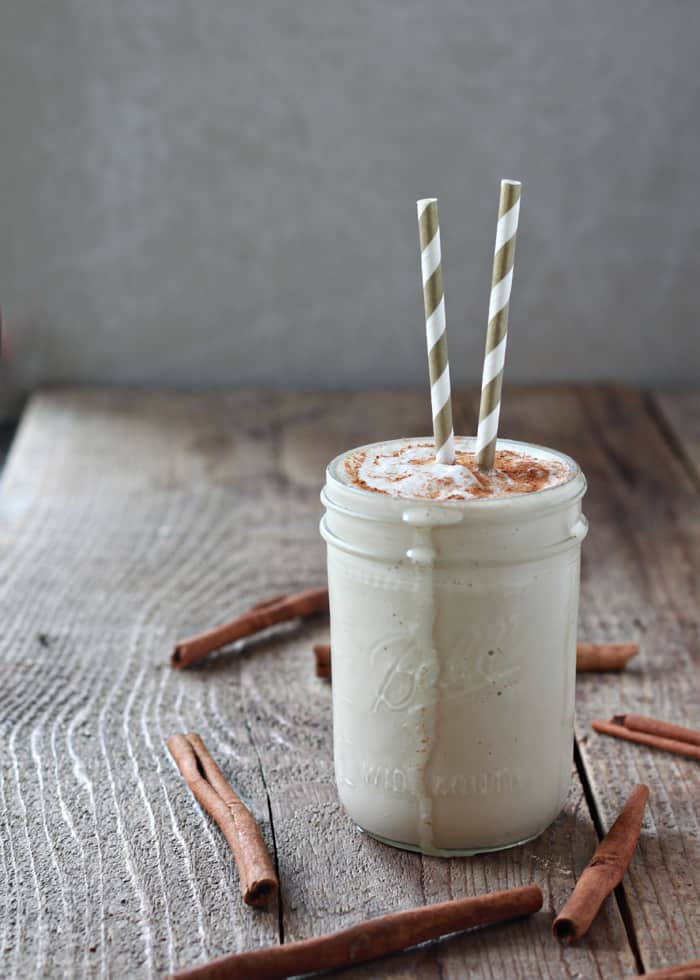 Have you always been the kind of person that prefers taste combinations that have a bit of spice or kick to them whenever possible? Then we think you might really enjoy the way Kitchen Treaty balanced out the sweetness of their milkshake with cinnamon and Chai flavourings! This milkshake tastes just like a creamy Chai latte, only chilled instead of hot.
Do you have another kind of absolute favourite homemade milkshake that you adore making with your family but that you don't see here on our list? Tell us all about how it's made or link us to recipes and photos of your finished milkshake!