16 Creative Glue Gun Crafts
As a craft lover and DIY enthusiast, we have absolutely no doubt that you own at least one glue gun, if not more, just like we do. They're extremely useful in crafting techniques of all kinds, but did you know they can also be used to construct entire things and complete entire projects by themselves? That's right; we've become completely obsessed with hot glue crafts lately!
Just in case you love the idea of making things almost entirely out of hot glue just as much as we do, if not more, here are 15 of the best ideas, designs, and tutorials we've come across so far in our search for inspiration.
1. Glue gun masquerade mask
In our house, some of the ideas that go over the best are usually related to playing dress up of some kind. That's because our kids have a blast helping us make something new and they get to enjoy wearing it afterwards as well! We actually made a couple of these awesome hot glue masquerade masks featured on Klaire de Lys and they were a huge hit.
2. Decorative hot glue votive candles
Of course, not all hot glue crafts that you'll make will be entirely constructed out of only hot glue! Some ideas, like these lovely coloured glue votive candle holders outlined step by step on Curbly, use the glue to embellish other things. We love being able to customize otherwise plain looking decor in any shape or pattern we please!
3. Hot glue Harry Potter wands
Did we really catch your attention when we started talking about using hot glue to make things for dress up games but the masquerade idea we showed you earlier just wasn't quite up your alley? In that case, we'd definitely suggest taking a look at how The Boxy Colonial made these fantastically realistic looking Harry Potter wands instead!
4. Glue gun stencils
Have you ever had the unique pleasure of making something artistic that will actually help you make even more DIY and creative things later on? It's a whole new level of satisfaction, if you ask us! That's why we were so pleased to come across these fantastic DIY stencils idea. Skill Share teaches you how to make all kinds of neatly shaped stencils out of hot glue.
5. Custom hot glue phone case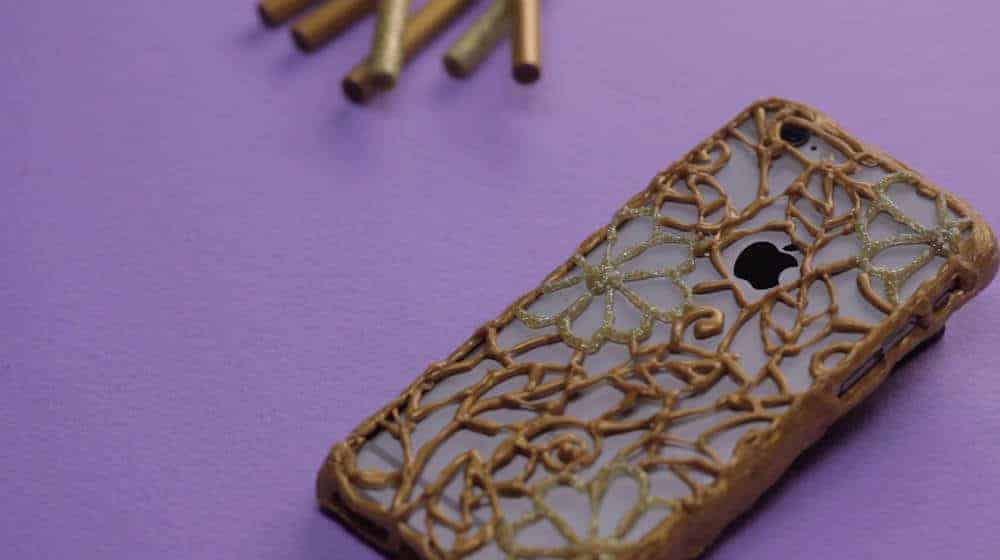 Were you actually such a big fan of the way the votive candle idea looked that you wish you could take a decor piece like that with you everywhere? Well, thanks to the way DIY Projects teaches you how to create a phone case in the same manner but without the glass layer inside, you actually can! They show you how to make one whole, flexible piece that will bend on and off your phone's edges no problem.
6. Hot glue lettering on wood
Are you still feeling quite intrigued by the concepts of making something that involves embellishing the surface with hot glue but your home decor scheme is a little more rustic than any of the decor pieces you've seen so far have really called for? In that case, we'd absolutely suggest taking a look at how Mod Podge Rocks made this fancy greeting sign using hot glue, a block of reclaimed and stained wood, and some pretty paper flowers.
7. Glue gun snowflakes
Are you the proud parent of kids who are still quite young but certainly old enough and patient enough to work a hot glue gun on their own, with your supervision? Then we think you might find this hot glue snowflake project a rather interesting one to make together! We love the way Muslin & Merlot used nail polish to paint theirs all different colours at the end (nail polish sticks better to the plastic texture of the dried glue better than most paints).
8. Hot glue decorative coral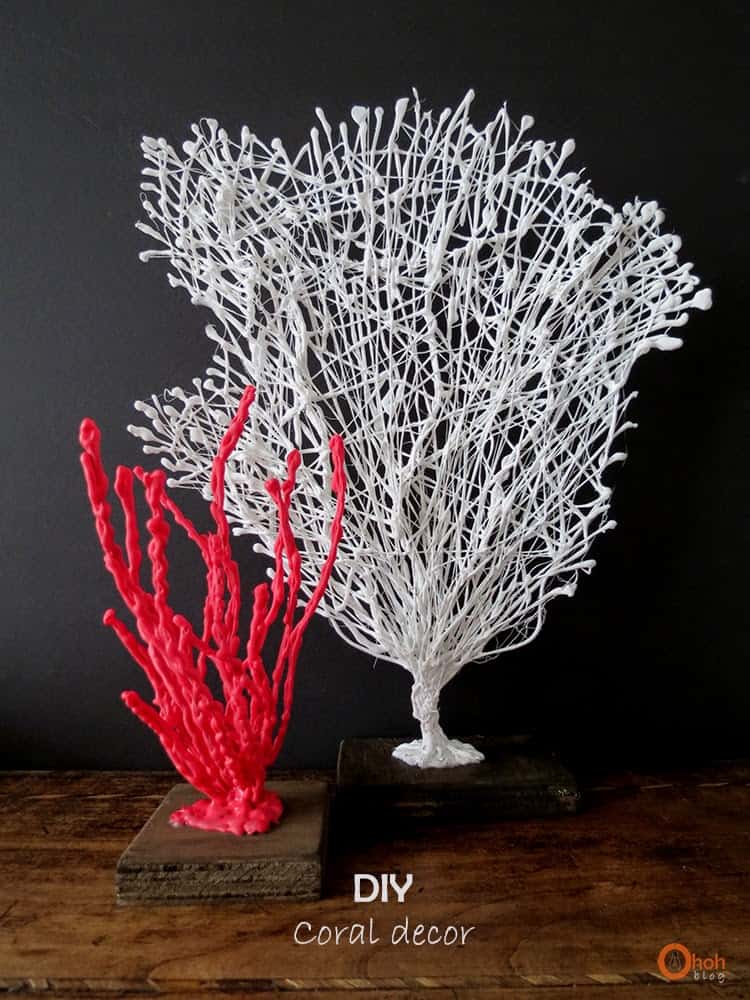 Are you still feeling pretty enamoured by the concept of making an entire project from just glue but you're leaning a little more towards the idea of making some kind of decor piece over anything else? Then we'd love to direct your attention to these fantastic hot glue coral pieces outlined step by surprisingly simple step on Oh Oh Deco!
9. Textured roller for clay work
Are you still thinking about how neat the concept of making something that will actually help you make even more neat DIY things once it's done, but you don't find that you use stencils very often? In that case, maybe you'd get along better creating a clay working tool! Take a look at this awesome tutorial from Pottery Blog to see how these texture rollers were made with hot glue.
10. Candy dot earrings
Are you actually so interested in the idea of making things from hot glue that you can't help wondering whether there are ways to actually wear it as part of your personal style since you really just like it that much? Then rejoice, because Minted Strawberry has a lovely way that you can do precisely that! Their tutorial shows you how to make and paint adorable little candy dot style stud earrings.
11. Hot glue and lace denim patch
The idea of fixing clothing by using hot glue on the fabric might not sound like the usual solution you'd be expecting, but we promise it's actually a great way to add patches to denim since it's thicker! Rather than adding a matching denim or more traditionally styled plaid patch, however, we're kind of obsessed with the pretty way A Girl & A Glue Gun used some delicate lace in the hole instead.
12. Hot glue matches
At first, you might be wondering what purpose matches covered in hot glue might serve, just like we were when we initially saw them, but it actually makes total sense once you know! Instructables shows you how they can help in all manner of binds or emergencies because, when you strike the match, the fire immediately heats and lights the glue, giving you a veritable miniature "glue gun" that doesn't need any electricity.
13. Hot glue droplet necklace
If you're going to make yourself a set of hot glue earrings, would you also love to make yourself some other kind of accessory to match, just to complete the set? In that case, we have a feeling you'll get along very well indeed with this fantastic glue droplet bib style necklace outlined step by step on Paso a Paso Crafts! We love the way they layered different colours of hot glue, dropping new ones only after the others had dried.
14. Hot glue teaching letters
By this point, we've talked about the idea of using hot glue to create all manner of helpful things around the house and the crafting room, but what if we told you that you could also make things that will help you teach your kids as well? We really love the way Gift of Curiosity used hot glue to make fun, bendy practice letters that you can use while you teach children reading and writing exercises to prepare them for grade school.
15. Hot glue stencil for Batik-style bleach sprayed shirt
Making jewelry out of hot glue isn't actually the only way that you can use it to jazz up your personal style a little bit! Thanks to this awesome and in-depth tutorial from The Studio, you can also learn how to use the dried glue as a unique and creative stencil for Batik-style bleach sprayed shirts, letting the glue cover the shirt in intricate lines so a pattern stands out against the part that was bleached when you're all finished!
16. Hot glue canvas art
Perhaps you're actually just looking for some neat ways to add a bit of excitement and texture to the kinds of art you already frequently do? In that case, we'd definitely suggest taking a look at how The Crazy Craft Lady used a hot glue gun to do some simple lettering on a plain white canvas and then painted right over it, letting the words raise up from the flat surface once they've got some colour.
Have you made other kinds of awesome hot glue based crafts before that you very much enjoyed but that you don't see here on our list? Tell us all about how you did it or link us to photos of your finished work in the comments section!