DIY Work Benches – Space Saving Ideas for Garage
Even though we've been DIY enthusiasts all our lives, we're frequently shocked by just how often being a handy person comes in… well, handy! For example, we recently decided it was time to retire the old garage workbench we inherited many years ago when we first started dabbling in woodworking and, rather than buying a new one, we're feeling up to the challenge of making one ourselves. That's why we've been on an Internet-wide hunt for ideas and inspiration.
Just in case you like the idea of building your very own workbench just as much as we do, if not more, here are 15 of the very best resources, designs, and tutorials we've come across in out search so far!
1. Folding wall mounted work bench
Are you actually a little bit restricted for space in the room you've got to work with so you're looking for a creative way to work around that? In that case, we might have found the best idea for you right off the bat! Check out how Wilkerdos made this simple, flat top workbench that not only folds up, but its actually mounted on the wall so that it clears floor space entirely when it's not being used.
2. Folding workbench with storage
Just in case you loved the idea of making a workbench that folds flat against your wall but you'll still need somewhere to put all the stuff you'd usually have left sitting on it, here's a version from Just Measuring Up that also provides you with storage! Their tutorial shows you how to add a simple piece right above where the table is mounted that features several little trays or cubbies for you to organize tools and supplies.
3. Folding mobile workbench
Are you quite intrigued indeed by the idea of having a workbench that you can fold away but you don't want the wall mounted kind? Maybe you don't have that kind of wall space to work with or perhaps you actually travel with your work and would like to have a table to take with you. In either case, we think you'll get along a little better with something like this fantastic folding mobile workbench outlined step by step on Family Handyman.
4.  Collapsible, portable workbench "briefcase"
Are you very interested indeed in the idea of making a folding, portable workbench that you can actually take with you but you'd prefer one that's a little bit easier to carry while you juggle other things too, since you do travel quite a lot with your work? In that case, we'd definitely suggest taking a look at how Funky Junk Interiors made this mobile table that actually folds down into a sort of wooden briefcase with metal handles.
5. Folding X-frame bench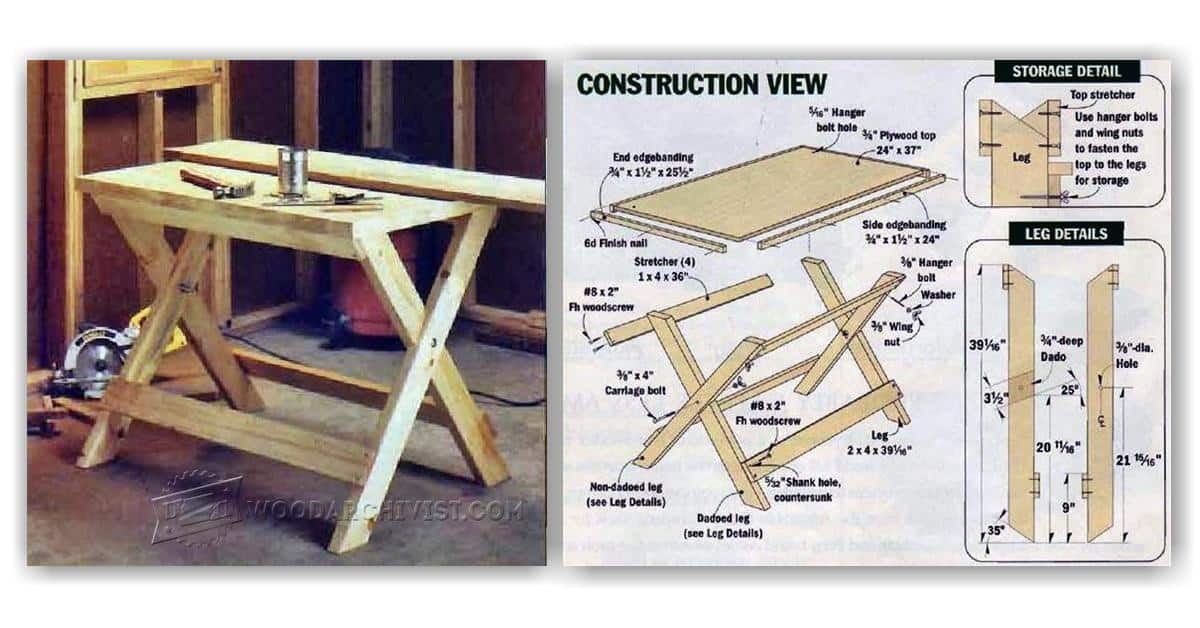 Just in case you're still interested in a folding table style workbench but you're a little bit less experienced than some of the previous structures we showed you call for, here's a very simple X-frame idea that's simple to do and that folds up quickly and easily to be stashed away! Get the dull details for measuring, cutting, and screwing just right on Wood Archivist.
6. Workbench on wheels
when we started talking about the concept of making workbenches that move, were you quite interested but only because you'd like to be able to move your worktop around the room you plan to keep it in, rather than out of the space all together so you can travel with it? Then we'd definitely suggest taking a look at how Dream Design DIY made this simple flat top with wheels that let you easily push it from spot to spot as you need.
7. Folding bench with built-in folding stool
Are you actually so intrigued by the idea of a folding, portable bench that you can't help wondering just how much of a complete work station you can actually create in this fashion to make taking your things with you on the go even easier? Then we think you're really going to get a kick out of the way Wood Archivist made a folding workbench that actually has a built in stool attached to the side, which also folds up and in when you break the whole thing down!
8. Garage workbench with pegboard storage
Not every workbench you consider making will be foldable or mobile, of course, so here's a workbench idea complete with storage that's a better idea for those who have a space designated and would like to stay stationary! We adore the way Pratt Family built themselves a simple worktop with strategically mounted lights and a pegboard for hanging style storage of tools. We also really like the eaves trough mounted to the front as a catch0all!
9. Flattening worktop table
Just in case you're not quite done in your consideration of worktops that can be compressed and storage away, here's one that actually flattens downward instead of folding in on itself! This makes it a little bit simpler to make and store if your plan is to keep it at home but still be able to move it out of the way when you need to. Get the full details for making one of your own on Wood Archivist.
10. Customized workbench with drawers
Are you actually still thinking about how much you adore the idea of making your own permanent workbench but you just can't quite choose between the different features you love most as you scroll? Then maybe you'd get along best with this idea from Jeck Bench that has a combination of a few! We love the way they've built a permanent, full sized desk but given it wheels for ease of motion and a whole grid of drawers to provide all kinds of storage.
11. Workbench from upcycled scraps
If you're going to put in all the time and effort it takes to make yourself a wonderfully solid home workbench from scratch, would you rather take that concept as an opportunity to do a bit of upcycling as well? In that case, we think this fantastic idea from InTylerable Productions for making a worktop entirely out of scrap and reclaimed wood might be right up your alley!
12. Potting workbench made from pallets
Garage and woodworking style garage workbenches aren't the only kind you can make for your home! We're also really big fans of this idea from BHG for upcycling wooden pallets to make a potting workbench, which is the perfect place to work on your greens if you're an avid gardener, or even just have a bit of a green thumb!
13. Children's sized workbench
Are you actually so into woodworking and using your tools for all kinds of handmade things that you seem to have passed that love down onto your kids? Then maybe they'd love their own workbench too, so they can learn and practice their techniques at a young age! Get the full details for making this authentic and fully functional but kid-sized workbench from Frugal Fun 4 Boys and Girls.
14. Kid's workbench with pegboard storage
Just in case you are interested in making your kids a workbench but you know that they've already got quite a few tools and supplies and you really want to make sure they keep their space tidy, here's a fantastic miniature version of the pegboard storage workbench you saw earlier on our list! Fix This, Build That shows you how it's done in full.
15. Table saw workbench
Are you actually quite experienced in your woodworking skills and you need a place to put bigger power tools, like your table saw? Then you just might be the perfect person to give this fantastic workbench that actually has a space for the table saw built into its structure a try! Toolbox Divas is here to help you out with that.
Do you know another DIY enthusiast who loves the idea of making their own workbench but could use a little bit of help and guidance? Share this post with them so they have all kinds of help!