These 23 Homemade Dolls Will Easily Become A Favorite
Instead of running to the store to buy a new toy for your perfect little one at home, why not make one? Make it a family activity or surprise the kiddo with one of these 23 homemade dolls. They'll easily become a new favorite, trust us!
1. Dolls in Dresses
Every little girl needs a doll in a dress to call her own. Learn how to whip one up at home with some help from Bit of Whimsy.
2. Robot Dolls
Little Inspiration made the most adorable stuffed robot that can appeal to both little boys and girls with a few tweaks in styling. Hop on over and grab the tutorial now!
3. Monster Dolls
Sew Fearless made monster dolls and we're in love! Use different colors, prints and patterns for creating a personalized version for your own little monster.
4. Traditional Rag Doll
Learning how to make a charming and traditional rag doll could be a lot of fun. Check out the details for this cutie over at A Beautiful Mess.
5. Japanese-Inspired Dolls
We're swooning for these Japanese-inspired dolls. They're be such a great little stocking stuffer or birthday surprise! (via)
6. Pirate Dolls
Do you the little ones of the house have a love for all things pirates? With this tutorial for One More Mushroom you'll be able to make their new favorite friend!
7. Fabric Dolls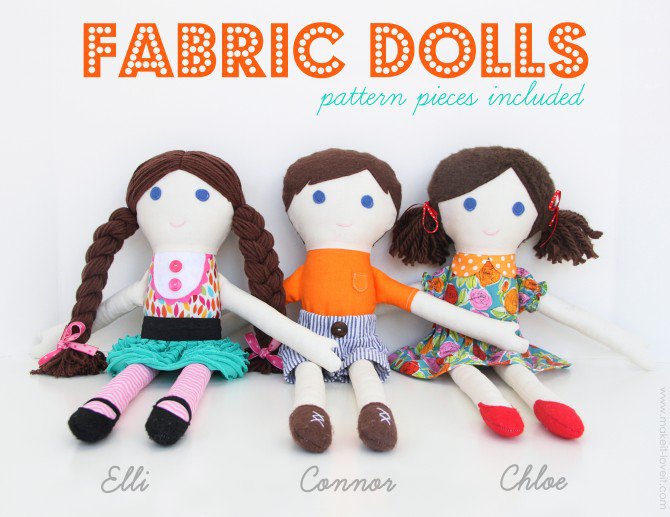 Check out these adorable fabric dolls from Make it Love it! You can have fun personalizing and adding your own spin on these ones too.
8. Paper Dolls
Happy Hooligans made some paper dolls we think are rather charming. And you can get the kiddos involved in this project too!
9. Waldorf Dolls
Who loves Waldorf dolls? Soft and plush, there are so many different ways to make these and tutorials to follow! (via)
10. Yarn Dolls
Little House Living made yarn dolls that are great for kids with sensory issue or just for a unique bit of fun. Check out the tutorial after the jump.
11. Corn Cob Dolls
Who knew you could make a doll out of corn cobs? Learn how by visiting Little House on the Prairie and upcycling some pieces from the farm.
12. Black Apple Dolls
Martha Stewart has the details behind these classic Black Apple dolls. Full of personality, they'd make great gifts.
13. Felt Paper Dolls
Over at The Craft Patch, you'll learn how to whip up some of these adorable felt paper dolls. Mix and match your clothes, the kiddos will have fun with this one!
14. Printed Fabric Doll
We've absolutely fallen in love with these adorable  printed fabric dolls from See Kate Sew. Snag the tutorial after the jump.
15. Boy Dolls
Do you have a son or daughter that wants some boy dolls to play with? Learn how to transform some older styles into something new with help from A Whimsicle Life.
16. Josephine Dolls
While She Naps makes some sweet Josephine dolls that works great as stocking stuffers and small gifts as well. Have fun with prints and colors here as well!
17. Pretty Mini Dolls
The Perfect DIY made these printed mini dolls that have a fun and eclectic style. Hop on over and snag the details for this one as well.
18. Wooden Peg Fairy Dolls
Hostess with the Mostess has a tutorial that the kids can get involved with. Everyone grab a peg and start personalizing your fairy!
19. Gingham Dolls
Martha Stewart does it again with these gingham dolls. They're traditional but adorable and your kiddos will love to carry them around.
20. No Sew Rag Dolls
Don't worry, you don't have to sew to whip up some homemade dolls. These rag dolls don't require a stitch! (via)
21. Cut & Sew Dolls
Spoonflower has some cut and sew dolls up their sleeve. Visit now and snatch up these cuties for your little ones at home.
22. Braided Octopus Dolls
Martha Stewart has another doll that we love! This time, you'll be braiding an octopus that your son or daughter will love to put in their collection.
23. Articulated Paper Dolls
And finally, if you visit Handmade Charlotte you'll learn how to make some articulated paper dolls. You'll have such a great time personalizing these ones too!