Décor Crafts for Star Lovers
When we were younger, we had what was nothing short of an obsession with stars. Every piece of clothing we bought, every doodle we made on our notebooks at school, and every craft we made at home featured stars in some capacity. There was just something about the angular shape and the concept of shining brightly that really spoke to us! Now that we're older and have homes to decorate, both our love for stars and our love for crafting have stuck around, and we have to admit, it's a pretty useful combination.
Check out these 15 awesome DIY décor craft ideas and tutorials that will help you make your home aesthetic shine a little brighter!
1. Hanging star mobiles
Whether you're looking for a mobile for a baby's nursery or whether you just like the whimsical look they add to a room, making one out of stars brings a particularly magical feel to whatever space you're working with. There are plenty of ways to make delicately hanging star mobiles but one of the best tutorials we've found so far is by Today's Mama! You might make one with little white stars like this photo or change things up and make your stars all different colours!
2. Origami star lamps
When we were younger, we used to save up and but all kinds or origami star lamps from a store in the mall. They were always brightly coloured with fancy cut outs and lots of points and we hung them all over our room, even if we didn't have enough hanging pendant bulbs to fill all of them. Now that we've grown and prefer making things ourselves, you know we just had to find a way to make them! This tutorial from Tip Junkie is very helpful and shows you how to make them in all different shapes.
3. DIY wooden frame stars
Have you been practicing your wood working skills lately and you're looking for a simple décor project to show off what you've learned, but you still like to keep things fairly easy and limited to straight lines? Then stars are the perfect starting point in your wooden décor adventure! Check out these sweet decorative frames on Thatsmyletter.
4. Mantle star from reclaimed wood
Is your favourite kind of wood to make things with now that you're exploring wood working almost always reclaimed or upcycled pieces? Then things like wooden packing palettes are about to become your best friend! We love this big, layered star from Olderandwisor that's surprisingly easy to make and perfectly sized to set on a mantle like a rustic statement piece.
5. Scrap paper multi-point stars
Perhaps you're the kind of crafter who loves quick, small crafts and trinkets and is always looking to learn new things? Then we trust that you'll have no trouble learning how to fold these impressive looking multi-point paper stars! Get the full origami steps on Goodshomedesign.
6. Pieced together wooden stars
Have you always been intrigued by the concept of wooden mosaic work but you're been discouraged from trying it so far because it looks quite complicated to do? Well, there's no doubt that there are certainly some very difficult intricate designs out there, but that doesn't mean there aren't some simpler things for you to start with too! Check out how Hertoolbelt pieced together these simple pointed shapes to make adorable star shaped wall hangers.
7. DIY 3D five point stars
Do you love the idea of making star shaped wall décor that has some shape and visual texture and stands out from the wall, but you're just not sure you're ready to start making things out of wood right now? Then check out these 3D five point stars instead! They look like the star is raising forward from within your wall and it's a pretty cool effect. See how it's done on Katescreativespace!
8. Origami star rings
Do you love the idea of learning how to fold paper origami stars but you already mastered the kind we listed above and now you're on the prowl for alternatives to try making with your kids? Well, here's another one for your arsenal! These little stars are actually shaped like rings and Just Christmas Crafts shows you how to adjust the size of the hole in the centre so they all look different.
9. Tiny paper star trinkets
Have we mentioned yet that we really love folding paper stars? There are just so many interesting kinds out there to make and we can't help showing them all to you! These tiny little kawaii looking stars are a particular favourite of our. Try making them in all different colours and filling a glass vase with them for a bit of easy, affordable décor that will make any place you put them look cheerful, or stick a magnet to the back of each and liven up your fridge! Katherinakrafts teaches you how to make them in just a few easy steps.
10. Pretty paper star garland
Do you love the little bubbly 3D stars we just talked about so much that you'd actually really like to decorate your entire room with them? We supposed you could just stick them all over your walls in a spray of individual stars, but you could also make these stunning string garlands with them just like Currently Coveting did here for a look that's a little more unique and impressive! Try doing it in different shades of one main colour like this picture, or go all out and make a rainbow!
11. Branch and star hanging mobile
Are you still enamoured with the idea of a star themed hanging mobile but you're prefer something a little more rustic or natural looking, or perhaps one that hangs against the wall out of the way, rather than in the middle of everything? Then check out this design from Craft Hunter that's equally impressive but just a little more subtle! We love the way stringing the paper stars down from a branch grounds the look a little bit.
12. Wood and paper sun catcher stars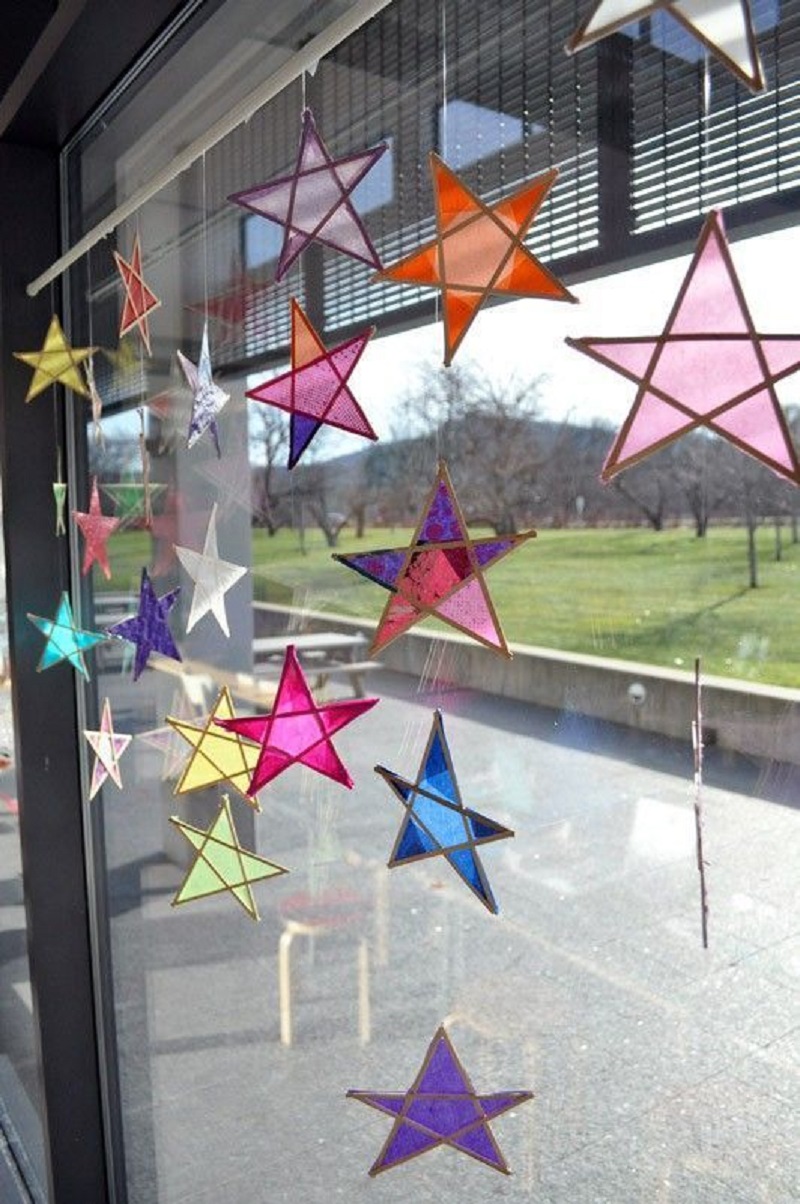 Have you always loved making sun catchers and now they're one of your very favourite crafts to do with your kids? No matter what the season, occasion, or thing we're celebrating is, we always searched for themed sun catcher tutorials to suit because our little ones just can't get enough of making them. Take a look at how Carle Museum made these cute little wood and tissue paper sun catchers that cast colours across your room from pretty little stars that aren't difficult to make.
13. Paper quilled star ornaments
If you've ever done (or even just seen) paper quilling before, then you already know how breathtaking the technique can be no matter what shape you're making your design in. It comes as no surprise, then, that paper quilled stars are one of the prettiest things we could possibly add to ours list! We're luckt because Makezine is here to teach you how to create a spiralling star ornament from recycled magazine pages. You could also use newspaper or pretty scrapbooking paper!
14. Light up star garland
Have you been scrolling through our whole list holding out for a design that lights up so your DIY stars shine just as brightly as the ones in the sky that you admire so much? Then we're finally finished holding out on you! Check out how Mon Makes Things created this stunning LED star string that adds a warm, comforting glow to any room.
Do you know someone who adores stars just as much as we do, if not more? Share this post with them to help them get crafty with what they love most!