Handcrafted Fingerless Gloves and Mittens
Now that winter is here, our inner DIY lover has kicked things into high gear trying to think of all the ways in which we can make things that will help us stay warm. Being a chilly person in a place that gets so cold for parts of the year isn't easy! In fact, sometimes we even feel too cold in our office while we're typing, rubbing our hands together to war our fingers back up between paragraphs. We started thinking recently about how great it would be to have a pair of fingerless mittens or gloves in our desk drawer so we could keep a little warmer while still working, and now we're feeling determined to make some this winter!
Are you feeling just as enamoured as we were, if not more, by the idea of making your very own DIY fingerless mittens and gloves for the season? Check out these fantastic ideas, designs, and tutorials that we've come across so far in our search!
1. Sweater to fingerless gloves
Have you got an old sweater that you've always found nice and soft and liked the colour of but you don't like the way it fits anymore so you haven't really been wearing it? Then perhaps it would serve you better in another form, rather than just sitting in your closet! We'd suggest taking a look at how Make It Handmade turned the sleeves of their old sweater into a pair of folded back fingerless mitts.
2. Crocheted autumn leaves fingerless mittens
Are you a crochet enthusiast with quite a lot of experience under your belt, so creating things with texture and a small yarn weight doesn't scare you? Then you just might be the perfect person to give these stunningly textured autumn leaf inspired fingerless mitts outlined in awesome detail on Bag-O-Day Crochet a try!
3. Quick and easy Elizabeth stitch fingerless gloves
Have we really caught your attention now that we're talking about crochet patterns but you're much closer to the beginner's side of things, so you're going to need a much simpler pattern even though you'd still like to include some texture? In that case, we think you simply must take a look at this quick and easy Elizabeth Stitch fingerless mitts pattern featured on Dabbles & Babbles!
4. Easy textured fingerless gloves with buttons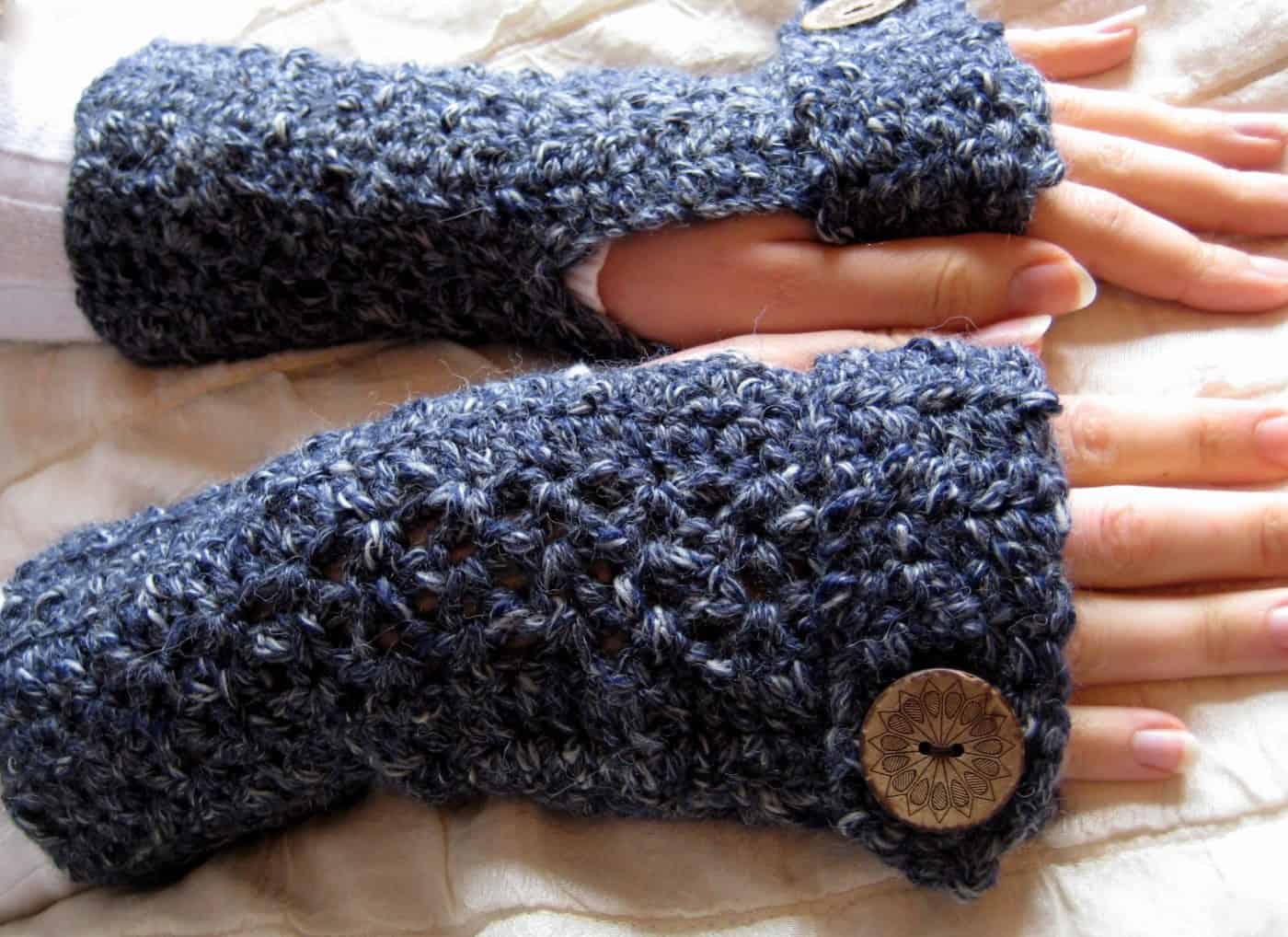 Just in case you're still totally feeling the whole simple, textured crocheted mitt thing but you're also intrigued by the idea of embellishing a few extra details, here's another pattern for your consideration! We love the way Make My Day Creative not only guides you step by step through the process of crocheting these fingerless gloves, but also gives you all the instructions you need to add buttons near the top.