50 Halloween Nail Designs: Spooky Halloween Nail Ideas to Try
Halloween is the favorite season of many people all over the world. It gives them the chance to dress up, wear funny makeup, and knock on the doors of strangers to get free candy. But grown-ups are more interested in hosting a Halloween party at home or joining one at a friend's house. If you're one of them, don't forget about Halloween nail art designs.
Nails are often overlooked, but they can make you stand out in a crowd, even if you decide to attend a Halloween party without a costume.
If you are looking for inspiration, check out the following list. We have prepared the 50 best Halloween nail art designs for this year. You can try out a lot of ideas that involve pumpkins, spiders, bats, cats, crows, ghosts, haunted houses, witches, coffins, sugar skulls, glowing eyes, or something else.
Best Halloween Nail Art Designs for 2021
Without making you wait any longer, here are the 50 top Halloween nail art designs that we selected for 2021.
1. Pumpkin Face Halloween Nails
Pumpkins are the main symbol for Halloween. You can incorporate them into your nail art design without having to go to a nail salon, thanks to this Halloween nails idea. Paint your nails orange and then draw some cute pumpkin faces in black and yellow, as shown in the picture. It is a simple design that will remind you of the spookiest night of the year, even if you decided to not go for a costume.
2. Jack-O-Lantern Halloween Nail Designs
Inspired by the Jack-O-Lantern, here is another awesome idea for Halloween nail designs. Yet, unlike the previous item on this list, this one is more colorful. You can put your creativity to the test by painting your nails red, black, and white. Then, you can draw spooky faces and fill them with other colors. We love this whimsical idea!
3. Bats Halloween Nail Ideas
You can go with simple bat Halloween nail ideas without having to worry about going overboard. It's perfectly suitable for going to the office, even when it's not Halloween. To create this simple acrylic nail art design, you just need black, orange, and white nail polish. Start by painting all nails orange, after which you can paint bats in black on just a few nails, complete with white eyeballs.
4. Haunted House and Black Cat Easy Halloween Nails
We think that this haunted house and black cat nail art idea for Halloween is gorgeous. But it might be a bit challenging to do it on your own. If you do not trust your nail polishing skills, bring this photo along when visiting your favorite nail salon, which will surely turn it into an easy Halloween nails idea.
Four nails must be painted black with white speckles on each hand, while the remaining nail should be painted yellow. On the yellow ones, you should paint a haunted house decor, together with a cat sitting on the moon, next to stars.
5. Fall Plaid Pumpkin Halloween Nail Art
Check out this elegant take on Halloween nail art designs, which works well for classy individuals who want to remind everyone of the scariest night of the year. This idea approaches fully painted nails in alternating brown and white. On the white nails, you can draw a black-and-orange plaid, as well as a partial pumpkin that peeks out. It looks stunning!
6. Witch Shoes Acrylic Halloween Nail Designs
If you love the witch theme for Halloween parties, do not shy away from acrylic Halloween nail designs. This one showcases a couple of witch's shoes. Eight nails should be painted in orange, purple, and orange-and-purple stripes. The two nails left must be painted completely in white, after which you can draw the witch's shoes in black, purple, and orange. We love it!
7. Ghosts, Bats, and Pumpkins Halloween Acrylic Nails
Ghosts, bats, and pumpkins go well together in this Halloween acrylic nails concept. So, if you want to use multiple elements inspired by Halloween, check out this cool idea. Start by painting all nails white, after which you can draw simple elements that represent ghosts, bats, and pumpkins. If you want to borrow the whole idea from the photo, also draw some orange dots and a star.
8. Nightmare Before Christmas Black Halloween Nails
The Nightmare Before Christmas has influenced a lot of people, especially when Halloween is near. It works so well when it comes to indoor and outdoor decorations, costumes, makeup, and even nail art. If you love this idea for your nail art design, take a look at this awesome black Halloween nails idea.
It is the best one we found that focuses on this movie. There's even a crow that sits on top of the nail that shows the moon, which breaks the fourth wall. But it is not a simple project, so do not hesitate to bring this image along when going to the nail salon.
9. Holographic Bats Black And Purple Nails
This has to be one of the most breathtaking nail art design ideas we have ever seen as far as black and purple nails are concerned. It features black long stiletto acrylic nails, complete with holographic bats and other 3D elements. And the colors go together so well, it's a must-have for Halloween die-hard fans.
It focuses on purple and involves a duo-marble acrylic nail polish, jet-black acrylic powder with subtle shimmers, rainbow bokeh glitter, and clear acrylic nail polish. Making it happen on your own might prove a difficult task, though, so we suggest seeking a professional. Or, you can train on a prosthetic hand just like in the YouTube video made by Ninja Nail Fairy.
10. Monster Black And Green Nails
If you prefer the black and green nails combination for Halloween, you should love this cool monster design, which is entirely made out of acrylic nail polish. You just need three colors to make this happen: black, green, and a bit of white.
Start by painting the nails completely green, and then you can draw the monster details in black. Use this picture for a template if you do not have any good ideas. And make sure to get the white of the monster's eyeballs so that it is as realistic as possible.
11. Black and Gold Coffin Halloween Nails
Check out this simple and elegant look for nail art design on the spookiest night of the year: black and gold coffin Halloween nails. It is really easy to make, so you do not have to go to a nail salon. You need some clear acrylic and long fake nails, black nail polish, and gold liquid metal gel for nails.
Begin by painting your entire nails black, after which you can draw a simple coffin design, just like it is shown in this cool YouTube video tutorial published by Vanessa's Nails. And that's it! It's striking!
12. Polka Dots Black And Orange Nails
This take on black and orange nails is a fall-inspired nail art design that involves polka dots. It contains black, orange, white, and yellow, so it is a perfect fit for the scariest night of the year. It does not tackle a specific theme but embodies all the Halloween elements. And it is super-easy to make, so you do not have to go to the local nail salon. You just have to paint the nails in alternate colors and then make small dots of contrasting colors.
13. Cute Black Nails
Your nails can stay classy even on Halloween if you opt for this glamorous and cute black nails design idea, which was made by @embrace_nails, a professional nail salon. It is necessary to paint the nails with black nail polish that has a bit of shimmer, after which you can draw a design on one nail of each hand.
In this case, the design is white. But if you want to commit to the Halloween spirit, you can make it purple, orange, purple, green, or any combination of these.
14. Gothic Nail Designs
If you have prepared a Gothic costume for Halloween, you can top it off by going with one of the coolest Gothic nail designs: black-and-red gradient. We promise you that pulling off a gradient nail look is easier than it sounds. You just need a makeup sponge. Start by applying a very thin coat of red to your nails. Then, apply both the black and red nail polish colors to a makeup sponge.
Put them side by side, brush on three strokes, and make sure that the colors slightly overlap in the middle. Then, you just have to press the sponge onto your nails. It might be a good idea to first brush on some liquid latex to the skin around the nails so that you won't make a mess out of your fingers. As you can see, the trick is simple, and the results are amazing.
15. Scary Ghost Nails
Scary ghosts do not have to exist only as Halloween decorations, costumes, and makeup. You can also include them in your nail art design and without complicating yourself with the instructions. Just check out this picture that depicts ghost nails, which are simple to do.
You just need nail polish in purple, black, and white. Make all your nails purple, draw the shape of the ghosts on two or three nails, draw the eyes and mouths black, and then fill in the white with nail polish.
16. Blood Nails
There are few things scarier than bloody hands, so we can certainly understand why a lot of die-hard Halloween fans prefer this look. If you are looking for a bloody nail art design, check out this blood nails picture to get inspired. To create the splatter effect, you just need a straw.
Start by painting your nails white or black if you prefer a darker look. Then, pour some red nail polish into a plastic cup, dip one end of the straw in the nail polish, place it on top of your nails, and blow from the other end of the straw. Granted, it's messy, but you will get the eerie results you are interested in.
17. Witch Hats Easy Halloween Nail Designs
Witches can be menacing but also adorable, depending on which theme you are trying to adopt for Halloween. Regardless of your choice, you might want to take a look at easy Halloween nail designs. This one features a beautiful nail art design with witch hats.
It is entirely based on acrylic nail polish, which you need in green, black, orange, yellow, and purple. Paint your nails completely green and then you can draw the contour of the hats with black before filling them in with paint – it's easier this way.
After it dries off, add the bands in orange, yellow, and purple.
18. Halloween Inspired Nails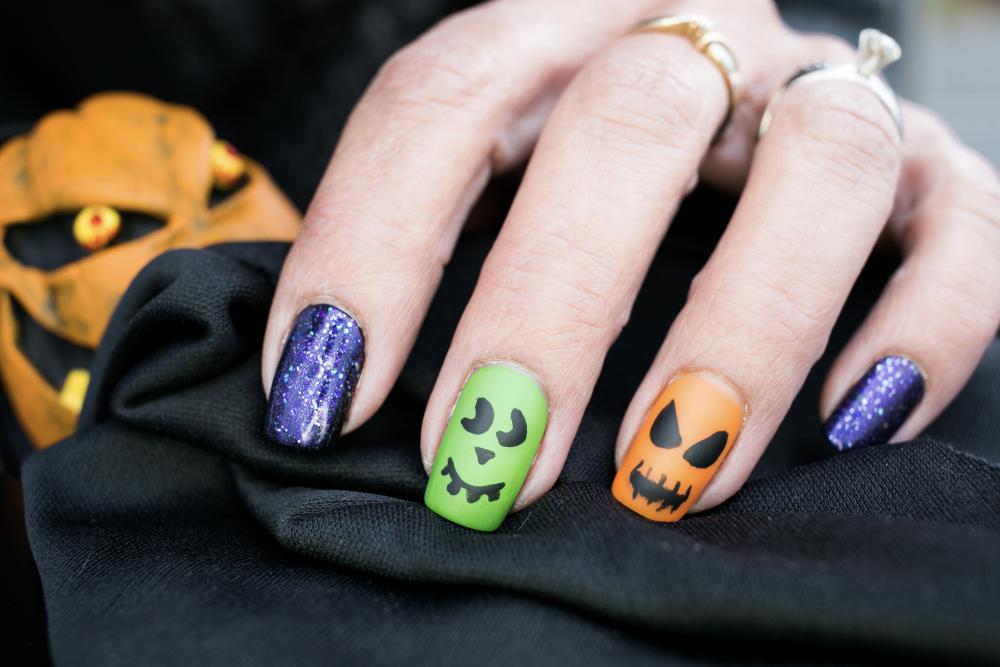 Any Halloween elements can be integrated into your nail art design, so you do not necessarily have to stick to one theme. Take this image of Halloween-inspired nails, for example. It depicts the face of a pumpkin and a monster, along with two purple nails with glitter.
You just have to paint the whole nails, after which you can draw the facial expressions of the monster and pumpkin. And that's it! It's simple enough, so you can make this in the comfort of your home.
19. Sugar Skull Halloween Nail Art Designs
The Day of the Dead would be incomplete without sugar skulls. So, if you have picked this popular theme to celebrate Halloween with your friends and family, be sure to add some sugar skulls, whether we are talking about your home decorations, costume, makeup, or nails.
This image shows an adorable representation of sugar skulls, where the nails are painted white and covered with sugar skull patterns in red, green, black, purple, pink, and blue. If you can't make this by yourself, do not hesitate to bring this photo along when visiting your favorite nail salon.
20. Spider Nail Art Design
Spiders are evergreen when it comes to Halloween themes. It must have something to do with the creepy notion of eight legs or the thought of getting caught in a spiderweb and waiting to be devoured by the queen. Still, you can easily add spiders to your nail game, as showcased in this spider nail art design. You need black, white, and orange nail polish, glitter, as well as red and black beads.
21. Simple Halloween Nail DesignsAutumn French Manicure With Red Tips
Not all Halloween nail designs have to be flashy. Instead, you can opt for simple Halloween nail designs, which are sophisticated enough to go well with any outfit, even for the office.
A fine example is this autumn French manicure with red tips. You don't need anything else except for clear and red nail polish, together with a steady hand.
22. Halloween Toe Nail Designs
Toes are often ignored at Halloween since most are not visible while strolling around your neighborhood and accompanying your children while trick-or-treating. However, if you plan a complete makeover for a home or office party, you might be interested in Halloween toe nail designs, which are a bit more challenging to find on the Internet.
Check out this YouTube tutorial brought to you by Annemazing nails, which shows a simple concept that you can apply to your nail art game: a black and white pattern, complete with googly eyes. It's easy to make, and you can swap the colors with anything else, such as orange and purple.
23. Moon and Crow Nighttime Nail Art Design
This is a gorgeous nail art design idea that you can adopt this Halloween, which features a moon and crow set at nighttime. You have to paint the whole nails in a mixed shade of purple and yellow with a bit of shimmer.
In the following step, you can draw two halves of a yellow moon on two adjacent nails, as well as draw trees with branches and a crow in black. We are sure that you are going to absolutely love the results.
24. Black And White Halloween Nail Art Design
Here is another awesome nail art design concept for Halloween, which works well with any black and white costume you are going to adopt. It depicts a black and white manicure with various spooky elements, including a creepy tree, witch, moon, ghost, and spiderweb.
To get started, you have to paint your fingernails in alternate colors of black and white. After this step, it's time to use the contrasting color to draw the Halloween elements. Since it is necessary to have some serious nail painting skills for this idea, it might be best if you pay a visit to your favorite nail salon.
25. Spider Nail Art Ideas for Halloween
If you are still looking for a Halloween nail inspiration with spiders or spiderwebs, check out this simple and colorful design that works well with most costumes or no costume at all. This spider nail art idea has a bit of all Halloween colors: black, purple, green, and orange.
Just paint a nail in each of these colors, and then you can decorate each one with various elements. Make sure to leave a nail for a simple spiderweb pattern, which you can draw in black. You can also add a bit of glitter or use nail beads to make the design more glamorous.
26. Pumpkin And Witch Legs Nail Art Design
Here is an adorable Halloween nail art design idea that your kids will love. It features cute witches and witches' legs. No special skills are necessary here, so you don't need to turn to a professional for help.
Paint two fingernails orange and make the others fully white. Leave the orange ones as they are while you can focus on drawing the witch and witch's legs on the white ones using black, green, orange, and purple nail polish. Don't be afraid to put your creativity to the test since there are no mistakes to be made here.
27. Long Black and Red Nails
The long black-and-red nails concept is not for the faint-hearted. According to this image, the nails look like they belong to the Evil Queen from Snow White. In fact, that might be a cool idea for a costume.
You just need to get some long, pointy, acrylic nails, paint them with clear nail polish, trace the outline of the nail using black paint, and then make them black with red by following the pattern in the picture. If you do not trust your nail polishing skills, do not hesitate to pay a professional.
28. Simple Black and Orange Nails
This is a cute and elegant take on black and orange nails since it is simple enough to work with even an office suite. The design would not even remind you of Halloween if it weren't for the black and orange colors.
The two-tone nail design can be easily accomplished in the comfort of your home using just a couple of tools, such as tape to cover half of the nail while painting the other half. We think it works for all people who are not necessarily excited about dressing up but who still want to keep the Halloween spirit alive.
29. Another Halloween Inspired Nail Art Idea
Here is another nail art idea inspired by Halloween, which uses orange with a bit of black and white. Start by applying a classical French manicure on two fingernails, which aren't adjacent.
Then, make a twisted version of the French manicure where you replace white with orange on two other fingernails. After this step, you can draw hearts or other preferred patterns in orange, black and white, making sure to stick to the Halloween theme.
30. Easy Spider Nail Art
If you love spider nail art, check out this cool concept that was brought to life by @nails_byesther on Instagram. It features long acrylic fingernails that were painted with a creme acrylic gel and sugared with crystal clear acrylic powder in the pattern of a spiderweb. The look is not too easy to pull off, so make sure to bring this picture along when visiting your favorite nail salon. You can top it off with a cute spider ring.
31. Glowing Eyes Halloween Acrylic Nails
Glow-in-the-dark nail designs are becoming more and more popular. If you are looking for this kind of idea that happens to involve Halloween acrylic nails, check out this awesome concept with glowing eyes, which became a reality with the help of @_maddys_nails_ on Instagram.
You can paint three nails on each hand with green glitter, as well as keep the other two nails black. Then, you can draw a cat's eye on each nail using glow-in-the-dark nail polish to form a pair on each hand.
32. Spider Nail Art for Halloween
@nailsbyvivianaa takes on a fresh approach to spider nail art for Halloween, as revealed in this Instagram post. To make it happen, you need long, pointy, and fake fingernails, which you can paint with a black matte nail polish.
Be sure to skip one nail on each hand so that you can paint it with transparent polish instead. Then, you can draw spiderwebs as shown in this photo, all while skipping the transparent nails. You can use those to draw a small black spider.
33. Black and Nude Spiderweb Acrylic Nails for Halloween
This spiderweb nail art design idea is easier to pull off than other concepts we have seen on this list so far. And it is perfect for Halloween, especially if you are going with a classy costume or no costume at all.
To get started, you need some long acrylic nails. Make sure to point them with nude nail polish, after which you can draw spiderwebs in black. Bring along this photo of Instagram's @thenailbabeuk if you plan on going to a professional nail salon.
34. Witch Finger Halloween Nail Art Design
Here is an adorable nail art design that you can try out for Halloween. It features completely orange fingernails with a witch's fingers drawn on each nail. The simplest way to make it happen is by finding nail stickers with this exact design or a similar one in shades of green, purple, and white.
Otherwise, you have to go through the trouble of painting the witch's fingers. In that case, it would be best to turn to a professional for help. Just make sure to bring along this image posted by @whats_on_mandys_nails on Instagram.
35. Black and Orange Halloween Acrylic Nails
These black and orange Halloween acrylic nails from @pazurkowe_love_anna_jarosz feature a gorgeous design that you must try at least once. You don't need to dress up in anything fancy since this nail art design steals the show regardless of what you decide to wear.
Some nails are painted completely black, without any other details. Others are orange with a Halloween design that depicts a full moon, a cat, and tree branches. It just works!
15 More Cool Halloween Nail Art
If you want even more inspiration, we have some extra Halloween nail art that you can try out.
36. Halloween Nails: Vampires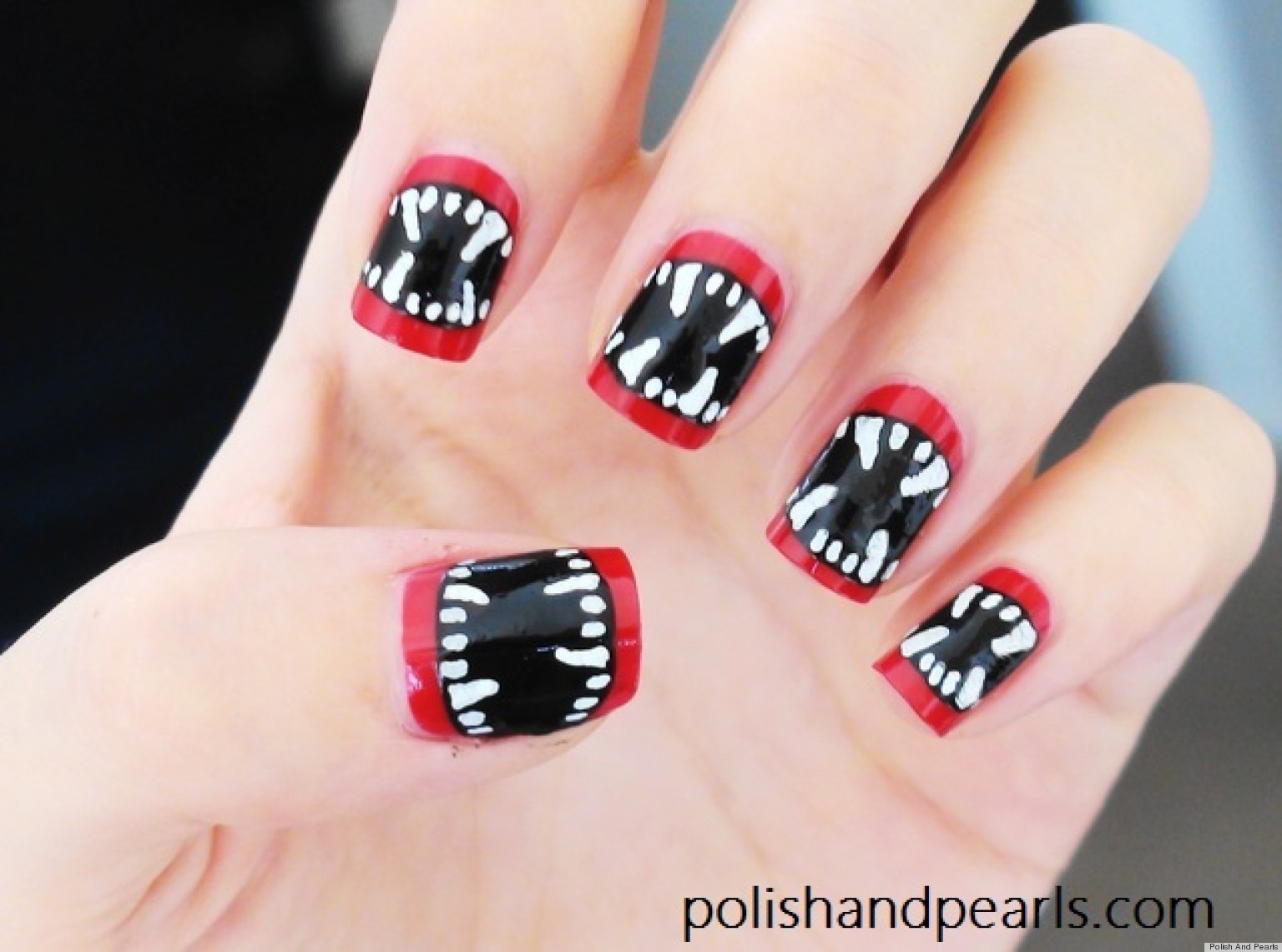 These nails, inspired by vampires, from Polish and Pearls are just too cute and on trend! Check out the video to learn how to recreate these yourself at Huffington Post.
37. Black Halloween Nails with Googly Eyes
Not only do these nails from PopSugar glow in the dark but they have googly eyes too. These are subtly Halloween and perfect for creating a laugh!
38. Black Halloween Nails with Spiderwebs
Check out these chic spiderwebs from The Daily Varnish. They're classically black and white and go along great with the Halloween theme.
39. Black Cats on Halloween Nails
You'll want to hop over to YouTube and learn how to make some little black cats on your own nails for Halloween with this video from CutePolish. How adorable is this design?
40. Patchwork Halloween Nail Design
Reminiscent of Sally from A Nightmare Before Christmas we're swooning over this Halloween patchwork art from The Nailasaurus.
41. Frankenstein Halloween Nails
Grab some inspiration from these adorable Frankenstein nails! We found them at Fashion Enzyme and immediately fell in love!
42. Bloody French Tip Halloween Nails
This PopSugar find may be one of our favorites from the list! Chic, stylish and completely festive, these bloody French tips are too perfect!
43. Halloween Nail Design with Pumpkins
Check out Cosmo to learn how to create some easy pumpkin nails for Halloween! This time, you'll need a Sharpie among your essentials.
44. Dark Eclipse Halloween Nails
A personal favorite of the bunch, these "dark eclipse" nails are so stylish and charming, but they go along with Halloween in a perfect way. Cosmo has all the details!
45. Halloween Nail Art – Ghosts
Total Beautyhad these little ghosts that we just had to feature. Easy to replicate and a great way to adorn yourself with the season!
46. Candy Corn Halloween Nails
What's Halloween without a bit of candy corn? And with this tutorial from PETA you'll be able to turn your fingernails into little bits of sweetness!
47. Jack Skellington Halloween Nail Art
Check out these sparkly, Jack Skellington-inspired nails we found featured at PopSugar. We love the thumb connection as an extra boost of creativity too.
48. Black & Orange Dots Halloween Nail Design
For a subtle Halloween look with the traditional colors check out these matted dots from Polish Groupie. We love how youthful they feel!
49. Halloween Nail Art Skulls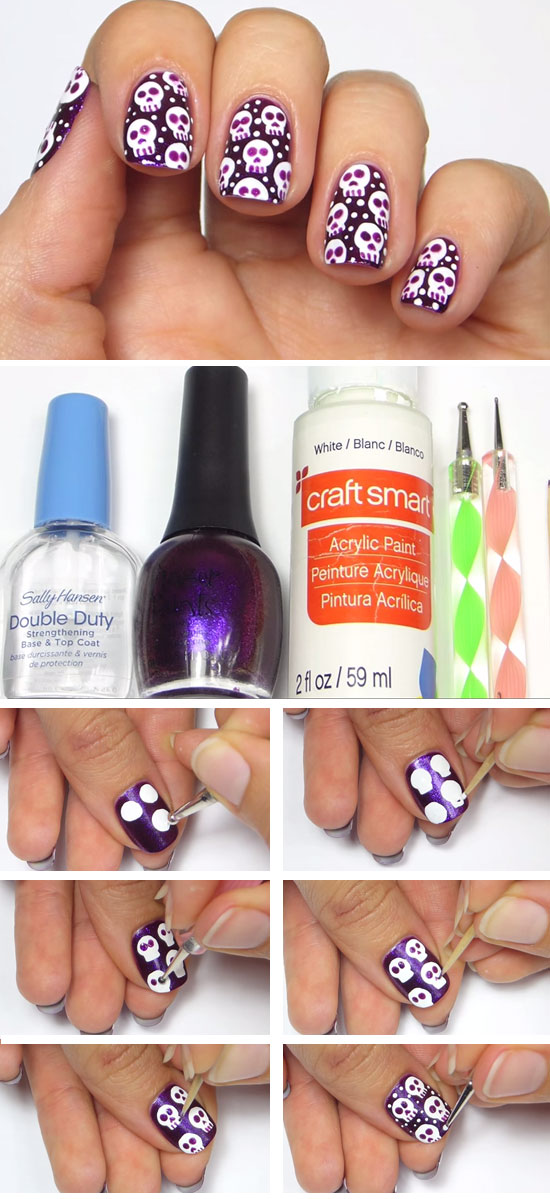 YouTube shares another great video from HannahRoxNails as they show us how to recreate these purple and white skulls just in time for Halloween.
50. Monster Mouth Black Halloween Nails
Add just one little monster mouth into the mix. Style Stories give you the 411 on how to recreate this little accent in mere minutes!
Final Thoughts on Halloween Nail Art Designs
There are numerous options when it comes to Halloween nail art designs, whether you prefer pumpkins, bats, cats, haunted houses, witches, spiders, ghosts, coffins, Gothic, sugar skulls, crows, glowing eyes, or any combination of these. We hope that you can find what you are looking for in this list. Some of these designs are easy enough for you to do at home while others need a professional nail salon.
No matter which Halloween nail art design idea you end up picking, be sure to return to this page. Post a photo in the comments section below and let us know how you painted your nails for Halloween. Also, feel free to share with us any other awesome ideas!