25 Halloween Door Decorations to Get Into the Holiday Spirit
Creepy ghouls and ghosts are the heart of Halloween and if you're planning on receiving trick-or-treaters, or hosting a Halloween party, the first thing your visitors will lay their eyes on will be your Halloween door decorations (or your front yard decorations if you live in a house).
Well, if you like making good first impressions, you're probably browsing the Internet right now for some solid ideas as to how you decorate your door, and that's precisely why we went ahead and wrote this article.
We brought together 25 different Halloween door decorations, and we've included entries that are both very popular in 2021, as well as decorations that you can easily create yourself.
Not only that, but if you lack the time to do any crafting and are looking for some fast store-bought options, we've included some of those as well.
For starters, we'd like to let you know that we've divided this article into two parts:
The first half will be discussing ways that you can actually customize and decorate your doors
The second half will be covering objects that you can use to decorate your door, as well as the space around it (wreaths, spooky lanterns, etc)
That being said, if you already know how you want to decorate your doors, but lack inspiration as far as details are concerned, go to the corresponding section that you think will suit you best.
Which Are the Best Halloween Door Decorations of 2021?
We already talked about how your front door can make a great first impression, so if you plan on painting it a certain way, or gluing stickers and other Halloween door decorations, this next section is filled with suggestions that you may find to be quite useful.
However, we didn't limit ourselves to just front door decorations, since we also included suggestions for garage doors, classroom doors, interior doors, and more.
1. Door Decoration – Murder House
If you don't mind the idea of there being a slight chance that your neighbors will call the police, then a very solid way to welcome your guests is to use a door decoration depicting what looks like a murder house.
While you could make this by hand, there's just no way you can replicate the details of this store-bought version that looks like something out of a Clive Barker nightmare.
Not only that, but if you're interested in decorating more than just your front door, you'll be happy to know that its decoration is actually an 11-piece set that includes 6 windows covers, 2 door covers, and 3 floor clings.
Unfortunately, if you really want to take advantage of the door sticker's visuals, your front door needs to be one of those large glass pane doors, and you'll have to keep the lights turned on inside so that the bloody sticker will have some backlight.
However, if you do happen to have that, then you can go ahead and get this door decoration since you'll be sure to be the talk of the town thanks to it.
View price on

Amazon
2. Classroom Door Decorations – Enter If You Dare
Children like going to school just like pets like going to the vet, so we thought that there's no better classroom door decoration than one that warns you about the horrors that await you inside.
This Halloween-themed plastic door cover is all black, has the words ENTER IF YOU DARE written all over it in white with a slime-green outline, and features silver spider webs to complete the whole spooky look.
It measures 30 x 60 inches, and it also makes for a great cover for windows or even as interior wallpaper if you plan on drawing a fake door to trick your guests with.
As far as applying it goes, it's very easy to hang using any kind of tape or 3M stick tabs, and you can easily trim to any size in case your door is smaller than the cover.
Because of this decoration's theme, it's not only perfect to decorate classroom doors, but also front doors, bedrooms, kitchens, the office or at work, or, if you really have a sick sense of humor, the entrance of a nursing home.
This product is fairly cheap, and you can easily remove it when Halloween is over and reuse it next year if you want.
View price on

Amazon
3. Halloween Door Decoration Ideas – Hocus Pocus
Some people consider 1993's Hocus Pocus a horror movie, while others consider it a comedy movie, but everyone agrees that the movie is a Halloween classic, so it's no wonder that it also inspires people, as in our case with Halloween door decorating ideas.
This Halloween door decoration measures 78.7 by 35.4 inches, making it the perfect size to fit standard entrance doors, and the packaging comes with a hanging ribbon that makes it easier for you to hang it through the grommets on the corners of the door cover and hang on the door or wall.
As far as visuals go, this door cover has a black background with several colored decorative symbols on it including a sign that says Happy Halloween, and a minimalist representation of the 3 witch sisters from the movie Hocus Pocus.
You also have the actual words Hocus Pocus written in very large white fonts, and several other Halloween decorations, such as a witch stirring inside a cauldron, a Jack-o-Lantern, bats, a black cat, and plenty of spider webs.
Admittedly, this is one of those Halloween door decoration ideas that only older audiences will fully understand or those of you that made the wise choice of watching Hocus Pocus at least once in your life.
View price on

Amazon
5. Dancing Skeletons' Halloween Door
There's creepy spooky, and then there's funny spooky, and if you want a Halloween door decoration that's in the spirit of the holiday without actually giving your visitors the creeps, you can try out this dancing skeletons door cover.
It measures 30 inches x 72 inches (76.2 cm x 182.8 cm), and it's made using lightweight plastic that you can stick on your front door, while still being easy to remove the very next day once Halloween is over.
However, keep in mind that the material is pretty thin and rips easily, so if you plan on using it for at least another year, we recommend that you use command tape strips to apply them on your door since removal will be safer and easier as well.
The cover has a jet black background and it features 3 caricatures of skeletons that are supposedly there to spook you out, along with some grey bats frying in the background randomly.
Note: For those of you that are wondering, the skeletons don't glow if you use a black light
View price on

Amazon
6. Halloween Door Cover – Full Moon
There's something about full moons and dark forests that seem both eerie and beautiful, and if you were one of those kids that love having edgy wallpapers with full moons, goths, vampires, and werewolves on your PC, then you'll definitely love this Halloween door cover.
The cover measures 70.87 x 35.43 inches, so it's large enough to fit any standard house door, and it comes with a 20-foot-long rope that you can easily pass through the grommet holes on the background, and then hang it up wherever you want, even over windows or on walls.
However, we can't finish describing this product without mentioning the amazing visuals, as it depicts a very eerie full moon night with spooky forests, owls, wolves, Jack-o-Lanterns, and tombstones.
In fact, because this door cover is so beautiful, we recommend that you get an extra one to place inside your house somewhere so that guests can use it as backdrops for their Halloween photos.
Another great thing about this decoration is that it's made using high-quality lightweight polyester fabric, and it's tear-resistant, non-reflective, odorless, washable, and can be used year after year since you can fold and store it.
Note: Due to transportation, or after you've stored it the photo background might have slight creases, you can iron it lightly
View price on

Amazon
Best DIY Halloween Door Decorations of 2021
If you don't want to spend money on Halloween decorations, or if you don't think the order might arrive in time for Halloween, then you could always simply go with a DIY decoration.
Not only will these cost less, but since you're making them yourself, you have total control over the design, the materials used to make it, and so forth.
We chose the entries based on how spooky they are, how easy they are to make, and how costly are the materials that you'd need to make them.
7. Halloween Door Decorations: Oogie Boogie Man
Practically Functional begins our front door journey with this funky vinyl idea. If you think you have what it takes to cut this one out, go for it! It's everyone's favorite Boogieman – the Oogie Boogie from The Nightmare Before Christmas!
8. Swarming Bats Door Decoration
There's nothing more Halloween in decor than a swarm of bats. And this idea from Country Living is not only festive but it's kind of artistic and chic as well, don't you think? Grab the details after the jump and greet your guests in an eery way this season.
9. Monster Face Halloween Door Decoration
Easy to recreate and easy to have the kiddos get involved in, check out Modern Day Momsif you want to turn your front door into a monster. Some streamers, construction paper and paper plates are all you really need to make this one happen. And it doesn't matter what color your door is!
10. Frankenstein Halloween Front Door Decoration
Frankenstein is a great choice too! It's the perfect route to take if your front door is already green. Grab all the instructions and inspiration over at Green & Gorgeous – and show us your finished product!
11. Mummy Halloween Door Decoration
This mummy door is quite easy to recreate as well. If you don't want to do anything too over-the-top or "messy" then this is a great option to go with. Thanks to The Bay Club Blogfor this fun idea!
12. Halloween Door Decoration Idea: Spiderweb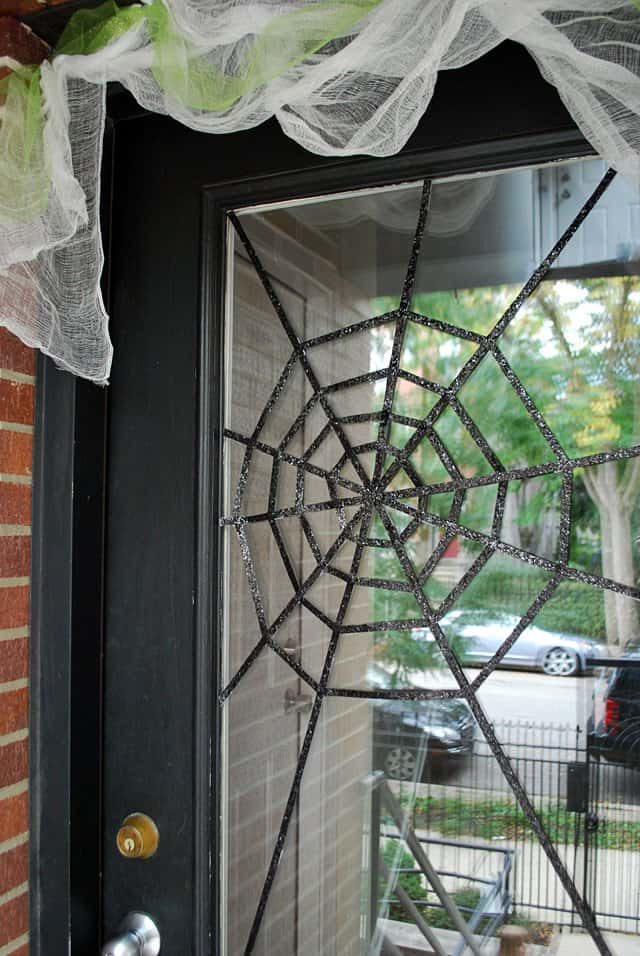 Merriment Design went with a classic Halloween theme. A spider web is pretty simple to create and there are a lot of different routes to take when doing so. Big or small, you can even add "spiders" to the web to make it a bit creepier!
13. Keep Out Halloween Door Idea
Woman's Dayhad this fun front door design featured and we snatched it up to showcase too. From the slime-covered stairs to the greeting ghosts, there are so many details to love and have fun recreating here. And it's easy! You won't have to spend an arm and a leg to do it.
14. Halloween Door Decoration Idea: Add Extra Eyes
Here's another door design that the kiddos can help create as well. Check out all of these googly eyes from Craftaholics Anonymous! So many "creatures" on the lookout to great all of those trick-or-treaters.
15. Bloody Welcome Halloween Door Decoration
Then, for those that really want to scare the pants off of their neighbors, go with something like this. Residence Style featured this fun "bloody" welcome and again, it's super easy to recreate at home. All you need is some white paper and red paint to make it happen.
16. Halloween Door Decoration – Multi-Eyed Creature
Brit + Co leaves us off with another monster design that the kiddos can help with and the trick-or-treaters will get a giggle from. Grab some paper plates and some construction paper to get to work! The more eyes you add, the better!
Halloween Front Door Decorations
If you think that decorating the entire door in stickers and covers is a bit much, you could try some smaller Halloween front door decorations instead, such as spooky wreaths or doorbells.
These can also be bought or made inside one's home, and the best part about them is that they are easier to remove, and thus can be used year after year without damaging them, as long as you store them properly.
17. Halloween Door Ideas – Animated Eyeball Doorbell
If you've ever seen a classic horror movie where a haunted house is one of the focuses of the story, you may have noticed how they always make the doorbell very creepy, basically warning the protagonists that maybe they should head in the opposite direction.
Well, if you really liked that trope, and you're looking for some amazing Halloween front door decorations, then you could go with this Halloween doorbell that has an animated eyeball.
Unlike our other entries, this one is probably the only one that is also interactive, since you press the button, the eye will open with a green light emanating from it, it will look around its surroundings, and even make scary sounds to keep those that are faint of heart away.
Besides, the green light is very bright, and while it's visible during daylight, Halloween night is when it'll truly shine, especially if your door is also decorated with something that is either monster-themed or glow-in-the-dark.
Not only that, but the eye animations are very smooth, and it will certainly send a chill down everyone's spine when they first lay their eyes on it.
In fact, because it can certainly take a lot of people off-guard, you can even use this doorbell as a practical joke on April Fool's Day.
Installing this doorbell is very easy thanks to the mounting hole, it measures just 7 x 4.5 x 3 inches, and you only need to push one button in order to operate the ghoulish eye, although keep in mind that you will require 3 AAA batteries to keep it working.
View price on

Amazon
18. Halloween Door Ideas – Skeleton Welcome Sign
If the previous entry seems a bit much, you could try some more subtle Halloween door ideas, such as this skeleton welcome sign that you can hang on your front door.
It's made out of wood, and it measures 16.8 x 8 x 0.8 inches, so it's big enough to be seen from before the guests actually reach the door.
The sign features a skull wearing a top hat, and it says WELCOME, come in and REST your BONES that is written in a classic font to make it extra spooky.
It's made from strong wood and high-grade coating that makes it both waterproof and difficult to corrode or fade, allowing you to hang it on the door for Halloween and use it every year.
For those of you that would like to place it somewhere else rather than the front door of your house, know that it comes equipped with a hook in the back so you can easily hang it on the walls, doors, hallways, etc.
[boa link="https://www.amazon.com/DR-DUDU-Halloween-decoration-Welcome-Skeleton/dp/B08B4V68SK/"
19. Halloween Door Wreaths – Vine Wreath
Halloween door wreaths are a very popular choice when it comes to front door decorations, and since there are no actual guidelines as to how a wreath needs to look like, other than the fact that it needs to be round, you can go ahead and create a very unique design.
For example, you could try something similar to our Halloween vine wreath, since it'll look exactly like something out of an Edgar Allan Poe poem, thus making it perfect for Halloween.
The great thing about this wreath is that you can create everything almost from scratch, except for the pre-made vine wreath from your local craft store, as well as the faux birds.
Other than these two elements, you only need black spray paint in a glossy finish, a hot glue gun with extra glue, some black ribbon, several black, and white feathers, some black and white faux flowers and grasses, and a pair of wire cutters.
The tutorial will show you exactly how to create the wreath from scratch, but that doesn't mean that you can't come up with your own additions to the project, like enriching the final design with some extra color by using autumn leaves instead of faux black and white ones.
All in all, this door wreath will certainly draw people's attention, especially if they have a gloomy side to them.
20. Halloween Door Wreaths – Seasonal Fall Wreaths
As we mentioned in the previous entries, some people may not be fans of monochromatic decorations, and since fall is known for its abundance of colors, it would be a real shame not to remind everyone that Halloween is in the middle of it.
Thus, if you want some Halloween door wreaths with all the colors of the fall, you can go ahead and make your own using materials that you could easily find outdoors, such as branches, leaves of all colors (yellow, orange, red, and brown), pumpkins, acorns, etc.
However, once you have all of the materials, it's up to your imagination to put them together in such a way that they will be attractive and encompass the essence of fall.
For those of you that need some extra inspiration and ideas, we went ahead and wrote an extensive article featuring some of the best seasonal fall outdoor wreaths of 2021, so go ahead and check it out.
They're all easy to make, they are extremely cheap (especially since the materials can be found outdoors), and those of you that want to give them an extra Halloween touch can add things like small skulls, bats or pumpkins.
21. Halloween Front Door Decorations: Gourd Garland
You could always frame the front door instead. And you can always create a design that will work all throughout the fall well into Thanksgiving. A bunch of gourds, as seen on DIY Network, can be fun too!
22. Gilded Pumpkins Halloween Door Decoration
Maybe you're looking for something that can be both a bit spooky and chic. If so, check out these gilded pumpkins over at Country Living! This front door looks like it could be the entrance to a home of quite the stylish witch.
23. Halloween Door Decoration: Skeleton Greeting
Skeletons can be quirky and festive as well. Residence Style featured this one as well. So for those don't know how to put those skeletons piece to good use, this sure seems like a great idea!
24. Halloween Door Decorations – Dark Spiderweb
We're smitten over this "branched" design featured on DigsDigs. This one pays homage to the "Day of the Dead" with its hanging sugar skulls and bouts of color popping around the black. And don't forget to add a giant spider or two to the mix!
25. Halloween Door Decoration Idea: Giant Monster Eye
You could always add a giant monster eye to the door and leave it simple and sweet. The Paper Mama will walk you throw all the "hairy" details. Use it as a festive, clever wreath for the holiday.
Best Halloween Door Decorations: Closing Thoughts
This concludes our list of best Halloween door decorations, and we hope that after browsing through our article, you've found a design that you'd like to try out this year.
For those of you that may be considering a DIY Halloween door decoration, keep in mind that our entries are merely suggestions and that you are free to change things up based on how you want the end result to look, as well as depending on what materials you have at your disposal.
All in all, remember that when it comes to decorations, it's all about letting your imagination run wild, and not following tutorials to the letter, otherwise, you'll just end up with a cookie-cutter decoration that several other neighbors may also happen to have.
If you want to read more about how you can take your typical Halloween experience and take it to the next level of spookiness, go ahead and browse our website since we've written plenty of articles.
Not only that, but if there's a topic that you'd be interested in reading about that we haven't covered yet, tell us about it in the comments section below, and we'll write a completely new article on that subject.
Happy Halloween, and don't let your monster door decoration bite you on the way out!