15 DIY Halloween Doors To Spook Trick-or-Treaters With
Your front door is the first impression your guests will have of your home. And when you'll have a trove of kids coming to knock and ask for candy, you'll need to make the right kind of festive impression, don't you think? Check out these 15 DIY Halloween doors that'll definitely spook and delight your trick-or-treaters!
1. Oogie Boogie Man
Practically Functional begins our front door journey with this funky vinyl idea. If you think you have what it takes to cut this one out, go for it! It's everyone's favorite Boogieman – the Oogie Boogie from The Nightmare Before Christmas!
2. Swarming Bats
There's nothing more Halloween in decor than a swarm of bats. And this idea from Country Living is not only festive but it's kind of artistic and chic as well, don't you think? Grab the details after the jump and greet your guests in an eery way this season.
3. Monster Face
Easy to recreate and easy to have the kiddos get involved in, check out Modern Day Moms if you want to turn your front door into a monster. Some streamers, construction paper and paper plates are all you really need to make this one happen. And it doesn't matter what color your door is!
4. Frankenstein
Frankenstein is a great choice too! It's the perfect route to take if your front door is already green. Grab all the instructions and inspiration over at Green & Gorgeous – and show us your finished product!
5. Mummy
This mummy door is quite easy to recreate as well. If you don't want to do anything too over-the-top or "messy" then this is a great option to go with. Thanks to The Bay Club Blog for this fun idea!
6. Spiderweb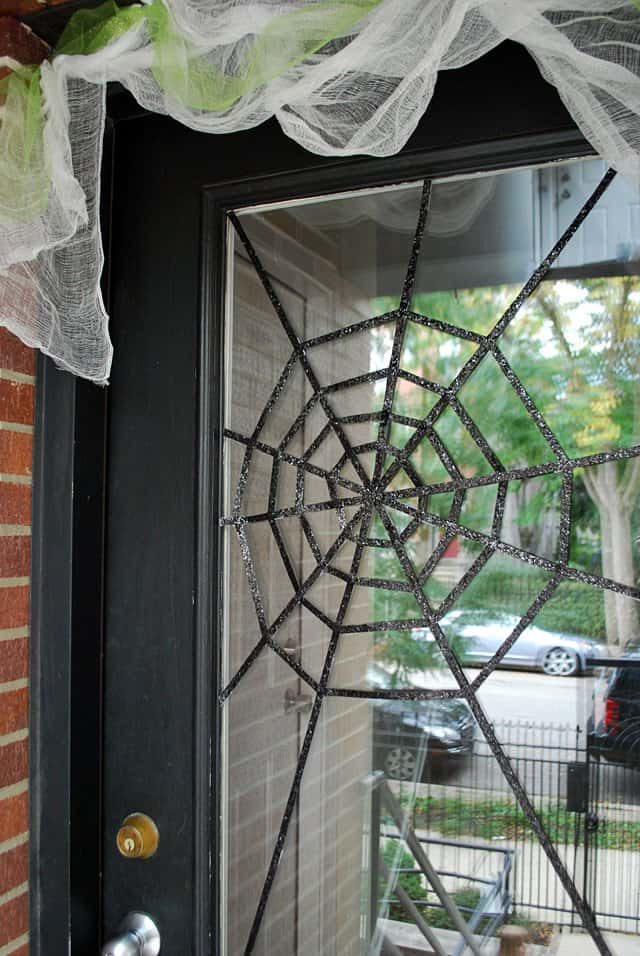 Merriment Design went with a classic Halloween theme. A spider web is pretty simple to create and there are a lot of different routes to take when doing so. Big or small, you can even add "spiders" to the web to make it a bit creepier!
7. Keep Out
Woman's Day had this fun front door design featured and we snatched it up to showcase too. From the slime-covered stairs to the greeting ghosts, there are so many details to love and have fun recreating here. And it's easy! You won't have to spend an arm and a leg to do it.
8. Gourd Garland
You could always frame the front door instead. And you can always create a design that will work all throughout the fall well into Thanksgiving. A bunch of gourds, as seen on DIY Network, can be fun too!
9. Extra Eyes
Here's another door design that the kiddos can help create as well. Check out all of these googly eyes from Craftaholics Anonymous ! So many "creatures" on the lookout to great all of those trick-or-treaters.
10. Gilded Pumpkins
Maybe you're looking for something that can be both a bit spooky and chic. If so, check out these gilded pumpkins over at Country Living! This front door looks like it could be the entrance to a home of quite the stylish witch.
11. Bloody Welcome
Then, for those that really want to scare the pants off of their neighbors, go with something like this. Residence Style featured this fun "bloody" welcome and again, it's super easy to recreate at home. All you need is some white paper and red paint to make it happen.
12. Skeleton Greeting
Skeletons can be quirky and festive as well. Residence Style featured this one as well. So for those don't know how to put those skeletons piece to good use, this sure seems like a great idea!
13. Branching Out
We're smitten over this "branched" design featured on DigsDigs. This one pays homage to the "Day of the Dead" with its hanging sugar skulls and bouts of color popping around the black. And don't forget to add a giant spider or two to the mix!
14. Giant Monster Eye
You could always add a giant monster eye to the door and leave it simple and sweet. The Paper Mama will walk you throw all the "hairy" details. Use it as a festive, clever wreath for the holiday.
15. Multi-Eyed Creature
Brit + Co leaves us off with another monster design that the kiddos can help with and the trick-or-treaters will get a giggle from. Grab some paper plates and some construction paper to get to work! The more eyes you add, the better!