15 Halloween Makeup Tutorials For "Extra" Trick-or-Treaters
Whether it's for the kids or for yourself, Halloween is a great time to really take it up a notch. And by "it" we mean all of that "extra-ness" that you've got inside of your. If you're a lover of horror films, spooky decor, jack-o-lanterns and Hocus Pocus, you can't miss the opportunity to dress up for the holiday. These 15 Halloween makeup tutorials are perfect for our "extra" trick-or-treaters!
1.Half Skull
Roxxasaurus gives us a stunning half skull makeup tutorial. Wear your eyes fiercely and sexily while creating an eery look on the bottom half of your face for the holiday. Take the leap and see if you can follow long and make this happen right at home.
2. Corpse Bride
The perfect Disney gal to fashion yourself after for Halloween, check out Jen Pike's video makeup tutorial for her Corpse Bride look. This will be such a fun one to try your hand at! And you'll definitely be a shoe-in as a costume contest winner!
3. Vampire
Check out the difference between the vampire look and the everyday look. Are you looking to be both sexy and scary this Halloween? If so, check out this makeup tutorial over at Christen Dominique's YouTube page and have a go at it!
4. Cheshire Cat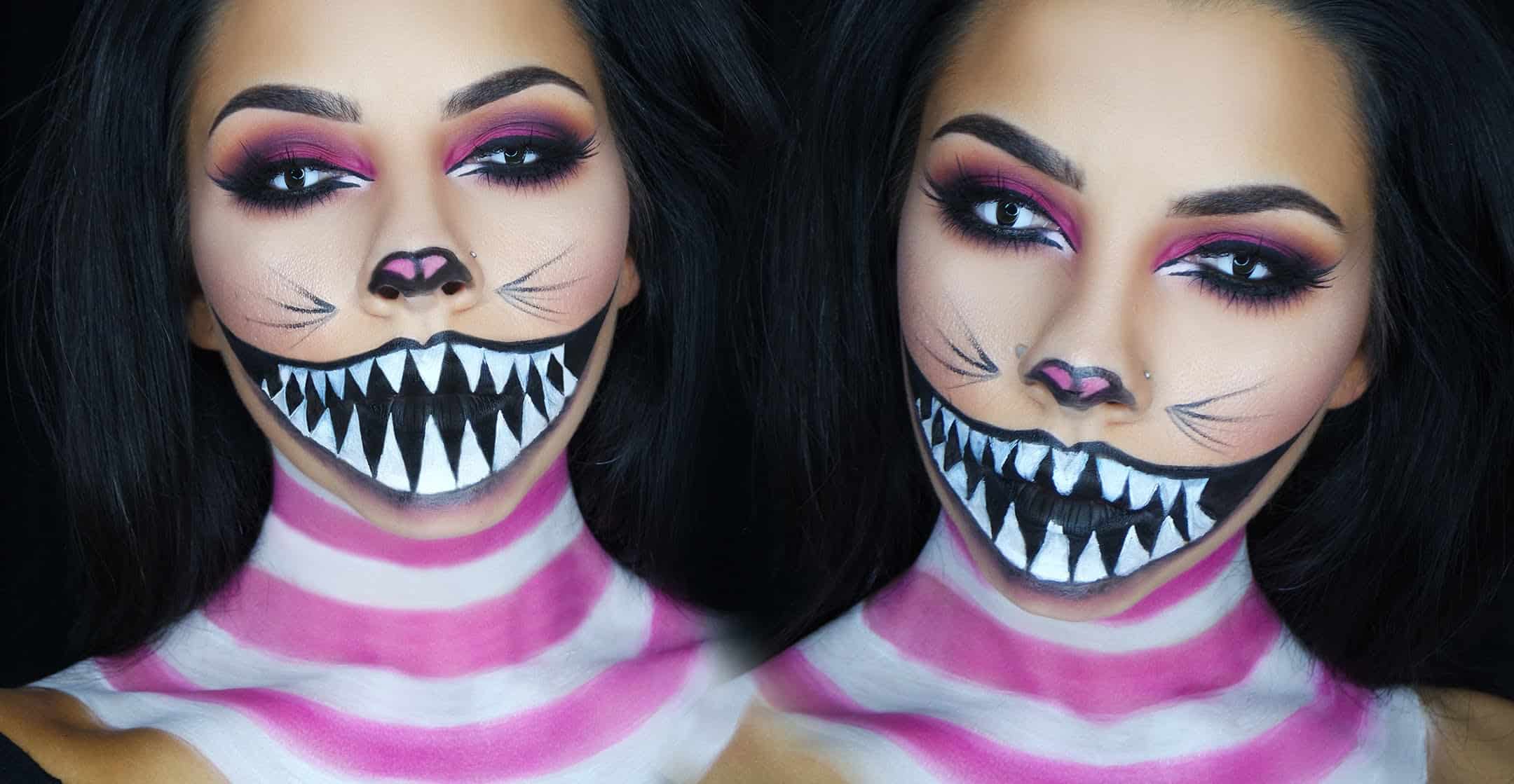 The Cheshire Cat is both a creepy and fun character from the Disney family. And it's also perfect for fashioning fun makeup after. That's exactly what Tina Kosnik did – and she teaches us all how to do it for ourselves.
5. Alien
Do you really want to shock the crown at the Halloween costume party this year? Turn yourself into an alien with help from Glam Jackie! You'll be unrecognizable with this look – and spook some guests as well.
6. Oh Deer!
We've all see the trendy deer makeup floating around the internet but The Makeup Chair takes it up a few more notches. It's sweet, it's sexy and you'll have a great time creating an outfit to go along with the finished face.
7. Heaven and Hell Angel
Jordan Hanz created a gorgeous and unique makeup look that we all want to try and rock this Halloween. Is this an angel of Heaven or of Hell? We don't know but she sure is beautiful!
8. Sugar Skull
If you're more of a Day of the Dead girl rather than one of Halloween, this sugar skull look from Honeygirl's World is right up your alley. There's so much creativity and color that goes into the festivity. Use it to your advantage and test your makeup skills with this one.
9. Maleficent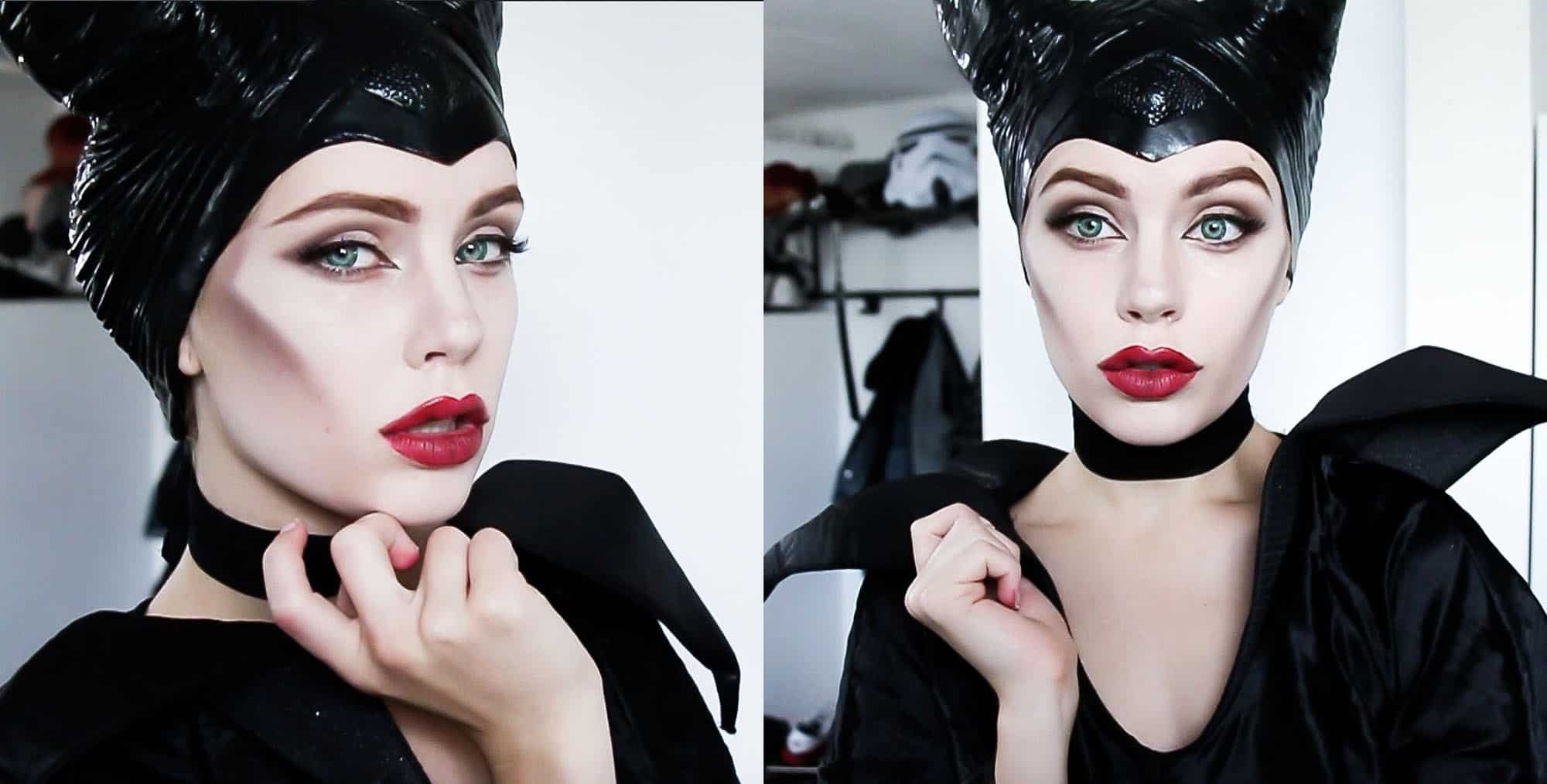 Who wouldn't want to turn into Angelina Jolie? Miranda Hedman shows us how to make our dreams come turn – with a Disney-inspired twist. Maleficent's fierceness would be a great costume choice for any of us come this Halloween.
10. Woodland Fairy
How about turning yourself into a quirky woodland fairy this year? Over at Lauren Self, you'll get all the fun ideas. Of course, instead of a green base you could try a pink, blue or lavender as well!
11. Stretched Lips
Maybe you're looking for something a bit more gory and scary, if so, we've found you the perfect look. And this one you'll really be "stretching" your makeup skills with. Check out Goldie Starling for this stretched lips effect.
12. Horror Doll
A horror doll could be fun to go with too. And with Cindy Make-up you'll learn how to recreate it. Take the leap and follow along all the while trying your hands at the effects and new techniques.
13. Medusa
Makeup by Giselle went with a classic character and really got creative with the makeup involved in bringing her to life. Medusa was evil but that doesn't mean she wasn't beautiful. Turn the queen of stone into something special with help from this tutorial.
14. Cat
Meow! Cats are classic, Halloween costume go-tos. But with Style Sprinter you'll get an amped up look in the makeup department. Instead of just a black nose and whiskers, learn how to bring a bit more chicness to the overall look.
15. Headless
And finally, Cosmo by Hayley takes everything up a notch its this special effect makeup trick. Take the jump and follow along as you try to make yourself into a "headless" beauty.