30 Halloween Makeup Tutorials: Easy Halloween Makeup Looks to Get
Halloween is only one night a year, on October 31st, but many of us wait and prepare for it starting with the end of summer, and that's because it's filled with traditions that everyone more or less loves, like trick-or-treating, putting on Halloween makeup, and more.
For example, if you just feel like having a 24h cheat day, go ahead and binge on some guilt-free Halloween candy and snacks.
On the other hand, if you feel like walking a mile in someone else's shoes, go ahead and dress up for Halloween.
If you're the type that prefers the latter, preparing costumes can be very time consuming, and it won't always end up the way we imagined it, and if we opt for store-bought options, these can be quite expensive, especially if you decide to do your shopping literally days before Halloween.
Because of this, a quicker and much cheaper alternative is to simply opt for some Halloween makeup instead, especially since, if done right, can have a bigger impact than an overly expensive latex mask.
However, if you lack the inspiration for some original makeup ideas, we went ahead and compiled a list of some of the most popular designs out there that you can replicate or at least take notes from.
Top Halloween Makeup for Hardcore Trick-or-Treaters
When it comes to Halloween makeup for hardcore trick-or-treaters, the trends change each year, and while there are certain timeless classics, such as vampire or ghost costumes, pop culture elements do manage to find their way into Halloween well.
As such, if you're curious as to which are the most popular Halloween makeup designs of 2021, check out the entries below.
1. Easy Halloween Makeup – Classic Ghoul
The classical ghoul has always been a holiday favorite when it comes to disguises, decorations, and makeup ideas, so it's no wonder that one such entry ended up on our list as well.
As you can see from Splathairdye's rendition, the simplistic ghoul design is one of the easiest Halloween makeup ideas that you can create, since all you really need is a very bright foundation for that cadaveric pale look, some eyeshadow to give of the impression of sunken eyes, and an eyeliner pencil to make the teeth.
Of course, remember that you're free to work with whatever colors you want, and you can even add new elements into the mix as well, such as fake blood, open wounds, and more.
All in all, this particular design is ideal for those of you who don't want to waste too much makeup and those who need a quick last-minute design idea.
2. Halloween Makeup Looks – Barbed Wire
Special effects and hyper-realistic tattoos are the latest rage among fans of body art, and if you want to bring some of those elements into your Halloween costume, check out the design above.
Alyshiajoness did an excellent job creating a gruesome barbed wire effect with nothing but some bodypaint and a pair of contact lenses. Truth be told, this Halloween makeup looks absolutely spectacular.
The great thing about this makeup design is that since it doesn't fall under one particular theme, you can go ahead and couple it with whatever accessories you want, although bloody clothes would have the biggest effect.
As for the contact lenses, white ones aren't necessarily a must, but you could always go with red to give an even bloodier feel, and you can also top off the entire costume with a blood-red wig as well.
3. Scary Halloween Makeup – Golden Skull
The entire essence of Halloween is to have the scariest decorations, costumes, and makeups around, and few elements are as creepy as the human skull, a symbol of humanity's mortality.
Well, Jananiselvaradj made what can be easily described as the top scary Halloween makeup design on our list, and all they needed was some black, gray, and gold paint, along with golden pearls.
The details are amazing, and while it's obvious that you will need to spend a couple of hours in front of the mirror to even get close to the same look, there's no denying that everyone's reaction upon seeing your makeup will be well worth the effort.
Like the previous makeup idea, we suggest that you go ahead and experiment with the design so that you'll achieve something fully unique, such as replacing the gold with some other color or replacing the pearls with fake gems.
4. Cat Halloween Makeup – Space Kitten
Halloween is all about letting your imagination run wild, and while many of us are content with following certain norms when it comes to costume and makeup ideas, there's no harm in trying something new.
Just look at Beauty.andthe. creeps'Space Kitten idea: It's fun, it's whimsical, the colors used are bright enough to draw anyone's attention, and since you're a completely unique character, you can go ahead and tweak the design however you want, since there's literally no way you can get a cat Halloween makeup design wrong.
As far as the makeup itself is concerned, you can see for yourself that it's something that you can easily replicate in less than 20 minutes since the core of the costume lies in the hair and accessories, as well as whatever clothes you plan on wearing to complete the whole thing.
5. Cute Halloween Makeup – Candy Corn
Candy is for Halloween as presents are during Christmas, and there are certain types of candy that have become the de-facto face of Halloween, such as candy corn.
Well, no one ever said that you can't take one of the most popular Halloween sweets and use them as inspiration for a makeup design, and as you can see from Anna. gygi'sconcept, the results are quite sweet, both literally and metaphorically.
All they needed to create this design is some foundation, eyeshade, and facepaint, all of which share the color palette of candy corn: white, yellow, and orange, and they obtained a very cute Halloween makeup design.
However, those of you that have a sweet tooth, but aren't exactly a fan of candy corn can go ahead and use the concept to create a differently themed makeup design, such as full red makeup focusing on caramelized apples.
6. Halloween Eye Makeup – The Witching Hour Palette
If you lack time to prepare more elaborate costumes or makeup ideas, or if you're simply the kind of person that likes to keep things subtle and elegant, you can always choose some simple Halloween eye makeup.
For example, Natalya_makeup's eye makeup is the ideal representation of the Fall, encompassing colors like green, orange, and red to create a design that is both in the spirit of Halloween but also graceful enough to be used as regular dinner makeup.
In order to obtain this mesmerizing look, the model also used gel liner and fake lashes, but you're free to go with whatever other beauty products you feel comfortable with.
To complete the entire setup, you should consider wearing jewelry that has gemstones in the same colors as your makeup, and wear an elegant evening dress.
7. Best Halloween Makeup – Cempa
If you're a fan of Mexican culture, especially their own version of Halloween called Dia de Muertos, then you'll definitely love this design from Marian Santos, since he perfectly encompassed what it means to be scary and beautiful at the same time.
Using nothing but the warm colors that are specific to the cempa flower, they then created a Mexican skeleton outline which was later enhanced using white gemstones.
Admittedly, this particular design has almost nothing to do with the makeup itself, as it is made exclusively using face paint, but that doesn't mean that the final result isn't worthy of a spot on our list.
If you want a costume that will go well with the best Halloween makeup design for those with a love for Mexico, we suggest traditional Mexican outfits, such as Mariachi suits or Flamenco dresses.
8. Angel Makeup – Heavenly Sky
While freakish monsters and evil beings such as devils are usually the things that many Halloweeners dress as, some opt for a more angelic approach instead.
For example, Simran Rekhi went ahead and designed a heavenly scenery using a model's face as the canvas, and the results are that of true angel makeup, somewhere between fantastic and surreal.
The colors used are bright and used in such a manner that they contrast with each other, and the attention to details, such as the small angels' wings or the clouds, show that a lot of time and effort was put into this.
However, don't let that fool you into thinking that you can't do it yourself, since you can achieve the same results with a little bit of plastic.
Besides, you can portray Heaven in whatever way you please, such as making it an enchanted garden filled with flowers, in which case you'll also have the chance to throw in some lush green paint into the mix.
9. Vampire Halloween Makeup – Marceline the Vampire Queen
Vampires have always been a popular choice when it came to Halloween disguises, especially if you managed to make yourself look like certain vampires from pop culture, such as Dracula or Edward Cullen.
That's exactly what Sulfur intended when she made this incredible Marceline the Vampire Queen-inspired makeup design, although we have to admit that she does show us a face of Marceline that we may be happy that we didn't get to see as children.
With a clever mixing of the colors white, black, and red, Sulfur managed to create a creature that is both seductive and diabolical, so basically a textbook vampire.
Those of you that want to complete the entire Vampire Halloween makeup design can try wearing the typical clothes she's portrayed wearing in the cartoon, or you can completely abandon the entire Marceline theme and simply wear some black gothic or vampire-inspired dresses.
10. Angel Halloween Makeup – Every Angel Has Wings
Angels seem to be in popular demand in 2021, and HoneyRoseLoves managed to create the ultimate cutesy angel using typical makeup, like cheek and lip blush, lip oil, concealer, and white eyeliner), as well as some additional decorations, like face gems.
The makeup itself is very subtle, and the bulk of the angel costume is represented by the feathery crown, the white silk garbs, and the (optional) angel wings.
This makeup design is easy to create, and the best part is that the angel is one of the most easily recognizable characters in fiction, so you won't have to waste time explaining to people what exactly you're supposed to be.
If you happen to have a best friend that wants to dress up as a devil, the two of you can go dressed up together so that both of your costumes can contrast with each other.
11. Angel Makeup Look – Angel Eyes
We already showcased 2 angel-themed makeup ideas, and we also talked about how sometimes some simple eye makeup can do wonders, so we figured we'd include an angel-themed eye makeup design.
Sidney Makeup Artist used foundation, eye pencil, white eyeliner, cream bronzer, blush, illuminating powder, mineralized skin finish, lip base, and lip gloss, and finally some fake eyelashes.
However, in order to achieve this look, you will require some skill and a steady hand, as well as some imagination, especially if you want to experiment with some of your own original Angel makeup looks.
To complete the look, we recommend that you try out an all-white outfit to complete your overall angel look, as well as to try out some jewels that have gemstones that are the same color as your eyes since these will be the only specks of color on your entire face.
12. Halloween Makeup Tutorial – Simple Red
Just because a costume or a makeup idea is simple doesn't mean it won't have a great impact, especially if you do it right, and you can see that for yourself by looking at the example above.
Linkartdasha did an amazing job with her Halloween makeup tutorial, creating a look that will definitely draw attention, and all they used was makeup in the color red, from eyeshadow to lipstick and even the hair color, but you're free to go ahead and try out a different color scheme if you feel like it.
For those of you that aren't too keen on damaging their natural hair with dyes, you can also simply opt for a wig, especially since those can literally come in any color, especially the more vivid ones.
For an even greater impact, we recommend that you pair this makeup with clothes that are also completely red, as well as matching shoes and jewelry.
13. Easy Cat Halloween Makeup – Bad Kitty
Black cats are a witch's greatest companions, and since they have many feminine traits, they are usually a very popular costume and makeup choice among women.
Just take a look at Che. mosley'sdesign where she incorporated simple makeup elements like foundation, eyeliner, and lipstick that really stand out, together with feline-themed decorative elements, like a paint-on nose and whiskers.
They then completed the easy cat Halloween makeup design with the all too common cat ears, clawed gloves, and what we can only presume is a classic black catsuit that will really bring out the shape of your body.
For those of you that are really into cosplay, you can go ahead and tweak this idea a bit to create a Catwoman costume, and if you happen to have a friend that wants to dress up as Batman or Poison Ivy, the two of you will definitely draw some gazes during Halloween night.
14. Alien Halloween Makeup – Alienesque
The great thing about wanting to make a makeup design themed around aliens is that there are literally no norms to follow, so you can pretty much go ahead and try out any shapes, patterns, or colors that you like.
Take Meghan Evans'design for example, since all she did was draw some patterned lines on her face, and the halo ring lamp basically did the rest, making this the simplest makeup idea on our list.
Of course, you can go ahead and play with the position of the lines and the colors you use in whatever way you please, and you can even incorporate other elements as well, such as scale patterns, faux feathers, etc.
You can then add the finishing touches to your alien Halloween makeup design by wearing futuristic clothes, or any type of clothing with galaxy or star motifs.
15. Vampire Costume Makeup – Gothic Vampire
We mentioned earlier that Halloweeners can't get enough of vampires, and since pop culture is so full of incarnations and designs, it's no wonder that you can have 15 different people dressed as vampires at a party without them looking the same.
As you can see in the image above, Marshia went for the classic Goth vampire look, and she positively killed it, both in terms of the makeup she used, as well as the wardrobe.
All she did was use a very pale foundation for that gruesomely cadaveric look and some dark red lipstick, while pretty much everything else is colored black.
If you want to add a bit more color to the costume, you can add a trickle or two of fake blood at the corners of her mouth, wear some contact lenses, or wear red and black clothes instead of just all black.
More Halloween Makeup Ideas
The Halloween makeup designs mentioned so far are some of the most popular ones in 2021, and you'll most likely see a lot of other trick-or-treaters try them out, or at least variations of the above-mentioned ideas, but if you want to be really original, or if you want to try out some of the designs that were popular in past years, take a look at the entries below.
16. Half Skull Halloween Makeup
Roxxasaurus gives us a stunning half skull Halloween makeup tutorial. Wear your eyes fiercely and sexily while creating an eery look on the bottom half of your face for the holiday. Take the leap and see if you can follow long and make this happen right at home.
17. Scary Halloween Makeup: Corpse Bride
The perfect Disney gal to fashion yourself after for Halloween, check out Jen Pike'svideo scary Halloween makeup tutorial for her Corpse Bride look. This will be such a fun one to try your hand at! And you'll definitely be a shoe-in as a costume contest winner!
18. Vampire Halloween Makeup
Check out the difference between the vampire Halloween Makeup look and the everyday look. Are you looking to be both sexy and scary this Halloween? If so, check out this makeup tutorial over at Christen Dominique'sYouTube page and have a go at it!
19. Cheshire Cat Halloween Makeup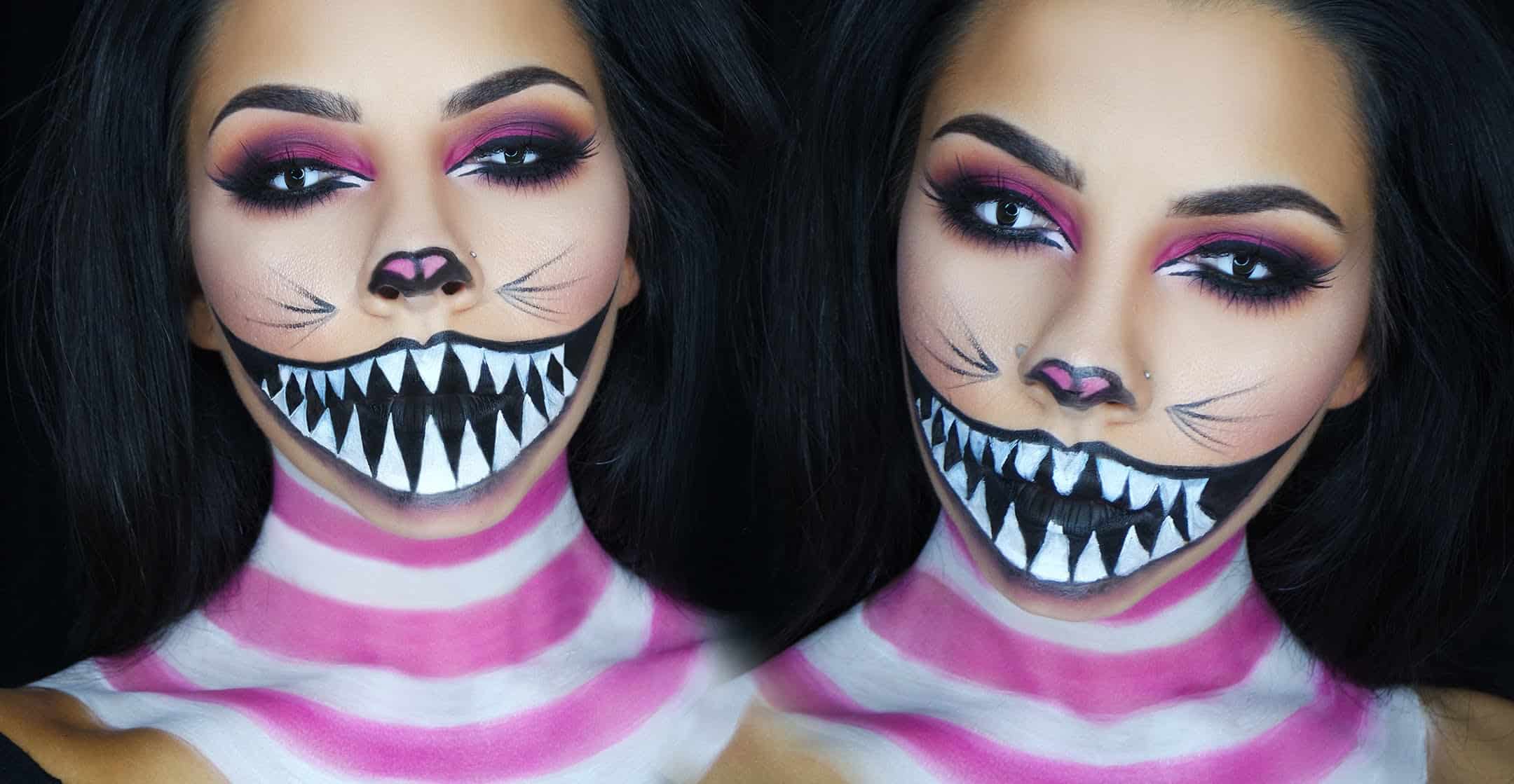 The Cheshire Cat Halloween Makeup is both a creepy and fun character from the Disney family. And it's also perfect for fashioning fun makeup after. That's exactly what Tina Kosnik did – and she teaches us all how to do it for ourselves.
20. Alien Halloween Makeup
Do you really want to shock the crown at the Halloween costume party this year? Turn yourself into an alien with help from Glam Jackie'salien Halloween Makeup tutorial! You'll be unrecognizable with this look – and spook some guests as well.
21. Easy Halloween Makeup: Deer
We've all see the trendy deer Halloween makeup floating around the internet but The Makeup Chair takes it up a few more notches. It's sweet, it's sexy and you'll have a great time creating an outfit to go along with the finished face.
22. Heaven and Hell Angel Halloween Makeup
Jordan Hanz created a gorgeous and unique makeup look that we all want to try and rock this Halloween. Is this an angel of Heaven or of Hell? We don't know but she sure is beautiful!
23. Best Halloween Makeup: Sugar Skull
If you're more of a Day of the Dead girl rather than one of Halloween, this sugar skull look from Honeygirl's World is right up your alley. There's so much creativity and color that goes into the festivity. Use it to your advantage and test your makeup skills with this one.
24. Maleficent Halloween Makeup Look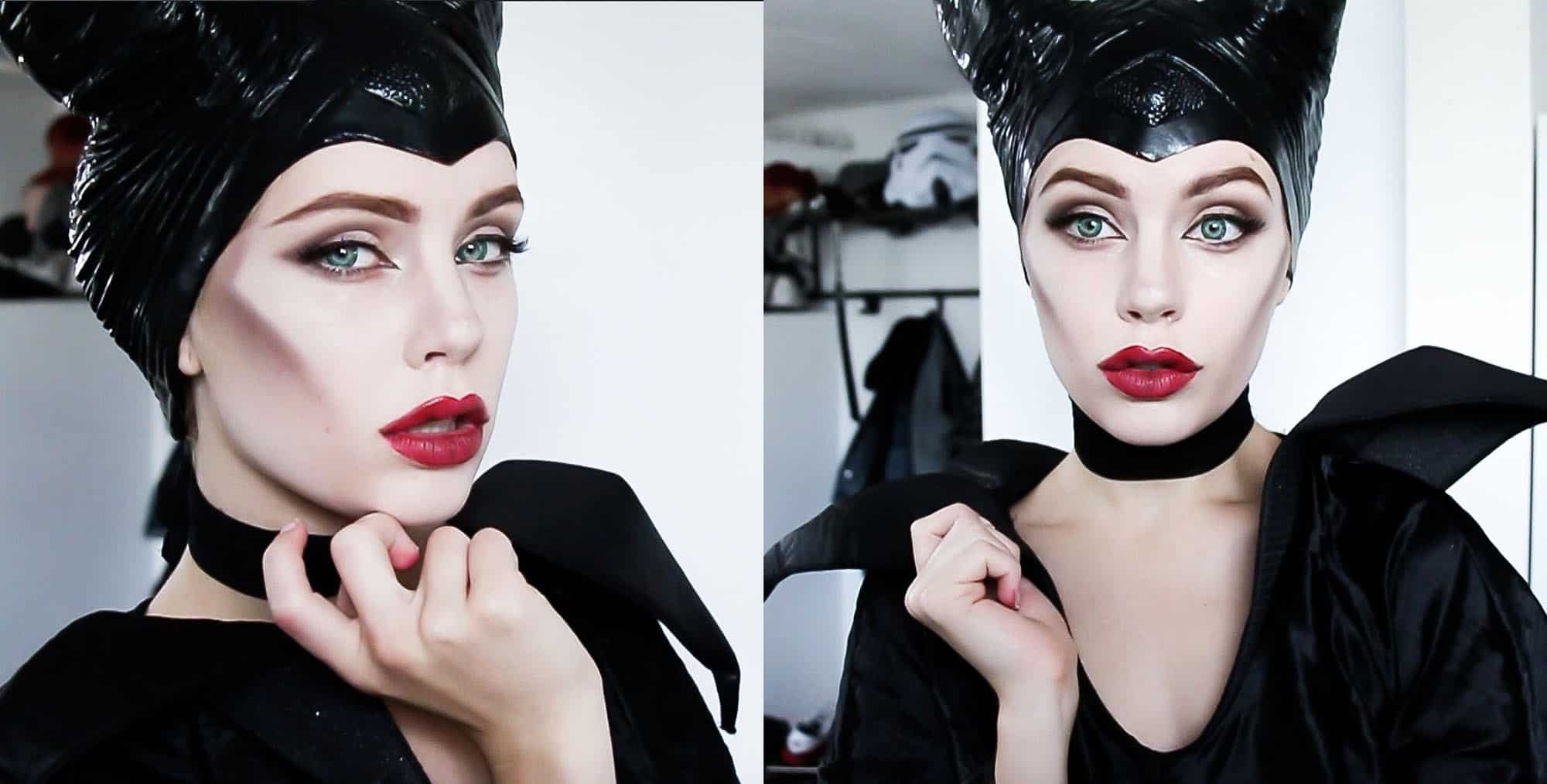 Who wouldn't want to turn into Angelina Jolie? Miranda Hedman shows us how to make our dreams come turn – with a Disney-inspired twist. Maleficent's fierceness would be a great costume choice for any of us come this Halloween, and this Halloween makeup tutorial will inspire you.
25. Woodland Fairy Easy Halloween Makeup
How about turning yourself into a quirky woodland fairy this year? Over at Lauren Self, you'll get all the fun ideas. Of course, instead of a green base you could try a pink, blue or lavender as well!
26. Scary Halloween Makeup: Stretched Lips
Maybe you're looking for something a bit more gory and scary, if so, we've found you the perfect look. And this one you'll really be "stretching" your makeup skills with. Check out Goldie Starlingfor this stretched lips effect.
27. Scary Halloween Makeup Idea: Horror Doll
A horror doll could be fun to go with too. And with Cindy Make-up you'll learn how to recreate it. Take the leap and follow along all the while trying your hands at the effects and new techniques by following this cool Halloween makeup tutorial.
28. Medusa Halloween Makeup Tutorial
Makeup by Giselle went with a classic character and really got creative with the makeup involved in bringing her to life. Medusa was evil but that doesn't mean she wasn't beautiful. Turn the queen of stone into something special with help from this tutorial.
29. Easy Cat Halloween Makeup
Meow! Cats are classic, Halloween costume go-tos. But with Style Sprinter you'll get an amped up look in the makeup department. Instead of just a black nose and whiskers, learn how to bring a bit more chicness to the overall look.
30. Headless Scary Halloween Makeup Tutorial
And finally, Cosmo by Hayley takes everything up a notch its this special effect makeup trick. Take the jump and follow along as you try to make yourself into a "headless" beauty with a cool Halloween makeup tutorial.
Halloween Makeup for Hardcore Trick-or-Treaters: Conclusion
As you can see, there's pretty much no limit as to what you can create with a little bit of makeup and paint, and as long as you have patience, a mirror, and lots of wet wipes to correct any mistakes, you can go wild with the designs.
We tried selecting makeup designs that were easy to create, but also provided some sort of visual impact, especially presuming that these designs will define how much candy you'll get when you go trick-or-treating.
All in all, don't forget that Halloween is all about having fun, so don't worry if you don't have the skills or a steady hand to achieve Instagram-level results.
Our website is filled with articles that can help you make Halloween a whole lot spookier, but if there's any particular topic that you're interested in that we haven't already covered, go ahead and leave your suggestions in the comments section below, and we'll start writing immediately.