50 Scary Halloween Makeup Ideas for Men – Halloween Face Paint to Try
Halloween is the favorite night of the year for many people since it gives them a chance to wear funny costumes, apply funky makeup, and ultimately get into the trick-or-treating spirit.
It also gives people an excuse to throw crazy costume parties at home or at the office, where guests talk among themselves about who they are supposed to be.
If you are a guy looking for Halloween makeup ideas for men, you are in luck. We did all the work and managed to create a list of the 50 best makeup ideas you can try this Halloween.
Some of them are solely based on makeup. Others are cosplay and require face painting or prosthetics. But we can assure you that all of them are worth the effort.
In many cases, you can watch YouTube tutorials to find out the exact steps you need to take in order to create a breathtaking makeup look for Halloween. However, it's necessary to have serious makeup skills or turn to a professional makeup artist if you are going for a polished look.
50 Best Halloween Makeup Ideas for Men in 2021
Without keeping you on your toes any longer, here are the 50 top-rated Halloween makeup ideas for men that you can explore this year. We are sure that you can find the best solution for yourself, a friend, or a family member.
1. Dark Shadows Halloween Makeup
Directed by Tim Burton, Dark Shadows is a fantasy and comedy movie that stars Johnny Depp as Barnabas Collins, a gothic vampire with killer makeup.
If you want to look like Barnabas Collins for Halloween, MrDanielMakeup has a great tutorial on YouTube that you can check out.
It's a pretty straightforward makeup routine for men, so you don't really need to worry about showing off amazing makeup skills. It focuses on dark eyeshadow and comes with fake vampire teeth. You will also need some long fangs to top off this look.
We are sure that you will be pleased with the results of the Dark Shadows Halloween Makeup. You will definitely be the center of attention of any Halloween party you choose to attend.
2. Skeleton Boy Easy Halloween Makeup
Skeletons are probably the most popular costume and makeup choice when it comes to Halloween for both men and women. There are numerous tutorials online with elaborate steps, most of which are cosplay.
However, if you are looking for a last-minute solution for kids, we recommend going with this easy Halloween makeup for boys.
You just need to apply foundation (or not), draw big dark circles around the eyes, and apply dark shadows on the lips to create the sewn-in mouth look. It wouldn't be complete without a simple skeleton costume.
The Skeleton Boy Easy Halloween Makeup is, just as it says, made for little boys who want to go trick-or-treating. If you're looking for a more polished look for men, there are plenty of skeleton concepts on this list that you can check out.
3. Zombie with Protective Mask Halloween Face Paint
The medical mask seems to accompany a lot of makeup choices for Halloween during the COVID-19 pandemic. It shows that you are not only socially distancing but also culturally accurate.
For this Halloween, we propose going with the spooky zombie look, complete with a protective mask on the chin. In the image above, the man wears white contacts to give out that eerie zombie look. The foundation covers the entire face, including lips. And dark circles are applied around the eyes.
As far as the costume is concerned, you can get an old white shirt, crumple it, and complete it with a loose tie. We honestly think the Zombie with Protective Mask Halloween Face Paint look has got more to do with the modern office worker rather than a zombie.
4. Medical Mask Skeleton Face Paint
The Medical Mask Skeleton Face Paint is another cool concept that tackles the surgical mask. You can paint a skull mask on your face, although some serious makeup skills are required if you want to look like in the picture displayed above.
Or, you can buy a fake mask from a local or online store that sells Halloween supplies. There are multiple ways in which you can approach this. And, to top off the look, you can wear a medical face mask.
5. Killer Face Scary Halloween Makeup
The Killer Face Scary Halloween Makeup is an intriguing Halloween makeup concept for men that is sure to scare away even the most relaxed people who swear that it's impossible to creep them out. But it also requires that you put in a lot of work into the look.
Pinkstylist shows you the exact steps you need to take for this killer face scary Halloween makeup cosplay. Since Pinkstylist is a professional makeup artist, you can expect special effects makeup, along with face and body painting.
For example, you need skin adhesive, masking tape, liquid latex, tissues, black cream, a dark color palette, dark eyeliner, hair spray, fake blood, and hairspray. The complete list of products is available on the YouTube description page.
So make sure to gather all the supplies you need before starting this project. Although it might take you a long time and several attempts to get there, we are sure that you will love the results.
6. Happy Surgical Mask Easy Clown Makeup
The Happy Surgical Mask Easy Clown Makeup is a perfect last-minute solution for Halloween since you can put the minimum effort into it.
You just need a regular surgical mask (white is best). Then, using a red marker or even lipstick, you can draw a big red smile that goes from ear to ear, complete with a big red clown nose.
It's not scary at all. In fact, it's quite endearing. And, although it becomes obvious that you did not put too much thought into your Halloween costume, we are sure that you will be excused from any Halloween party you choose to attend.
Moreover, whenever you are ready to leave the party and get out of your Halloween outfit, you just need to take the mask off. It can not get any simpler than that.
7. Easy Skeleton Makeup
If you want to go for the classical skeleton look on Halloween but don't really have the necessary makeup skills to create a compelling cosplay, we suggest checking out Easy Skeleton Makeup, a super intuitive YouTube tutorial created by Nathan Graff.
It comes with white contacts and white face foundation cream. You just have to draw the contours and then blend in the dark color to create shadows. The eyes and lips also have a red tint. At the end of the tutorial, you have to draw some thin dark lines to give the sensation of cracked skin.
We are positive that you will fall in love with the results and consider adopting the Easy Skeleton Makeup look again at future Halloween events.
8. Evil Clown Halloween Face Paint Ideas
This Halloween makeup is guaranteed to creep out everyone that crosses your path. It's a slightly exaggerated version of Pennywise, which makes it a lot scarier.
The Evil Clown Halloween face paint idea is complete with white contacts, white face foundation cream, dark paint around the eyes, dark contour, red nose and lips, face bloody teeth, together with a red wig.
You will also need a clown costume to top it off. If this doesn't make everyone in your house scream in horror, we don't know what will.
9. Another Evil Clown Scary Makeup Looks
Here is another evil clown scary makeup look, one that takes a slightly more colorful approach than the previous version. That's because it is heavily based on blue when it comes to eye paint and fake hair.
In the image above, the model is wearing a red clown nose and has an exaggerated clown smile that takes up half the face. To complete the look, you also need to choose the costume, which means wearing a dirty old shirt with bloodstains.
In addition, the shirt should be embellished with a big and colorful clown ribbon. Just make sure that you will not be scaring off all children in your neighborhood since it is quite a spooky look to pull off for Halloween.
10. Easy Clown Halloween Face Makeup
This is an easy clown Halloween face makeup for anyone who isn't a makeup artist. It can be easily done by you or by any friend or member of your family who wants to give you a helping hand.
You start by applying white face foundation cream. Then, you can paint some blue shapes above and below the eyes, as well as paint a big red smile around the lips.
If you want to go for the complete outfit, you need to dye your hair green and get a colorful clown suit. We think that the concept is heavily inspired by Jack Nicholson's Joker character from the old Batman movies.
11. Gothic Vampire Halloween Face Paint
The gothic vampire look is clearly inspired by the Interview with a Vampire movie, where a young Tom Cruise and a young Brad Pitt played two vampires with awesome looks.
This type of makeup doesn't require face paint since you can rely on your regular old makeup kit. However, a white face foundation cream is welcomed. You just need to pop out the eyes, lips and add a bit of blush to the cheekbones.
The key is the white wig with curly hair, which barristers still use in the United Kingdom. Top it off by adding a pair of fake vampire teeth. Of course, the ensemble would be incomplete without the gothic vampire costume.
In the image shown above, the vampire is accompanied by a cute cat, but you don't have to torment your precious pet just to get a couple of photos. You can replace the cat with any other accessory, like a fake spider.
12. Easy Vampire Boy Makeup for Halloween
The vampire look will always be in style for Halloween. But you don't have to go overboard when it comes to the costume of your children. If you are looking for a last-minute vampire makeup idea, check this out.
We can hardly call it makeup since you can use any pencil or marker to draw the raised eyebrows and fake teeth on your son. Instead, make sure to get the popular vampire cape. Otherwise, your kid's friends might not be able to tell what the look is all about.
13. Michael Myers Halloween Face Paint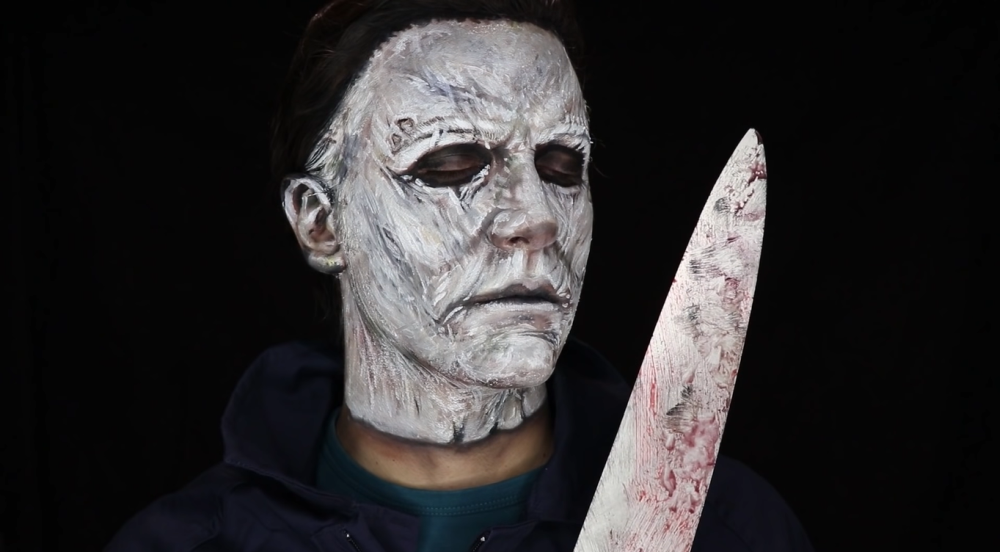 Also known as The Shape, Michael Myers is the killer from the Halloween slasher movies. It gathered a substantial fan base over time, mostly thanks to its stalker nature.
If you want to dress up and look like Michael Myers for Halloween, check out this awesome YouTube video cosplay created by The Faceless Queen to get inspired. It features intricate face and body painting, complete with the well-known butcher's knife, which is The Shape's weapon of choice.
As far as supplies are concerned, you need a glue stick, translucent powder, deep black, brown, ivory, green, and light, together with a stipple sponge and various brushes. Make sure to check out the YouTube description page for a complete list of products.
14. Voodoo Doll Halloween Face Paint Idea
Few things are scarier than a living and breathing Voodoo Doll that walks among people. If you are looking for a bit of black magic for this Halloween, check out this amazing makeup tutorial by ellimacs sfx makeup. It works for both men and women.
For this concept, you will need a lot of patience since it is an elaborate project. Furthermore, we should warn you that it is a bit uncomfortable, but it will surely blow everyone's mind.
As far as supplies are concerned, you need tape, tissue paper, latex, yarn to sew in the doll's mouth, as well as q-tips with dough to make the pins that stick to your face.
We are sure that the results will blow your mind away. It's a stunning makeup concept and truly the stuff that nightmares are made of.
15. Freddy Krueger Face Paint for Halloween
If you are a fan of The Nightmare of Elm Street movie franchise, you can't miss this awesome Freddy Krueger makeup tutorial for Halloween, which can be used by both men and women.
The YouTube tutorial is brought to you by ellimacs sfx makeup, the same guys behind the Voodoo Doll concept. You will need aluminum foil, latex paste, a hairdryer, a wig cap, face painting, and regular makeup.
The fake burn marks look incredibly real if you stick to this tutorial's instructions. Plus, you can make your teeth yellow by applying nail polish. And the ensemble wouldn't be complete without Freddy Krueger's black and red striped shirt, brown hat, and scissor hands.
Once you complete the look the right way, we are sure that you will not be able to tell the copy from the original. You will definitely show up in other people's nightmares, just like the titular character.
16. Pennywise Halloween Makeup
Pennywise is one of the most famous clowns in pop culture, thanks to Stephen King's IT horror novel and movie adaptation. It's an incredibly scary clown that's actually a shapeshifting monster and which preys upon the children.
Prince De Guzman Transformations did an awesome job at explaining an intuitive step-by-step YouTube tutorial on how to apply Halloween makeup for men, which anyone can watch.
For this cosplay, you will need a wig cap, liquid latex, a glue stick, white face foundation cream, red paint, black eye shadow, yellow contact lenses, buck teeth prosthetics, and head prosthetics.
Of course, you also need the famous Pennywise red wig and costume. Once it's done, you just need to take one look in the mirror to scare yourself mindless.
17. Literal Iron Man Halloween Makeup
This Halloween makeup tutorial provided by Shonagh Scott offers a funny twist on Marvel's Iron Man. Instead of going with Robert Downey Jr.'s character, you can show up for trick-or-treating as the literal Iron Man: your face looks like it was burned with an iron. Clever, isn't it?
The trick is to use special FX makeup for creating the effect of an iron face burn. It was actually inspired by the popular Home Alone movie, where Marv gets hit by an iron, leaving a huge imprint on his face. There's no cosplay involved.
To create this Halloween makeup for men, you need a piece of cardboard shaped like an iron, in order to draw the contour. You will also need soft putty, skin glue, foundation, dark red makeup, and some makeup skills. The result is hilarious, guaranteed to make your friends and family laugh out loud.
18. Silver Fox Halloween Makeup
The Silver Fox makeup is a cool choice for Halloween for men if you want to go with something more creative than a clown, a vampire, or a skull. It's not cosplay, so you can stick to your makeup bag to obtain this great look.
It's mostly about sculpting your face, creating shadows, and drawing thin dark and white lines all over your face to create the illusion of a fox's hair. The YouTube tutorial is pretty compelling, so make sure to check it out.
To get the best results, though, you should top it off with silver hair and sparkling eye contacts. If you follow the steps correctly, the results should be dazzling. We find the Silver Fox to be quite charming.
19. Demon Halloween Makeup
This is a cool demon Halloween idea for men, which doesn't require any prosthetics. It somewhat resembles Darth Maul from the Star Wars franchise, which is guaranteed to impress your friends.
Created by Alex Faction, the YouTube tutorial is pretty detailed. It also shows a list of all makeup products involved in this stunning transformation, including the makeup brush set, black eyeshadow, face painting, and pure red color.
You also need white contacts to give that spooky demon look. A teeth whitening kit also helps so that your teeth match your new eyes. We think that the results look amazing, but it mostly depends on which shade of red you go with. It should be bright and deep.
20. Another Vampire Halloween Makeup for Men
Here is another YouTube tutorial that demonstrates how to easily create vampire makeup for guys on Halloween. Unlike other ideas we have seen so far, there is no cosplay, and there are no prosthetics involved, aside from the fake vampire teeth. It's mostly based on makeup only.
Developed by Joe Conza, the video tutorial lists all supplies you need to complete this awesome vampire look for Halloween. It's also a great last-minute idea when you need to head out to a party and have to quickly come up with a costume idea.
To achieve this look, you will need a matte gel primer, foundation stick, black, purple, silver, and glittery eyeshadow, natural matte palette, purple lip liner, black face paint, as well as fake blood. Check out the YouTube description for brands.
If you follow the instructions correctly, the results should be stunning. It's definitely worth creating this vampire makeup look for Halloween. And, if you are pleased with the feedback you will receive from the people around you, perhaps you can reuse this look in future Halloween events.
21. Creepy Colorful Clown Makeup Idea
This creepy clown idea for Halloween takes a more colorful approach than others when it comes to makeup – not the costume itself. If you love the look, you should check out the YouTube tutorial carefully detailed by Wesley Benjamin Carter.
It shows all products used in the process, including face and body paint, foundation mixer, and milky eye pencil. You can top it off with a teeth whitening kit and fake lashes
It's a pretty entertaining idea since you have to use multiple colors to draw vertical lines on your face and create an eerie look at the same time, so don't forget to have fun.
22. Mad Hatter Halloween Makeup
The Mad Hatter is a beloved choice when it comes to Halloween costumes, mostly thanks to Johnny Depp's crazy role in Alice in Wonderland. If you prefer this character, you should check out this stunning YouTube tutorial created by Shonagh Scott.
There are several makeup products involved, which are listed on the YouTube description page. Additionally, you need green werewolf contact lenses and the Mad Hatter costume, complete with long eyebrows.
It's a pretty long process, so make sure to arm yourself with patience before trying out this idea for Halloween. However, once you finish, we are positive that you will be completely satisfied with your new look. And, since it's necessary to buy the Mad Hatter costume anyway, you can reuse it next year or donate your outfit to a friend who wants to pull off your look.
23. Neon Skull Halloween Makeup for Men
The Neon Skull is a refreshing and glamorous approach for the classical skull makeup for Halloween for men. If you love this look, check out this awesome YouTube tutorial created by James Charles, which explains every step of the way.
There is also a list of all products used, so make sure to get them before getting started on this Halloween makeup. You need a lip balm, eyeshadow palette, white liquid liner, teal glitter, fake lashes, and mascara.
As you can see, it's not cosplaying, and there is no kind of prosthetics involved, making the neon skull an ideal last-minute Halloween makeup for guys. You do need some makeup skills, though.
In addition, we suggest topping it off with white contacts to complement the neon look. The YouTube tutorial has everything covered, so don't miss it. If you follow all the steps in the right order, you will surely get amazing results that you will not regret.
24. Galaxy Glam Halloween Makeup for Men
Galaxy Glam is a great look you can pull off for Halloween by using just makeup. It's inspired by the night sky, making it ideal for amateur astronomers. If you are one of them, then you should definitely check out this cool YouTube tutorial made by Jake Luna.
It's interesting because only half the face is colored in the night sky, while the other half remains in contrast. It's not cosplaying, and there are no prosthetics or face paint involved, so you just have to rely on your makeup kit.
The results look amazing, and you will surely grab the attention of all people around you. Another cool thing about this makeup concept is that you don't have to go with a fancy costume since a simple purple shirt will do. You don't need a wig either.
25. Jared Leto's Joker Halloween Makeup for Men
The list of the best Halloween makeup ideas for men would not be complete without Jared Leto's approach to Joker in the Suicide Squad. It's fun, compelling, and everyone will instantly recognize your character.
This awesome YouTube video was put together by Shonagh Scott, in which she used green cream, non-toxic glue, blending powder, skin base, face and body foundation, light concealer, various eyeshadow colors, and matte red lipstick. You can check out the complete list of products on the YouTube description page.
Before getting started, make sure to dye your hair green to create the authentic Joker look portrayed by Jared Leto. The instructions in the video are pretty straightforward, so you shouldn't come across any problems. And, the only prosthetics involved are the metal teeth.
We are certain that you will fall in love with the results once the makeup is done. In Shonagh Scott's YouTube tutorial, the male model is indistinguishable from Jared Leto. It's definitely the type of look worth bragging about to your friends and posting on social media.
25 Extra Easy Halloween Makeup Ideas for Men
We hope you enjoyed the detailed ideas above as much as we did. We have quite a few favorites, but we still have to decide which one to go for. If you're still undecided, we have 25 more Halloween makeup ideas for men to try out.
26. Skeleton Makeup for Halloween
This intricate skeleton makeup is something every guy is going to want to try out this Halloween. We found the inspiration at Fanrto – along with plenty of others!
27. The Joker Scary Halloween Makeup
Check out this YouTube video and see how you can transform into the creepy yet super popular character, Joker from Batman!
28. Vampire Halloween Makeup
If you're looking for something a little more classically Halloween, take a peek at this YouTube video for the details on how!
29. Pop Art Halloween Makeup for Men
Turn yourself into a comic book or pop art-inspired character with this YouTube video! We love how easy but unique it is.
30. Edward Scissorhands Halloween Makeup
One of the most beloved characters ever, thanks to Johnny Depp, here's the tutorial over at YouTube to teach you how to replicate the look.
31. Zombie Makeup Ideas for Halloween
Minimalisti has a ton of ideas, but this zombie idea stood out above all of the rest. What guy wouldn't want to pull this look off?
32. Jack Skellington Halloween Makeup Idea
This look was found on Reddit, and we're in love with the creative take on this classic A Nightmare Before Christmas character!
33. Pumpkin Halloween Makeup Idea
Of course, you can always go as a scary, creepy pumpkin. Just check out this makeup from Deviant Art to grab some inspiration.
34. Card Cutting Scary Halloween Makeup
Love It So Much had this bad boy featured, and we think it's a bit unique, a bit disgusting, and looks quite real. Try your hand at some special effects this Halloween!
35. Pinhead Scary Halloween Makeup Idea
For a super creepy look, why not go with a pinhead costume? This video on YouTube will give you some great instructions to get started.
36. Hulk Halloween Makeup
My Backstage Hero produced this video on YouTube showing some Hulk makeup easily replicated for those that want to be like this Avenger.
37. Mime Easy Halloween Makeup
Mimes can be cool, and that coolness can come out with the right makeup job. Treat, and Retreat showed off this great idea!
38. Dr. Frank N Furter Halloween Makeup
Who loves Rocky Horror Picture Show? Why not go as Dr. Frank N Furter and use this gorgeous photo we found on Pinterest as your inspiration!
39. Lizard Easy Halloween Makeup for Men
Deviant Artgives us some more great Halloween makeup ideas with this creepy lizard look that all the young boys will be fighting over.
40. Exposed Skull Halloween Makeup
Earth Porm had this creepy, exposed skull idea among their inspiration, and we had to feature its intricacy and scary Halloween flair!
41. Dog Halloween Makeup
Check out this YouTube video as you learn how to create an easy and adorable dog face for your Halloween night out!
42. Werewolf Scary Halloween Makeup
YouTubegave us some great makeup inspiration for those that want to trick-or-treat or party on Halloween night as a werewolf.
43. Beetlejuice Halloween Makeup Idea
Over at Jen Pike's YouTube page, you'll find this awesome tutorial on how to create a Beetlejuice face that will stop everyone in their tracks.
44. Gollum Halloween Makeup for Men
Threemu had this awesome inspiration on their site, and we instantly fell in love with how great this makeup was done!
45. Clown Halloween Makeup
Boys and girls all over can join in the fun and be a creepy, scary, happy … any type of clown! Check out the YouTube video from Emma Pickles.
46. Groot Cool Halloween Makeup
Melissa Bernard showed this tutorial on YouTube, and we're in love with our favorite Guardians of the Galaxy character makeup!
47. Elephant Halloween Makeup Idea
If you're dreaming of walking around as an elephant this holiday, try out this subtle nod to the majestic animal we found on Flickr!
48. Tin Man Halloween Makeup Idea
Go a bit outside the box and take it back to a classic movie as your Halloween inspiration. Be the tin man and grab ideas from this amazing makeup job found at Guff.
49. Jack Sparrow Halloween Makeup Idea
Here we have another YouTube video by Ashlea Henson that will show you how to turn yourself into Jack Sparrow for a night of fun!
50. Frankenstein Halloween Makeup for Men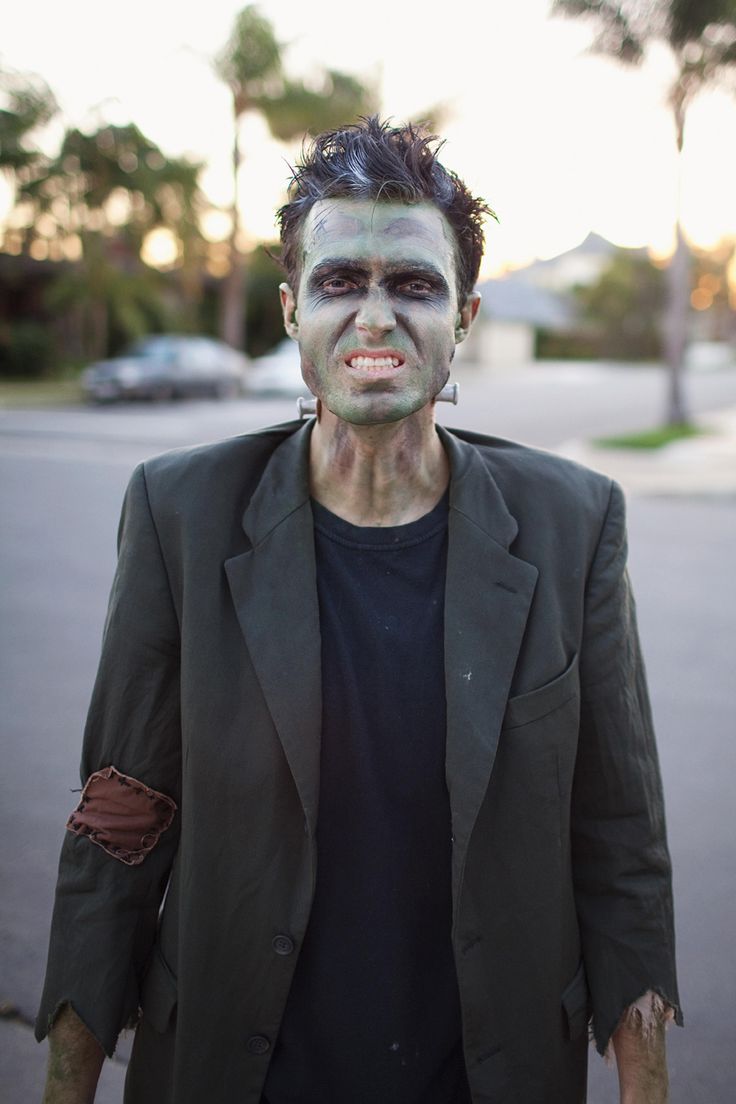 We found this pin on Pinterest and loved the idea for the men in our lives. Frankenstein is a classic look, and his makeup is spot on!
Final Thoughts on Halloween Makeup for Men
While all these makeup ideas are absolutely fabulous, we're sure you'll need some extra help to get into the vibe – like a good costume, some accessories, and so on. Plus, make sure you try out your chosen makeup idea way ahead of time so you can perfect it.