15 Seasonal Fall Door Wreaths
When it comes to the world of outdoor décor in fall and winter, we find it difficult to choose which kinds of pieces to make sometimes because we live in a very cold place that gets lots of snow. We'd hate to spend money and time on something that gets ruined in the wet and cold sitting on our porch! At the same time, we're such huge fans of outdoor décor that we just can't bear the idea of not creating any cute DIY pieces in the fall. We're especially big fans of pieces that are versatile enough to suit both fall and winter so we can leave them up on into September as well! That's why we love door wreaths so much. Besides being a lot of fun to make, they look great all season!
Just in case you love door wreaths just as much as we do but feel like you need some guidance and inspiration when it comes to designs and techniques, here are 15 awesome fall wreath tutorials that will get you pumped about seasonal autumn crafting.
1. Leaves and mini pumpkins on wicker
Our absolute favourite part about fall and the coming of winter is the way all the leaves outside turn all kinds of beautifully rich colours. Our yard doesn't have very many trees, however, so we don't get to enjoy the sight of fall leaves as much as we'd like! That's why we love the idea of making a fall door wreath from beautiful red and orange leaves! To make the idea even cuter, we adore how Luxury Flats in London added tiny miniature pumpkins nestled into the leaves for extra cute seasonal detail.
2. Asymmetrical berries and mini gourds
Are you a huge fan of the idea of adding fall colours to a seasonal door wreath but you'd rather keep things a little more minimalist looking because your existing décor scheme is already quite simple? Then try following in Southern Inspiration's lead and making the base of the wreath from small fall branches and just decorating one side with little flowers and berries. Try adding some miniature gourds too to give the look some substance!
3. Berries and a burlap string wrapped monogram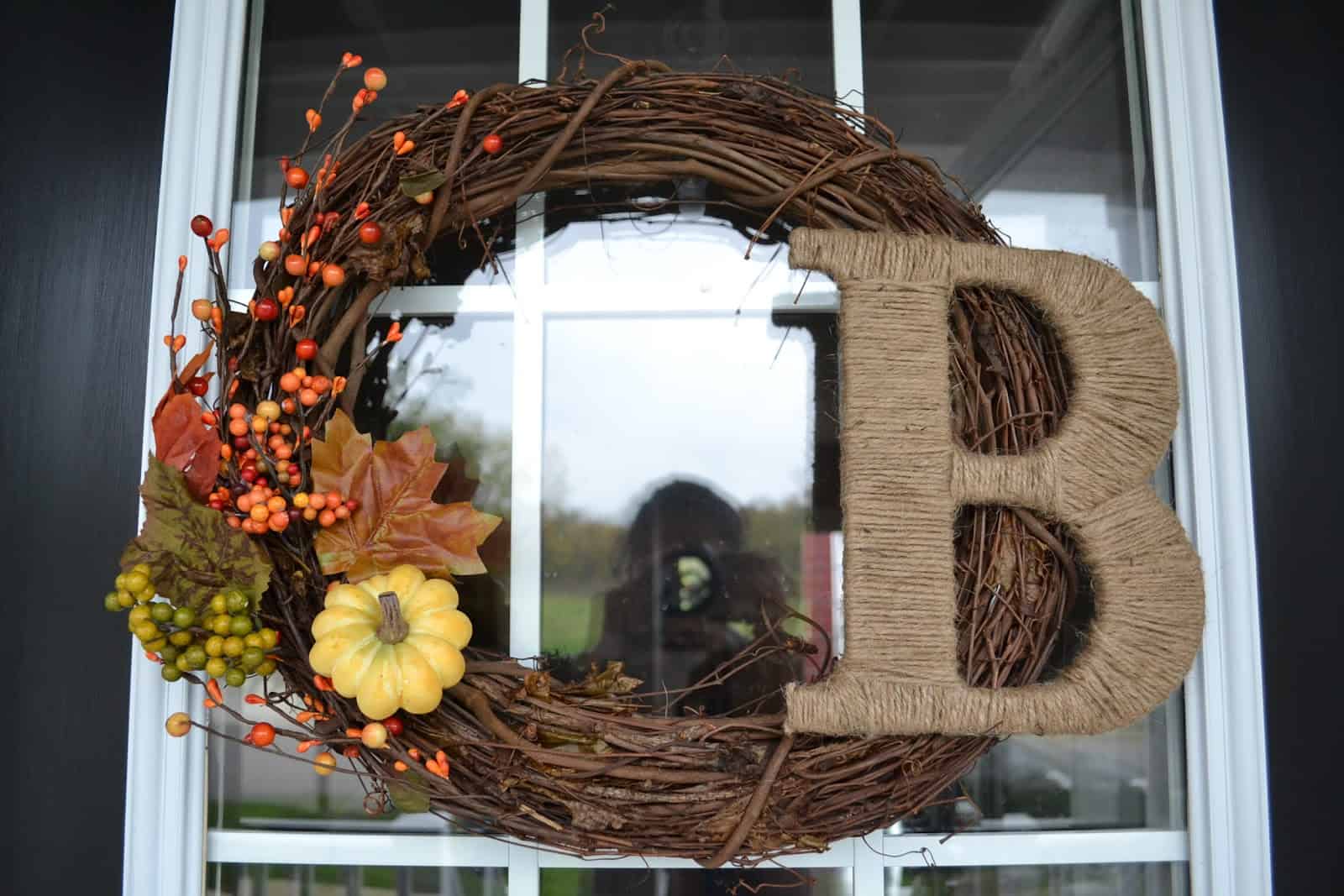 Do you love the idea and style of the look we just showed you above but you can't help but feel as though it's missing a detail? Then try adding something simple that still makes a statement! We love the way House Stuff Works balanced out their spray of fall berries and mini pumpkins on branches with a hemp string wrapped monogram. It's the perfect blend of rustic and customized!
4. Chalkboard upcycled serving tray with a leaf branch
Perhaps you actually prefer any type of crafting that lets you upcycle or reuse vintage pieces you already have rather than really committing to the rustic aesthetic alone? Then we think perhaps you'd prefer this stunning repurposed silver serving tray wreath idea from Nous Décor! They've painted the bottom of the tray with chalkboard paint so you can write whatever greeting messages you please and decorated the edges with orange leaf-clad branches complete with natural fall berries.