15 Seasonal Fall Door Wreaths
When it comes to the world of outdoor décor in fall and winter, we find it difficult to choose which kinds of pieces to make sometimes because we live in a very cold place that gets lots of snow. We'd hate to spend money and time on something that gets ruined in the wet and cold sitting on our porch! At the same time, we're such huge fans of outdoor décor that we just can't bear the idea of not creating any cute DIY pieces in the fall. We're especially big fans of pieces that are versatile enough to suit both fall and winter so we can leave them up on into September as well! That's why we love door wreaths so much. Besides being a lot of fun to make, they look great all season!
Just in case you love door wreaths just as much as we do but feel like you need some guidance and inspiration when it comes to designs and techniques, here are 15 awesome fall wreath tutorials that will get you pumped about seasonal autumn crafting.
1. Leaves and mini pumpkins on wicker
Our absolute favourite part about fall and the coming of winter is the way all the leaves outside turn all kinds of beautifully rich colours. Our yard doesn't have very many trees, however, so we don't get to enjoy the sight of fall leaves as much as we'd like! That's why we love the idea of making a fall door wreath from beautiful red and orange leaves! To make the idea even cuter, we adore how Luxury Flats in London added tiny miniature pumpkins nestled into the leaves for extra cute seasonal detail.
2. Asymmetrical berries and mini gourds
Are you a huge fan of the idea of adding fall colours to a seasonal door wreath but you'd rather keep things a little more minimalist looking because your existing décor scheme is already quite simple? Then try following in Southern Inspiration's lead and making the base of the wreath from small fall branches and just decorating one side with little flowers and berries. Try adding some miniature gourds too to give the look some substance!
3. Berries and a burlap string wrapped monogram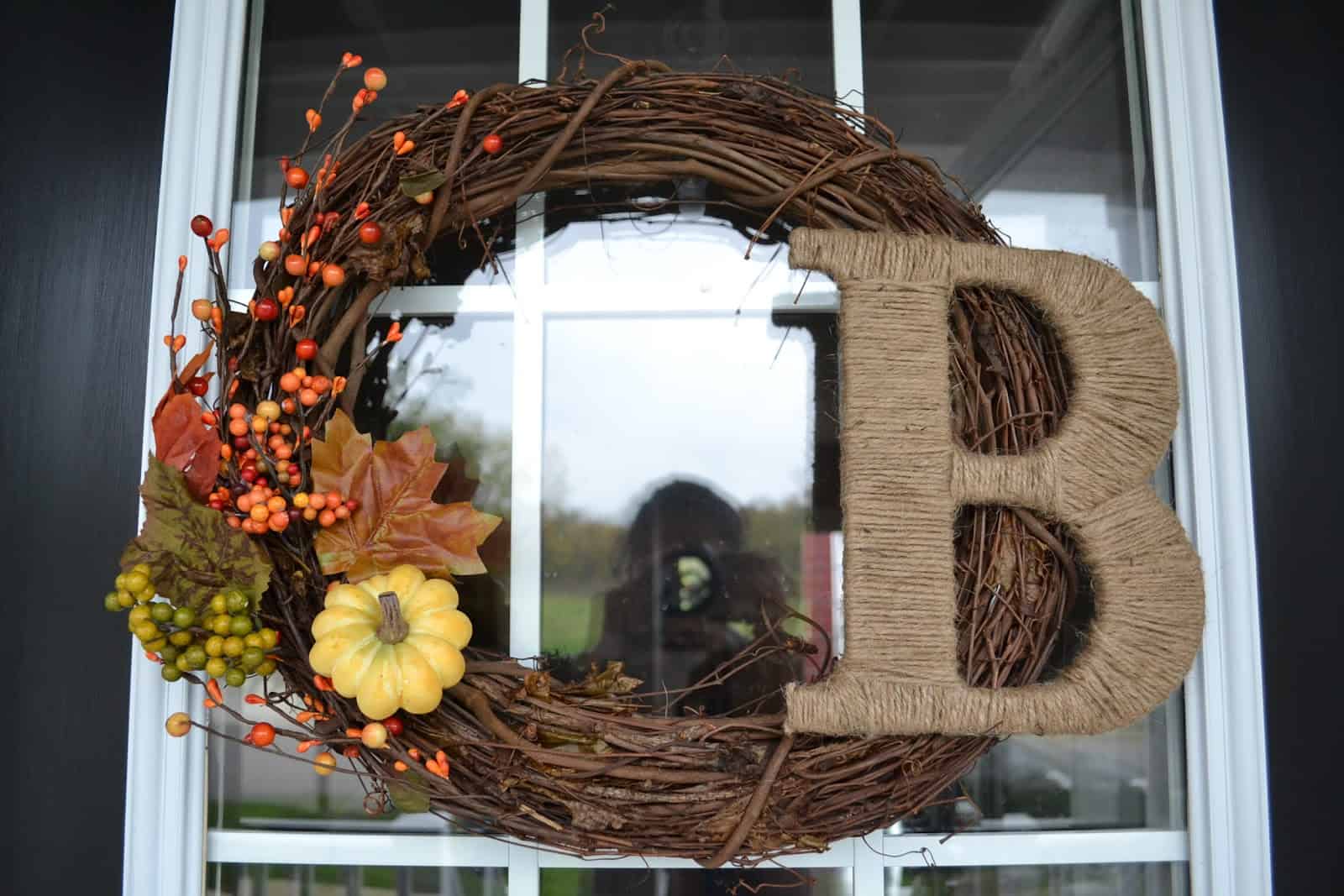 Do you love the idea and style of the look we just showed you above but you can't help but feel as though it's missing a detail? Then try adding something simple that still makes a statement! We love the way House Stuff Works balanced out their spray of fall berries and mini pumpkins on branches with a hemp string wrapped monogram. It's the perfect blend of rustic and customized!
4. Chalkboard upcycled serving tray with a leaf branch
Perhaps you actually prefer any type of crafting that lets you upcycle or reuse vintage pieces you already have rather than really committing to the rustic aesthetic alone? Then we think perhaps you'd prefer this stunning repurposed silver serving tray wreath idea from Nous Décor! They've painted the bottom of the tray with chalkboard paint so you can write whatever greeting messages you please and decorated the edges with orange leaf-clad branches complete with natural fall berries.
5. Letters, bows, and floral bunches
Were you quite intrigued by the idea of a branch and monogram wreath but you've already got enough leaves and pumpkins dotted around your home and you'd rather add details of other kinds than sticking more of those on? In that case, here's a similar but alternative design for you! Life in Leggings suggests using little bundles of fall flowers in seasonal colours and adding a cute burlap bow at the top.
6. Thin sprays of fall berries
Do you adore the branches idea but, rather than overloading the wreath with lots and lots of leaves and making the base of branches very thick, you'd prefer to keep the piece a little more dainty and stick to seasonal berries because those are your favourite detail on the designs we've shown you so far? Then we definitely think you should check out this super cute little berry wreath design from Davis Day By Day! We love the way the ends were left to spray outward rather than being tied down to make a perfect circle.
7. Fall sunflowers and neutral roses
We've already talked a little bit about attaching seasonal fall flowers on wreaths, but what if you're a lot more into the look of larger blossoms than you are the smaller flowers gathered in bundles? Then we think perhaps you and Luxury Flats in London might be a little closer to being on the same page! Check out how they wound branches into a base, added a few sprays of berries, and chose neutrally coloured and bright orange roses and sunflowers!
8. Orange flowers with a white sunflower balance
Maybe the flower details we've mentioned so far have actually be your absolute favourite part of each floral wreath design you've seen so far? Then why not make flowers not just the star of the piece, but essentially the main body of the whole design? We love the way this feature on Pinterest combines different kinds and colours of flowers in sections to create a beautifully flourishing wreath that will undoubtedly impress visitors.
9. Yarn wrapped wreath with felt flowers
Perhaps your area of expertise when it comes to crafting is a lot more in the realm of yarns, fabrics, and materials rather than leaves and flowers, whether they're real or manmade? In that case, we definitely think you'll have a total blast with something more along the lines of this pretty yarn wrapped wreath accompanied by a cluster of cute DIY felt and fabric flowers with a few buttons for detail. Find out more details about how it's made on Classy Clutter!
10. Big, alternating brown and orange bunches
Are you still thinking about how much you love wreaths that involve large bunches of seasonal fall flowers in beautiful autumn colours but, when you say you like big bunches, you mean big? In that case, we have a feeling that you'll absolutely adore this design from 2 Bees in A Pod! They show you how to choose colours, arrange your bundles in complementary and contrasting ways, and attach them well so they can withstand wind and other fall weather while the wreath hangs on your door.
11. Fall maple leaves
When you started searching for different seasonal fall door wreath designs, were you picturing big, beautiful maple leaves in all different shades of yellow, orange, and red, just like the ones out on the maple tree in your backyard? Then we have a feeling you're going to love this beautifully bright door wreath design from The Sweetest Digs! We love that this design is so aesthetically pleasing but surprisingly simple to make.
12. Leaves, berries, and pine cones
Do you live in a more rural area surrounded by trees but you've noticed one detail that's all over your backyard and has not been all over the fall door wreath designs we've shown you so far? In that case, we think we've finally found the design for you! Check out how Crafty Sisters made a base from branches, covered it in beautiful leaves and orange berries, and added those pretty little fragrant pine cones you've seen all over the fir trees around your home!
13. Knotted burlap strips with acorns
Despite the fact that every single wreath on this list is completely gorgeous, have you actually been scrolling through our list hoping to find a design that looks a little more explicitly crafted and homemade rather than resembling a beautiful natural creation that you might have scavenged from the forest around your house? In that case, we have a feeling you're going to have a total blast making this burlap strip knotted wreath from The Local Honey!
14. Upcycled paper flower wreath
Have you actually been scrolling through our list hoping to find a wreath design that's not just explicitly homemade, but also particularly artistic looking, because you're just that passionate about fine arts and crafting? In that case, we can't wait to show you this beautiful paper flower wreath idea from Make Life Lovely! They built the body of their wreath up by cutting flower shapes from pages out of damaged books and old magazines, layering them and fitting them in so make a beautiful visual. We can't get enough of the way they included a holiday greeting banner, but we like that you could customize the message on the banner to say anything, just in case you live in a place that doesn't celebrate Thanksgiving!
15. Bright green leaves and green apples
Perhaps the place you live in actually stays quite warm all throughout the year, so you have quite sunny, lovely weather and you get a lot more seasonal fruit than some other places would? Well, why not incorporate that into your seasonal fall wreath so that it really makes sense and looks right hanging on your door? We love the way Stone Gable kept things seasonal by using branches, burlap, and bright orange sunflowers, but also made sure to add some beautifully bright green apples into the mix. Even just looking at the design makes us start craving apple pie!
Have you made another great fall wreath for your door that you're very happy with and love hanging each year but you don't see anything similar on our list? Tell us all about how you did it or link us to photos of your work in the comments section!