63 Gender Reveal Cakes To Surprise The Family and Yourself With!
Around the 20 week mark, you'll be able to find out if the baby in your tummy is a feisty, sweet little boy or a charming, princess of a little girl.
While the whole gender reveal party has become rather controversial in recent years, there are still plenty of folks who want to make their announcements with a bit of cake.
Cool Gender Reveal Cakes
Whether you want to surprise your family with a fun cake cutting or you want to take a bite and surprise yourself too, here are 50 gender reveal cakes that you can create right at home and make that magical moment happen.
1. Sweet On You
"Pink or Blue, We're Sweet On You," this cake is perfect for a gender reveal party with friends and family. Check out all the details at Craftsy.
2. Blue Velvet
If you know you're having a little boy, you'll want to check out this beautiful, rich blue velvet cake! The recipe can be found atAdd A Pinch.
3. M&M Filled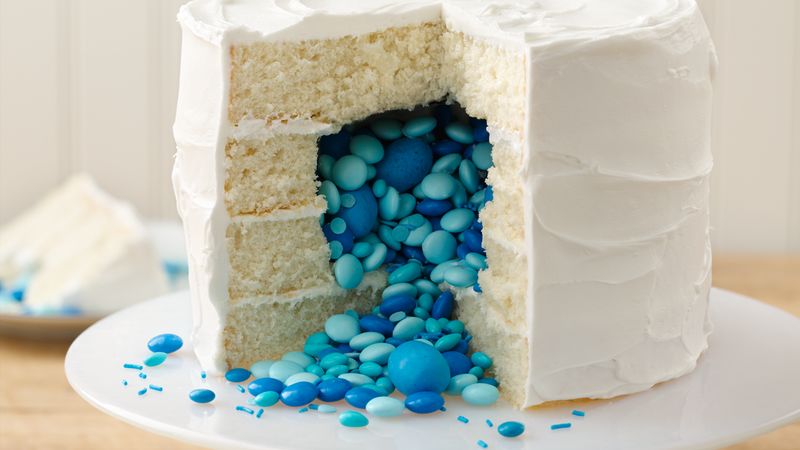 Betty Crockerfilled up a cake with confetti, or well, M&Ms. You can buy all blue or all pink to make this surprise extra special.
4. Baked Right In
Check out how I Am Baker baked the grand surprise right into every delicious slice. Whether boy or girl, you can surprise everyone with his or her scrumptious silhouette.
5. All Ombre
Here's another recipe that doesn't matter whether it's blue or pink, ombre works no matter what! Style Me Pretty will take you through all the necessary steps.
6. Covered in Sprinkles
Ashley Brooke Designs when sprinkle crazy with her gender reveal design. The blue or pink surprise is inside but it's the outside that has us all warm and fuzzy.
7. Question Mark
Over at Wilton, learn how to make this fun and festive cake! Top it off with a question mark and have everyone waiting with anticipation.
8. Hearts Inside
These little cupcakes have blue or pink hearts baked right inside your bite. Check it out at Dessert Now, Dinner Later!
9. Cake Pops
Instead of cutting into the cake, put the surprise on a stick and pass it around to all of your guests! Learn how to make some gender reveal cake pops at Craftsy.
10. Dipped Oreos
You could always dip your Oreos right into the surprise. Sprinkles for Breakfast give us all the details behind this easy bite.
11. Cookie Dough
Sweet Sugarbelle made gender reveal cookies that will certainly surprise you. You can't even tell that there's something hidden in these ones!
12. Hearted Bundt
Try a bundt cake for your gender reveal celebration. You can bake the surprise right inside the rings with this one too with a little help from Momdot.
13. Triple Chocolate
Bake Love Give made a triple chocolate gender reveal cake that we're drooling over. And we're loving the giraffe detailing too.
14. Bumble "Bee"
"What Will It Bee" makes for quite the adorable and charming gender reveal party theme, don't you think? Top off your cake with the essential and bake your favorite! (via)
15. Pretty Piñata
Here's another piñata cake concept that turned out oh so pretty! Check out the recipe and instructions over at Sweet & Savory.
16. Royal Crown
Showcase that surprise with some royal style. Bite into something a bit prince or princess-like with help from Tablespoon.
17. Classic Layers
Martha Stewart teaches us how to make a classic layer cake that will do its job revealing the exciting surprise. Just visit and follow along with the details.
18. Pink Rainbow
Call Me Cupcake made a pink rainbow cake that we're swooning for. If you're having a baby girl, this is definitely the recipe you'll want to take a look at!
19. Traditional Vanilla
If you want something that will satisfy everyone's taste buds, here's a classic vanilla cake recipe that will do the trick. Add your surprise and call it a day like ASweeter Thing.
20. Easy Marble
Cook Craft Love makes an easy marble gender reveal cake that we're absolutely swooning over. Take the hop over now and check out the recipe.
21. Oh Baby
Check out this Oh Baby design from JoAnn. We love its simplicity and one-layer surprise inside.
22. Simple Cupcakes
Here's another simple gender reveal recipe and this time it's in the form of cupcakes. The Baking Fairy has all the direction you need to make these cuties happen.
23. A Present
Two Chicks From the Sticks whipped up this gender reveal present cake! It's literally a surprise!
24. Chocolate Dipped
Chelsea's Messy Apron made delicious, chocolate-dipped cupcakes that will tell the gender too! Check out all the fun and surprising details after the jump.
25. Cookie Pops
You can even make gender reveal cookie pops for everyone to indulge in! Tastes of Lizzy T will teach you.
26. Ombre Ruffle
Combine ombre colors and ruffle texture with this design from Making It With Danielle. You can do blue or pink here too!
27. Tiny Surprise
With these tiny cupcakes – filled with blue or pink M&M's – you'll get a tiny surprise that packs quite the punch. Snag the recipe at Like Mother, Like Daughter.
28. Modern Looks
You can always go with a clean, modern design as well. Just make sure your surprise is inside because that's what really matters here. (via)
29. Cake Balls
Take it off the stick and leave it as a ball! Wine & Glue show us how to make our gender reveal a bite for everyone!
30. Pink Velvet
If you're having a little girl, go with a straight up pink velvet cake. You can catch the recipe at I Am Baker.
31. Jolly Rancher
You'll need some Jolly Rancher chews to make this one happen. But thanks to Hershey's Kitchen we've got another unique and delicious cupcake recipe up our sleeves.
32. Bright Pastels
This bright pastel gender reveal cake from Adventuress is just so darn pretty! Learn how to make the Swiss meringue after the jump.
33. Gluten Free
If you need something gluten free, we've got you covered. You'll just need to visit Delicious By Dre and learn how to whip this beauty up.
34. Vegan Carrot
If you want a flavor that's a bit unique for this type of celebration, visit Better Raw. You'll learn how to make the reveal with carrots!
35. Another Vanilla
And Baked Perfection has another classic vanilla cake to take a look at. This is a great recipe for a smaller celebration and something more at-home in nature.
36. Gooey Sprinkles
These gooey sprinkles cookies from Goodie Godmother could be a fun addition to the party! Taste your chances after the jump!
37. Watercolor
Learn how to turn your buttercream into a magical watercolor style with help from Ashlee Marie. Follow the video and start practicing!
38. Smell the Roses
Check out this rose cake and gather even more unique ideas with its style and flavoring! It's quite the bright surprise! (via)
39. Blueberries
Here's another blue velvet cake to celebrate your little guy with. This time it includes some blueberries too! (via)
40. Champagne Pink
It is a celebration after all. Instead of toasting with a glass, just bite into this pink champagne cake from Liv for Cake as your official cheers.
41. Funfetti
A funfetti cake is always a great way to celebrate! Just switch out the icing depending your little one's gender and snag the recipe at What the Fork.
42. Blue Ombre
Check out this blue ombre cake – with blueberries – over at Miss Blueberry Muffin. It's the perfect way to tell everyone of the little man in your tummy!
43. Pink Almond
Here's another pink cake that could be great for your baby girl's big reveal. Betty Crocker teaches us how to turn this one out.
44. Fudge Cookies
Easybaked shows us how to bake our surprise right into some indulgent fudge cookies. Take a look at the recipe now!
45. Twinkle Twinkle
Have a grander theme behind your gender reveal party and have that surround the cake too. Gather inspiration from this "Twinkle Twinkle" cake from I Wash, You Dry.
46. Black & White
If you're already good with fondant, this inspiration from Cake Central may be right up your alley. Go with a modern look like this black and white beauty!
47. Cake Gems
Serve up some cake gems with the gender hidden inside. The Cake Blog will teach you how to make them both yummy and pretty too!
48. With Scallops
We love the design behind this scalloped gender reveal cake. Visit Gluten Free With LB for all the directions and ingredients.
49. Confetti Cookies
Craftstorming whipped up some cookies and filled them up with a confetti mystery. Check out all the bake-worthy details after the jump.
50. Little Debbie
Oh Sweet Dayrecreated everyone's favorite Little Debbie cupcakes and filled them with blue or pink cream. These are easier than you may think to make so grab the details now before your big reveal!
51. Present Gender Reveal Cake
A new baby is the most precious gift of all. Pay tribute to the blessing of a new son or daughter with a present-inspiredgender reveal cake design.Parents.comhas the details.
52. Pink and Blue Ombre Pattern Cake
An ombre pattern of pink and blue frosting is a subtle choice for your gender reveal cake. Photo courtesy ofRebecca Cakes & Bakes.
53. He or She? Cake
A simple chocolate cake decorated with sprinkles and a colorful inside layer is sure to be a hit at your baby shower. Photo viaJustine Johnson Photography.
54. Baby Bottom Cake
Frosting roses and a fondant baby bottom make this cake an adorable addition to your gender reveal celebration. Photo viaHalf Baked.
55. Baseballs or Bows?
Another example of a layered gender reveal cake, this design fromPeggy Does Cakehighlights baseballs and bows as the selected boy/girl theme.
56. Touchdowns or Tutus?
If you need a fairly large cake for your gender reveal party, try a layered cake with coordinating boy/girl themes. This touchdowns or tutus design is fromBut a Dream Cakes.
57. Question Mark Gender Reveal Cake
Question mark candles and colorful frosting dots are a quick and easy way to prepare a gender reveal cake for your celebration. Image viaJat Your Service.
58. Rubber Ducky Gender Reveal Cake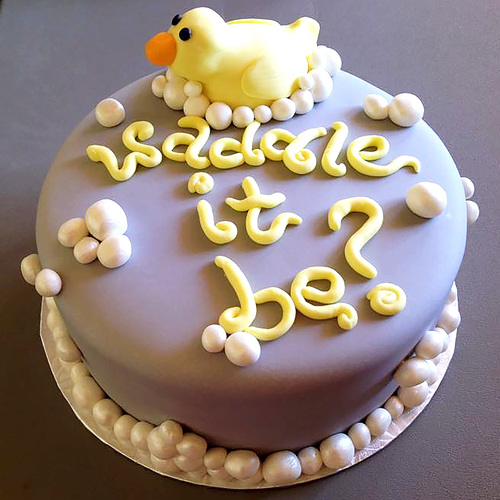 Rubber ducky baby showers are a popular gender-neutral option. Make a gender reveal cake with the "Waddle it be?" saying on the outside. This beautiful dessert is from Rainy Cakes.
59. Dr. Seuss Inspired Gender Reveal Cake
This spectacular gender reveal cake is the perfect choice for the mom-to-be who grew up loving Dr. Seuss stories and can't wait to start reading her favorite books to her new baby.A Sweet Passionhas the details.
60. Baby Shoe Gender Reveal Cake
Baby shoe decorations make for a sweet gender reveal cake design that works with a wide range of shower themes. Photo viaPinterest.
61. Owl Gender Reveal Cake
Guess whoo? Pink or blue? Whimsical owls decorate cute gender reveal cake fromTrinity's Desserts.
62. Gender Reveal Cake for Twins
Use two layers of cake that are tinted different colors to make a gender reveal cake for twins. Photo courtesy ofInstagram.
63. Twinkle, Twinkle, Little Star Cake
Craftsyhas a roundup of clever themed gender reveal cakes, including this design that's perfect for a nursery rhyme themed baby shower.
Final Thoughts
Whatever you're having, we hope that you'll choose a really cool cake to celebrate the event. After all, there are a ton of cute ideas on this page. Let us know in the comments which one you picked.