25 Christmas Macarons To Swoon For – Best Macarons Recipes to Make
Christmas is one of those few times a year when nobody will judge if you eat just a little more than usual and end up putting on a few extra pounds, but if you're going to commit to this, at least sacrifice your figure with something that's really tasty, like some Christmas macarons.
Of course, macarons come in all shapes, sizes, colors, and flavors, and if you're wondering what kind of macarons you should make this year to delight your taste buds, we've created an extensive list of 35 different macaron recipes, so that you can have plenty of ideas to choose from.
Each of these recipes is undoubtedly delicious, but when we chose our entries we tried going for as much variety as possible, thus resulting in a list where each macaron recipe is completely unique.
Of course, don't forget that it's macarons we're talking about here, and these yummy desserts are always assorted, like 4 or 5 kinds of macarons, and that's precisely why we tried including as many entries as possible so that you have plenty of options to choose from.
If you're in a hurry and want to get to our sections first, you should know this is what you'll find below:
Best Christmas Macarons to Serve Your Guests This Holiday
If you have a certain level of experience in the kitchen, you probably already know by now that there can be countless versions of any single recipe, and the same goes for macarons.
Of course, certain recipes are more popular than others, and when did our research to create this list, we wanted to include only the most popular recipes that everyone was talking about in either cooking blogs or on social media.
Out of the hundreds of recipes that we managed to find, these 35 entries made our final cut, so without further ado, here are the best Christmas macaron recipes to make during Christmas 2021:
Best Chocolate Macarons
Following trends is perfectly natural, and when it comes to desserts, there are certain flavors that will pretty much never become outdated, one perfect example being chocolate.
Well, chocolate-based macarons are also very popular, mostly because of the chocolate's naturally rich flavor and texture, so it's no wonder that we have so many entries on our list that are based around or at least contain this iconic ingredient.
1. Holiday French Macarons – Ladurée Macarons
For those of you that aren't familiar with what Ladurée macarons are, they are the finest macaron experience you can have: they're delectable, gorgeous, and provide you with all of the comforts of a genuine European macaron.
Basically, Ladurée macarons are to regular macarons what Parmesan is to regular cottage cheese, and if you have a passion for macarons, then you probably know all about Ladurée macarons and just how famous and good they are.
Well, such a type of macaron was bound to end up on our list, and we're going to showcase you an amazing recipe that will teach you how to make macarons like the confectioners in Paris.
Fortunately enough, replicating the recipe does not require that you have any hard=to-get ingredients, since it uses some of the typical macarons ingredients: ground almonds, confectioner's sugar, fine granular sugar, egg whites
Ad for the macaron filling, the original recipe asks for dark chocolate, heavy cream, and butter.
Unlike the raspberry macarons mentioned above, these macarons don't look as impressive visually, but their texture and taste are absolutely amazing, especially if you follow A Lady in France's original recipe to the dot.
2. Sur la Table Macaron Recipe – Lavender Macarons with Dark Chocolate Ganache
If you have a soft spot for professional recipes like the Ladurée recipes but are looking for something that forgoes fruits for a more floral aroma, then you'll love this recipe for lavender macarons with dark chocolate ganache.
Oh, and did we mention that the recipe is created by none other than Sur la Table, a legendary company when it comes to kitchenware and professional cooking classes?
To make a batch of these delicious macarons, you'll need powdered sugar, almond flour or almond meal, egg whites, granulated sugar, cream of tartar, pure lavender extract, and some lavender food coloring gel (purely for aesthetic purposes).
These lavender shells will then be filled with extremely creamy chocolate ganache which you can make using heavy cream, finely chopped dark chocolate, butter, and some cognac (or brandy).
We won't go into details as to how you can cook these macarons, since that's what Sur la Table's article is for, but as you can probably tell from the ingredients alone, the macarons will taste very differently from all of our other fruit-oriented entries.
Because of this complex and refined taste, and also the alcohol in the cognac, we recommend that you don't make these macarons if you'll be having a lot of kids over, because they'll either not like it, or they might even get tipsy from the ganache.
3. Christmas Macaron Flavors – Chocolate Truffle Macarons
Chocolate has always had a special place in our hearts and depending on the variety used, it can make for a very elegant dessert, especially if you choose very silky and fine chocolate or chocolate truffles that are just a bit bitter.
Well, if elegant Christmas macaron flavors are what you want, there's no way you can get it wrong if you try out this recipe for chocolate truffle macarons, especially if you follow the recipe listed below.
To make the macarons, you'll need almond flour, confectioner sugar, cocoa powder, egg whites, chocolate chips, and heavy cream.
As for what you'll need to mix and bake the macarons, you'll need some parchment paper, a baking sheet, a piping pan, and a pastry tip.
As for how you actually make the macarons, we won't be going into any further details, since all of the exact ingredient measurements and preparation steps are listed on Let the BAKING begin's original recipe page.
4. Holiday French Macaron Recipe – Cute Panda Macarons
If you're a big fan of playing with your food and designing it in such a way that you almost feel bad about eating it, then you'll love this recipe for Panda-themed macarons.
Unlike some of our other entries, these panda macarons will be a bit trickier to make since half of the charm revolves around giving the macarons' shell the iconic Panda bear head shape, and you'll need to follow a special template.
Other than that, the recipe is pretty much that of your typical macarons.
To make the panda shells, you'll need confectioner's sugar, almond flour, granulated sugar, a bit of salt, egg whites, vanilla extract, and black gel food coloring, and for the chocolate ganache filling, you'll need dark chocolate chips and heavy whipping cream.
For more details on what quantities of ingredients you'll need, the steps required to put them together, as well as a PDF containing the panda head template that you must follow, go to Nerdy Mamma's recipe page.
As far as taste goes, these macarons don't stand out too much, but their design alone is more than enough to make the kids go crazy about them, so make sure you bake extra batches!
5. Peppermint Macarons with Dark Chocolate
There's nothing that taste like winter more than peppermint does. And when it's paired with dark chocolate, it's always a knock out of the park. Check out the recipe at Sur la table.
6. Gingerbread and Chocolate Macarons
Milk and Honeycreated some gingerbread and chocolate that seem to fit the winter theme quite well. Decadent, family-friendly, and perfect for celebrating throughout the season, they're a favorite on the list. Grab the recipe after the jump.
7. Coffee Macarons
Mom's Dish went with a coffee flavor macaron. The warmness and sharpness and decadence, again, fits perfectly within the season, especially among the holidays.
8. After Dinner Mint Macarons
A Taste of Kokograbbed inspiration from those fancy restaurants we like to go to on date nights or special occasions. They always end with a scrumptious, melt-in-your-mouth after dinner mint. And that's the flavor you get with these rich macarons.
9. Double Chocolate Macarons
Chocolate is wonderful all year round, but this recipe from Eat Well 101 doubles up on the indulgence. Add a couple of peppermint bits to these to really amp up the seasonal flair. This one is perfect as a DIY gift as well.
10. Spicy Hot Chocolate Macarons
Tis' the season for a cup of hot chocolate. So, what if you used that for inspiration behind your macaron creation? But this one has a slight kick we think you'll really love. Snag it at Chez Us.
11. Raspberry Dark Chocolate Macarons
If you're looking for a winter flavor infused with some fruit, this one will do the trick. Raspberry and dark chocolate go together like peanut butter and jelly. And these ones fromThe Blonde Buckeyeare fashioned after some festive donuts.
Christmas Macarons
The previous macaron recipes were chocolate-filled and delicious, but if they don't seem like the kind of thing you or your guests would like, here are few more fruity recipes that definitely deserve your attention. They're just as delicious and easy to make, so go ahead and read more about them; they might be precisely what you have been looking for!
12. Holiday Macarons – Raspberry Pink Macarons
When it comes to the typical dessert, the impact that it will have on your guests is dictated by the following:
50% how it looks
50% how it tastes
Well, if you're looking for some holiday macarons that score really high marks in the visual department, then you have to read about these raspberry macarons made by House of Nash since they look like something you'd see in a confectioner magazine.
To make these macarons, you'll need almond flour, both powdered and granulated sugar, raspberry powder (made from fresh raspberries), and egg whites, and mixing all the ingredients together will require that you use a very good food processor.
The fresh raspberries will make all the difference in regards to flavor, but if you're not able to get your hands on any, then feel free to use frozen ones instead, since this isn't a deal-breaker when it comes to having a delicious treat for everyone at your holiday dinner.
As far as the end result goes, you'll be impressed with how tasty these look, and that's mostly because of the raspberry dust.
13. Best Holiday Macaron Flavors – Strawberry Macarons
If raspberries aren't really your thing, or you're allergic to them, but you still want your macarons to be fruity and pink, then a great alternative would be that all-time favorite fruit when it comes to desserts: strawberries!
This recipe from Baked by an Introvert is perfect for those that aren't too experienced in making macarons, since the steps are overly simplified, and the ingredients are not too hard to come by (according to macaron standards).
You'll need almond flour, granulated and powdered sugar, strawberry powder, egg whites, cream of tartar, and some butter, and if you want the macarons to look even more colorful, you can add a few droplets of red food gel.
As for the strawberry powder, you can get it as is from your local grocery store, although we recommend that you make it yourself by freeze-drying strawberries and then grinding them to a fine powder using a very good food processor.
These strawberry macarons are some of the best holiday macaron flavors precisely because they're such a classic, and they are perfect for serving alongside other classic flavors, like chocolate or vanilla macarons, and a nice fine of sweet champagne.
14. Christmas Macarons Recipe – Blueberry Macarons
Macarons are known for several things:
They're lightweight
Their aerated and extremely fine texture
The abundance of colors that are more or less extravagant
Well, if you're looking for a Christmas macarons recipe that takes full advantage of that last criteria, you can go ahead and make naturally purple/blue macarons by using blueberries, just like they did on Pies and Tacos.
Sure enough, the secret to these macarons isn't just the unique blueberry flavors of the fact that they're blue, it's also the fact that these are the only recipe on our list that makes extensive use of mascarpone cheese, so if you love your desserts extra creamy, this is it.
To make the macaron shells, you'll need eggs whites, granulated sugar, almond flour, powdered sugar, and some purple food gel (optional).
As for the filling, you'll be using blueberries, maple syrup, cornstarch, water, mascarpone, powdered sugar, vanilla extract, and whipping cream, to make the two-color filling.
For exact ingredient measurements as well as for instructions on how to make the macarons, go ahead and visit the Pies and Tacos' recipe page.
15. Winter Macaron Flavors – Lemon Macarons
For many of us, the smell of citrus in winter is something that will instantly give us a sense of nostalgia from the days when we use to be kids, and that's why a lot of us love to peel and eat oranges by the bag each day during winter.
Well, you can't serve your guests a platter of freshly-peeled oranges (well, you can, but it can get messy), so we suggest that you try an alternative: lemon macarons!
To make the shells of these golden goodies, you'll need almond flour (or meal), confectioner's sugar, egg white, granulated and powdered sugar, cream of tartar, some yellow food gel (optional), and some lemon zest and lemon extract to give the macarons their refreshing fruity taste.
As for the creamy filling, the recipe is almost intuitive: butter, powdered sugar, milk vanilla paste, and, obviously, lemon zest and lemon extract.
Some of you may be wondering whether or not the lemon zest will make the macarons taste a bit sour or even bitter, but we would like to assure you that is not the case at all, since the 3 types of sugar will do a good job at masking all of that.
The folks at A classic Twist did an excellent job of writing a step-by-step tutorial on how to make lemon macarons, and they even included illustrations to show you how beautiful and delicious they will look when they're done.
16. Holiday Flavored Macarons – Baby Yoda Macarons
Just because we made a list featuring Christmas-themed macarons doesn't mean that we have to limit ourselves to traditional colors like red or green, and traditional flavors like gingerbread or cinnamon.
Thus, if you want to try some holiday flavored macarons that look like space and taste like Sci-Fi, go ahead and try these baby Yoda macarons (also known as the blue space macarons).
Fortunately, you don't need Mandalorian egg whites or stardust to make these macarons, and BellyFull did an excellent job at showing us how we can make them in our kitchen without any alien technology.
Instead, you'll need egg whites, powdered sugar, granulated sugar, almond flour, and extract, some blue and teal food gel to give them their iconic look, and some regular cream of tartar to make the filling.
All in all, the recipe is easy to make as long as you have some basic knowledge of making macarons, but the real reason we decided to include this entry on our list is that the original creator of the baby Yoda macarons is selling them online at a very high price.
That being said, making them yourself will be a big money-saver.
17. Mulled Cranberry Macarons
Cranberries are the fruit of the winter so it is only fitting that we have a flavor on this with a hint of its tartness. The mulled addition brings an extra kick to really tempt your guests. Find the recipe at A Cookie Naked Desire.
18. Cinnamon Roll Macarons
Solano's Kitchen was inspired by flavors that we love to have for breakfast on Christmas morning. Cinnamon roll macarons are so warm, inviting, and delish for the entire family to indulge it. They're quite pretty to look at too.
19. Eggnog Macarons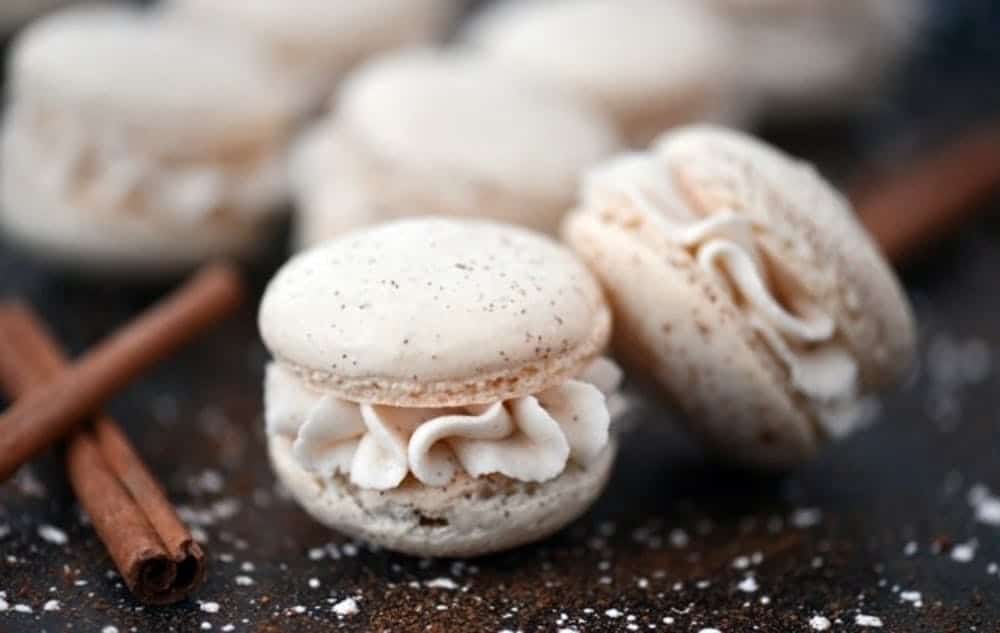 The Gunny Sack went back to the basics with their inspiration. What's the classic holiday drink throughout the wintertime? It's eggnog of course! Snag the know-how and let us know how your creamy dreams turn out.
20. Salted Caramel Macarons
If you're a fan of salted caramel flavors, run on over to 52 Kitchen Adventures. You'll be able to snatch the recipe and whip some up in the kitchen by the evening. This flavor fits the decadence of this time of year perfectly.
21. Red Velvet Macarons
Red Velvet is another flavor of the season and you can easily incorporate this into your macaron making. VisitDixie Crystalsto learn all the ins and outs of these bites.
22. Tiramisu Macarons
Tramplingrosegives you all the 4-1-1 on these tiramisu macarons. Inspired by the classic, Italian dessert, these bites will put a pep into all the steps of your friends and fam. It's a favorite on the list!
23. Bacon Maple Macarons
Another warm and cozy flavor combination is up next! It's the bacon and maple concoction that's so addictive once you're brave enough to try! Check it out atEat Show and Tell.
24. Salted Caramel Macarons with Popcorn Topping
Yes, you read that right. Accompanied by a "pop" of salted caramel, this is the best bite for your winter movie night. Recipe here.
<h3="vegan">Vegan Macarons
Because one of the base ingredients for macarons is whipped egg whites, a lot of people think that macarons are not vegan.
However, this is a myth – you can make vegan macarons – because it's possible to prepare egg whites from other ingredients, such as soy or almond milk, and you can also use oil instead of butter for the filling.
So if you're a vegan who wants to try out some delicious French desserts without worrying about accidentally ingesting animal-derived products, go ahead and give these homemade vegan macarons a chance.
25. Christmas French Macarons Flavors – Vegan Peanut Butter Macarons
When it comes to making DIY desserts, peanut butter has always been a lifesaver, since it's delicious, it has a nice texture for baking goods, and it's also easy to come by, and that's precisely why it's the basis for Tasty's vegan peanut butter macarons!.
You'll need chickpea liquid, also known as aquafaba, which will be our main egg white substitute, powdered sugar, almond meal, dark cocoa powder, cream of tartar, granulated sugar, and finally the eponymous peanut butter.
Making these macarons is pretty straightforward since all the ingredients will go together as with regular non-vegan macarons, the only difference is that you'll be beating the aquafaba instead of the egg whites, as the two products will result in a near-identical firm mousse.
Baking the macarons takes only around 30 minutes, and you'll need to leave them to chill for about 15 minutes, so if you include the preparation time, it takes about an hour to make these delicious vegan goodies from start to finish.
The best thing about these macarons is that they're not only good for vegans but also people that have an egg allergy, which is pretty common nowadays.
As for what type of peanut butter goes best, we recommend that you always use the smooth kind, because the crunchy kind doesn't go too well with the naturally smooth and fine texture of macaron shells.
FAQ: Learn Everything There Is about Macarons
Before you start making those puffy macarons, take a moment of your time and check out this last section of our article, where we will give short and concise answers to some of the most frequently asked questions regarding macarons.
We consider this necessary since some of the questions cover the very basics of what it means to make macarons, so knowing the answer to each of them will prove to be very helpful.
1. How Do I Make Macarons?
The simplest way to make macarons is by following these simple steps:
1. Whip the egg whites to a stiff peak

2. Sift the almond meal, icing sugar, and cornstarch together

3. Gradually add the whipped egg whites to the dry mixture

4. Pipe or drop small rounds of batter onto a Silpat or parchment paper-lined baking sheet

5. Let them rest for 30 minutes to an hour before baking

6. Bake for about 10 minutes, or until they are firm to the touch

7. Let them cool before filling with your favorite ganache, jam, or buttercream
2. Macaroons vs Macarons: How Do You Pronounce It?
Macaroon is pronounced identically to "macaron."
A major difference between these two desserts is that macarons are sandwiched together with buttercream, jam, ganache, or some other filling in the middle, while macaroons are generally dipped into chocolate or sprinkled with coconut topping.
3. Do Macarons Need to Be Refrigerated?
Macarons are not perishable, which means they do not need to be refrigerated. However, some macarons contain fresh fruits or cream cheese, meaning that they cannot be left at room temperature for longer than a few hours.
Therefore, whether or not you refrigerate your macarons is entirely up to what ingredients you used.
As for the non-perishable ones, we recommend that you store them in a dry and cool place, like a pantry.
4. Why Are Macarons So Expensive?
The price of macarons may vary depending on where you live or purchase them, but generally speaking, they are rather expensive because macarons are made with almond flour and filled with fresh cream.
Therefore, almost half of their volume consists of pricey ingredients, and there's no way you can look for any cheaper alternatives since the macarons will then lose their iconic taste.
5. How Long Do Macarons Last?
If stored properly, macarons can last up to a month, although it all depends on what type of ingredients were used, since certain macaron recipes are a lot more perishable than others, such as those that rely heavily on the fresh cream filling.
More so, macarons can be frozen for up to two months without any adverse effects.
6. How to Store Macarons?
When it comes to storing macarons, there are certain things you need to take into consideration. First of all, macarons are best kept in an airtight container in a cool, dry place, away from sunlight and moisture.
Secondly, before storing the cookies, wait for them to completely cool down. We recommend that you put them away as soon as they come out of the oven so that they stay fresh and store-worthy for longer periods of time.
As we already stated above, different recipes call for different storage methods and rules since some macaron flavors are more perishable than others.
7. What Do Macarons Taste Like?
The taste and flavor of macarons vary depending on the recipe and ingredients used. However, they are typically sweet since their main ingredient is sugar.
They can be flavored with natural extracts, nuts, fruit purée, jam, caramel, or chocolate. Macarons have a delicate texture that contrasts with the filling of choice.
8. Are Macarons Gluten-Free?
Most types of macarons do not contain gluten because almond flour is naturally gluten-free. However, there might be some recipes out there that call for ingredients with gluten in them, so it is best to check each recipe before trying it.
9. Where to Buy the Best Macarons?
According to many food experts, these companies make some of the best macarons in the world:
Ladurée

Sur la Table

Joy Macarons

Sadaharu Aoki

Woops Macarons
10. Why Do You Wait 24 Hours to Eat Macaron?
When you first make them, the macaron shells are very hard, so you need to place them in the fridge in an airtight container so that they absorb some of the moisture from the filling to become softer, which takes about 24h.
Once those 24 hours pass, the macarons will retain their texture for about 3 or 4 days, after which they start to get crumbly.
Best Christmas Macarons: Closing Thoughts
After listing so many macarons, it's time to actually start baking them as well, so we'll be ending our article here with the hope that at least one of our 25 entries managed to convince you to try your hand at macaron making.
Keep in mind that macarons are a bit more difficult to make than your average cookie, but the end result is well worth all the effort, so don't get discouraged if they don't turn out alright the first few times you try it.
Sure enough, the ingredients aren't very cheap, but with enough patience and practice, you'll end up making the perfect batch of macarons that will have everyone at your Christmas party talking.
For more useful articles that will teach you how to make this Christmas an unforgettable one, check out our other lists, guides, and recipes, since we've written plenty of them.
Besides, you too can contribute to making these articles better by leaving helpful feedback in the comments section below!
All in all, we hope you enjoy baking these goodies, and that everyone will praise your cooking skills once they take a bite out of them!
Merry Christmas!