15 Winter Macarons Flavors To Swoon For (And Bring To The Cookie Swap!)
Really knock the socks off of all of your friends and family by bringing one of these to the party. They may be a bit harder to make than other cookies, but they are oh so worth it and so impressive when they're done right. These 15 winter macaron flavors are absolutely swoon-worthy and perfect for presenting at the cookie swaps all season long. Have a scroll through some of the tastiest, French-created combinations!
1. Mulled Cranberry
Cranberries are the fruit of the winter so it is only fitting that we have a flavor on this with a hint of its tartness. The mulled addition brings an extra kick to really tempt your guests. Find the recipe at A Cookie Naked Desire.
2. Cinnamon Roll
Solano's Kitchen was inspired by flavors that we love to have for breakfast on Christmas morning. Cinnamon roll macarons are so warm, inviting, and delish for the entire family to indulge it. They're quite pretty to look at too.
3. Peppermint Dark Chocolate
There's nothing that taste like winter more than peppermint does. And when it's paired with dark chocolate, it's always a knock out of the park. Check out the recipe at Sur la table.
4. Gingerbread and Chocolate
Milk and Honey created some gingerbread and chocolate that seem to fit the winter theme quite well. Decadent, family-friendly, and perfect for celebrating throughout the season, they're a favorite on the list. Grab the recipe after the jump.
5. Eggnog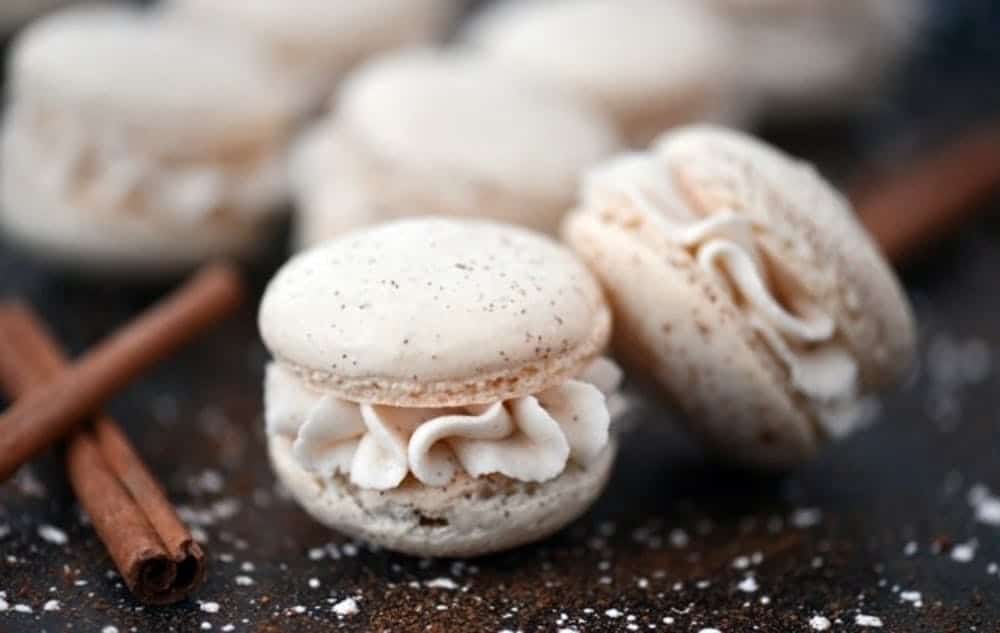 The Gunny Sack went back to the basics with their inspiration. What's the classic holiday drink throughout the wintertime? It's eggnog of course! Snag the know-how and let us know how your creamy dreams turn out.
6. Salted Caramel
If you're a fan of salted caramel flavors, run on over to 52 Kitchen Adventures. You'll be able to snatch the recipe and whip some up in the kitchen by the evening. This flavor fits the decadence of this time of year perfectly.
7. Red Velvet
Red Velvet is another flavor of the season and you can easily incorporate this into your macaron making. Visit Dixie Crystals to learn all the ins and outs of these bites.
8. Tiramisu
Tramplingrose gives you all the 4-1-1 on these tiramisu macarons. Inspired by the classic, Italian dessert, these bites will put a pep into all the steps of your friends and fam. It's a favorite on the list!
9. After Dinner Mints
A Taste of Koko grabbed inspiration from those fancy restaurants we like to go to on date nights or special occasions. They always end with a scrumptious, melt-in-your-mouth after dinner mint. And that's the flavor you get with these rich macarons.
10. Bacon Maple
Another warm and cozy flavor combination is up next! It's the bacon and maple concoction that's so addictive once you're brave enough to try! Check it out at Eat Show and Tell.
11. Popcorn
Yes, you read that right. Accompanied by a "pop" of salted caramel, this is the best bite for your winter movie night. Recipe here.
12. Coffee
Mom's Dish went with a coffee flavor macaron. The warmness and sharpness and decadence, again, fits perfectly within the season, especially among the holidays.
13. Double Chocolate
Chocolate is wonderful all year round, but this recipe from Eat Well 101 doubles up on the indulgence. Add a couple of peppermint bits to these to really amp up the seasonal flair. This one is perfect as a DIY gift as well.
14. Spicy Hot Chocolate
Tis the season for a cup of hot chocolate. So, what if you used that for inspiration behind your macaron creation? But this one has a slight kick we think you'll really love. Snag it at Chez Us.
15. Raspberry Dark Chocolate
If you're looking for a winter flavor infused with some fruit, this one will do the trick. Raspberry and dark chocolate go together like peanut butter and jelly. And these ones from The Blonde Buckeye are fashioned after some festive donuts.