50 Fabulous and Fun Face Paint Ideas You Can Recreate at Home!
Whether you're researching Halloween face painting ideas already, or you just want to have a fun afternoon with your kid, we know a few cool face painting projects you can try out.
We split them up between ideas for adults, with varying degrees of difficulty, and ideas that will go well for your kids. They're all so cute, we kind of want to try them all out. Of course, practice makes perfect, so there's one advantage to testing as many of them as possible.
In total there are 50 projects you can glimpse at, some with tutorials, some just as inspiration. Let's get started!
Face Paint Ideas
1. Amethyst Takeover
PopSugarfeatured this stunning beauty on their list of face painting ideas and we immediately fell in love. Is she a mermaid? Is she a witch? We're not exactly sure, but it'll be so much fun to recreate.
2. Leopard
Learn how to make leopard spots! The tutorial is shown on a young lady but once you know how to create them, you can utilize them for yourself too! (via)
3. Minions
Smashing Beautyshowed us how to turn our faces into everyone's favorite pest. Transform yourself into a Minion after the jump!
4. Day of the Dead
Sugar skulls are so much fun to work with, whether in art or decor. And if you hop on over toI Love Body Art, you'll learn how to paint with the inspiration.
5. Avatar
College Timesgives us a fabulous, step-by-step tutorial for turning yourself into one of the blue beauties from Avatar. You can really wow the crowd this Halloween.
6. Olaf
Who is a fan of Frozen? And who's your favorite, warm-hugging snowman? Check out thisYouTube video and turn yourself into Olaf himself!
7. Little Red Riding Hood vs. Wolf
It looks like Little Red Riding Hood fought off the wolf and now she's left with some claw marks on her face. This is a stunning face paint that certainly requires a bit more skill than your regular project! Mix in a milky white contact lens, and you've got yourself an impressive result. Get the idea from @viga9562 on Insta.
8. Cloudy Sky
We have a cloudy sky situation here and it's absolutely stunning, as we pass from the pink morning sky to the orange sunset to the stary night between the cheeks and forehead. Such a beautiful design from @darafaresilla.
9. Stained Glass Masterpiece
Reminiscent of Beauty and the Beast and the glass-enclosed rose, this beautiful creation allows you to play with lines and tones as you create a stained glass effect. Check out this design and more from @chesmarshmakeup.
10. Venom vs. Spider-Man
Venom and Spider-Man are some of our favorite superheroes and their relationship is complicated. Nonetheless, if you want to show off just how complicated, you can get a face paint design to highlight both. We found this on @wjfestaseeventos' Insta and we just love it!
Easy Face Paint Ideas
11. Monster High
Party Delightsshows off how to turn yourself into one of those fun, Monster High dolls. There are tons of different variations to choose from to!
12. Spider Web
A simple spider web on your face can be a little trickier than you could imagine. Follow along with the tutorial and don't forget to put your own unique spin on it! (via)
13. Wolverine
Check out thisYouTubevideo and learn how to turn your man into Wolverine! This is also perfect for superhero parties and sleepovers.
14. Dragon Scales
Are you a lover of fantasy? Whether you're going to a Renaissance fair or want a fun look come this October, check out this dragon-inspired style fromThe Fairy Tale Store.
15. Panda
This cute little panda is both easy and adorable to recreate! Turn yourself into the "bear of the ball" with just a few easy tips. (via)
16. Butterfly
We're loving this sweet, butterfly style too. With a bit of glitter, this simple design gets a punch of personalization and zest. (YouTube)
17. Flower Fairy
And if you visit thisYouTubevideo, you'll also learn how to create this charming, flower fairy look. It's simple, full of color and you can easily personalize it as well.
18. Dripping Hearts
A really cool idea comes from @_sitirhni on Insta who mixed in beautiful rose and gold eyeshadow with some dropping heart tears, a reminder for every time we cried due to broken heart. It's a beautiful and easy design that you can certainly create on your own.
19. Tree in Bloom
With spring approaching, face paint featuring a tree in bloom is the right way to go here. Create the branches with some brown and then add in some pink and purple flowers. Match the design with pink eye shadow! This is such a cute design from @camrynrwinn_.
20. Twirly Flowers
One of the easiest and most often encountered face paint models is this twirly flowery one. Carry out your eye shadow and add in extra swirls in similar tones. Mark up some white dots and you're good to go. The design comes from Kaleidoscope Face Paintings on Flickr.
Kids Face Paint Ideas
21. TMNT
If you visitShe Knowsyou'll learn how to transform a face into one that resembles your favorite teenage mutant ninja turtle. Check out the details after the jump!
22. Monkey
The kiddos would love to have an adorable little monkey painted on at the party. And fortunately, we found a DIY that gives you all the details. (via)
23. Skeleton Carmen from The Book of Life
She Knowsalso shared this sugar skull tutorial that we're loving. Inspired by the movie, The Book of Life, you'll have so much fun recreating this look.
24. Scary Pumpkin
You'll need to hop on over and visitShe Knowsjust one more time to learn how to make this cracked, scary pumpkin design. Big ones and little ones alike will want to flaunt this around Halloweentime.
25. Puppy Dog
Now this one is absolutely adorable! A bit of white powder or paint, some brown paint, a bit of imagination, and you have yourself an absolutely adorable face paint that turns your little one into a puppy you want to tickle. Get the design from Cheryl Vacher on Flickr.
26. Zombie Face
This zombie face is absolutely stunning with the green paint covering the upper side of the face and the 'exposed' brain. It requires some patience and some skill, but we know you'll get it done. Get a step-by-step tutorial from Face Paint.
27. Angry Birds
Who wants to be an angry bird?! We know a few kids that would love to be Red for the next party. You'll need white, red, black, and yellow face paint and you're good to go. Plus, you get to follow the guide from here.
28. Simba
All kids love Lion King and the Lion Guard shows, so why not transform them into Simba? It's such a lovely character, but it is a more challenging face paint to make. However, you can follow a step-by-step tutorial and you'll be good to go.
29. Tiger
This roaring tiger face paint idea works for all kids who love tigers. So, get some white, yellow, black, and orange face paint and start creating. This tutorial will help you through the whole thing, but you do need to be careful at every step since it's a more complicated design.
30. Cat
This little kitty cat will meow at you all day if you don't get the face paint right! Mix in some white and black and you're good to go with this design, making sure to properly color in the nose, the whiskers, and the bridge of the nose. Such a cute design from @messymommynl.
Face Paint Ideas for Boys
31. Pirate
Atop Serenity Hillfeatures a quick tutorial on pirate face paint! It's perfect for the older and younger swashbuckling babes!
32. Ninja
You can easily turn your little boy into a stealthy ninja with blue and black face paint. Draw some lines to make it seem like he's wearing a proper ninja mask, fill in the area below the nose and the forehead with blue, and then draw a cool dragon on the forehead too. Such a cute idea from @jo.burge2 on Insta.
33. Batman
Superheroes and kids go super well together, so let's turn your little guy into a Batman fan with bit of face paint! To make sure the batman sign is much more evident, you'll want to also draw some background for it! Such a cute design from @acefacepaints.
34. Captain America
Captain America to the rescue! With a bit of blue, white, and black paint, you can turn your lil kid into Cap. If you also have his toy shield, he's good to go to save the world with the Avengers! Get the idea from @chandra.satterwhite on Insta. So lovely!
35. Flash
Who's the fastest of them all? Likely the Flash! So, let's get on to drawing the Flash's mask on your lil boy! Red, white, black, and yellow face paint and a bit of creativity and you're good to go. Such a cute idea from @jullynunes.makeup.
36. The Hulk
The Hulk can be a big meany to his adversaries, but he's one cool dude. So, if your lil one wants to be the big green man, you can definitely help him out with a bit of green and black face paint! Get the idea from @inna.shtein.
37. Tiger
This lil tiger will certainly have a wonderful day now that he matches his favorite animal in the world. It's such a cute design with white, orange, and black face paint. Get the idea from @inna.shtein on Insta.
38. Dragon
If your kid is into dragons, then you really must try this design. It's such a cute one that will make your boy very happy. Use green, black, white, yellow and red face paint and create this really cool design from Michelle Patterson on Flickr.
39. TMNT Leonardo
Teenage Mutant Ninja Turtles are some of the coolest cartoons ever, especially since many of us grew up with them. Now, when we see our kids interested in the same characters, it's a sweet feeling. This really cute little guy got turned into Leonardo with a bit of green, black, white, and blue paint. The design comes from Elaborate Eyes.
40. Spider-Man
We really couldn't complete a list of face painting ideas for little boys without some Spider-Man, right? So, check out these really cool ideas from Face Paint and try making them yourself, especially since there are step-by-step guides available.
Face Paint Ideas for Girls
41. Hello Kitty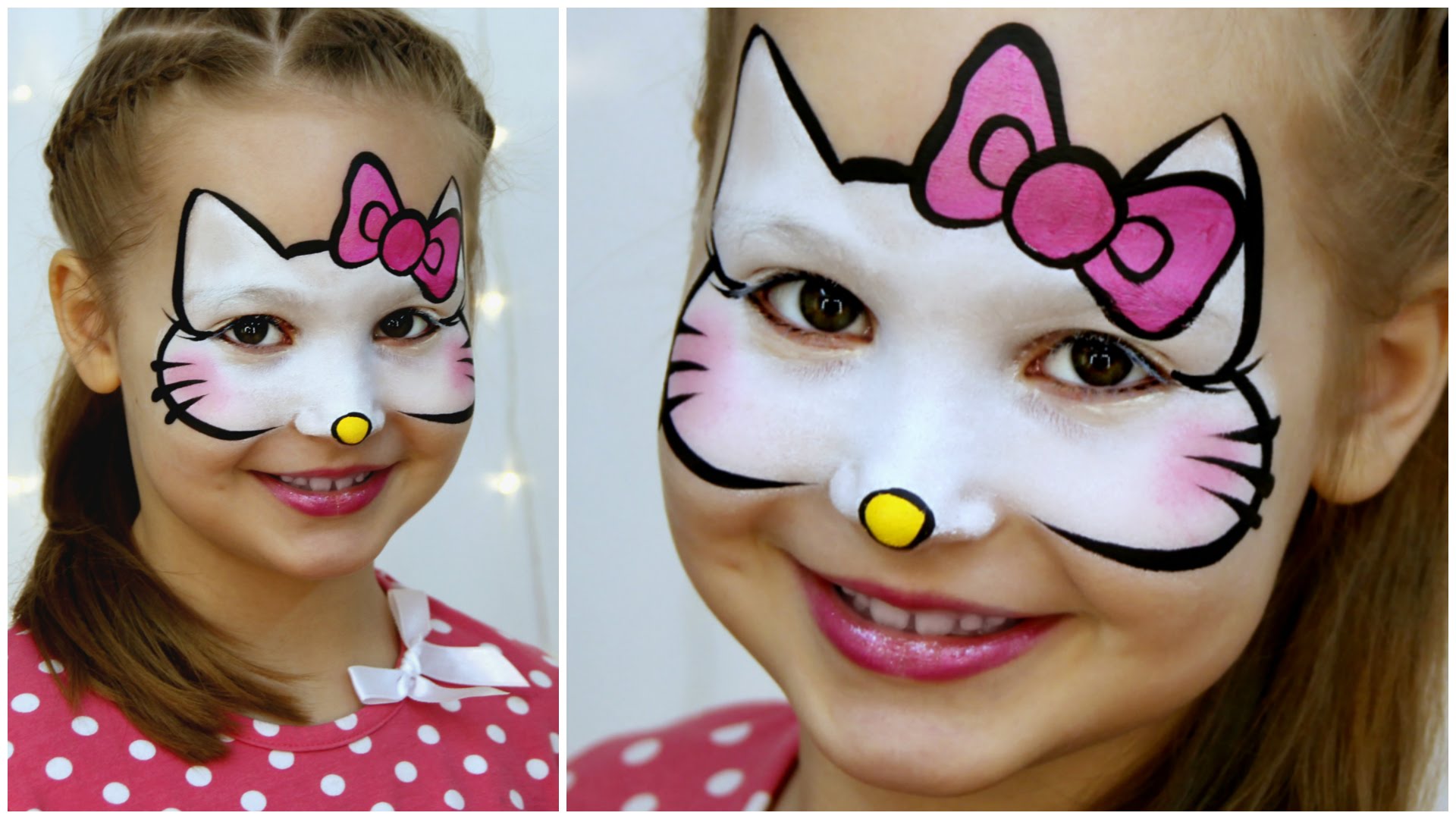 Do it for yourself or your little girl! Everyone loves a bit of Hello Kitty and thisYouTubevideo will give you all the know-how you need.
42. Fairy Princess
Whether it's Halloween or a sleepover for your little one, this fairy princess look is a great one to have in your repertoire. It's easy and so much fun to get creative with! (via)
43. Cupcake Cutie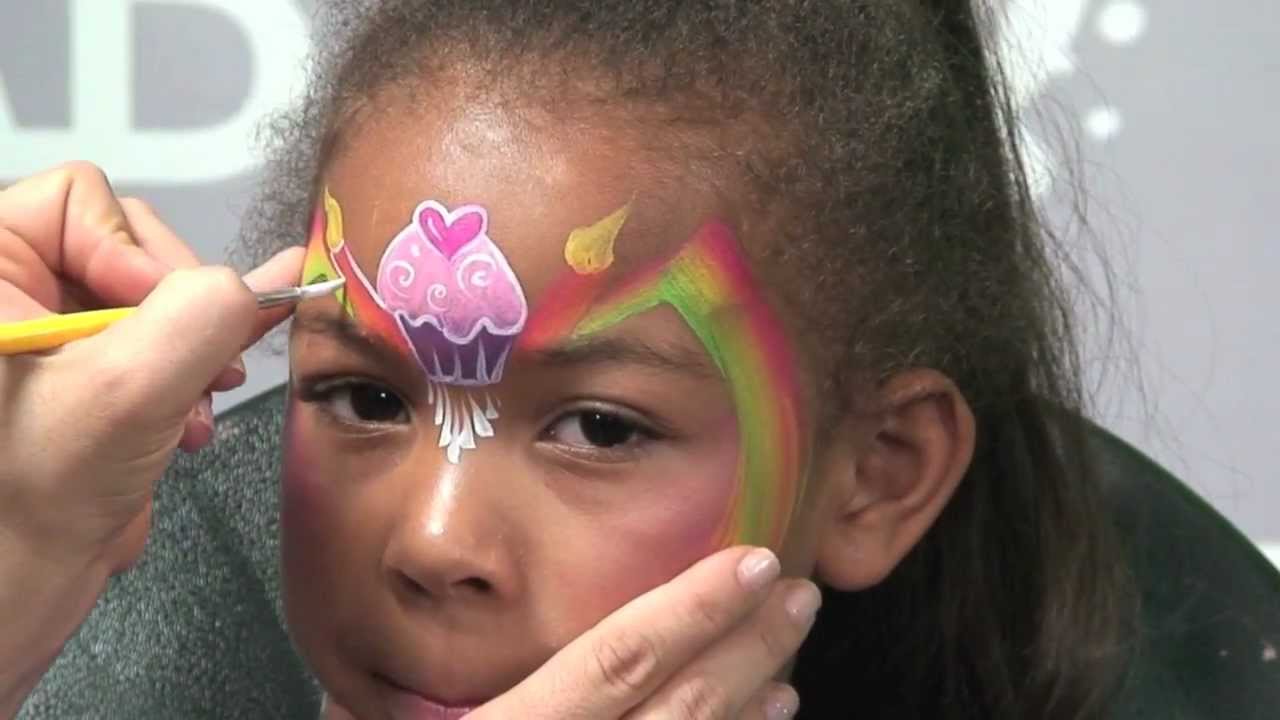 Cupcakes are a must-know too, especially for celebrations with the little one! Here's anotherYouTubethat will divulge all the details.
44. Fluffy Bunny
We have this adorable little bunny on our hands and we can barely handle it! The adorableness! Use some white, pink, and black face paint to get the same design as @anastasiya_facebodyart did.
45. Flowers and Rainbows
This next design is so beautiful and we kind of want it ourselves! A bit of rainbow, a few colored flowers that are so beautiful they will take your breath away! Such a beautiful design from @thegltrbox on Insta.
46. Elsa
Every little girl loves Frozen, so let's help turn them into Elsas with just a touch of face paint. With just a bit of blue and white paint, you can create such a beautiful design to go with their blue dresses. Also, add a rhinestone or two if you want to. Get the design from Naztrida on Flickr.
47. Tigress
Rowr! This little girl looks so pretty with this face paint, using brown, yellow, white, and black paint to create such a wonderful design. By adding in the white and black around the eyes, it resembles more the tigers in the wild. Get the design from @mifacebeauty.
48. Unicorn
Everyone loves unicorns, so let's turn a little girl into one! With a bit of white and pink paint you can draw the top part of the unicorn's head, add in a bit of yellow for the horn. Also, add some colorful paint on the eyelids, going for a rainbow if possible. So pretty! Check out the tutorial on Face Paint.
49. Butterfly
Butterflies are beautiful and gentle and inspire everyone. With a bit of black, blue, and purple face paint, you can create a beautiful design like this one from @sophscreationsss.
50. Catwoman
Catwoman is a pretty cool character and you can definitely paint her on your girl's face. You need black, blue, and white paint to get this done. Get inspiration from Elaborate Eyes.
Final Thoughts
We think these are some pretty awesome ideas and you have plenty of room to choose from, whether you want ideas for yourself or for your kids. The difficulty level varies, but we're sure you'll manage just fine. Let us know which ones you liked best by dropping a comment in the section below!