DIY Rustic Heart Decor for Wall
Throughout all of my years as a crafter, I've always adored making heart shaped things. I just find hearts such an easy, cheerful detail to add some personality to my space with! Often, however, heart shaped crafts are brightly coloured and don't fit my home's current decor scheme, which is a little more rustic chic and slightly beach inspired. I like florals, natural finishes and neutral colours, so I've been trying to come up with creative DIY ways to combine those things with the heart shape I love so much in order to make something that will suit my space a little bit better. That's how this cute hanging vintage heart decor piece, that I've actually made several times now, came to be!
As I often do when I'm crafting, I decided to document the process that went into making these little decorative hearts. I love when other people share visuals and instructions when they make something fun and new, so opted to do the same thing for others with this project. Check out these step by step instructions complete with photos! If you'd rather follow along with a video tutorial instead of written words, scroll to the bottom of this post to find just what you're looking for.
For this project, you'll need:
Heart shaped wooden base

White felt

Scissors

Hot glue

Lace ribbon

Flower embellishments
Step 1:
Gather your materials! I got my heart shaped wire and wooden strip wrapped heart and my local craft store, which kicked off the whole idea and inspired the entire project. Cut a strip about an inch wide and four inches long from your felt sheet. Cut this into three even little rectangles and then round off the corners and straight edges to make little white leaves with circular bottoms and pointed tips, almost like a teardrop shape. I used one corner on each rectangle as the leaf's pointed tip and rounded the rest off from there.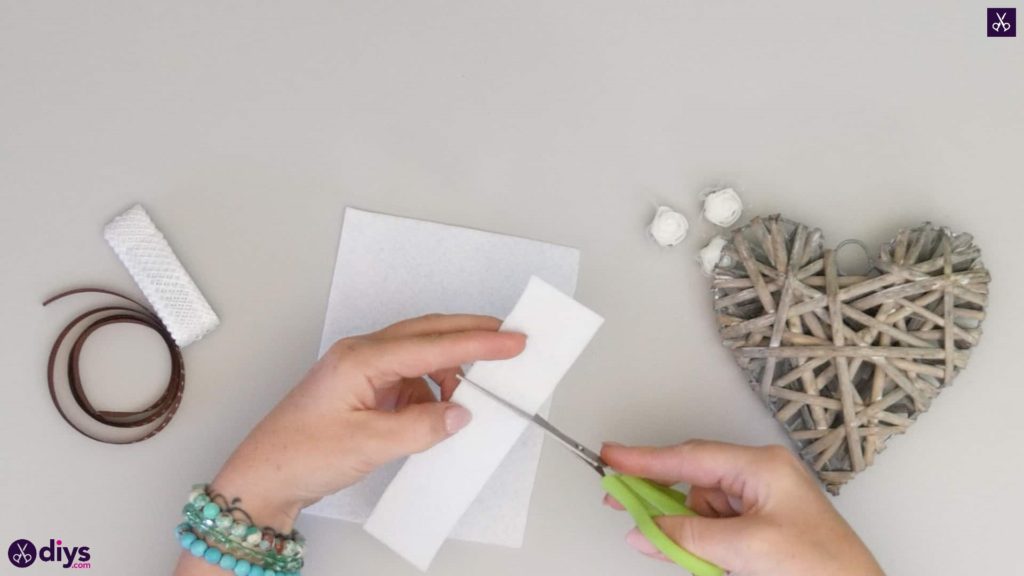 Step 2:
Cut a piece of ribbon about four inches long and fold it in half so its loose ends meet and the other end is a bend halfway down its length. Slide the bent end through the ring on the top of your wood and wire heart (or between the wood pieces if your heart doesn't have a loop) and make a slip knot by putting the loose ends through the bend in the ribbon and tightening the knot down over and around the loop. You can tie the ends of this piece into a knot to make a hanging loop for your heart or leave them loose and decorative if you'd rather just lean it on the mantle; whichever you please.