25 Best Trellis Ideas for Gardens and Home Decor
If you're looking for stylish and functional trellis ideas for your garden or home decor, we've got you covered. Check out these simple DIY projects and learn how to make your own trellis to add charm to your outdoor space.
Adding a trellis is a great option if you're looking for ideas on how to improve your backyard. It provides shade and privacy, and can add an interesting visual element to your yard. There are many different types of trellises available, so you can find one that matches your style and needs.
Beautiful and Practical Trellis Ideas to Try This Year
Here are some trellis ideas to get you started:
1. Simple DIY Pergola – Arbor Trellis
A Piece of Rainbow teaches you how to make a DIY pergola. They also included downloadable schematics and a list of supplies necessary for making this arbor trellis from scratch.
You'll need posts, beams, bracers, and runners. A lot of wood is required, together with carpentry skills.
Sure enough, a pergola like this one is worth building if you have a large flower garden since building something so beautiful and elegant just to have beans hang on to it would be overkill.
Discover more excellent DIY pergola ideas.
2. Easy DIY T-Post Trellis Fence
If you don't care about aesthetics too much and are just looking to put together a trellis that will do the job, this easy DIY twig trellis from Chicken Scratch NY is a great option.
It's made from t-posts that you can get at any hardware store, some zip ties, and some branches.
Supplies:
Two heavy-metal T-posts
Several tall poplar saplings
Heavy-duty outdoor zip ties
A pair of hand pruners or loppers
A hand saw
A hammer
It's really easy to put together and doesn't require carpentry skills. However, this trellis fence might not be as sturdy as some of the other options on this list, so it's better suited for lightweight plants.
3. Fan-Shaped Wood Trellis
Wood trellis designs are rustic and elegant, and this fan-shaped trellis from Hometalk is an excellent example.
It's made from recycled wine crates. And it's a terrific project for anyone who wants to build an original trellis without any arches and rectangles.
Making this trellis is relatively easy. The only real challenge you'll probably face is getting the measurements and angles right, especially if you prefer a symmetrical trellis.
4. Teepee – Pole Bean Trellis
This bean pole teepee idea from Artful Parent is a trellis that also serves as a beautiful, all-natural shelter, especially for the little ones.
Supplies:
Bamboo or wooden poles at around 8-10 ft. each
Pole bean seeds or annual climbing flower seeds
Some twine or string
Sure enough, putting together a teepee may sound easy. But you'll need to pay attention to certain details if you want it sturdy and symmetrical.
5. DIY Honeycomb Garden Trellis Ideas
Usually, there are two types of gardeners: those who want the wild and unkempt look, and those who want to make the green space look like it was made from LEGO blocks.
If you're all about uniformity, you'll love this honeycomb garden trellis idea from Mama Needs A Project since it will certainly appeal to your love for geometry.
Supplies:
A nail gun or pin nailer
Some wood glue
Wooden boards
Lots of clamps
A miter saw
A drill
It's excellent for climbers with a vining habit and will also make your garden look unique. Although it's not difficult to pull off, you will need to be precise when measuring and cutting.
6. Wire Wall – Metal Trellis
This metal trellis design from Salvaged Living is an easy DIY project. It doesn't require any carpentry or metallurgy skills, as long as you can lay wire and hammer nails.
Supplies:
Drill
Hammer
Wire cable
Eye screws
Wire cutters
Wire clamps
Masonry drill bit
Masonry anchors
Although you can use it in many ways, it's best to attach it to an existing fence. Since wire cable is such a malleable material, feel free to work with various shapes and patterns if the diamond shape doesn't fit your style.
7. DIY Planter Box with Trellis
Deuce Cities Henhouse teaches you how to build a planter box with a trellis for your climbing flowers, vegetables, and herbs.
It's a bit more challenging than the previous projects since you need to know your way around carpentry and power tools. But it's totally worth it.
Supplies:
Wooden boards
Rubber casters
Drill bits
Screws
Strips
A drill
Stain
The entire trellis design is like a big piece of furniture you can easily move around. It's all thanks to the rubber casters, ideal for hanging plants that you need to relocate throughout the year.
8. Rustic Garden Arch Trellis
A rustic arch trellis can complete the look of a wild garden. Just ask Ellen Ogden.
Supplies:
Long gree tree samplings that you need to bend
A drill together with a hole saw attachment
Blocks of wood form the base
Jute twine
Making this trellis is incredibly easy – besides the hole saw, you won't have to work with any other tools. And the result looks wild and organic, just like in a nature reserve or an arboretum.
However, you should remember that it won't last long, so be prepared to redo it once every few years.
9. Chevron Lattice Trellis for Garden
Perhaps the previous entry seemed a bit too feral for your taste. If you prefer the traditional style, check out this chevron lattice garden trellis from Remodelaholic.
Supplies:
Wooden beams
Drywall strips
Exterior galvanized finish nails
Miter saw
Hammer or nail gun
Measuring tape
One of the challenges you can face is cutting materials to the right size since the design involves precise geometric shapes. But it's not an impossible project, as long as you have a little patience.
10. Easy DIY Clematis Trellis
This DIY wall trellis project Jenna Sue Design is one of the easiest designs for beginners. take on a DIY wall trellis.
The secret behind the simplicity is using pre-purchased materials like lattice and trim. So all you have to do is measure and cut the correct sizes.
11. A Frame Trellis
You can add vertical interest to your garden by building an a-frame trellis, ideal for vines and other climbing plants. Besides, it's a fantastic way to create extra shade in the summer. Visit Vegetable Gardener for more info.
12. Bamboo Trellis for Plants
A bamboo trellis is perfect for growing plants. The sturdy construction can hold up even the heaviest of plants, and the natural material blends in well with any garden decor. Check out Fine Gardening to learn how to build one.
13. Accordion Peg Track – Plant Trellis for Pots
If you have an old accordion peg track lying around in your garage, you can easily upcycle it in a trellis to show off your potted plants. Visit Sybil Alfano to learn more.
14. Old Door Wooden Trellis
Dishfunctional Designsshows you how to upcycle an old door into a beautiful wood trellis for your climbing plants. With a little time and effort, you can create a stunning focal point in your yard or garden that is sure to impress your friends and neighbors.
15. Wall Trellis for Corners
If the exterior of your house or garden shed is begging for attention, consider adding a wall trellis on the corners. It's both beautiful and functional since it provides support for climbing plants. Go to Especially Creative Broad to learn more.
16. Crib to Garden Trellis
We really admire the creative thought that went into this tutorial from Minerva's Garden. It uses the side of an old wooden crib tilted on its end to help plants climb as high as needed.
17. DIY Planter with Trellis
You love spending time in your garden, but sometimes it feels like your plants are taking over. In that case, you can add structure without breaking the bank by building a DIY planter with trellis. Just follow the simple instructions provided by Blue Roof Cabin.
18. DIY Painted Obelisk Trellis
If you're going to put in the time and effort necessary for building a trellis, make it bright and colorful. In that case, we encourage you to visit Momma and Da Boyz and find out how they crafted this obelisk-style standing trellis, whose colors pop against the green garden.
19. Bike Rim Pea Trellis
Gardeners know the importance of keeping plants orderly and contained. A pea trellis is a great way to do that, and it can be made from an upcycled bike rim. Visit Suited to The Seasons for more info.
20. Old Mattress Spring – Metal Garden Trellis
If you have an old mattress spring, don't throw it away when you can turn it into a metal garden trellis. It's a simple project that will encourage your growing plants, so visit Hometalk for more details.
21. Homemade Trellis Wood Project made from Scraps
If you're new to woodworking, it's best to start with a simple project as the one outlined by Gina Michele for building a trellis from wood scraps.
22. Garden Tool Plant Trellis
If you have an old garden tool, like a shovel or rake, lying around, you can use it to make a plant trellis. It's a fantastic way to recycle old materials while keeping the garden theme. Check out Cottage in The Oaks for more info.
23. Reclaimed Pallet – DIY Cucumber Trellis Ideas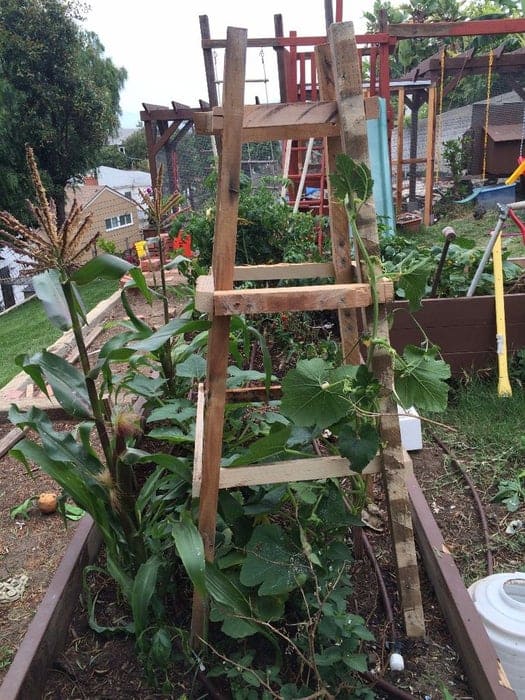 A trellis is a great way to save space in your garden while also providing your cucumbers with the support they need to grow upright. You can make your own cucumber trellis out of a reclaimed pallet by following the steps outlined by Instructables.
24. Simple Backyard Privacy Trellis
A simple trellis is a cheap and efficient way to add some privacy to your backyard. Remove and Replace demonstrates how to effortlessly build one using interlocking cedar pieces.
25. Rustic Branch Trellis for Climbing Plants
Gardeners and homeowners interested in the farmhouse look will love this easy trellis project made from rustic branches, which can be used purely decorative or for supporting climbing plants. Visit Coffee for Rosesto learn how to make one.
Trellis Ideas FAQ
Discover more about trellis ideas:
What is a trellis?
A trellis is a metallic or wooden structure used to support climbing plants. It helps the plants grow upright and provides them with space to wind around. But it can also be used as a decoration in a garden or yard.
Do cucumbers need a trellis?
Although cucumbers don't need a trellis to grow, they will produce more fruit with this type of support.
How to build a trellis?
To make a trellis, you have to cut the wood to the desired size, assemble the frame and attach it to the ground or another support structure, then train your vegetables to climb the trellis by winding them around the frame.
How to prune grape vines on a trellis?
You have to remove the diseased or damaged parts of the plant, as well as the excess growth. This will encourage the grapevine plant to produce more fruit and prevent it from taking over the space.
Do garden beans need a trellis?
Garden beans can benefit from a trellis, but they don't require one.
Do peas need a trellis?
Yes, peas need a trellis to grow properly.
What kind of trellis is best for tomatoes?
The best type of trellis for tomatoes is one that is tall and sturdy, with large openings that allow the plant to climb.
Closing Thoughts
For many of us, the small garden we have in our backyard can be a real sanctuary of peace, and adding a trellis will make it feel even more special.
Not only do they add a bit of extra privacy, but they can also be used to grow beautiful flowers and vines that will make your garden even more inviting.
So if you're thinking about adding a trellis to your garden, we suggest going with one of the DIY designs that we've featured in this article since they're not only simple but they're also affordable.
We hope you've found this article helpful and that you'll be able to find the perfect DIY trellis idea for your garden soon.