DIY Fall Baby Shower Ideas
Theme baby showers are always a fun time for everyone involved. Sometimes, however, it's hard to pick a theme that really suits the mom more than the baby. Of course, a baby shower is about the baby, but that doesn't mean it can't feel stylish and along the lines of what Mommy likes too! That's why we like the idea of cute seasonal baby showers has always appealed to us. Right now, for example, we're helping friends organize a fall baby shower and we're keeping our eyes peeled for ways that can we make some parts of it DIY in order to keep things affordable.
If you're just as interested in crafting for a fall baby shower as we are, if not more, here are 15 of the very best ideas, designs, and tutorials that we've come across so far in our search for inspiration and guidance!
1. Tiny glitter pumpkin place holders
If your baby shower involves a meal of any kind, then perhaps place holders are something you can save on by making them yourselves! We're completely in love with this seasonal fall place holder idea from Best Friends for Frosting where you glitter the bottom of a miniature pumpkin and attach a guest's name to the stem using jewelry wire.
2. DIY pumpkin guestbook
Having a guestbook at your baby shower is another classic idea that you can save on if you're willing to think outside the box a little bit! This next idea from Something Turquoise might not be something you can stash away as a keepsake until your baby is older, but it is something awesome and seasonal that you can remember through pictures. Check out their tutorial to see how they had all of their guests sign a pumpkin that they kept out for a few weeks rather than signing a book.
3. Homemade apple cider punch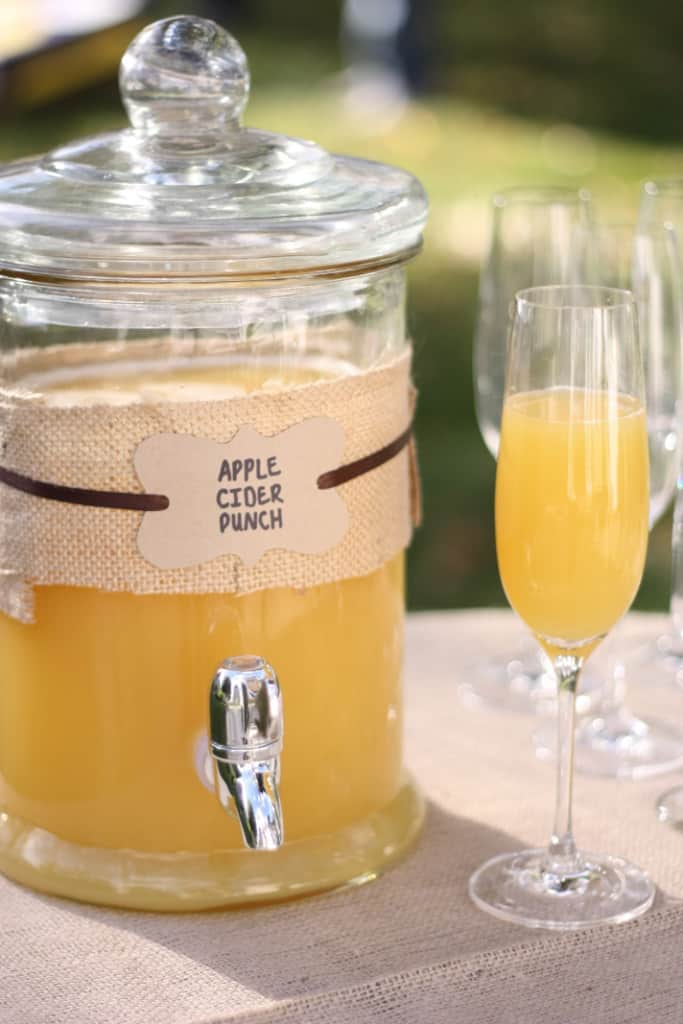 Did your group of friends used to be the kind that would make an awesome cocktail for every party you had together but now you're avoiding alcohol since everything has changed to play groups and showers instead of girls' night out? Then here's a great alcohol free and fall appropriate alternative for your next baby shower! This homemade apple cider punch recipe featured on Natalie's Sentiments is nothing short of mouthwatering.
4. Fall baby shower diaper cake
Now, if you've ever been to a baby shower before then you're probably already familiar with the idea of DIY diaper cakes. You might have even already tried making one yourself before! That doesn't mean, however, that you can't change things up a little and put a fun seasonal spin on what you did before. That's precisely what Frugal Fanatic did here when they made this adorable fall diaper cake.