DIY Fall Baby Shower Ideas
Theme baby showers are always a fun time for everyone involved. Sometimes, however, it's hard to pick a theme that really suits the mom more than the baby. Of course, a baby shower is about the baby, but that doesn't mean it can't feel stylish and along the lines of what Mommy likes too! That's why we like the idea of cute seasonal baby showers has always appealed to us. Right now, for example, we're helping friends organize a fall baby shower and we're keeping our eyes peeled for ways that can we make some parts of it DIY in order to keep things affordable.
If you're just as interested in crafting for a fall baby shower as we are, if not more, here are 15 of the very best ideas, designs, and tutorials that we've come across so far in our search for inspiration and guidance!
1. Tiny glitter pumpkin place holders
If your baby shower involves a meal of any kind, then perhaps place holders are something you can save on by making them yourselves! We're completely in love with this seasonal fall place holder idea from Best Friends for Frosting where you glitter the bottom of a miniature pumpkin and attach a guest's name to the stem using jewelry wire.
2. DIY pumpkin guestbook
Having a guestbook at your baby shower is another classic idea that you can save on if you're willing to think outside the box a little bit! This next idea from Something Turquoise might not be something you can stash away as a keepsake until your baby is older, but it is something awesome and seasonal that you can remember through pictures. Check out their tutorial to see how they had all of their guests sign a pumpkin that they kept out for a few weeks rather than signing a book.
3. Homemade apple cider punch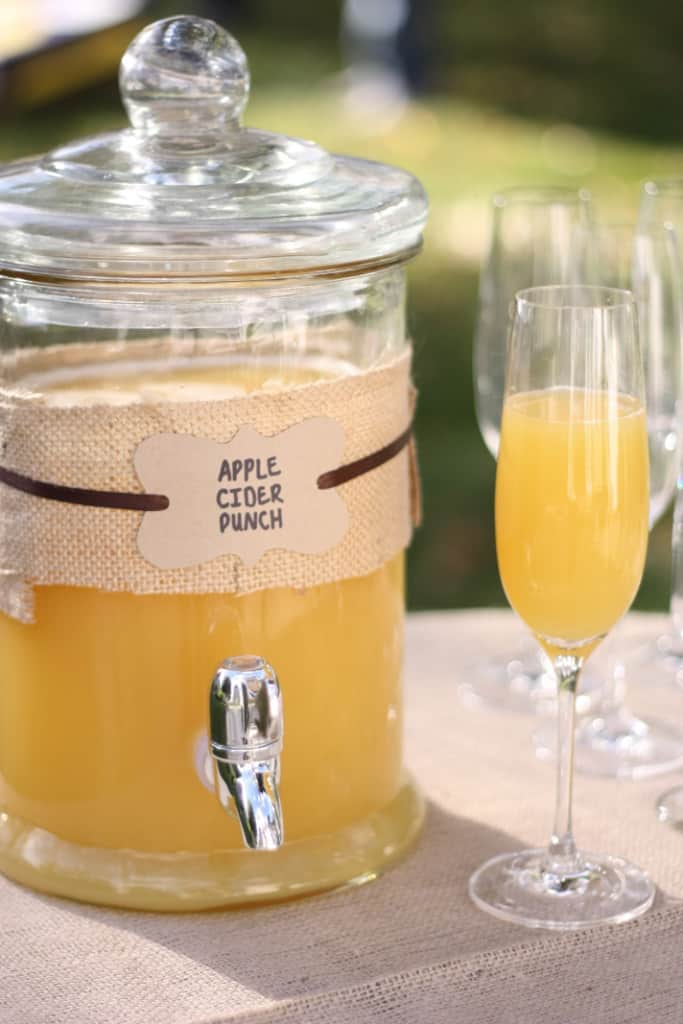 Did your group of friends used to be the kind that would make an awesome cocktail for every party you had together but now you're avoiding alcohol since everything has changed to play groups and showers instead of girls' night out? Then here's a great alcohol free and fall appropriate alternative for your next baby shower! This homemade apple cider punch recipe featured on Natalie's Sentiments is nothing short of mouthwatering.
4. Fall baby shower diaper cake
Now, if you've ever been to a baby shower before then you're probably already familiar with the idea of DIY diaper cakes. You might have even already tried making one yourself before! That doesn't mean, however, that you can't change things up a little and put a fun seasonal spin on what you did before. That's precisely what Frugal Fanatic did here when they made this adorable fall diaper cake.
5. Pumpkin baby sugar sculpture cake topper
Are you quite an experienced baker and treat maker, so you're usually the friend who is designated to desserts when it comes to splitting up shower and party duties? Well, if you're open to a small challenge, then perhaps this adorable sugar sculpture tutorial from The Cake Directory will be right up your alley! They show you how to make a cute baby sitting in a pumpkin, which makes a fantastic cake topper.
6. Apple pie pops
Perhaps you are the designated dessert person but you're looking for something a little more novelty and unique than just a cake? Well, as far as party trends go, there's nothing more popular and novelty out there than miniature snacks that people can still walk around and socialize with while they're snacking. That (and a lifelong love of pie) is why we fell so in love with this apple pie pops idea outlined step by step on Food Network.
7. Mini twig caramel apples
Have we really got your attention now that we've been talking about miniature treats that are novelty and portable but pies have just never been your thing? Well, luckily for all of us, there are all kinds of classic fall treats that can be easily turned into novelty treats! Allyson Baker Design shows you not only how to make miniature caramel apples, but how to do it on twigs instead of a regular base like popsicle sticks for a little extra autumn detail.
8. Homemade brunch baby shower menu
Rather than just being responsible for the desserts at the baby shower, are you actually in charge of the whole menu, but you've never actually put together a large meal full of different courses before? Well, if the kind of meal you're supposed to put together for the fall is a brunch then we think you'll appreciate the full list of recipe ideas and tips that Registry Finder has for putting together a whole fall flavour filled brunch menu!
9. DIY waxed fall leaves
Perhaps you're actually in charge of decor pieces and not food but you're hoping to make something rather hands-on and unique that you've never tried before? Well, if the idea of crafting with actual fall leaves appeals to you, then we'd definitely suggest taking a look at how Creative Homemaking made these waxed fall leaves! The wax preserves the colour, shape, and characteristics of the gorgeous leaves by making them stronger than how brittle they are when they dry out and fall off the trees.
10. Pretty fall jar and candle centre pieces
Perhaps you're looking to add a slightly more classy element to your fall decor scheme at this baby shower, keeping things a little more adult rather than just making them all about babies? Well, we don't see anything wrong with that at all! Adding some more generalized fall decor just helps build up the atmosphere around the elements that are baby-ish. We'd suggest checking out how Everyday Home made these gorgeous filled fall leaf mason jar candle holders.
11. Little fruit pumpkin shower snacks
Are you actually still thinking about everything we've said so far regarding snacks but you're looking for something a little healthier than a lot of what you've seen so far? In that case, we'd definitely suggest taking a look at how Rose Without Thorn turned some simple oranges into adorable mini pumpkins by popping a little slice of celery in the top like a stem. It's that simple!
12. Pumpkin babies for a fall shower
Have you actually already picked up some full sized pumpkins that you planned to use as generalized fall decor around your autumn themed baby shower but you just can't help wondering whether there might be a way to make them look a little more suitable to the occasion itself? In that case, we have a feeling you'll adore this idea from The Invite Lady that shows you how to turn your pumpkins into little fall babes in just a few simple steps!
13. Guess the pumpkins fall shower game
Have you ever been to a baby shower before where they played the game where everyone guesses how many candies are in a jar in order to win a price? Sometimes it's sugared baby bottle candles, other times it's chocolate kisses; usually it's something on theme. Well, that's the kind of thing Baby Aspen suggests doing, only this time they put a fun spin on the classic idea by filling the jar with baby-sized pumpkins instead!
14. Homemade fall shower pie bar
Just in case you're still scrolling through our list on the lookout for awesome baby shower ideas that will really stand out and that your guests will really get a kick out of, here's one more dessert suggestion before we sign our list off! Check out how See Vanessa Craft made not just one kind of fall pie, but rather put together an entire pie bar, almost like a buffet, so guests have all kinds of amazing autumn flavours to choose from.
15. Fall leaf and baby onesie garland
Perhaps it's actually the idea of making some kind of blended fall and baby decor piece that has caught and held your attention the best so far but you just haven't quite seen the idea that has made you feel totally decided yet? In that case, we think you simply must check out the way Project Nursery made an adorable party garland out of fabric fall leaves and customized baby onesies!
Do you know another DIY enthusiast who wants to have a fall themed baby shower in the coming weeks but who you know could use a little bit of inspiration and guidance along the way? Share this post with them so they have a few more ideas to consider!