These 50 Quinoa Recipes To Renew Your Love For The Pseudo-Grain
Although referred to as a grain, quinoa is more closely related to spinach. We eat the seeds of quinoa and for a while, it was quite the trendy treat. But, this healthy side dish needs a burst of freshness in kitchen. The 50 quinoa recipes will renew your love for this pseudo-grain and have you whipping up new salads and side dishes in no time!
1. Quinoa Enchilada Casserole
Damn Delicious put together this enchilada casserole with lots of delicious ingredients, including quinoa! Whip this up for the family tonight, it's sure to be a hit!
2. Balsamic Chicken Salad with Lemon Quinoa
This healthy bowl of delicious bites is not only beautiful to look at, but looks quite yummy too. Learn how to make this with some help from Chef Delites.
3. Quinoa-Crusted Chicken Strips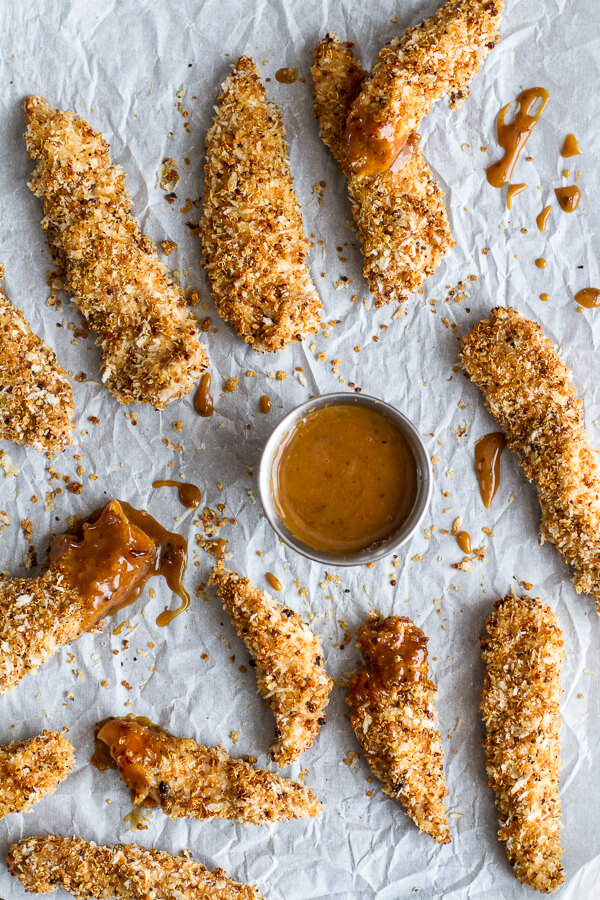 You can even use quinoa in your crusts! Check out how to make your chicken tenders in an entirely new way over at Half Baked Harvest.
4. Creamy Caprese Quinoa Bake
Half Baked Harvest also whipped up this beautiful caprese baked using quinoa too. If you love hearty, Italian flavors then you'll definitely want to use this one.
5. Quinoa Salad with Pecans, Apples and Cranberries
This is quite the fun medley of flavors. Check out this salad recipe over at Salt Pepper Skillet.
6. Quinoa Breakfast Hash Browns
Make your hash browns a bit healthy but just as satisfying with this recipe from A Beautiful Mess. You can even add ketchup if you'd like!
7. Chocolate Chip Cookies
Made with coconut oil and quinoa, these chocolate chip cookies are delicious and guilt-free. Check out the recipe at Simply Quinoa.
8. Vanilla Quinoa Cake
Made with vegan chocolate frosting, this cake is surprisingly made with quinoa too. You'll just have to hop back over to Simply Quinoa to grab the details for this too.
9. Quinoa Burgers with Tzatziki Sauce
Rhubarbarians whipped up this quinoa burger that we're practically drooling over. Topped with some crunch and tzatziki sauce, it's a winner!
10. Blueberry Breakfast Quinoa
Start off your day in a satisfying way with this breakfast idea from Damn Delicious. Blueberries, almonds and quinoa all come together in quite a delicious way.
11. Quinoa Pizza Bowls
Gimme Some Oven turned quinoa into pizza bowls and we're loving it! It's a new Friday night treat!
12. Honey Lime Quinoa Fruit Salad
This tart and fruity salad with hints of honey and lime could be a fun treat to try out in the kitchen tonight. Check it out at The Recipe Critic.
13. Quinoa Black Bean Tacos
Damn Delicious served up this hearty and delicious quinoa black bean tacos. We think even the kiddos will love them!
14. 5-Ingredient Quinoa Fudge
This one from Simply Quinoa is going to blow your mind too. Because, yes, you can make some chocolatey fudge with quinoa too.
15. Quinoa-Stuffed Baked Tomatoes
You can even stuff some tomatoes with a delicious concoction – including quinoa and cheese – for a yummy dinner tonight. Grab the details at Diethood.
16. Asian Quinoa Salad
If you're a fan of Asian flavors, then you'll want to check out this salad recipe at Pur Body Nutrition. A bit of quinoa and edamame can go a long way.
17. Cheesy Chicken, Broccoli and Quinoa
Here's a side dish that will get everyone in the family to eat their veggies and be excited about it! Grab it at Cooking Classy.
18. Cilantro Lime Quinoa
The Harvest Kitchen has another great quinoa recipe that works perfect as a side dish to chicken or fish tonight for dinner. Some lime and cilantro make it a fun and lighter bite.
19. Spinach Pesto Quinoa Bowl
Table for Two added some cheese, spinach and pesto to their quinoa and we love this too. It's satisfying and will fill you up nicely!
20. Roasted Garlic and Parmesan Quinoa
Serendipity and Spice made an Italian-inspired quinoa dish that will be a nice accompaniment to some chicken farm or even a steak. Take a peek!
21. Quinoa Veggie Fried Rice
This can be used as an entree or as a side dish depending on how you and the family feels. Damn Delicious has all the know-how for this quinoa veggie fried rice.
22. Vegetarian Quinoa Chili
Even your chili can get a quinoa face-lift. Hop on over to Chef Savvy for all the details surrounding this pot of goodness.
23. Quinoa Avocado Spinach Power Salad
The Garden Grazer pairs one of our favorites, avocado, with quinoa for a fresh and yummy salad. Pack this for lunch and see how satisfying it is!
24. Cheesy Quinoa Cakes with Roaster Garlic & Lemon Aioli
Food gives us the perfect side dish or appetizer for your next dinner party. And this one involves cheese. Who doesn't love cheese?
25. Garlic Lime Chicken and Quinoa
Here's another plate we're drooling over. This chicken and quinoa dish from Eat Well 101 will quickly become a family staple.
26. Quinoa Peanut Butter Snack Balls
Happy Healthy Mama made these peanut butter balls filled with a favorite flavor and energy! They're the perfect after school or mid-work snack.
27. Apple Banana Quinoa Breakfast Cups
Pumps & Iron has another breakfast idea that we're loving. The kids can grab and go or you can make them ahead for yourself.
28. Black Bean Quinoa Veggie Burgers
Do you love black bean burgers? Emilie Eats makes a yummy treat for us to indulge in a bit. Just don't forget all of your toppings!
29. Cranberry Quinoa Salad with Candied Walnuts
Peas and Crayons concocted this quinoa salad with a bunch of ingredients we love to dive into when fall comes to call. Maybe this could be a great addition to the Thanksgiving table?
30. Quinoa Salad with Spinach, Strawberries and Blueberries
Here's another beautiful salad to prep and take to lunch tomorrow. Julia's Album has all the details you need.
31. Spicy Quinoa Crusted Chicken
Not only is this dish scrumptious but it's healthy too. Thanks to Skinny Mom dinner just got more exciting and satisfying without all the guilt.
32. Turkey Meatballs with Quinoa
Here's another healthy take on classic Italian foods . Check it out at Just a Taste.
33. Quinoa-Crusted Chicken Parmesan
Here's another chicken dish that is just as good but a bit healthier with its quinoa addition. Chicken farm just got a makeover with Damn Delicious' help.
34. Quinoa-Stuffed Bell Peppers
Damn Delicious teaches us how to stuff some bell peppers with delicious ingredients – with quinoa as its foundation. It's the perfect weeknight dinner idea.
35. Quinoa Breakfast Scramble
Wendy Polisi made a breakfast scramble with a bunch of our favorites involved. Start your day off right with this one!
36. Smoky Lemon Vegetable Quinoa
Are you a fan of smokey flavors? Hop on over to Cooking On The Weekends for all the details behind this lemon and veggie creation.
37. Quinoa Pizza Bites
Wonky Wonderful turned quinoa into some yummy pizza bites that the kids will fight over this weekend. It's the perfect snack for any sleepover!
38. BBQ Chicken, Kale and Quinoa Bowl
Filled with BBQ chicken, kale and quinoa, this bowl from Aggie's Kitchen would be a delight for lunch or dinner. Hop on over and check out the recipe.
39. Pumpkin Quinoa Muffins
Whether you grab one of these in the morning or use it as an afternoon pick-me-up, these pumpkin muffins from Simply Quinoa are delightful. And they pair nicely with warm tea or coffee!
40. Quinoa Chia Seed Protein Bars
Wendy Polisi makes a fun protein bar recipe including chia seeds and quinoa. For you and the rest of the family, you'll have the perfect pick-me-up for all week long!
41. Cinnamon Apple Breakfast Quinoa
Who loves cinnamon and apples together? It tastes like apple pie but it's suited for breakfast. Check it out by visiting Simply Quinoa.
42. Black Bean Mango Quinoa Salad
Nourished dressed up their black beans right with this quinoa salad. This too can be used on its own or as a side dish!
43. Quinoa Egg Breakfast Muffins
Sweet Peas and Saffron whipped up some easy egg and quinoa breakfast muffins. Everyone in the family can grab these and go in the mornings.
44. Salsa Chicken Quinoa Casserole
This casserole from Diethood will be a hit for the family too. It's satisfying but filled with yummy and good-for-you ingredients.
45. Buffalo Cauliflower Quinoa Meatballs
Do you like some heat? These buffalo meatballs from The Almond Eater just became your go-to appetizer for holiday parties and dinner with friends.
46. Greek Quinoa Bowl
These greek quinoa bowls from Peas and Crayons just made lunchtime a lot more enjoyable. Just look at all those fresh ingredients!
47. Loaded Quinoa Nachos
Who doesn't love a big plate of nachos? Use quinoa to make it veggie style with some help from The Tray Chic.
48. Quinoa with Corn and Scallions
Just A Taste makes a side dish with corn that the kiddos will eat right up. It's the lesser "scary" of the veggies too so they'll dive right in.
49. Garlic Butter Shrimp and Quinoa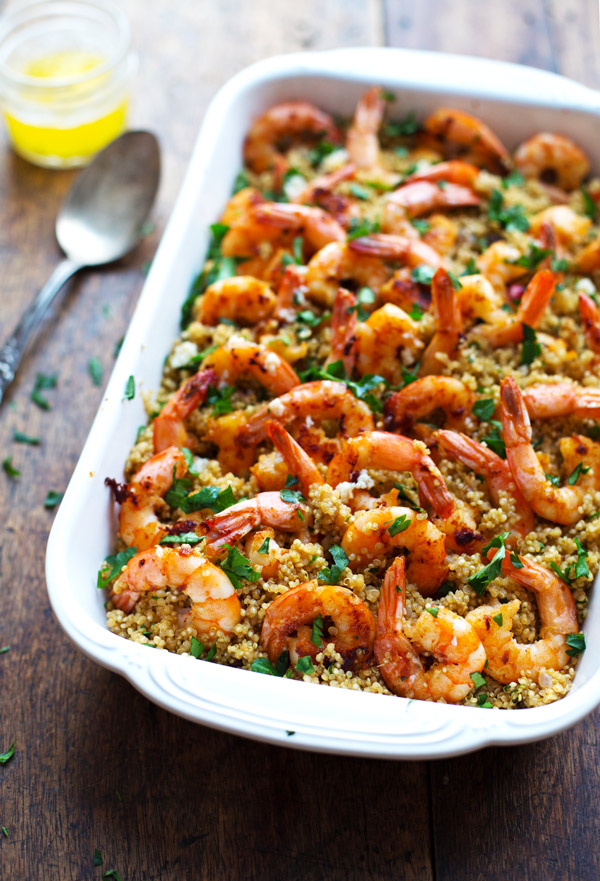 Pinch of Yum made some garlic butter quinoa that will satisfy the family as well. It's a great weeknight dinner idea just serve it up with a glass of wine for the adults.
50. Kale and Quinoa Salad with Meyer Lemon Vinaigrette
And finally, if you visit Damn Delicious just one more time you'll get another fun salad recipe. And this time you'll get insight on a tasty vinaigrette too!