Delicious Recipes for People Who Are Obsessed with Quinoa
Whether you like to eat it because you're avoiding carbs for dietary reasons or because you're eating gluten free, quinoa is a great substitution for many other side dishes. Beyond that, it's easy to cook and completely delicious!
If you're a huge quinoa fan like us, you should definitely check out these 15 delicious recipes involving your favourite food at its finest.
1. Balsamic chicken salad with lemon quinoa
Cafe Delites reminds you that adding quinoa to a salad is a great way to give it more substance so that you feel a little fuller without also adding extra calories to your otherwise healthy dish.
2. Quinoa with corn and scallions with honey butter dressing
Just a Taste suggests combining quinoa and corn to create a meal that's a perfect balance between grains and vegetables, making it an amazing side dish. Although the recipe calls for serving while the quinoa is still warm, we think this dish makes a great cold salad too!
3. Creamy Caprese quinoa bake
Just because quinoa is a relatively healthy food option doesn't mean you can't occasionally smother it in delicious cheese! This delicious recipe from Half Baked Harvest includes all of the ingredients that make a Caprese salad so good, but in the form of a warm guilty pleasure bake rather than a salad.
4. Quinoa stuffed baked tomatoes
Baking quinoa inside of a tomato makes it take on the flavours of that tomato in a deliciuos way, but it's also a good idea because it creates a sensible individual serving that will help you avoid over eating. Check out the recipe on Simply Real Health!
5. Garlic butter shrimp and quinoa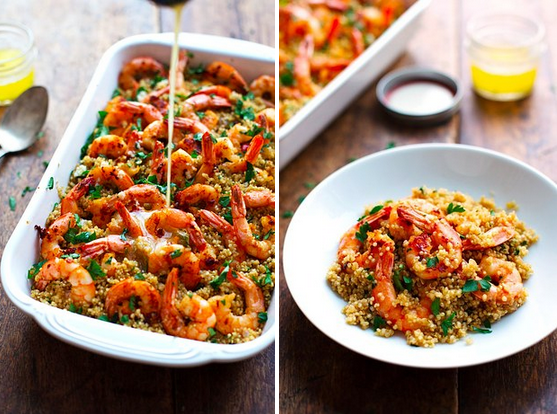 Garlic butter is delicious no matter what you put it on, but we're especially pleased with the idea of melting it over shrimp. Resting those shrimp on a bed of quinoa makes the dish satisfying and filling on top of being delicious. Pinch of Yum shows you how to make it happen.
6. Quinoa crusted chicken strips with barbecue honey mustard
Do you love chicken strips but you don't get to eat them anymore because you found out you're gluten intolerant or celiac? Half Baked Harvest is here to save the day! Encrusting your chicken in quinoa instead of flour gives you that same delicious "breaded" taste, but without the breaded part!
7. Quinoa burgers with homemade Tzatziki sauce
Quinoa is an awesome alternative for vegans and vegetarians too! We love this quinoa burger patty idea as an alternative to regular hamburgers or chicken burgers. Rhubarbarians teaches you how to make them.
8. Quinoa and carrot sesame salad
This fresh tasting salad from Purbody Nutrition is a great way to get the taste of an asian sesame salad, but without the higher sugar content of the classic recipe involving mini oranges. The flavour combination of carrots, quinoa, and edamame beans is practically mouthwatering.
9. Cauliflower, quinoa, and chickpeas roasted with tumeric
This recipe has just about everything you need in a  meal to be satisfied, especially if you don't eat meat! The tumeric gives you a flavour that's unlike any other and we're kind of getting hungry just posting about it. Check out the instructions for cooking it on The Whinery.
10. Cajun shrimp quinoa casserole
This Gal Cooks guides you through the process of cooking one of the most flavourful quinoa dishes you might ever encounter! Besides being melted in deliciously creamy warm cheese, this casserole is spiced to perfection with cajun spices that complement the shrimp like no other.
11. Quinoa, chicken, and garden veggie skillet
iFood Real gives you a skillet recipe that's quick and easy to make without sacrificing any healthy ingredients or any delicious flavour. This is one of those recipes where you can simply throw it all together in a pan like a stir fry and enjoy it a few minutes later. Those are our favourite kind!
12. Quinoa crusted parmesan chicken
Did you like the previous idea of encrusting chicken with quinoa instead of flour or bread crumbs, but you were hoping for something a little more flavourful than plain chicken strips? Damn Delicious has you covered with this scrumptious parmesan chicken recipe that's completely diet friendly for people with what restrictions!
13. Loaded quinoa nachos
Are you a huge fan of nachos but you're looking for a filling alternative to chicken or ground beef toppings, besides more vegetables? Everything's Better Sprouted suggests quinoa for both flavour and tummy filling! We happen to agree.
14. Spicy Korean beed bowl with kimchi and bok choy
When you're eating a combination of foods that's very flavourful, it's sometimes nice to pair them with a more netural side for balance. Yankee Kitchen Ninja suggests quinoa as a partner to kimchi and spicy beef!
15. Pico de Gallo Quinoa Burgers
Did you like the earlier idea of making burger patties out of quinoa, but you're not a fan of tzatsiki sauce as a topping? Try this amazing pico de gallo recipe made with avocados instead! We have Life's Ambrosia to thank for this delicious idea.
Do you know someone who's always looking for new ways to use quinoa because they just can't get enough! Help them out by sharing this post!