Delicious Thanksgiving Side Dishes
To us, Thanksgiving is a time to celebrate all kinds of things. We love using the family meal we always host as an opportunity to celebrate loved ones, food fortunate, and, if we're being completely honest with you, food. We just really love food and the fall season has some of the best flavours and ingredients of the whole year! Even though we clearly have our favourites, we're still always on the lookout a few weeks in advance, searching the Internet for awesome and unique side dish options that we might not have tried before but think our family will really love.
Are you feeling just as enthusiastic as we are, if not more, about the idea of learning how to make a new fall side dish or two this Thanksgiving?
1. Sweet glazed carrots
We're just that just about everyone the world over has tried carrots as a side dish to their family meals before, but we find that most people we know serve them boiled with butter and salt, which gives them quite a savoury taste. Recently, we tried carrots with a sweet note to them instead and we're pretty sure our lives have been changed forever! Give these sweet glazed carrots from Food Network a try to see what we mean.
2. Oven roasted squash with garlic and parsley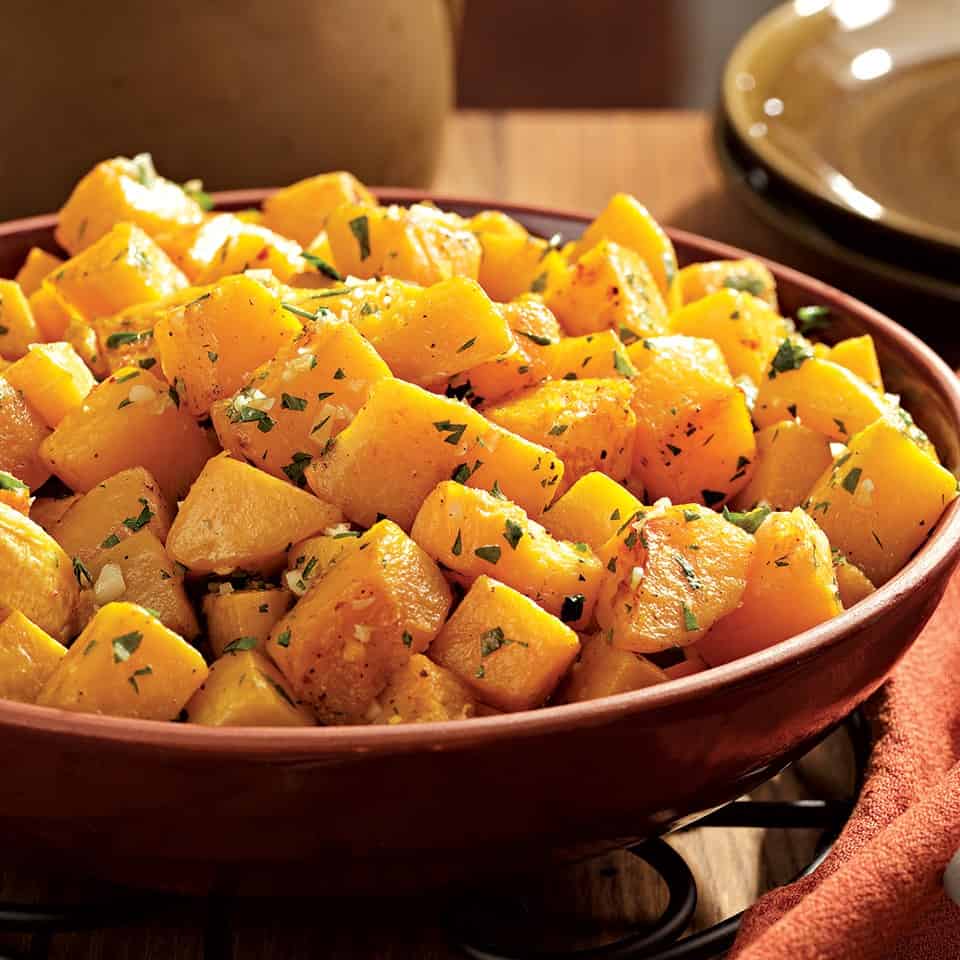 Similarly to the carrots, we've tried squash as a delicious Thanksgiving side dish plenty of times before, but sometimes it's nice to put a slightly unique spin on things just to keep them interesting! That's why we were so pleased to come across this recipe from Eating Well that walks you through the simple steps for making this easy but flavourful oven roasted squash with garlic and parsley.
3. Corn pudding (or Southern corn casserole)
If you ask us, one of the best ways to put a bit of a twist on your favourite classic side dishes is to bake it into a casserole! Of course, there are all kinds of ways to do that and all different ingredients you can use, but our favourite kind usually involved vegetables in some kind of creamy cheese sauce. We doubt it'll come as any surprise, then, that we were very pleased indeed to come across this corn pudding (which is a Southern corn casserole dish) featured on Basil & Bubbly!
4. Creamy mashed potatoes
Are you actually quite the beginner in the kitchen and, even though you can usually handle cooking dinner for yourself on an average night, this year will be your first time making a Thanksgiving meal for the whole family? In that case, we think there's no shame in finding some great tutorials with tips and tricks for making the very best classic fall side dishes that people are nearly always expecting! This tutorial from I Heart Naptime, for example, teaches you how to make some of the most creamy and delicious mashed potatoes we've ever had. Sure, making mashed potatoes might seem like common sense, but having some help there to read through and follow just in case can't hurt when you're really trying to impress your loved ones, right?
5. Roasted bacon green bean bundles
Like us, are you always looking for new ways to prepare certain vegetables so that they might appeal a little more to your kids? We wouldn't necessarily say our little ones are picky eaters, per se, but sometimes it can be tricky to get them to try a new vegetable for the first time so they can see how truly delicious it is. That's why we used this amazing roasted bacon green been bundle recipe from Spend With Pennies to entice them into trying green beans last year. The dish was actually so good that we fully plan to make them again this year as well!
6. Homemade turkey stuffing
Speaking of being a beginner in the world of Thanksgiving dinner making, there are certain elements of the classic meal that you've probably made before and can handle just find on your first shot, but there are others you really might never have tried before. Stuffing is one of those! Just in case you could use some guidance when it comes to perhaps the most delicious part of the season, here's an awesome recipe and careful tutorial from The Bewitchin' Kitchen that will teach you step by step how to make fresh and perfectly seasoned homemade turkey stuffing.
7. Creamy dijon brussel sprouts
Just in case we caught your attention when we started talking about making creamy casserole side dishes from your vegetables but you're not so hung up on the idea of including cheese in yours, here's an alternative for brussel sprout lovers to just boiling, buttering, and salting them! We love the way Diethood made these creamy dijon brussel sprouts in just a few simple steps.
8. Perfect turkey gravy
If you're going to start thinking about the concept of covering your bases when it comes to making the Thanksgiving dinner basics for the very first time and doing it right, here's another recipe and tutorial that will help you make sure your meal is thoroughly delicious! We love the way Center Cut Cook outlines nice and clearly how to make a thick (but not too thick) turkey gravy that tastes essentially perfect, despite how easy it is to do.
9. Cranberry orange compote
If you've ever attended a turkey dinner before, whether at Thanksgiving or Christmas, then we're sure you're already familiar with cranberry sauce as a pureed dish. What if we told you, however, that you can also enjoy a version where the cranberries are whole, even though it's a little less common? Well, thankfully for all of us, Cooking Channel is here to show you jus how delicious that can be with this recipe for cranberry orange compote!
10. Bundt pan herbed cornbread Thanksgiving dressing
Maybe you're actually quite experienced at making stuffing or dressing and you're not a beginner at all, but you are looking for a recipe that will help you make a version that's a little more unconventional this year, just for fun? In that case, we'd definitely suggest taking a gander at this recipe from Melissa's Southern Style Kitchen that teaches you how to make a bundt pan herbed cornbread dressing that's deliciously dense enough to be cut and served in slices!
11. Turnip puff casserole
Are you actually scrolling through our list and finding yourself still thinking about how much you love the idea of making a unique casserole side dish but you just haven't quite found the idea that really speaks to you yet? Then here's a suggestion for the turnip lovers out there, which is actually a retro recipe from decades ago! Check out Merry About Town to learn how this turnip puff casserole was made.
12. Fresh homemade dinner rolls
Just in case you're still trying to prepare the best basics you can for the perfect first homemade Thanksgiving dinner, here's another side dish that everyone at the table will love. Food Network guides you step by step through the process of making fresh homemade dinner rolls and we'd be willing to bet that your family will be ecstatic to learn that you made them yourself rather than just buying the bagged kind from a store and warming them up!
13. Creamy, cheesy green bean casserole
When we said the words "creamy" and "cheesy", did you actually decide right then and there that you'd probably pick the creamiest, cheesiest option on our list? Then let us show you another one that's even more so those things than what you've already seen! Check out how Together As Family levelled up the taste of their green beans by turning them into this scrumptious creamy, cheesy green bean casserole that you won't be able to get enough of.
14. Roasted asparagus with garlic and parmesan
If you're going to keep scrolling through options, would you actually rather find yourself one that shows you how to prepare a veggie you haven't seen at all on our list yet? Well, asparagus lovers rejoice, cause your patience has finally paid off! We love the way Bobbi's Kozy Kitchen made these mouthwatering roasted asparagus prepared with a wonderfully flavourful combination of garlic and parmesan cheese.
15. Spanish style potatoes
If you're going to put an interesting twist on a turkey dinner element that's usually present on Thanksgiving, just to change things up, are you actually pretty convinced that you'd like to make a different kind of potato than just mashed, as usual? Then we think you simply must take a look at the way Tasting Table made this delicious batch of Spanish style potatoes that are roasted and spiced to perfection!
Do you have another favourite Thanksgiving side dish that's always a huge hit on your table but that you don't see here on our list? Tell us all about it or link us to the recipe in the comments section so we can try it out as well!