Delicious Homemade Fudge Recipes That will Make Your Mouth Water
In our household, we always knew growing up that fall time meant that it was time to make homemade fudge. Now, we're pretty sure this might actually have just been a weird family tradition, or perhaps something typical of the area we lived in, because many friends have told us that this was not a strictly autumn thing when they were little, but we've never changed it up, just out of respect for tradition! Of course, this doesn't mean that we won't eat fudge during the rest of the year if we're offered or we see a particularly yummy looking block at a store, but September has just always been the time where we gathered our family all together in the kitchen and made homemade fudge from scratch and that's something we really value doing! This year, however, we noticed that our kids didn't seem as excited as they usually do when it came time to make the kinds that they've tried many times before. That's how we found ourselves looking for exciting new DIY fudge recipes all across the Internet, just to put a fun twist on an old tradition!
Just in case you're as obsessed with the idea of making delicious new homemade fudge recipes this fall as we are, here are 15 of the very best and most unique flavours, kinds and recipes that we've come across so far in our search.
1. Peanut butter fudge
Just in case you're like to keep things quite simple because you're not exactly a kitchen whiz but you'd still love to add some extra flavour to your favourite treat, here's one for the peanut lovers! Simply Recipes step by step through the process of using smooth peanut butter to make a deliciously rich flavoured fudge that tastes so much like your favourite spread that you'll practically want to squish your fudge onto toast.
2. Delicious 3-ingredient chocolate fudge
Are you actually a little bit pressed for time this weekend but you promised the kids you'd make fudge together and now you're scrambling to try and find a recipe that is both simple and delicious, just to make sure you keep that promise and make the most of your time? In that case, we'd definitely suggest taking a look at how Foodie and Wine made this wonderfully rich chocolate fudge recipes that only takes three ingredients to make and not many more minutes to mix.
3. Banana nut fudge
Have you actually always preferred your fudge with a little more crunch, even though you do like the smooth kind too, but you think you'd rather try your hand at something with pieces because you've never made that at home or from scratch before? In that case, we'd definitely suggest taking a look at how Bullock's Buzz made this fantastically delicious banana nut fudge that also has yummy hint of chocolate!
4. Homemade Twix candy bar fudge
Were you quite intrigued indeed by the idea of making fudge that has some crunch to it but you're also a total chocolate lover who adores making things as chocolatey as humanly possible whenever you can? In that case, we think you simply must take a look at how Cleverly Simple made these delicious blocks of Twix bar fudge that are like getting a neat surprise in every second bite. It's hard to believe that your favourite candy bar could be made to taste even better, but we think they really might have found a way.
5. Salted chocolate caramel fudge
Are you the kind of sweet lover who really adores finding dishes or recipes that give you a little bit of salty to balance out the chocolate or caramel, or whatever the sweet ingredient you're tasting is, just more good measure? Well, since this particularly wonderful tasting recipe from The Recipe Critic gives you both chocolate and caramel in one place, we think you'll double appreciate their suggestion for adding a light sprinkling of salt right on top!
6. Buckeye fudge
Now, if you've never been to Ohio, we understand that you might not know what a Buckeye is yet, but we're pleased to tell you that we have been and that they're absolutely delicious, just like this Buckeye flavoured fudge. Bare Feet in The Kitchen is here to show you how to top a layer of creamy peanut butter fudge with a layer of chocolate fudge, but very specifically so that you get the true Buckeye tastes, which we promise is a little different than the average chocolate peanut butter snack.
7. Pumpkin spice fudge
Well, if we're going to talk about fall flavoured things, we can hardly make a list without including everyone's favourite autumn taste, right? Of course not! Bakerita is here to give you what most people have probably really been waiting for: pumpkin spice fudge! We're not ashamed to admit that we fully intend to eat this as a side to a large sized pumpkin spice latte, because we really do love it that much.
8. Dairy free coconut chocolate fudge
Have you actually been scrolling through our list so far hoping to come across a homemade fudge recipe that will show you how to make a version that's completely friendly to all your family members, including the ones with dietary restrictions? Well, if you've got a loved one or a friend who can't have milk, then we're pleased to let you know that there are dairy free options! Check out how Low Carb yum took out the fairy but was nice enough to add delicious coconut shavings to their chocolate fudge instead. That's a pretty good bargain, if you ask us!
9. Vanilla fudge
Since we've already talked about just about every kind of classic fudge you'd find in stores, we couldn't possibly leave this one out! Just in case you're new to the DIY kitchen game but you've been yearning to learn how deliciously smooth homemade vanilla fudge is made, here's a wonderful recipe along with a nice, clear tutorial that will show you how it's done! Nigella walks you through the simple, fragrant ingredients and the mixing instructions step by step.
10. Chocolate hazelnut fudge
Have you been pretty settled on the decision that you'd really like to make some kind of chocolate based fudge this weekend but you still haven't stopped scrolling because you can't help wondering whether there might be a way to add one more subtle flavour to the mix to make the chocolate taste even yummier? In that case, we have a feeling you'll get along very well indeed with this fantastic chocolate hazelnut recipe featured on Vegan Richa!
11. Peanut butter and honey fudge
Perhaps the idea that's got your eye the best so far on our list was actually the peanut butter fudge but, once again, you can't help wondering whether there might be a way to put a slight twist on the flavour you love so much, even if it tastes very subtle? In that case, we're pleased to tell you that we've found precisely what you're looking for in the form of this delicious honey fudge featured on Pickled Plum!
12. Homemade S'more fudge
Have you actually been scrolling through our list hoping to find a recipe that's a little more unconventionally flavoured or novelty because you think your kids would like to try something very new, but you're just not sure they like Twix bars enough for that to be the one you buy the ingredients for? Well, if they got a big kick out of making S'mores this past summer, we have a feeling you'll definitely have some luck making them this delicious S'more fudge outlined step by step on Miss Information Blog! We love everything about this texture and flavour experience.
13. Bourbon fudge
Just in case we really caught your eye with the previous chocolate and nut idea we showed you earlier on our list but bananas have never really been your favourite flavour, then we think this fantastic alternative might be a little more up your alley! Bread, Booze, Bacon guides you step by step through the process of making a chocolate and bourbon fudge that's sprinkles with crushed pecans across the top for some satisfying crunch.
14. Cherry fudge with dark chocolate
Have you been wondering whether a fruit or berry based option might come up on our list because that has actually always been your favourite kind of fudge? Well, we've already mentioned that we love chocolate more than basically anything, so we're sure it'll come as no surprise that the option we chose to include features some of that as well! See how this fantastic flavour combination featured on The Idea Room is made with real cherries and just enough chocolate to really balance it out while still letting all that cherry goodness take centre stage.
15. Toffee fudge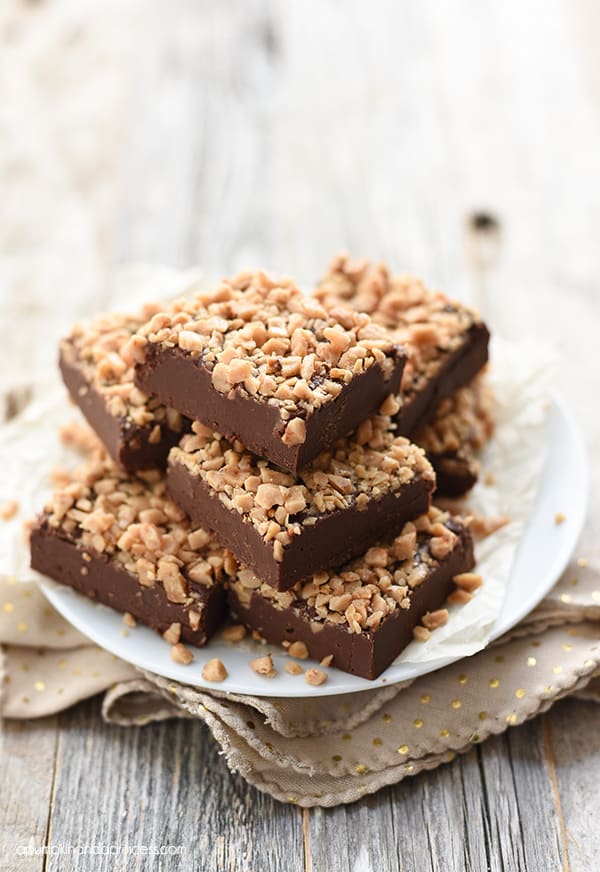 What if we were to tell you that nuts aren't actually the only way you can make a fudge recipe that has a satisfying amount of crunch? Well, we know that our friends who are actually allergic to nuts would be pretty pleased to hear that, so we were ecstatic t come across fantastic toffee recipe that features wonderfully rich chocolate fudge with crushed toffee chips scattered across the top. Get the full instructions for making it on A Pumpkin and A Princess!
Do you have another favourite fudge recipe that you love making and that's always a big hit in your household but that you don't see anything quite similar to on our list? Tell us all about how it's made or link us to the recipe in the comments section so we can try it out as well!