15 Kids' Crafts Made From Sticks and Twigs
When it comes to getting creative in the summer, we're always completely happy to go along with whatever funny, unique DIY whims our kids come up with. We find that they start feeling extra creative when they have time off school to run around outside and use their imaginations, so when they suddenly come to us on a rainy day with an idea for a totally weird craft idea, we're actually usually quite pleased to hear it.
That's why, when our youngest came in from the backyard the other day asking if we could spend the evening "making toys out of sticks", our answer was "of course"! We started looking for ideas immediately and we were quite pleasantly surprised with how many ideas there were out there, and not just for the kids either. We even found twig and stick based projects that we'd really like to make ourselves too!
Just in case you're as enamoured with the idea of getting crafty as our funny little families were, here are 15 of the best DIY ideas we've come across so far in our search.
1. Painted horizontal twig heart mobile
Our kids are huge fans of paint. They will literally paint anything and be quite happy to do so, even if it doesn't serve a particular purpose per se. They just adore the simple process of adding colour to things! We, on the other hand, completely adore the process of turning the random things our kids have painted into art of other kinds and then putting them on display for all to see. That's why this colourful, heart shaped painted twig mobile was the perfect collaborative art project for us. See how it's done with malleable jewelry wire and sticks on Daily HeART.
2. Ombre painted vertical stick heart mobile
Are you a huge fan of the idea we just showed you above but you think you might like it so much that you'd actually prefer to paint the sticks you use very carefully and create a more artistic effect than just random rainbow colours? Then maybe you (and possibly your kids, if they're old enough to understand colour gradients) would prefer to make this ombre vertical stick heart version of the same mobile instead! Take a better look at what the subtle differences are on Helena Nord.
3. Twig and canvas trees
If you're going to craft with sticks, do you think your kids would get more of a kick out of the idea of actually using those to represent… well… sticks? Then maybe some nature themed and tree inspired art would be the most ideal craft for them! We're huge fans of the way Bunnings Warehouse got creative with different materials to create cute little canvas mounted twig trees with things like buttons and seeds as leaves.
4. Funny stick puppets with googly eyes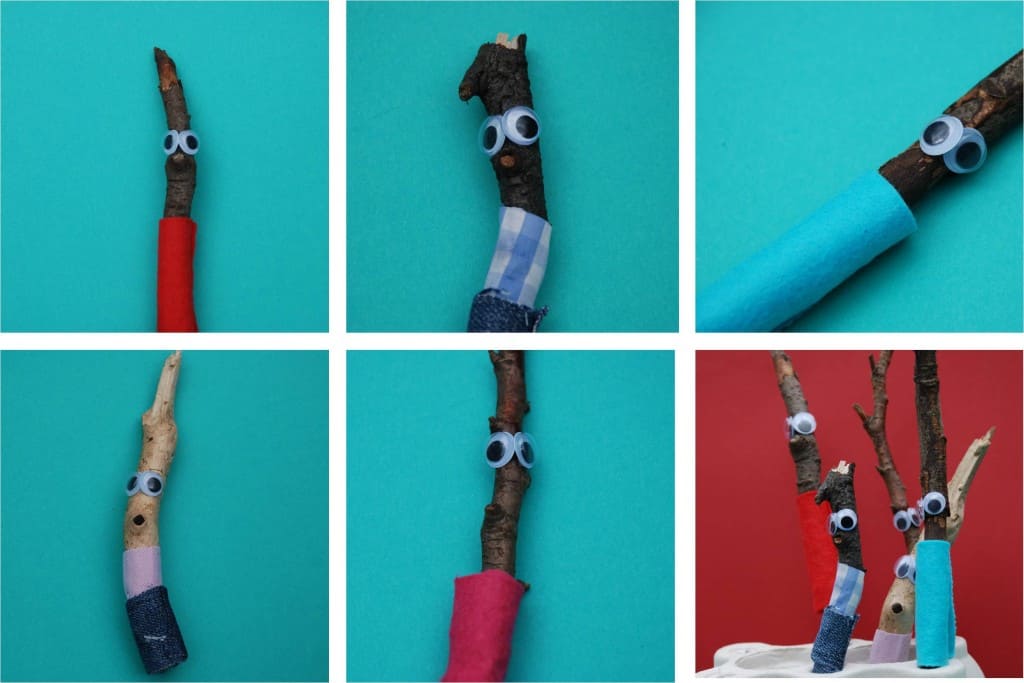 Perhaps the idea of making new toys and things with sticks arose from the time you brought snacks outside and found your kids using plain twigs as puppets, giving different ones little voices, names, and personalities? Then we'd suggest taking the game they're already playing to the next level by helping them dress their sticks up in little "outfits" and giving them faces! Check out how Best Toys for Toddlers did just that using googly eyes and scraps of spare fabric.
5. Pretty painted twig bouquet
Perhaps creatively painted rainbow twigs sounds like precisely the kind of funny, wacky craft you'd like to make with your kids and put proudly on display when they're done? Well, Homemade Ginger is here to show you how cute that very idea actually can look! They used paint dipping and stripes in all different colours to decorate a bundle of twigs and arranged them in a cleaned out mason jar so they splay, letting all the different colours show off well.
6. Cute homemade twig sail boats
Are your kids a little bit older and with the kinds of inquisitive minds that have them asking you how things work all the time? Then perhaps you'd rather help them make a craft that takes a little more concentration and that they can continue using after they're done creating it! We made this adorable stick, twig, and twine sail boat with our kids recently and they've been sailing it every single day since. See how it's made in more detail on Minie Co!
7. Tree bark, acorn cap, and seed beak owls
Okay, we know that technically finding tree bar is quite different than coming across a stick or twig in your yard, but if you've got lots of trees around the house like we do, we have no doubt that your kids will find plenty of it easily in the spring and summer as it sheds off the trees! If they do, we'd suggest taking a look at how Fireflies + Mud Pies turned their pieces into adorable little owls and then following suit.
8. Twig and twine hanging photo frame
If the kids are going to make all kinds of awesome things out of twigs, would you like to sit down and make yourself something you would enjoy as well, while they're at it? We do this often, working on our own DIY home decor projects while our little ones work on whatever awesome craft has struck their fancy that afternoon. Recently, while they were busy making funny little stick puppets with wobbly eyes, we followed this cute tutorial from Sponge Kids and made ourselves a series of stick and twine photo frames; one for photos of each kid.
9. Stick people with leaf hair
Are you still convinced that the stick puppet tutorial idea might be the best option for your kids so far but you're also wondering whether they might prefer something with a few more parts so that they really get to embellish their new funny friend? Then maybe you'd be better to guide them through making their own stick person! We love the way Mum in The Madhouse added hair to their little twig person using leaves.
10. Twig and tree leaf dragon fly
Have there actually been quite a few projects on this list that caught your attention because you know your kids love painting, constructing, and embellishing new things? Well, maybe you'd have better luck really holding their interest if you found them a craft that combines all of these things in one place and lets them get creative with twigs! This adorable painted twig and leaf dragonfly craft featured on Filth Wizardry is the perfect example of what we mean!
11. Twig yarn weaving frame
Every once in a while, when we're having a quiet moment on a rainy afternoon and our kids are feeling creative but they're too tired to dig out the messier craft supplies, we'll try and find them something calming and ongoing to work on. Someday, when we're a little bit older, we'll teach them how to knit for days like that but until then, we've taught them how to weave yarn in all kinds of new ways! It's actually one of their favourite pass times, so we're sure you can imagine how excited they were when we showed them this version that combines the weaving they love with their idea of crafting with sticks. Eco Kids' Art guides you through the process of making the frame and getting your woven projects started.
12. Twig and pom pom people
Were your kids very excited indeed at the prospect of making funny little twig people embellished with all kinds of things but you don't actually have access to the googly eyes and pieces of scrap fabric that we mentioned above? Then maybe you can try these cute pom pom and paint versions instead! Check out how Motheropedia added features with paint and used small, sparkly crafting pom poms to make the twigs hilarious little hair-dos.
13. Twig, wax paper, and crayon butterfly sun catchers
Creating stained glass inspired art with wax paper and melted crayons was always one of our favourite things to do when we were little and looking for crafts to make. We have since taught our kids that trick and make all kinds of different shapes and creatures that way, but none of those ideas made them more excited than when we told them we'd figured out a way for them to do that while they craft with sticks at the same time! Check out how Sponge Kids created crayon and wax paper butterfly wings, using a twig to make the butterfly's body and head.
14. Wooden whistle carved from a stick
Unless your kids are a little older and you can trust them to be very careful because they've done more dangerous DIY projects like whittling before, this particular creative stick idea might be one that they simply watch you do and then enjoy the product of afterwards. Growing Family guides you step by step through the process of whittling a large stick or small tree branch into an adorable wooden whistle that, once hollowed out, actually whistles!
15. Twig-Tac-Toe
We mentioned at the very beginning of our post that our kids original idea for getting creative with sticks was born out of their desire to make themselves some new toys to play with. That's why, among other creative ideas, we wanted to make sure we found some project ideas that they can actually play with once they're done with the crafting process! Of those ideas, we're pretty sure this adorable, natural looking stick and twine Tic-Tac-Toe game featured Fireflies and Mud Pies was our absolute favourite.
Do you know another DIY enthusiast whose kids love to craft with all kinds of things they've found in the backyard too? Share this post with them to give them lots of neat projects to try out this summer!