DIY Decorating Ideas for Christmas
Don't get us wrong; we adore making homemade decor pieces absolutely any time of year. We're particularly prone to getting crafty when annual holidays give us an excuse to work with a fun theme. There's no other time of year that has as much festive crafting power, however, as Christmas. That's especially true when it comes to homemade decor pieces that make your home feel cheerful and fun!
Just in case you're as obsessed with the idea of homemade Christmas decor as we are, if not more, here are 15 of the best ideas, designs, and tutorials that we've come across this year in our annual search for inspiration.
1. Rustic painted lyric light up sign
If there are two things we're completely enamoured with inside the world of Christmas crafting, that's stencilling fancy letters and making rustic things out of palette wood. We're sure you can imagine, then, how excited we were when we came across this fantastic Christmas carol inspired piece from The American Patriette! The fact that it lights up is a total bonus.
2. Plaid and burlap scrunched Christmas wreath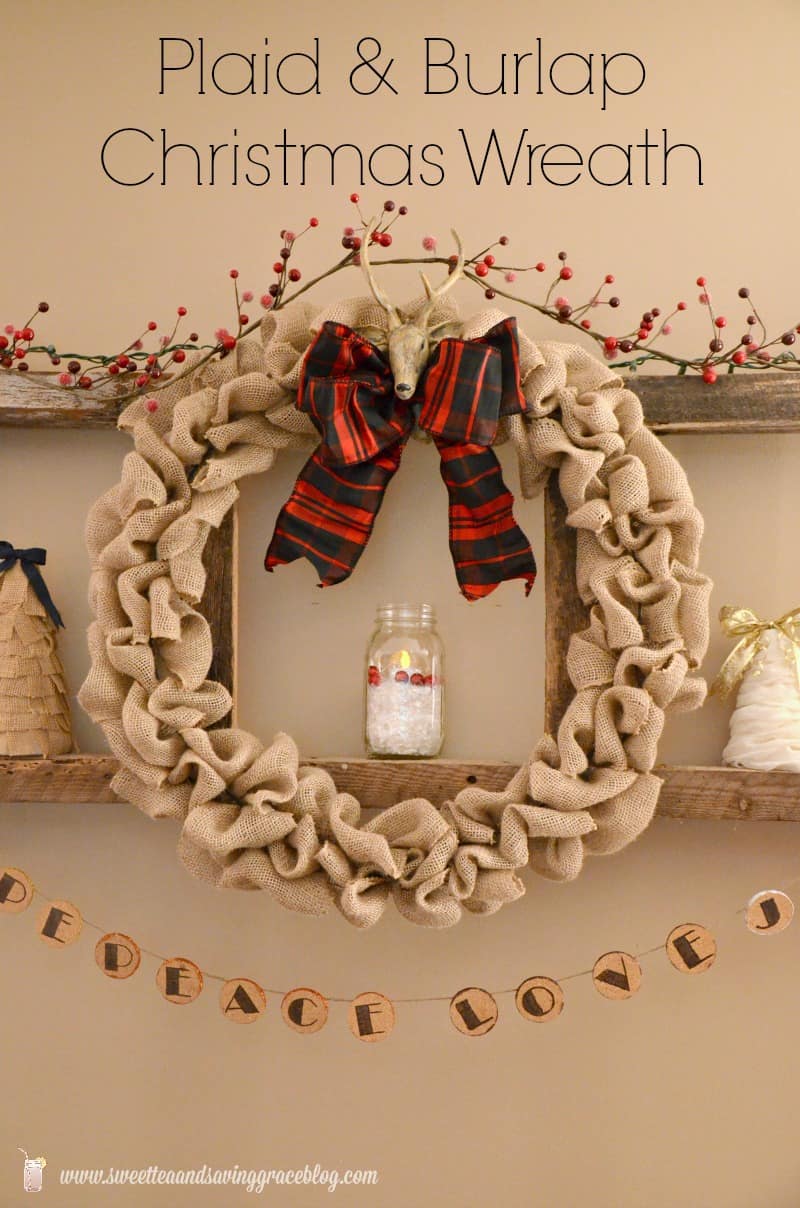 We've been making Christmas and holiday themed door wreaths for years. We actually thought we'd made just about every kind under the sun… until we came across this fantastic rustic holiday looking wreath design outlined step by step on Sweet Tea & Saving Grace! We love the way they scrunched burlap fabric for texture and topped it with a Christmassy (but still country chic) red bow.
3. DIY frosted paper Christmas trees
Just in case you were looking for something that still falls into the realm of things that are a little more classically arts-and-craftsy, here's an awesome idea featured on Place of My Taste! They show you how to create layers of thick brown paper that look like fir trees, as well as how to "frost" them and even add some cranberry embellishment.
4. Embellished drop cloth Christmas stockings
When it comes to classic elements of Christmas decor, nothing beats stockings! We've made all kinds of different stockings over the years and we're always open to new ideas so we can make more. That's why we were so quick to bookmark these fantastic drop cloth versions features step by step on Yellow Bliss Road! We adore the way they're embellished as well.
5. Wood crate and plaid ribbon faux planter
Did we catch your attention when we started talking about decor pieces that are rustic inspired and made of wood but you're not feeling quite confident enough to actually construct something out of upcycled palette wood yet? In that case, maybe you'd prefer to work with wooden crates that are already built! We'd definitely suggest taking a look at how Hometalk made this fantastic planter piece that boasts a lovely plaid bow.
6. How to make the perfect Christmas bow
Speaking of bows, have you always looked at the stunning, voluminous Christmas bows other people tie around gifts and things in their home and wondered how they get them to look so incredible? Well, Stone Gable is actually here to show you precisely how that is done! We followed this tutorial ourselves this year and now we can't stop making them.
7. Twirled ribbon ruffles Christmas tree
Perhaps you loved the idea of making decorative standing Christmas trees with laters but you're just not sure that working with paper is the way you want to go, since you do that so often with your kids and this is a project for you? In that case, we think you might get along a little better with something like this fantastic twirled ribbon or fabric tree design outlined step by step on Fynes Designs.
8. DIY snowman wreath
Have you actually been scrolling through our list and realizing that you're still thinking about the idea of making a Christmas wreath, but you think you'd rather make something with a little more novelty than the burlap design we showed you before? Then we'd definitely suggest taking a look at how Sweet Little Bluebird actually created three wreaths and arranged them to look like a snowman all the way down the door!
9. Striped paper straw wall wreath
Just in case your wreath making days aren't quite over for the season just yet, here's another design for your consideration! We're in love with the way Tater Tots and Jell-O used differently cut lengths and visual texture to make something so lovely out of such a simple, seemingly ordinary supply: paper straws!
10. DIY faux fur block letters
When you think of Christmas and the holidays, do you actually think of cozy places like log cabins and being curled up in soft things that keep you warm? Well, we think you just might be someone who appreciates the aesthetic of these awesome and kitschy chunky faux fur letters, featured in full detail for your recreation pleasure at Place of My Taste.
11. Sparkly wine bottle Christmas craft
Is your personal sense of decor and style a little more fully of glitz and glam than a lot of what you've seen so far? Then maybe you'd prefer to make something with a bit more sparkle! We're obsessed with the way Through the Yellow Door fully glittered a set of empty wine bottles, embellishing them further with letters and berries.
12. Christmas tree glass ornament hanger
Just in case you're totally enamoured with the idea of making decor to hang on your front door but you'd like something a little more unconventional than the average rounded wreath, here's an awesome alternative from Simplicity in The South! They suggest using an empty frame edging as the base for a tree made from colourful Christmas ornaments. It's mod and kitschy at once!
13. Window pane block letters art
Speaking of things that are a little bit more mod and bold, here's another idea for the text based craft lovers out there! We love the way Remodela Casa kept things straight and to the point with their bold lettering but still added Christmas elements in their choice of quote and colours. Besides, any piece that gets you four separate elements for the price of one overall decor setup is good with us!
14. Paper lace doily trees
Just in case you're still thinking about the different types of decorative layered trees we showed you earlier on our list but you can't help feeling like you haven't seen one that's quite light and delicate enough for your tastes, here's another option that we think will be a little more up your alley! Check out how Ouiouioui Studio made them happen using pristine white paper doilies.
15. Mini painted and sparkled planter ornaments
Just in case your favourite kind of craft is the kind that takes something and transforms it totally unlike its intended function (that's absolutely one of ours), here's an adorable little Christmas ornament made from a small terra cotta pot! We love the way Hello, Wonderful Use paint, glitter, and ribbon to make the pots, turned upside down, look like festive bells instead.
Have you tried making other fantastic Christmas themed decor projects for your house in past years that you still put out every season but that you don't see here on our list? Tell us all about what you made and how you did it or link us to photos of your finished work in the comments section!