15 Easy Darling Knitted Baby Blanket Patterns
If you ask us, few things are more touching to receive from a loved one when you have a new baby than a handmade baby blanket. You can practically feel the effort and love that went into it each time you use it! At the same time, knitting someone you care for a baby blanket might be the most satisfying gift as well. That's why we always have our eyes peeled for lovely new patterns we haven't tried yet.
Just in case you love the idea of knitting a new baby blanket pattern for your next expecting family too, here are some of the cutest designs and tutorials we've come across recently!
1. Baby diamonds blanket
This blanket is fantastic because it's large, making it a great floor play blanket, but it's also colourfuland textured. The stitch pattern is easy but lovely to look at and the thick stripes look great no matter what colours you choose. Get the full pattern fromRed Heart.
2. Baby breezy blanket
Would you rather create some kind of funky, unconventional looking baby blanket for a family that's very modern and a little less traditional as well? Then maybe you'll enjoy the way these wiggling lines with pulled stitches were created all the way down the length of this next blanket design!Picklesshows you how it's done.
3.Easy Knit baby blanket
Do you really like the waving lines idea for a baby blanket but you think you'd rather keep your tension even and more densely knit within them? Then we think perhaps you'll get along a little better with something like this pattern fromAnnie's Craft Store.
4.Welcome to The World blanket
Just in case you love the idea of visual texture but you're trying to keep things very easy and you're also interested in a stitch pattern that's subtle enough to work well with a fun colour variegation, here's a simplified version of a basket weave!Marianna's Lazy Daisy Dayshas all the details for you.
5.Tiny Ripples blanket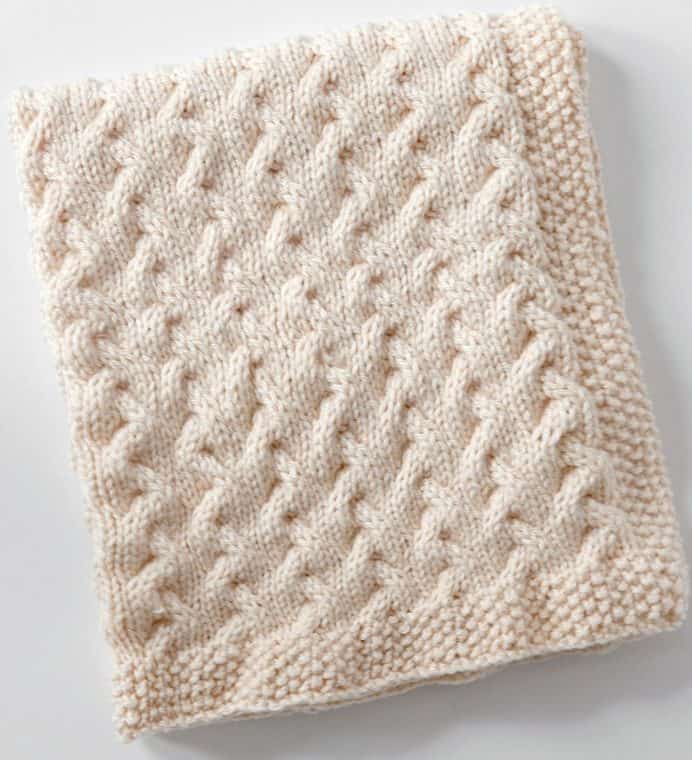 Have you long been hoping to try your hand at knitting cables but the idea of doing anentire blanket in them seems a little bit intimidating to you? Then maybe you'd prefer this slightly rippling design that only involve swapping a couple stitches at a time.Leelee Knitshas more information for you about it!
6. Easy 4 Row Repeat Lace Patterns baby blanket
Would you rather use your next baby blanket as an opportunity to try your hand at simple lace knitting? Well, that's how we learned to knit lace too, so we can't say we blame you! Here's a fantastically easy lace repeat stitch pattern with a simple border thanks toThe Little Songbird Knitting Co.
7. Garter Stitch Ruffles knitting patterns baby blanket
Rather than waves, would you prefer something a little more girly like ruffles? Then maybe you'll find these adorable garter stitch ruffles, outlined step by step onKnitting On The Net, to be a little more up your alley!
8.Ray of Hope blanket
Did we really catch your attention when we started talking about adding elements of lace knitting to baby blankets but the idea of doing it for the whole body is a little much? Then we'd suggest considering howBBC Homeadded a lovely lace border to a simple garter knit square blanket instead! You get the best of both worlds.
9.Pinwheel baby blanket
Have you been scrolling through our list wondering whether youhave to make a square or rectangular baby blanket or whether other shapes are a possibility? In that case, we have a feeling you're going to adore the wayGenia Planckmade a fantastic pinwheel baby blanket complete with a lovely eyelet spiral and a pretty ruffled border.
10.I Love Baby blanket
Colour work is nice and all but sometimes there's a beautiful simplicity in adding stitched detail images and letter to a blanket in the same colour as the background. It's almost minimalist looking! That's why we loved this baby motif blanket outlined step by step onViTalina Craftso much.
11.Self Striping baby blanket
Have you found an absolutely adorably coloured self striping yarn that you've been looking for a chance to use but you need the right pattern that hits the balance between simple enough to do the colours justice but still interesting to knit and look at? Then this fantastic stockinette and eyelet pattern fromRed Heartmight be exactly what you're looking for.
12.Alex's baby blanket
Just in case you're not quite ready to commit to a full lace blanket body but you'd still like some kind of classic, feminine inspired detail, here's a lovely little floral eyelet repeat outlined step by step across the surface thanks toAngie Jaszek!
13.Ivy baby blanket
Perhpas you really are still thinking about making a lace blanket but you're convinced you'd enjoy the process more if you could use slightly thicket yarn to keep track of stitches more easily and make the process go more quickly? Then this lovely little vine inspired baby blanket featured onEmily Nora O'Neilmight be right up your alley!
14.Sunny baby blanket
Did we pique your interest a bit with the faux basket weave we showed you before but you like the neat, even squares idea so much that you'd rather create an actual grid? In that case, we'dabsolutely suggest taking a look at the wayHow Stuff Workscreated squares space with lines using evenly spaced garter and stockinette sections.
15.Waffle blanket
If you've never knit a pattern that requires pulling stitches over other stitches to make interesting cross detail, then we're sorry to tell you that you've been missing out on some fun! We can't get over how much we enjoy the textured look of this fantastic waffle stitch blanket fromDe Bajo un Boton, especially compared to the nice neat i-cord border.
Have you knit other fantastic baby blanket patterns before that made wonderful gifts for people you love but that you don't see here on our list? Show us the pattern in the comments section or link us to photos of your finished blankets in the comments section!