15 Fantastic Knitted Cowl Patterns
We've always loved making and wearing cowls. We're the kind of chilly knitting enthusiasts who get far too cold in the winter if our necks aren't covered, so they're really the perfect project and garment! That's why we've always got our eyes peeled for new cowl patterns to try out in the colder months of the year.
Just in case you love knitting, wearing, or gifting yarn work cowls as much as we do, if not more, here are 15 of the best cowls we've come across recently online!
1. The Mokacchino cowl
Besides the cute eyelet designs down each second row, we adore the way this cowl outlined on Deux Brins de Maille features a knitted lace that ties at the top! We also love the width of this one because it isn't tight around our face but it still sits close at the neck.
2. Sugar Knits Chunky cowl
Would you rather make something from chunky wool because you like the cozy, squishy feeling it gives and you appreciate how quickly it stitches up? In that case, we'd absolutely suggest taking a look at how Sugar Knits created this amazing textured cowl that folds like a double wrap for extra toasty-ness!
3. Serenity cowl
Would you rather keep things kind of simple or practice getting even tension with some easy stockinette stitch? In that case, we'd definitely encourage you to take a look at how this casual tube-style cowl from Bromefields was made!
4. Lace cowl
Perhaps you live somewhere that's a little milder regarding weather in the winter, even though you still get chilly, so you can spare to make a lighter garment despite still wanting a cowl? In that case, we think you might get along quite well indeed with this fantastic lacy pattern from OasiaDellaMaglia.
5. Chalice cowl
Rather than gathering around your neck or bunching under your chin, would you rather wear a cowl that covers your shoulders and adds to the style of your outfit? Then maybe this adorable lace and button collared cowl from Mind of Winter would be a little more up your alley!
6. Arboles cowl
Just in case colour work is your thing but you'd rather make pretty patterns than images or stripes, here's a fantastic design from SashkaRC that we just can't stop looking at! This is one of those projects that will looking stunning no matter what colour combinations you make it in.
7. Fitted cowl
Just in case you're looking for a cowl that fits somewhere between the slightly more capelet style you saw sitting around the shoulders and the kind that fits more like a dickey, here's the kind of design we think you're looking for! See how it's done with cute garter stitch ridges on Black Iris.
8. Leaflet cowl
Would you rather knit a pattern that has some variety involved, with certain sections that will challenge you and others that feel easy to do? In that case, you just might be the perfect person to give this design from Gaizanne Knits a try.
9. Holy cowl
Besides its "punny" name, this cowl is great because it sits close enough to your neck that the wind can't get in like a draft and make you feel chilly! We love the way it fastens or unfastens with buttons for days when you've done your hair and don't feel like pulling it over your head. Get the full details for making your own on Woolibear.
10. Spokes cowl
Have you actually been hoping to come across a design that has a little more structure and unique shape to it than what you've seen so far? Then we'd definitely suggest checking out how KnitChicGrace made this fantastic ridges and crossed pattern with a waving edge! It crosses and covers your chest like a scarf but fastens and stays sitting high near your neck like a cowl.
11. Raissa cowl
Just in case you love projects that showcase self striping yarn well and have some embellishment to them, here's a fantastic design featured step by step on Azalea and Rosebud Knits! We adore the twisted sporadic fringe detail, knotted at the end to keep the twist tight. We also like how it comes to a point like a bandana or tied handkerchief!
12. Basket cowl
Just in case you're a lover of simple texture and classic detail, here's a basket weave pattern that's very fun indeed! We love the way OasiDellaMaglia even put a different woven stitch detail on each edge to create a fully conceptualized look.
13. Alize cowl
Are you a love of embellishing stitches and double knit embroidery? Then you're going to adore the way this pattern from Anadiomena's Designs is completed in simple stripes and then topped off with carefully angled stems and leaves for a pretty fall look. This is a great chance to use your two favourite colours in contrast!
14. Lapso cowl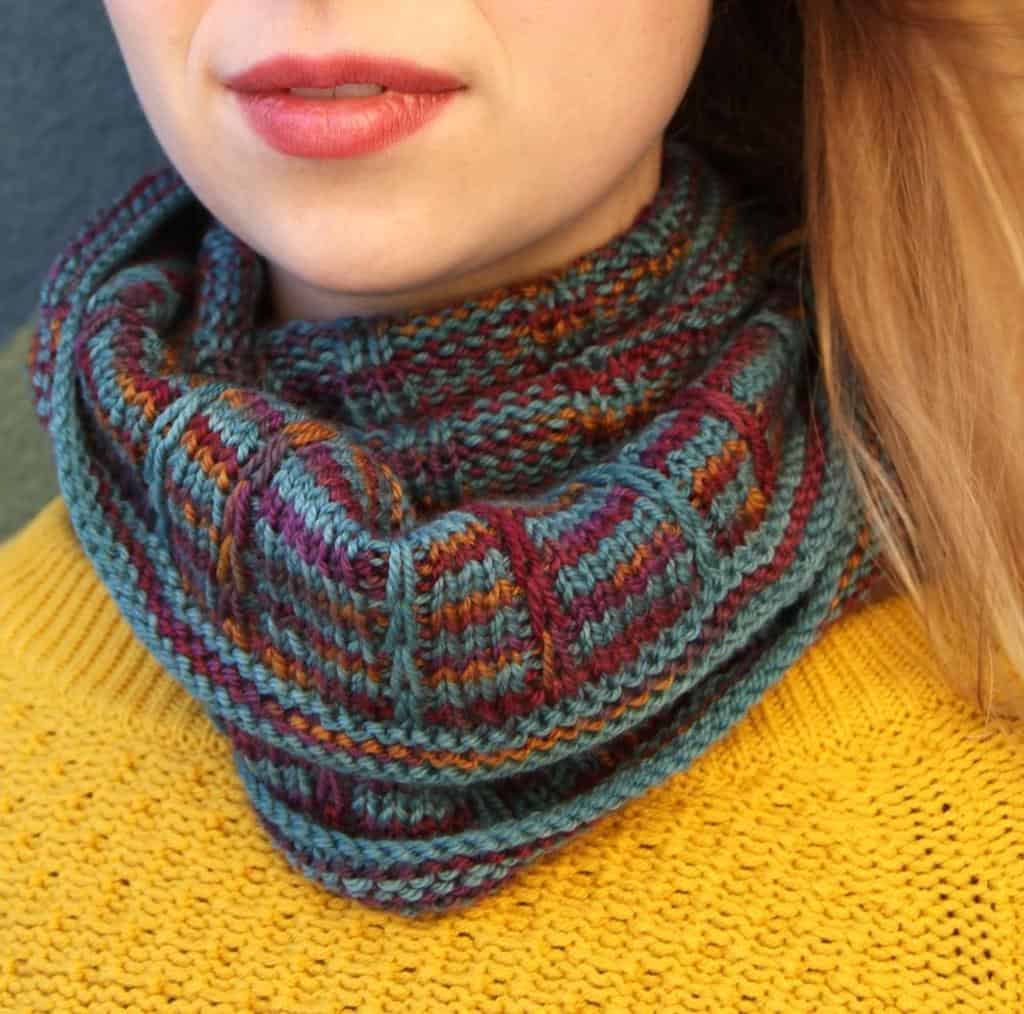 We've always been intrigued by patterns that involve pulling slipped stitches upward from rows below but we know it's also a technique that takes a little bit of practice or getting used to. That's why we think this cowl pattern from Laura Nelkin is so great! It lets you create the look in a simple way for a finished product that's definitely still impactful.
15. Tuscany Lace cowl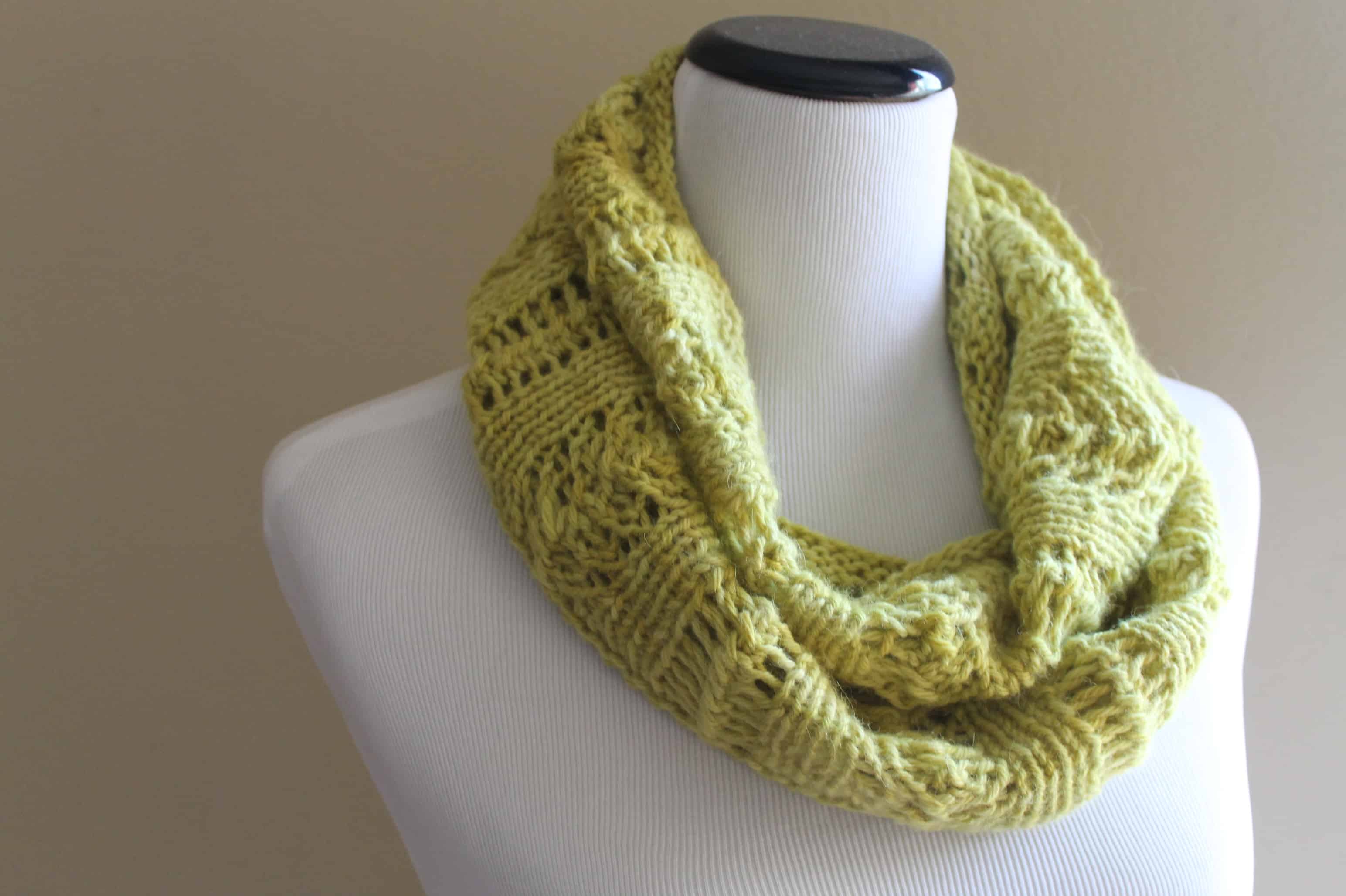 Do you love the idea of knitting lace patterns but you don't like using very thin or lace weight yarn because it's finicky and you don't find it warm enough to wear? Then check out how Handmade by Anne Potter made lace style sections within a fantastic cowl that's thicker in its yarn weight!
Do you have another favourite knitted cowl pattern that you love making or wearing but that you don't see here? Link us to the pattern too or to photos of your finished cowl in the comments section!